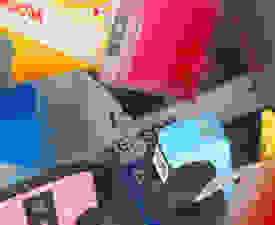 May 21, 2007 – Home printer users are very cautious about their ink usage, according to a survey funded by Kodak and conducted by Braun Research to determine consumer's printing patterns. A majority of the respondents (60 %) said they are careful about their home printing habits because of the cost of ink, and half said they would print differently if inks cost less.  The report cites strategies employed to conserve ink. Nearly sixty percent of respondents claimed that instead of printing, they view images only on screen. Roughly the same number print in grayscale to conserve color inks. Thirty percent avoid printing photos, while only twenty-seven percent chose to print in draft mode, perhaps the most economical way to save inks, especially for online shopping receipts, e-mails, or directions. Many parents say they limit or prohibit their children's use of the home printer. The study also reveals that many people (60%) do some of their printing at work to cut down on their home usage or because work printers are quicker. Most respondents cited document printing, such as directions, articles, recipes, and travel itineraries as some of the documents printed. Photos also get printed at work, but to a lesser degree. Most people surveyed claimed to be doing this printing on their own time. Kodak's new ink technology is touted as an alternative to stress and worry when it comes to home printing. The company claims savings "up to 50%" on ink when printing with the new inks on Kodak paper on the EasyShare all-in-one photo printers.
Get Reviewed email alerts.
Sign up for our newsletter to get real advice from real experts.