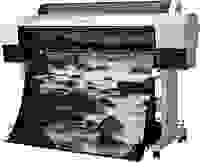 July 17, 2007 – Four new large format printers were announced today by Epson UK. The Stylus Pro 4880 prints up to 17 inches wide and will sell for ₤1495 ($3,044); the 7880, 24 inches wide and ₤2,395 ($4,877); the 9880, 44 inches wide and ₤4,495 ($9,153); and the 11880, 64 inches wide and ₤9,995 ($20,353). All four printers feature Epson's Ultrachrome K3 nine-ink system. These are the first printers to feature the new Vivid Magenta inks, and the 11880 will feature Epson's new MicroPiezo thin-film print head. These large format printers will be available in the UK starting September 2007. The new Vivid Magenta inks on these printers add to the wide color gamut this ink system already produces by creating richer magentas and blues. The K3 inks feature strong color accuracy of neutral and dark colors and smooth tonal gradations. Consumers can choose between 100-ml and 120-ml cartridges. All of these new Stylus Pro printers support a wide range of Epson papers, including roll paper, up to 1.5 mm in thickness. They also feature cut sheet support, including an enhanced sequence which improves cutting performance. A paper cassette feed mechanism for cut-sheet paper is included with the 4880 for paper sizes from letter to 17" width.  New technology incorporated into these printers includes Epson Super Halftone technology, which enhances low resolution image detail by reducing graininess at the extremes of resolution. These Epson printers also feature Ethernet 10/100 interface and a backlit LCD display.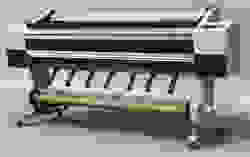 The 11880, designed for commercial printing purposes, incorporates Epson's new MicroPiezo thin-film print head technology. This effectively double the number of nozzles, to 366 for each color, which is the world's greatest in its class. An on-unit processor and one-gigabyte Ethernet connection allow for quick transfer of files. Each ink tank on the 11880 holds 700 ml, and the printer features automatic switching between photo and matte black. With the new K3 Vivid Magenta inks, the company claims the print quality is equal to many 12-ink systems, and the print head helps ensure consistency, even among prints created months apart. Color stability occurs within half-an-hour as opposed to 24 hours for most other printers.  Epson UK has also launched a new secure website, MyEpsonprinter.eu, that allows users to check for updates as well as monitor print activity, hardware information, and view print economy info, including cost per print. The Stylus Pro 4880, 7880, 9880, and 11880 large format printers will be available in the UK starting September 2007. No information was available on a US release.
Get Reviewed email alerts.
Sign up for our newsletter to get real advice from real experts.