August 24, 2007 – Hahnemühle Fine Art, the 500-year-old German papermaking company, has thrown its hat into the "green" ring with the release of the world's first fine art inkjet paper made entirely from bamboo fibers, a renewable resource. In addition, Hahnemühle will donate a portion of the proceeds from the sale of the new Bamboo 290 to environmental projects, which consumers will be able to designate on the company's website.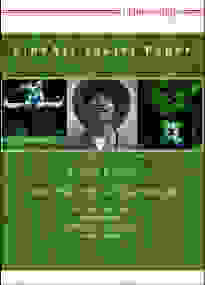 Bamboo 290 is made from bamboo grass fibers and spring water. It has a "natural" base for use with images that would benefit from a warm tone. It also has the same qualities as the other papers in Hahnemühle's line, including wide color gamut, good contrast, and great color density and sharpness. Bamboo is a fast-growing grass that is renewable, meaning that it is easily replanted and resprouts from cut stems. In addition to its resource use in paper, furniture, construction materials, and tools, it has the added benefit of serving as a soil stabilizer in riparian areas, as a wildlife habitat, and in some cases, serving as a source of income in impoverished countries. Bamboo 290's packaging features the work of photographer Justin Guariglia, known for his images of the Shaolin Temple in China. Bamboo 290 is used in prints of the photographer's images featured in a traveling show of his work that will be appearing in several international cities from 2008 to 2011. More information about Bamboo 290 and Guariglia's work can be found at the Hahnemühle website.  Hahnemühle's Bamboo 290 paper is due for an October release, and it will be showcased at PhotoPlus Expo in New York from October 18-20, 2007. No pricing was available at press time.
Get Reviewed email alerts.
Sign up for our newsletter to get real advice from real experts.