***May 29, 2007*– A new study by QualityLogic, the same research group that recently validated Kodak's claims of cheapest cost per print, has now given ammunition to HP in the ongoing ink wars. Their study, commissioned by HP with test methodology also devised by HP, showed HP ink cartridges produced half again as many prints as refill cartridges sold by stores such as Staples, OfficeMax, and smaller retailers. The study also tested cartridges refilled at refill stations at OfficeMax, OfficeDept, Walgreen's and other locations. The results showed that HP cartridges printed twice as many prints as the refilled cartridges.
QualityLogic's study also showed that the cartridges refilled at refill stations failed one out of four times, while the store-bought refill cartridges failed one out of five times. HP's cartridges never failed over the course of testing.
Tests were conducted on two HP printers, the HP Deskjet 5650 and HP Deskjet 6940 and a single paper type, Xerox. To avoid bias, QualityLogic acquired printers, cartridges, and other materials through the retail market. Printing quality was standardized, multiple printers and cartridges were used, and the document and environmental conditions were aligned with ISO standards.
Store brand cartridges tested included OfficeMax store brand, OfficeDepot store brand, Staples store brand, Corporate Express store brand, Caboodle Cartridge refilled cartridges, Rapid Refill Ink refilled cartridges, PrintPal refilled cartridges, and Nu-kote refilled cartridges. Refill station cartridges were refilled at OfficeMax, OfficeDepot, Cartridge World, Island Ink-Jet, and Walgreens.
More information on the study can be found in Quality Logic's news release, which provides a link to the report.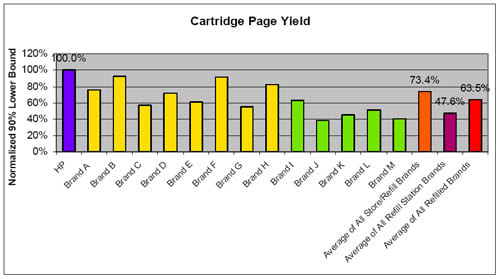 Chart from QualityLogic's report, 'Page Yield/Ink Cartridge Reliability Comparison Study: HP Inkjet Print Cartridges vs. Refilled Brands'
Get Reviewed email alerts.
Sign up for our newsletter to get real advice from real experts.