Printers
HP Unveils Breakthrough Printing Portfolio for Enterprise Customers
HP Unveils Breakthrough Printing Portfolio for Enterprise Customers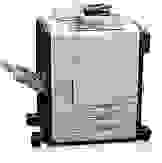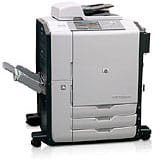 *April 11, 2007* - HP announced two new ink-based color multifunction printers (MFP), upgraded printer fleet management software, and new services for the enterprise printing market. The new HP CM8060 and CM8050 Color MFPs utilize HP's Edgeline Technology, a printing engine developed based on the company's Scalable Printing Technology. HP stated that Edgeline is suited for small to enterprise-scale operations, and results in better productivity at lower costs. The "intuitive usability" of the new Edgeline printers was also highlighted.
"The Edgeline offerings will transform the industry, providing customers a multifunction printing solution with unprecedented ease of use that can improve productivity and lower color operating costs by up to 30 percent," said Vyomesh Joshi, executive vice president, Imaging and Printing Group, HP in a statement. The two new color MFPs, the HP CM8060 and CM8050 are aimed at high-volume environments, with the CM8060 capable of about 60 pages per minute (ppm) for black, and 50 ppm for color prints on plain paper. The CM8050 prints at a slightly slower rate of about 50 ppm black and 40 ppm color but the printers' specs are otherwise identical. Some of the features included in the new HP printers are the Easy Select Control Panel, a 10-inch color touch-screen interface, HP AutoNav, an automated troubleshooting guide that includes live action video and step-by-step control panel instructions, compatibility with HP's new Vivera office inks, and Service and support options sold direct from HP or through local partners.
HP also unveiled several other enterprise level products including the newly redesigned HP Color LaserJet CM4730 MFP for workgroups, with an MSRP of $4,999, and the HP 9250c Digital Sender, a device that streamlines the process of digitizing, distributing, and archiving paper documents starting at an MSRP of $3,199. The new HP JetDirect 630n IPv6 Gigabit Ethernet Print Server and Jetdirect en 1700 IPv6 Print Server are priced at $149 and $389 respectively.
HP also announced Web Jetadmin 10.0, the latest version of their printer fleet management software. The software includes new features such as Active Directory Services, enhanced security, a more intuitive interface, customizable usage reporting, links to HP Instant Support, and enhanced supply management across multiple HP printers. HP will also offer consulting services for Web Jetadmin, offering customers recommendations on how to design an organization's print management infrastructure to take advantage of the new software's capabilities. HP Web Jetadmin 10.0 will be available for download on April 30 from HP's website.
HP's announcement included additions to the company's enterprise level printing supplies portfolio as well, including new Dual Packs of HP LaserJet Black Print Cartridges that double print volume at a 10 percent savings over two individual purchased cartridges. HP will offer seven new Dual Packs starting at $202. Other new supplies include Brochure Paper for Edgeline in 8.5" x 11" and 11" x 17" sizes starting at $ 30.99, HP Tri-fold Brochure Paper for Color Lasers in 8.5 x 11-inches for $24.99.
For complete details on HP's announcement, visit www.hp.com
Get Reviewed email alerts.
Sign up for our newsletter to get real advice from real experts.