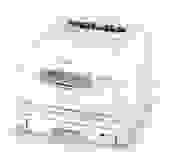 May 7, 2007 – Oki Printing Solutions announced today the impending June 2007 release of their C8800 series LED tabloid-sized printers. Starting at $2,399, these microfine toner printers can handle media up to 11 inches wide, allowing office users to print out large 11 x 17-inch spreadsheets or even create banners on 11 x 47.25-inch banner paper. Manufacturer reported print times of 26 ppm for color and 32 ppm for black-and-white documents make this C8800 series competitive with the fastest laser printers on the market. According to Oki, the C8800 series printers are 47 percent smaller than similar printers, conserving desk space. Oki utilizes LED technology as opposed to laser technology in their toner printers, resulting in single pass printing and fewer moving parts. A separate black drum reduces monochrome cost per print. In fact, Oki claims very low color and monochrome print cost and high color quality, even on cheaper grades of paper. All C8800-series printers are capable of networking. The base model, the C8800n, sells for $2,399; the C8800dn, capable of duplexing, sells for $2,689; and the C8800dtn, with duplexing and expanded paper trays capable of 930-sheet capacity, retails for $3,079. Options such as a 5-year limited warranty on printheads and a 40-gigabyte hard drive should make the C8800 series printer an attractive option for businesses.
Get Reviewed email alerts.
Sign up for our newsletter to get real advice from real experts.