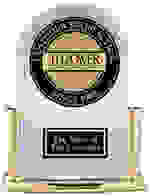 September 20, 2007 – J.D. Power and Associates, the global marketing information services firm, released a study on customer satisfaction in the single-function printer market today. Canon ranked highest among printer manufacturers for overall customer satisfaction. Hewlett Packard (HP) followed as a close second.
The J.D. Power 2007 Photo Printer Usage and Satisfaction Study focused on four factors affecting customer satisfaction—performance, connectivity, ease of operation, and styling and appearance. The company polled 814 consumers that purchased printers from June 2006 to May 2007. Manufacturers ranked, from highest to lowest, were Canon, HP, Kodak, Epson, and Lexmark. Canon not only ranked highest in the study, but they performed well in all four satisfaction categories.
Not surprisingly, price was the key factor affecting purchases, with print quality coming in second. Portability ranked highly as a key attribute consumers look for, and one that leaves them most satisfied. Consumers who purchased a portable printer were more satisfied than those who didn't. The study also indicates that customers are also strongly interested in connectivity, such as digital camera, memory card, and wireless printing capabilities.
Brand reputation ranked third in factors affecting purchase. An overwhelming majority (90 percent) of those polled reported that they would purchase a printer form the same manufacturer again. While most consumers (80 percent) purchased their printers from a store, online consumers were more satisfied with the selection found there.
Get Reviewed email alerts.
Sign up for our newsletter to get real advice from real experts.