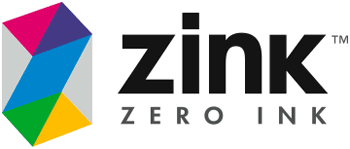 *February 8, 2007* - ZINK, a Waltham, Massachusetts-based company, unveiled their new inkless printing technology at the DEMO 2007 conference last week. Using thermal printing technology, ZINK's new devices will produce 2-inch by 3-inch prints. The company hopes to establish licensing agreements with printer manufacturers to build a stand-alone, hand-held unit (with an MSRP of $99) that attaches to cell phones, and a camera with a built-in thermal printer (estimated MSRP $199) by the end of this year. Paper for the ultra-portable printers is expected to cost 20-25 cents a sheet, and will be available in packs of 100 for $19.95.
ZINK's printing technology uses thermal printheads with hundreds of tiny heating elements per square inch that selectively heat dye crystals embedded in the paper (actually a polymer surface available in clear and white). The three dye layers—cyan, magenta, and yellow—are colorless prior to heating, and are covered by a clear protective layer. By varying the application of heat based on picture information, the thermal printheads cause the dye layers to resolve in colors producing an image. With no cartridges or moving parts, the proposed units from ZINK can be smaller and more portable than existing printer technology makes practical.
The startup is also touting the environmental benefits of ink-less printing, citing the lack of printer cartridges to dispose of, and the fact that the paper is recyclable. ZINK is also working to land deals with hardware manufacturers with the goal of embedding the technology into PCs, laptops, and even televisions to enable printing from virtually any device. More information about ZINK's technology can be found at zink.com.
Get Reviewed email alerts.
Sign up for our newsletter to get real advice from real experts.