Introduction
Front
The 's front is slightly curved outward and features contoured handles and an icemaker/water dispenser. The vertical-grain finish of the stainless steel exterior is darker than other fridges we've tested, so make sure it matches the appliances you already have.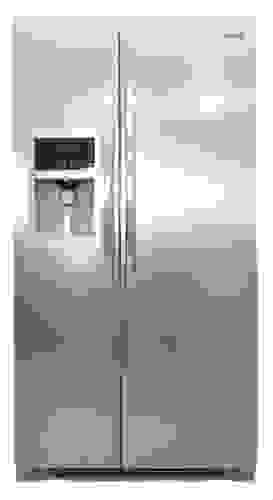 That darker stainless finish does, however, keep fingerprints from showing up. Smudges and such aren't as visible on this fridge as others with a similar finish.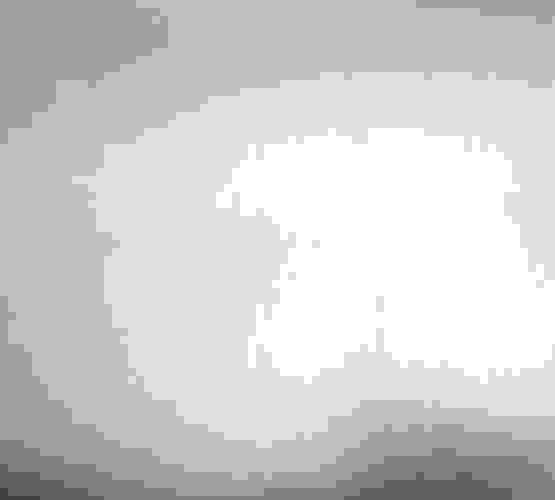 The features through-the-door water and ice. The user can choose whether water, crushed ice or cubed ice comes from the dispenser. There's also a child safety lock, a power switch, a light switch and an indicator to remind you to change the water filter.
Interior
It's a classic side-by-side fridge: Freezer on the left, refrigerator on the right.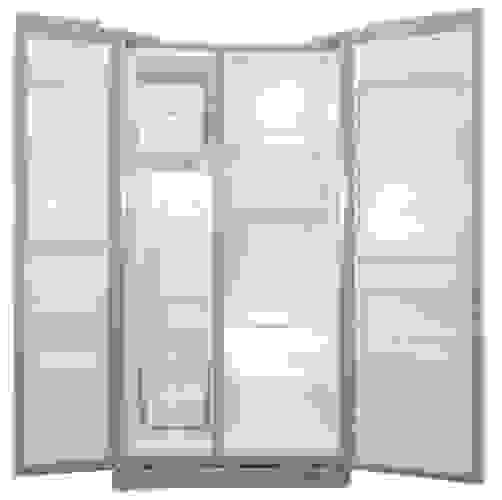 The water filter is found at the top of the refrigerator door and should be replaced twice a year at a cost of about $35.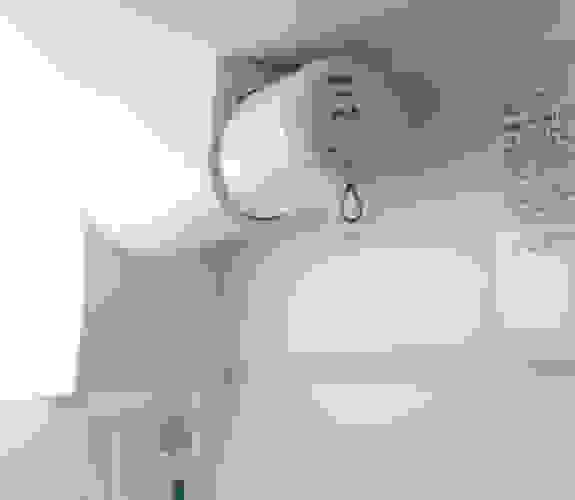 Adjustable shelves hang from the interior of the fridge. They're roomy enough for large soda bottles.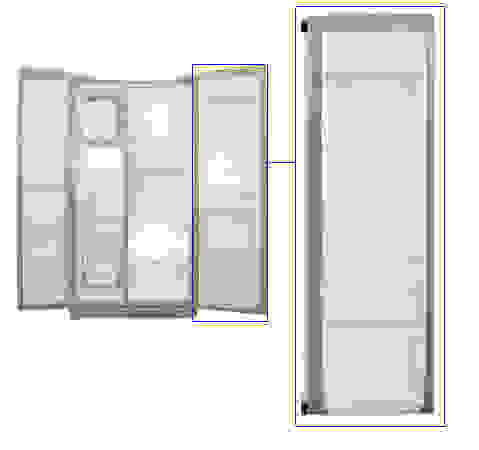 The icemaker takes up most of the freezer's top quarter, though there's a tiny storage space above it. Below are wire shelves and a bin that's handy for storing bagged vegetables.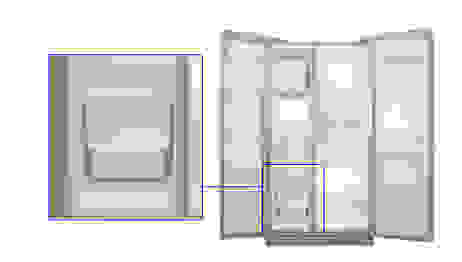 Four plastic walled shelves and a slot for ice to pass through the door make up the interior of the freezer door.
Should you need a large amount of ice at once, the ice maker is removable and accessible from inside the freezer.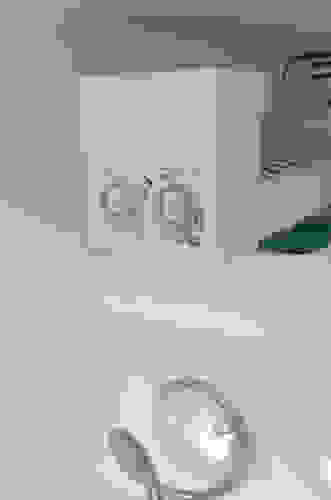 Back
A water line for the water/ice is on the back of the fridge.
Sides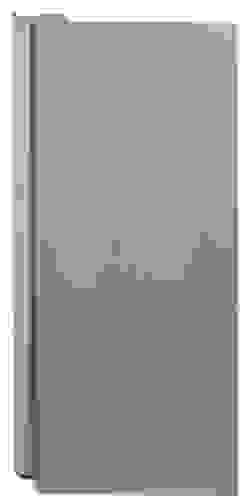 Running Cost
Assuming that electricity is sold in your area for 9.1 cents per kilowatt-hour, the would cost about $51.63 a year to run. That's about average for a fridge.
Power Use Per Cu Ft
Comparing the energy cost of a fridge this big to smaller ones is like comparing the fuel economy of a moped and a pickup: They're made for different purposes. Hence, we divided out the 's energy use per storage space, and found that it uses 0.09 kW-h to cool each cubic foot of fridge and freezer space. That's below average among fridges, large and small.
Fridge Temperature
The had only a little problem circulating cold air around its large fridge compartment. The top of the fridge consistently stayed a little warmer than the bottom shelves. Since cold air falls, this isn't a surprise in such a tall fridge.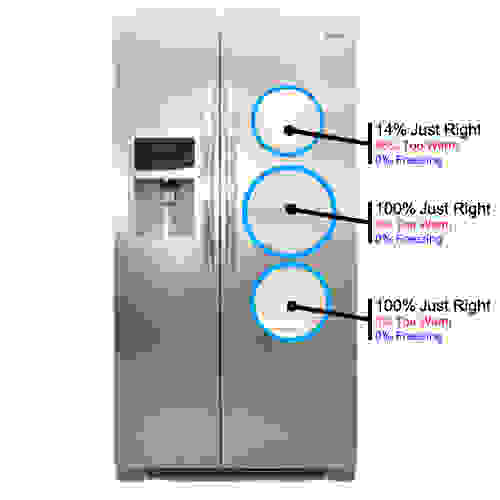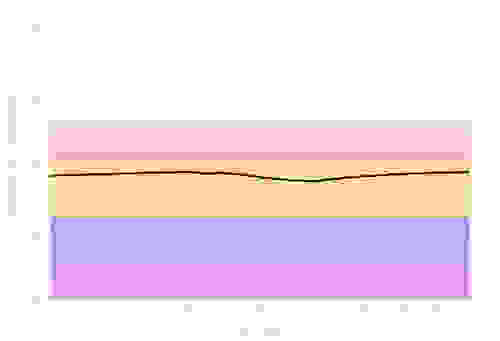 The temperature inside each food package fluctuated quite a bit -- as much as two degrees. That's a sign of an imprecise thermostat, and could lead to premature food spoilage of the most temperature-sensitive items such as soft cheeses.
Freezer Temperature
Likewise, the freezer temperature cycled up and down a little more than we'd like to see, but not enough that your frozen foods would be in danger of severe freezer burn. Temperatures were colder on the top shelf, which is next to not only the vent but the icemaker.
Vegetable Drawer
The didn't do a very good job at keeping our simulated vegetable from drying out, losing 0.27 grams of water per hour. That's a lot for any fridge.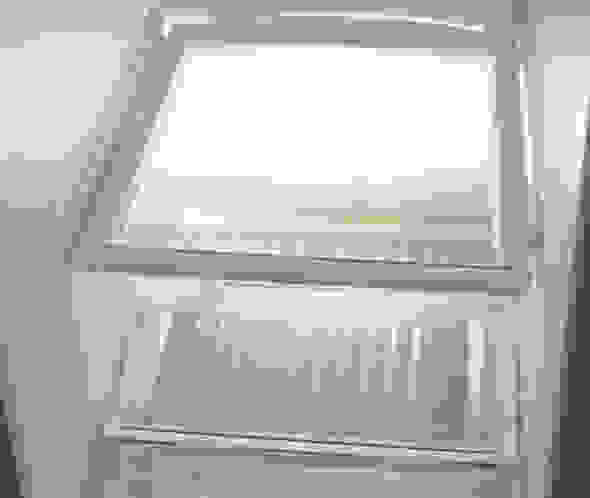 Power Loss
You've filled up the 's giant freezer, and the power goes out. Not to worry -- this Frigidaire is well insulated enough to keep frozen foods from thawing for more than 48 hours, as long as you don't open the door and let cold air out.
Freezing Performance
The took 2 hours and 11 minutes to bring room-temperature foods up to freezing. That's longer than most fridges, and it means that ice crystals could form, changing the texture of the food you're freezing.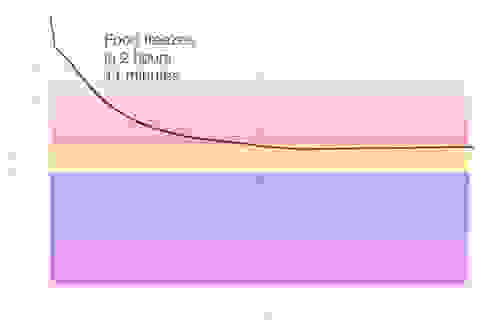 Usable Space
Appliance manufacturers measure refrigerator interior space with all shelves removed. That's like measuring a plane's legroom without accounting for the seat in front of you. We measured the interior of the fridge and found it to be 11.45 cu. ft. That's plenty, and the makes good use of its cavernous interior with adjustable shelves and big drawers. The largest item it can fit must be narrower than 17 inches, however.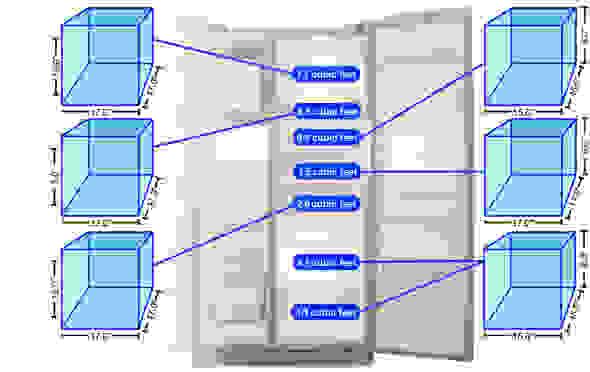 Shelves are easily adjustable and will hold anything from salad dressing to wine bottles.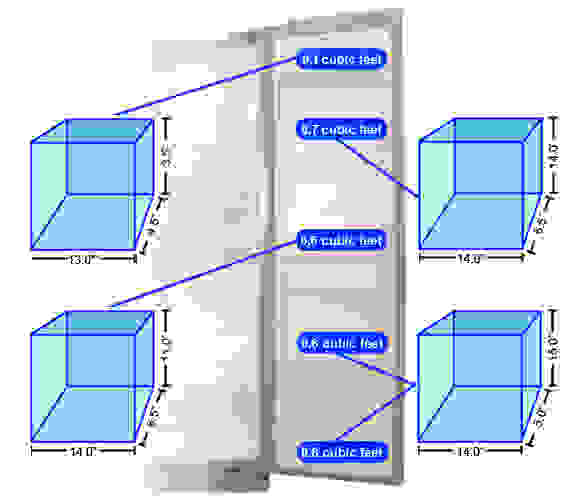 Icemakers take up a lot of interior space, which is why the only has a 5.67 cu. ft. freezer. Still, that's larger than other similar fridges we've tested, and bigger than bottom freezer models. The extendable drawer is a nice touch for holding limp bags of peas and carrots, though as a side-by-side no shelf is wider than 12.5 inches.
The shelves on the 's freezer door aren't adjustable, but they can hold boxes or bags of frozen food.
The manufacturers figures do not take account of the shelves, drawers and other removable features, but our measurements do account for the space these take up.
Ease of Access
Side-by-side fridges offer a compromise when it comes to ease of access: Some foods in both freezer and fridge will be at eye level, while others you'll need to bend down to get. The follows this formula. Shelves are somewhat difficult to move, as they're heavy and have to be hooked into holders on the back of the fridge, rather than simply sliding into place.
Controls
All of the 's controls are external and built into the water/ice control panel. Temperatures are displayed for freezer and fridge next to the temperature control buttons.
All controls are on the front of the fridge. Touch-sensitive buttons are well-labeled and easy to use. Want to turn the temperature up or down? Just use the separate controls for fridge and freezer and watch the exterior temperature display show the real-time climate behind the doors.
Water Dispenser
We had no problem with spills or spray from the 's water dispenser.
Ice Maker
Should you need a large amount of ice at once, the ice maker is removable and accessible from inside the freezer.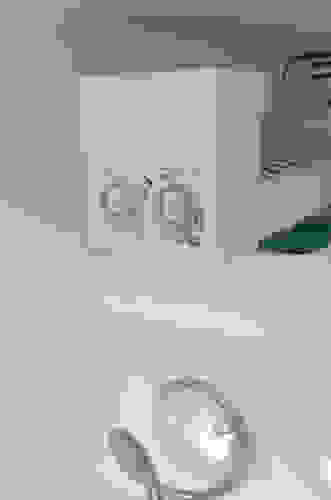 Cleaning
Shelves were easy to clean, and the plastic frame around the glass shelves kept moderate spills somewhat contained. Gaps between the backs of shelves and the back of the fridge weren't as large as on other models we've tested. Fingerprints didn't show that much on the exterior, and were easy to clean off.
Noise
You won't notice the when it's plugged in. Aside from the usual icemaker sounds, it hardly made a peep.
Other Features
Conclusion
Energy Efficiency
While the uses more energy than other fridges in its class, it cools more interior space.
Performance
Temperatures in the fridge and freezer fluctuate a little, but are relatively consistent from the top shelves to the bottom. The vegetable drawer doesn't do that great a job keeping fresh foods from drying out quickly.
Storage Space
The cavernous will swallow anything you can put into it, so long as it isn't wider than the 17-inch fridge or 12.5-inch freezer compartments.
Usability
While shelves can be a bit hard to place, they're easy to clean. So is the exterior. Drawers slide smoothly, though they still feel a bit cheap and imprecise.
Meet the tester
Keith Barry
Former Editor in Chief, Reviewed Home
@itskeithbarry
Keith was the Editor in Chief of Reviewed's appliance and automotive sites. His work has appeared in publications such as Wired, Car & Driver, and CityLab.
Checking our work.
Our team is here for one purpose: to help you buy the best stuff and love what you own. Our writers, editors, and lab technicians obsess over the products we cover to make sure you're confident and satisfied. Have a different opinion about something we recommend? Email us and we'll compare notes.
Shoot us an email