Great for a side-by-side, even with a few missteps.
There is nothing wrong with your computer monitor. Do not attempt to adjust the picture. The Frigidaire Gallery is in fact darker than a traditional stainless steel fridge despite what the manufacturer's specs state. Compared to the equally new FGHB2866 French door, which has a standard, horizontal grain and shimmery steel surface, the side-by-side has a more muted exterior with a subdued, vertical grain. Neither product is actually stainless, though, but that's not such a bad thing depending on your needs in the kitchen. You can put magnets on the surface, and it's got a freakishly strong resistance to smears and fingerprints, two things that make for a really family-friendly appliance.
It's got a freakishly strong resistance to smears and fingerprints.
What this fridge fails to surmount, however, are the flaws inherent in its layout. By design, side-by-sides are tall and narrow, and items that are wide (like a birthday cake, or my favorite frozen pizza, for instance) don't seem to be a natural fit for the shelving arrangements That said, this Frigidaire Gallery did what it could to make up for what the factory gave it: Wide surfaces can slide out easily for quick and simple access to refrigerated items stored at the back, and the shelves are unusually lightweight despite the rear-mounting hooks, making them easy to reorganize.
For all of its perks, however, the freezer is still quite cramped.
For all of its perks, however, the freezer is still quite cramped, with far fewer options for adjustable organization. Nothing slides easily, either, be it the floating bucket shelves in the freezer or the crisper drawers in the fridge. The "Chill Drawer," with its adjustable temperature control, was exceptionally difficult to open; half the time, when we went to open the drawer, the shelf above it came along for the ride.
Update (5/17/13): Turns out the old-fashioned magnet test isn't entirely fool proof: this fridge really is a stainless steel product. It's finished with "430 stainless," a particular grade which does actually take magnets. A representative from Frigidaire informed us that this Gallery also features a fingerprint-resistant coating applied over the steel, likely the cause of the darker-than-average look.
It doesn't trump every side-by-side, but it comes pretty close.
And now, for the crux of the argument: it's not a mind-blowing fridge overall, but it's got great performance for a side-by-side in that price point. Because it's hard to circulate air through tall, thin compartments, side-by-sides typically subject consumers to temperature consistency issues from top to bottom more than other fridge types. Nevertheless, Frigidaire's new Gallery flagship manages to avoid that pitfall in the fridge... for the most part. Temperatures were mostly consistent throughout, warming up mostly down by the crisper, and remained exceptionally stable over time. The freezer was a little worse, exhibiting a larger temperature gap from top to bottom, as well as a slightly wider margin of long-term fluctuation, but as long as you don't swap items from one shelf to another the risk of freezer burn should be pretty low.
Temperatures were mostly consistent throughout, and remained exceptionally stable over time.
Moisture retention in the crisper is mediocre at best, which will likely dismay fans of fruits and veggies. Conversely, the freezer was exceptionally fast when it came to chilling our room-temperature items. This is good news for meat lovers: faster freezing times mean higher-quality thawed items.
You'll want to keep your interactions with the control panel to a minimum.
In terms of perks, there's not a whole lot going on here, but that's to be expected for a fridge with such a modest price. In the back of the fridge is a replaceable water filter, and in the freezer there's a bulky ice maker that's a pain in the neck to remove. This model also comes with a replaceable air filter, which the manufacturer claims reduces odor build up. The through-the-door ice and water dispenser won't surprise anyone, but you'll want to keep your interactions with the control panel to a minimum. It's unnecessarily convoluted, and this fridge doesn't really have fancy functions that would require you to delve into it anyway.
For the price, it's excellent.
Side-by-sides tend to have more features than a basic top freezer, but lag behind most French door models. As such, the Frigidaire Gallery FGHS2655 is swimming in a sea of mediocrity, a market where many side-by-sides fail to stand out for positive reasons. Frigidaire's new product, however, is one of the rare exceptions. For a reasonably priced model like this one to do as well as it did and still have a very affordable MSRP of $1,599 is unusual. With some promising sale prices dropping this product down to about $1,350, fans of the side-by-side style should definitely keep an eye out.
This fridge isn't a record setter. It's not going to revolutionize the appliance industry. That said, this model turned out to be one of the best Frigidaire fridges and one of the finest side-by-sides we've tested. Those are some pretty impressive stats, and our test data is what primarily placed it in those positions.
Side-by-side issues can't negate long term consistency.
Side-by-sides are notorious for spatial consistency issues. The thin compartments and deep shelves prevent a lot of even air flow, and the tall sections constitute a lot of distance for cold air to travel. This Frigidaire suffers from those issues just like nearly every other side-by-side on the market, but it does so while still remaining within a very reasonable margin of error. The upper third of the main fridge compartment averaged 38.18 degrees Fahrenheit, while the middle third clocked in at 36.79 degrees. The bottom got noticeably warmer—its average temperature was 43.45 degrees—but that's not a terrible thing; the "Chill Drawer" has its own adjustable control switch to compensate, and it's actually better for produce stored in the crisper drawers to be slightly warmer. The most important element here is that, regardless of where you look in the fridge, the shift over time ranged from 0.45 at the most to 0.27 degrees at the least. That level of consistency is excellent, and should provide effective fresh food preservation.
The freezer was just a touch worse. With the ice maker taking up so much space and fewer shelves to spread around, you'd think things would be more consistent, but that wasn't the case. Upper portions of the freezer averaged -2.63 degrees, while the bottom held at 0.21. That sort of a gap is more important in the freezer, since that's the sort of thing which leads to freezer burn. Since each section only exhibited an average shift of 0.67 degrees, it's an issue that you can circumvent somewhat by not moving items from one shelf to another.
Can't break from mediocrity.
We had a lot of issues with the actual usability of this Frigidaire's pair of crisper drawers—it's never a good sign when the whole shelf starts to come out when you go to pull open the drawer attached to it—and mediocre performance was icing on the stale cake. Over the course of four days, our test materials lost an average of 0.22 grams of moisture per hour. The's definitely worse than average, a rate bad enough that fresh foods may not last as long as they might in other fridges.
Surprisingly effective in the simple tests.
Given the spatial consistency issues in the freezer, we surprised to see just how quickly this model froze our test materials. On average, our room temperature test items reached a frozen state after just one hour and 21 minutes. While it's no flash freeze, this gets fairly close to some of the quickest times we've recorded, putting the freezing quality of this product into the top tier as far as this attribute is concerned. If you want to preserve a high-quality piece of meat or fish, this is the way to go: there shouldn't be a substantial difference in texture or taste upon thawing.
Given the rapid freezing rate, it's no surprise that this Frigidaire passed our easiest test without a hitch. We unplug all our fridges for 36 hours to simulate a power outage and to test the quality of its freezer's insulation. At the end of that day and a half, the internal temperature of our test materials had reached a still chilly 29.35 degrees. Assuming you don't keep opening and closing the freezer door—we never open ours during this test—you shouldn't have to throw anything away.
More space than it may seem.
Among the many flaws found with side-by-sides, cramped storage is definitely one of them. The thin compartments often look smaller than they actually are, but that doesn't stop manufacturers from making them just as spacious—more or less—as the other fridge types. With space spread out over four shelves and three drawers in the main cavity, with an additional four bucket shelves plus dairy bin on the door, this model serves up 11.37 cubic feet of usable space.
The freezer is definitely more cramped. We lay much of the blame on the ice maker, which takes up a lot of space. In our calculations, though, we include the little nook above the ice maker as usable space in addition to the two shelves and two pull-out bins that constitute the bulk of the freezer's storage options. Throw in the four small shelves on the freezer door, and you get a grand total of 4.97 cubic feet of usable space. It's not a ton, but's roughly on par with other similarly-sized side-by-sides.
While this isn't the greenest fridge on the market, it puts in a good turn for being pretty darn efficient. Each cubic foot of usable space turned out to need just 0.09 kWh in order to function. This is somewhat better than average—you won't see much in the way of long-term savings, but you can rest easy at night knowing you're not exerting an ungodly drain on the environment. For the more practical minded consumer, we determine an annual cost based on a rate of $0.09 per kWh. Using that figure, this fridge should run you up an annual bill of about $49.82, a very reasonable price indeed. Keep in mind that both the power usage and electricity costs were calculated while the ice maker was on and running. If you don't need the ice, you get lots of extra savings.
Meet the tester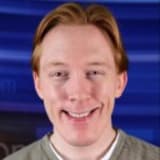 Matthew Zahnzinger
Logistics Manager & Staff Writer
@ReviewedHome
Matthew is a native of Brockton, MA and a graduate of Northeastern, where he earned a degree in English and Theatre. He has also studied at the Gaiety School of Acting in Dublin and spends most of his free time pursuing a performance career in the greater Boston area.
Checking our work.
We use standardized and scientific testing methods to scrutinize every product and provide you with objectively accurate results. If you've found different results in your own research, email us and we'll compare notes. If it looks substantial, we'll gladly re-test a product to try and reproduce these results. After all, peer reviews are a critical part of any scientific process.
Shoot us an email