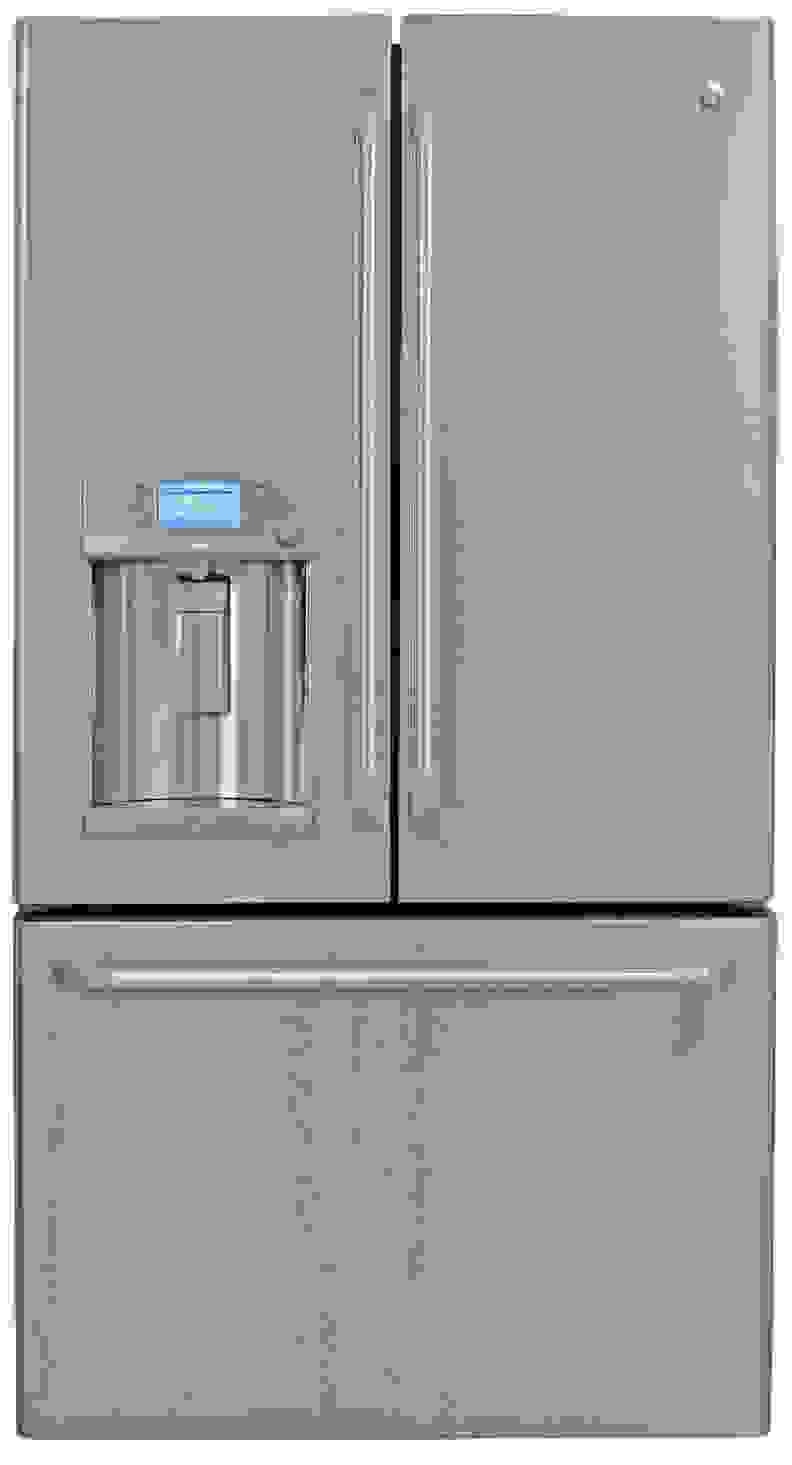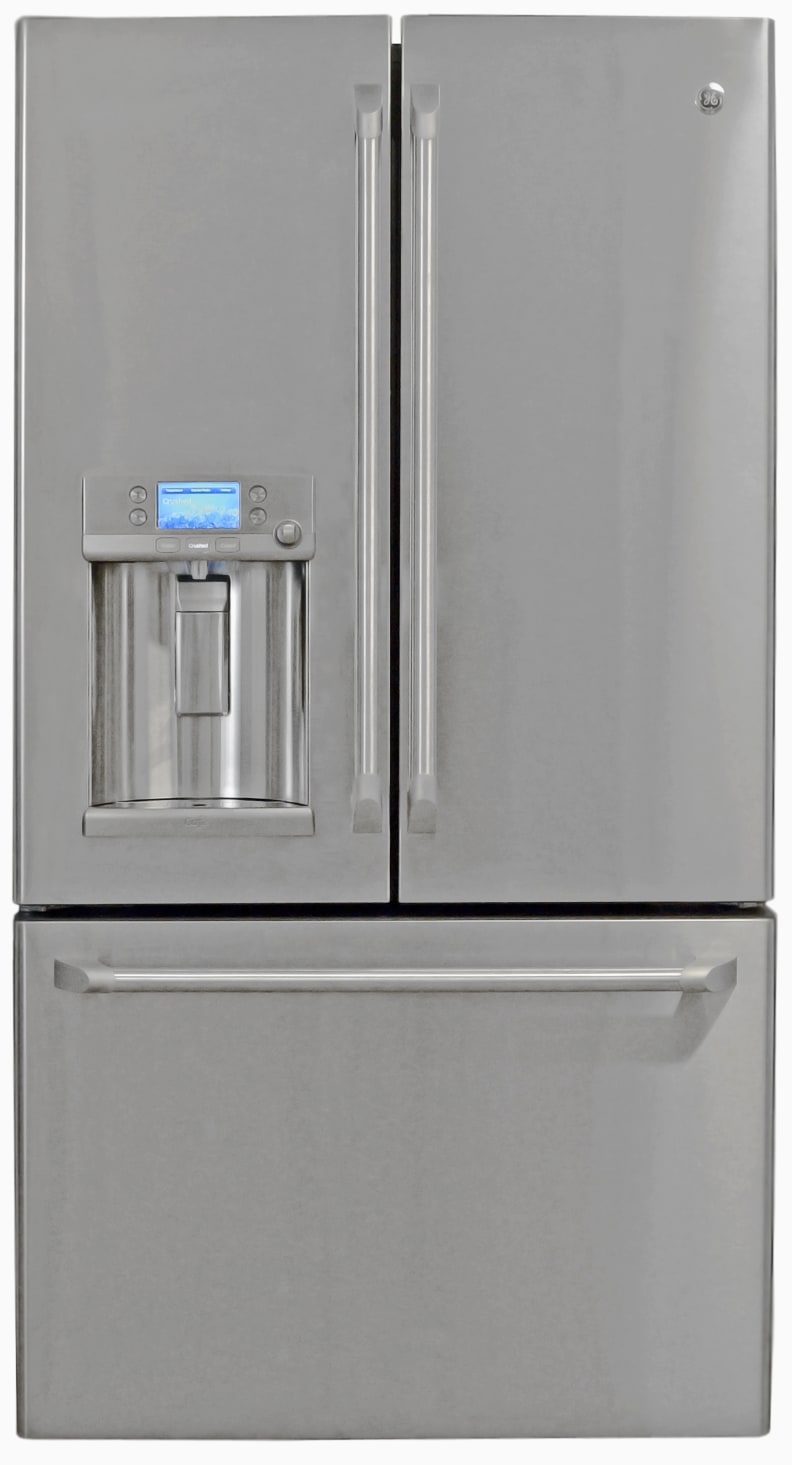 • A hot water dispenser is perfect for tea, soup, or baby bottles
• Our tests show the fridge and freezer both keep consistent temperatures for ideal food preservation
• It is built at GE's Appliance Park factory in Louisville, KY and gets good user reviews for reliability
• High-end touches like smooth-gliding shelves, spill-proof rubberized door bins, and LED lights make it easier to use
• Most of its 28 cu. ft. of storage space is well-organized and easy to customize
It's also available in GE's new Black Slate finish as the CFE28UELDS, with a built in K-Cup coffee maker (yep) as the CFE28USHSS, and in a shallower counter-depth design, too.
To learn more about why our testers and editors love this fridge, read on.
How it looks and feels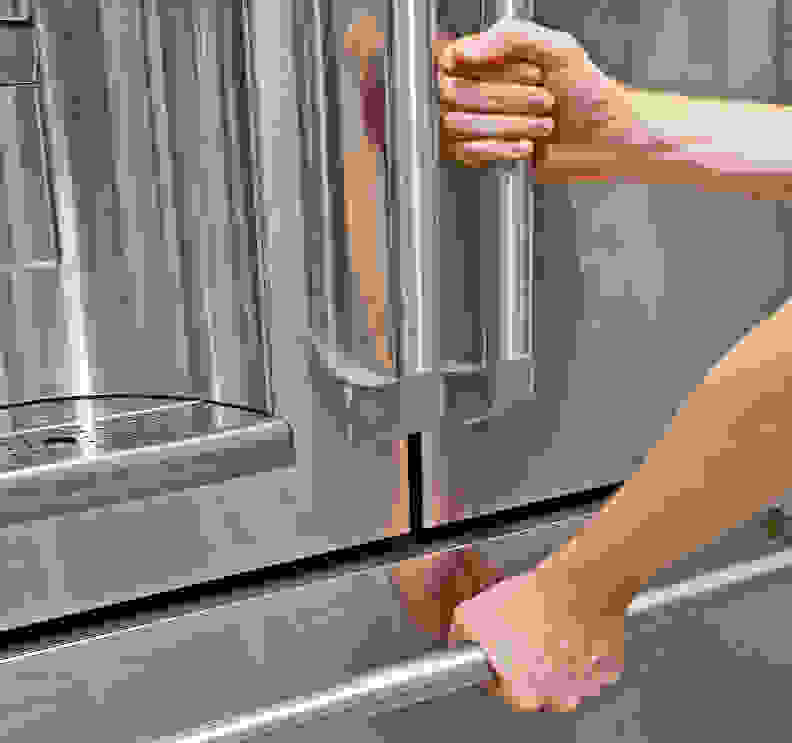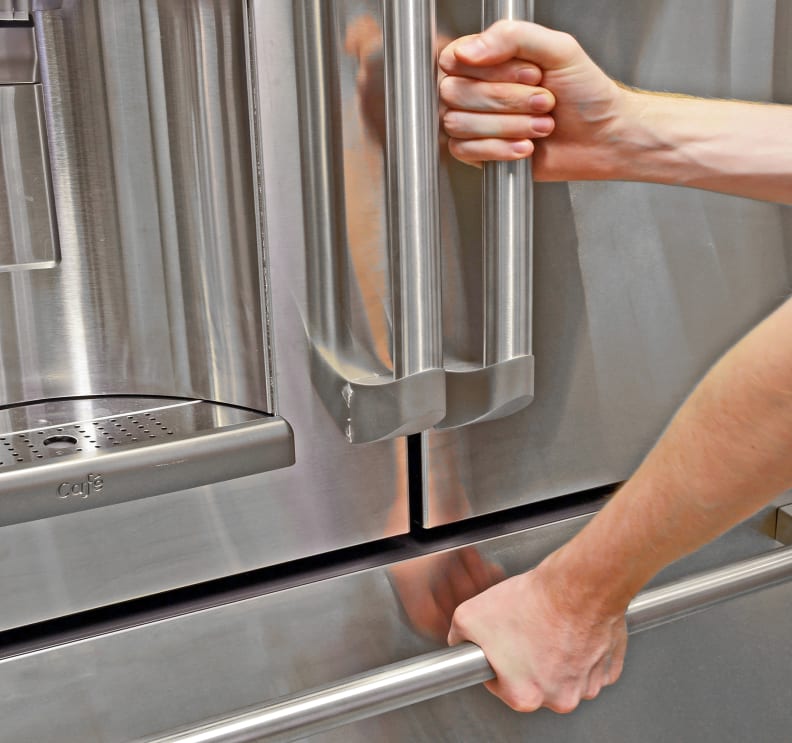 Design-wise, this GE Café is version 2.0 of another great fridge. Updated to meet Energy Star's new refrigerator requirements, our tests show that it's even better than the model it replaces.
The exterior dispenser features a base that slides out about an inch to accommodate larger items. It's also one of the taller niches we've seen, making it easier to fill jugs or other oddly shaped containers.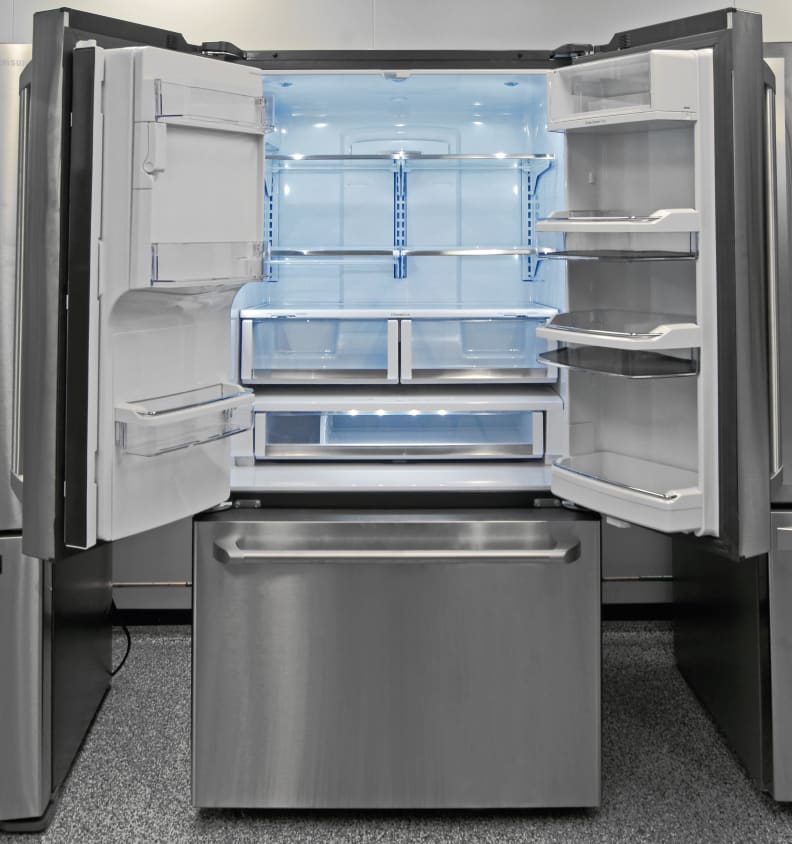 A matching control panel blends in well with the stainless finish. When active, the responsive touch screen initially displays animated icons based on which dispenser setting is active—water, crushed ice, or cubed ice. Even with the added animations, prompts are intuitive, and settings require minimal effort to locate.
The doors themselves have a definite sense of weight to them, and require some force to open. Our only design quibble actually came down to the handles. Unlike most handles, which feel smooth, the GE's had a coarse, grainy texture. They're not rough or sandpapery, but multiple reviewers thought they felt unfinished.
Open the doors and you'll see bright LED lighting illuminate the spacious fridge interior. It's replete with adjustable shelves, two crispers, and a full-width drawer with independently adjustable temperature.
The two larger buckets on the right door come with removable rubber bottoms to help with spill containment and to prevent your food from sliding around. There's also a drop-down tray built into the dairy bin for short items like tubs of spreadable cheese, yogurt, or hummus.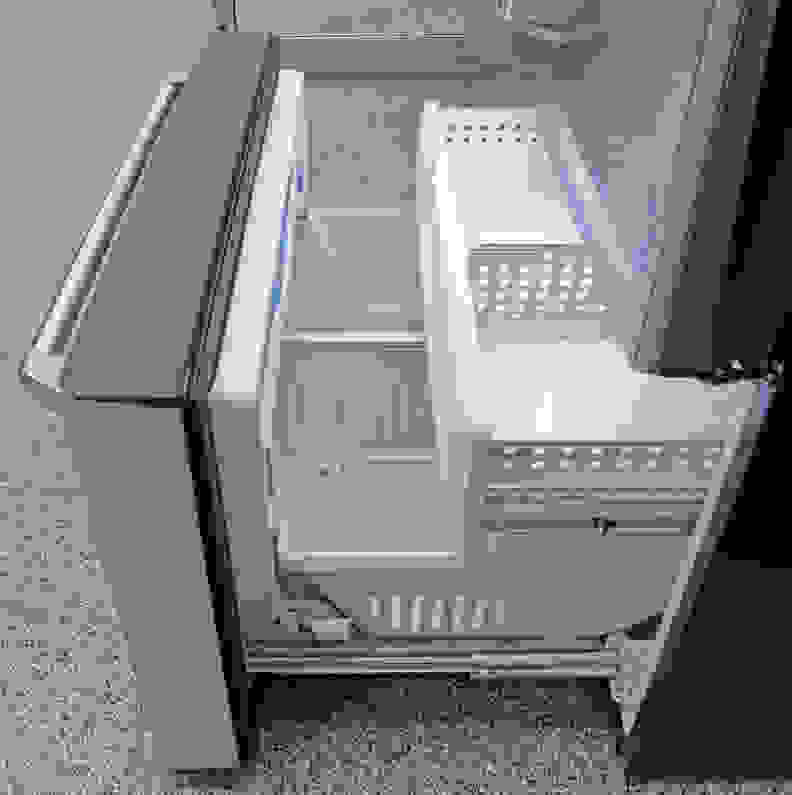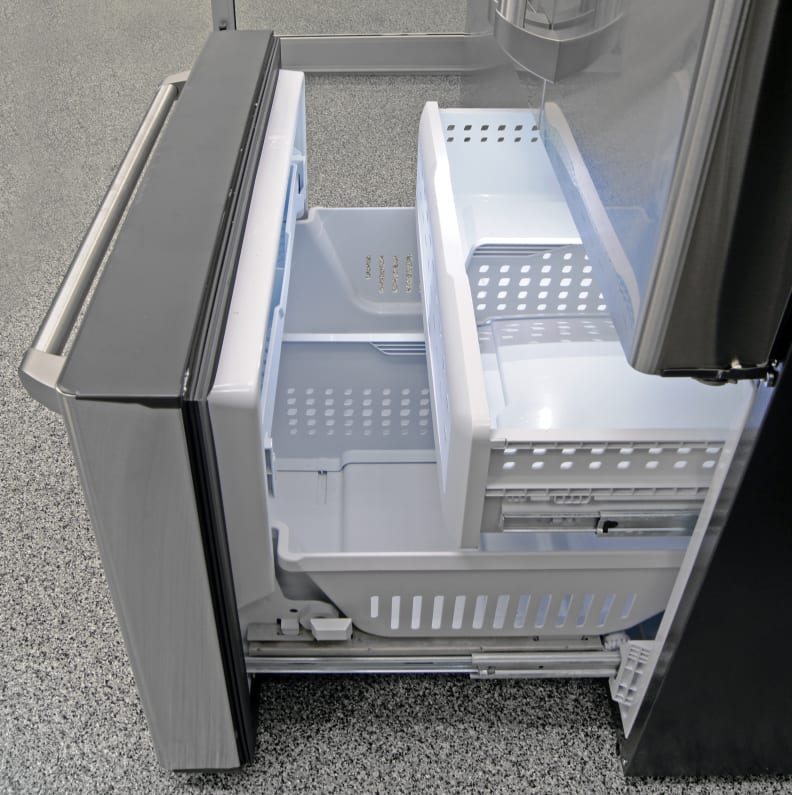 Inside the pull-out freezer, you've got upper and lower drawers with sliding dividers for improved organization. There's also a small shelf just inside the door for storing small, loose items that might sink to the bottom of the larger drawers.
What it does and how it cools
This GE's performance is as close to perfect as we've ever seen. Temperatures were cool and consistent, and the standard crispers rivaled any other drawer we've tested. This fridge is exceptionally energy efficient, too, despite its size.
The only quibble we had was with the freezer. While consistent over time, sections of the lower drawer didn't quite make it down to 0°F or below. An average of 0.9°F isn't all that much warmer than ideal, but anything stored for an exceptionally long period of time above 0ºF may start to develop some traces of freezer burn. Turn the freezer temperature down a degree or two, and you should be fine.
In terms of features, GE has pretty much pulled out all the stops. You've got basic fridge functions, like Turbo Cool and Turbo Freezer, as well as a door-mounted icemaker in the fridge. The Temperature Adjust Drawer in the fridge offers four distinct settings: Meat (32°F), Beverage (34°F), Deli (36°F), and Neutral if you just want to use it as a drawer.
You also get some high-tech options like Precise Fill, which removes the need for a measuring cup by allowing the user to select exactly how much water to dispense. There's also a USB port on the underside of the controls, for transferring photos to create a personalized slide show on fridge's tiny screen. Since magnets don't work on actual stainless steel, this is the only way to display your kid's latest artistic creation.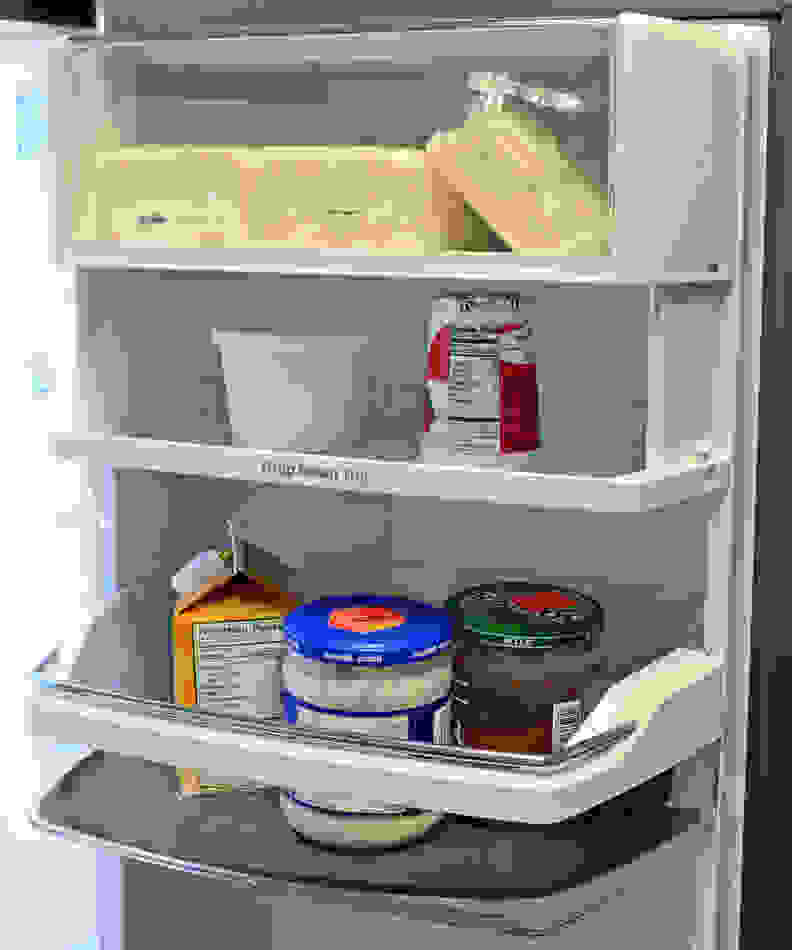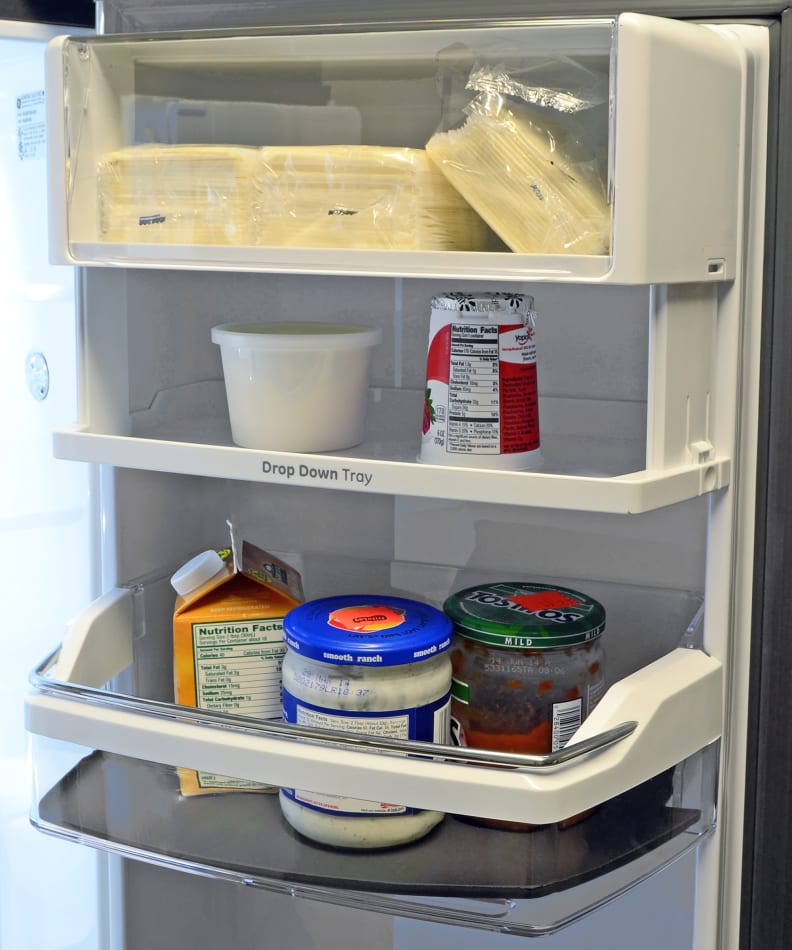 Perhaps most exciting is GE's continued use of the hot water dispenser. With four preset temperature modes, customizable settings with a range of 90-185°F, a tutorial video, and built-in safeguards, this fridge could erase the need to own a standalone kettle.
For in-depth performance information, please visit the Science Page.
What owners think
User reviews for this fridge are generally on par with other refrigerators in its price range. The main complaint is noise, largely due to a compressor that runs constantly at variable speeds. Most high-end fridges have a similar setup, but owners seem to think this GE is louder than the rest. If your refrigerator abuts a bedroom wall, the CFE28TSHSS might not be the best choice.
Because this fridge's user reviews are usually lumped in with those for the K-Cup fridge, many complaints are about glitches in the K-Cup fridge's touchscreen. Others caution that you have to ensure the interior freezer drawer is properly closed or the exterior fridge door won't seal.
Why we love it
The GE Café CFE28TSHSS has some pretty big shoes to fill. After all, the fridge it replaces was one of the best we've ever tested, and has been since 2013.
Luckily, all the features we loved about the older model—including Precise Fill and the hot water dispenser—are back. Our tests also proved this fridge has no problems preserving fresh and frozen foods.
Even among French door fridges, the GE Café CFE28TSHSS isn't cheap—it rarely drops below $3,099. Still, if you're willing and able to pay that much for a refrigerator, this one is worth the expense—especially if you can find it on sale.
Editor's Note
This review was updated on July 3, 2017 to include information from user reviews and new models.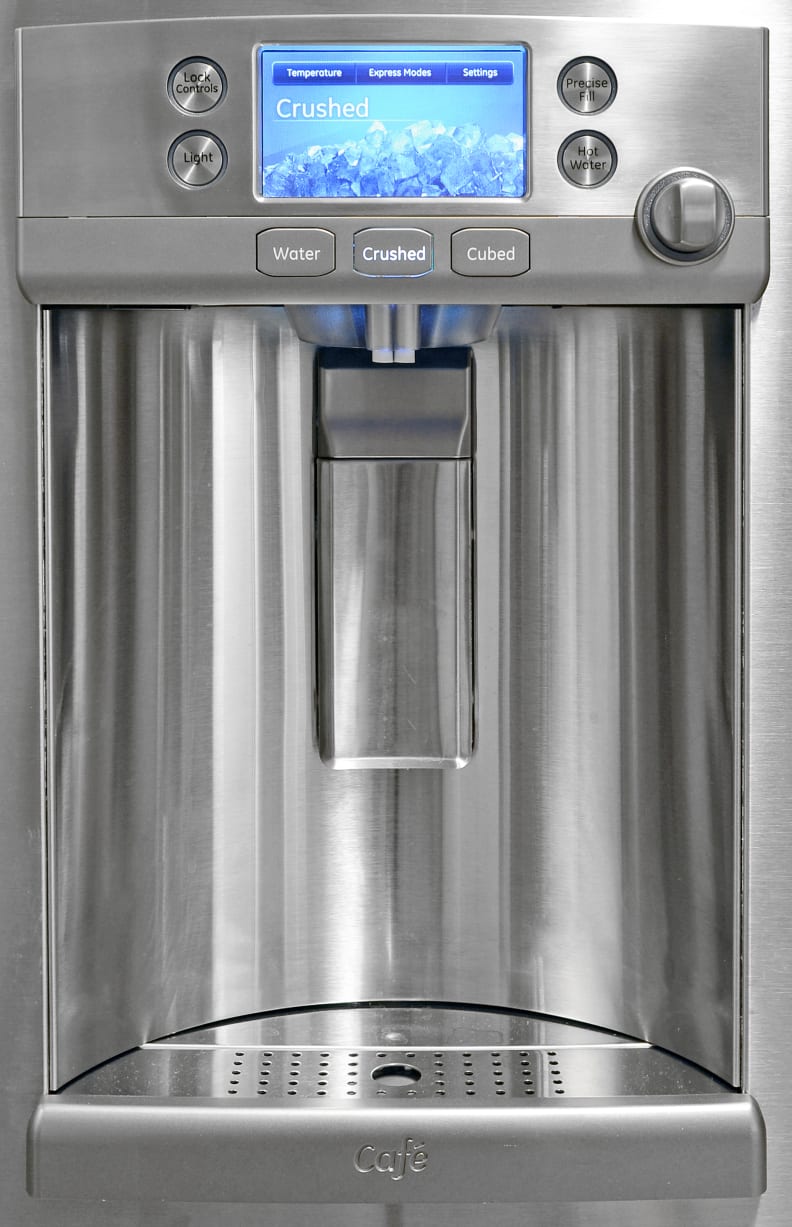 ×
New Gallery
The Cold Hard Facts
Without exception, the new GE Café CFE28TSHSS (MSRP $3,100) passed our tests with flying colors. There simply aren't any major flaws in this fridge.
Temperature Performance
Fridge temperatures were ideal throughout the entire compartment. From top to bottom, they averaged 37.2°F, 36.18°F, and 38.28°F. The little extra boost at the bottom is great for crispers and produce. Temperature deviations over time were limited to just ±0.15°F, making this a very stable compartment.
The freezer was almost as good, with temperatures averaging -2°F and 0.9°F at the top and bottom respectively. That's fantastic, though items stored near the bottom got above 0°F. That means they might develop freezer burn over long periods of time. Fortunately, stable temperatures with deviations of just ±0.3°F should help minimize that risk. If you turn down the thermostat, you shouldn't have any problems.
Moisture Retention
The crispers did a great job retaining moisture. Over the course of three days, our test materials lost a mere 0.08 grams of moisture each hour, making this one of the most effective fridges we've ever tested when it comes to produce storage. If they held any more moisture, food would be at risk of growing moldy. If they held any less, carrots may dry out prematurely.
Freezing Times
Our freezing test produced what was arguably the CFE28TSHSS's most average—and therefore, the least exciting—result of all. Room-temperature test materials reached 32°F in the GE's freezer after one hour and 32 minutes. That's acceptable, but nothing special.
Storage Space & Energy Efficiency
This GE has plenty of space in both compartments. In the fridge, you've got five shelves—four of which are adjustable—as well as two crispers and the temperature adjust drawer. Two of the buckets on the right door offer enough space to accommodate at least two gallon-sized jugs each, while shallow door storage on the left is ideal for keeping smaller items organized. In total, you get 12.75 usable cubic feet.
Pull-out drawers in the freezer, while not fancy, are plenty large. Taking into account space taken up by the sliding dividers, the freezer offers up 6.54 usable cubic feet of space. That includes the small shelf just inside the door.
Despite its large size, the GE turned out to be exceptionally efficient. Based on average American electricity rates of $0.09 per kWh, we estimate this fridge will cost you a mere $46.98 per year to run. It all averages out to just 0.07 kWh needed to cool each usable cubic foot of space. Keep in mind that our figures take into account an active icemaker. If you don't use one often, or just keep it turned off, those numbers will go down even further.
Meet the tester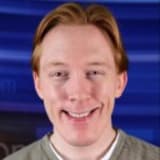 Matthew Zahnzinger
Logistics Manager & Staff Writer
@ReviewedHome
Matthew is a native of Brockton, MA and a graduate of Northeastern, where he earned a degree in English and Theatre. He has also studied at the Gaiety School of Acting in Dublin and spends most of his free time pursuing a performance career in the greater Boston area.
Checking our work.
Our team is here for one purpose: to help you buy the best stuff and love what you own. Our writers, editors, and lab technicians obsess over the products we cover to make sure you're confident and satisfied. Have a different opinion about something we recommend? Email us and we'll compare notes.
Shoot us an email