With excellent energy efficiency, a built-in icemaker, and plenty of storage space, this is a great fit for the frugal consumer. Sure, some temperature issues and wire shelving racks may keep this from being a top-of-the-line unit, but it does what it was designed to do without sucking up all your cash.
Design & Usability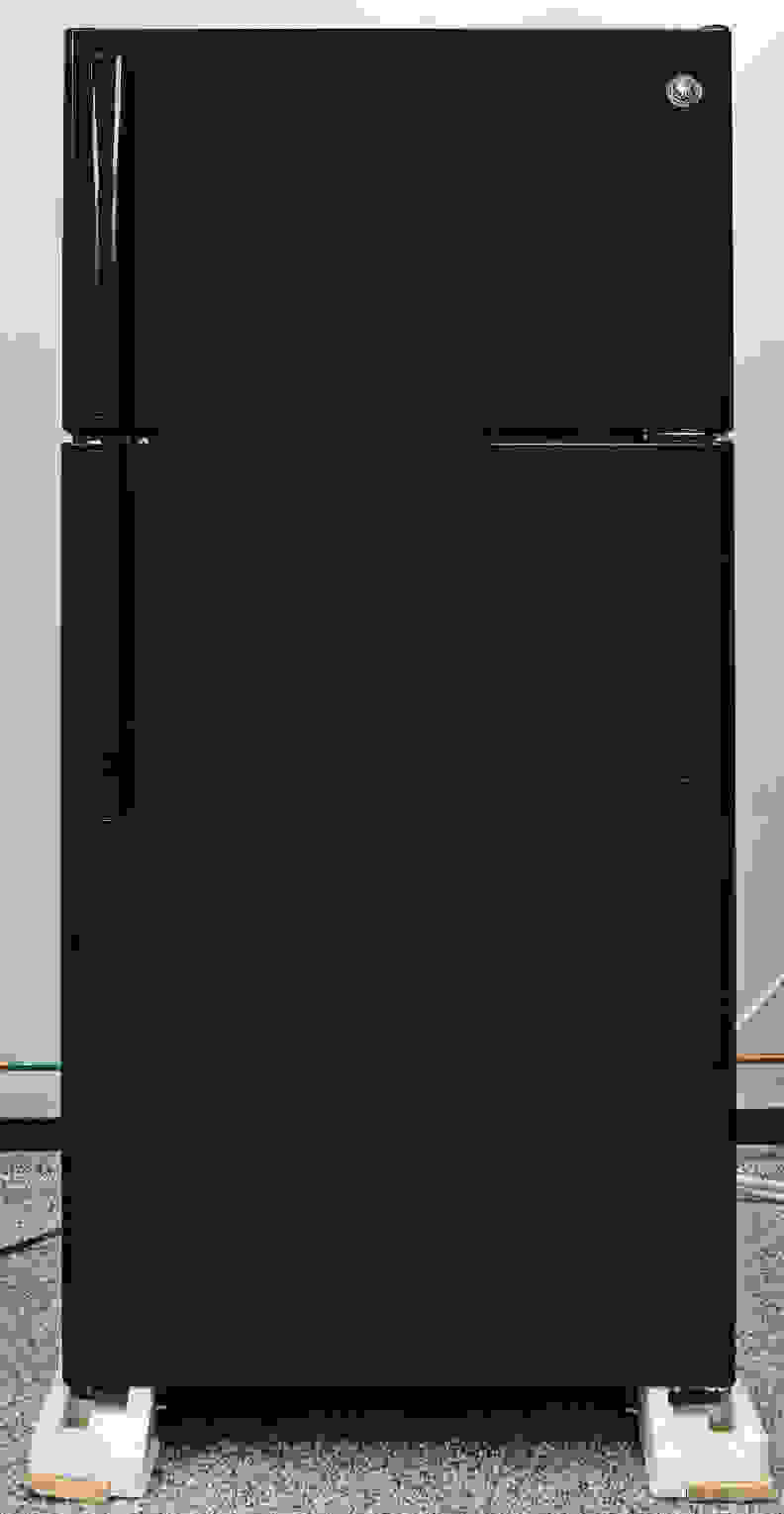 Mostly bare bones, plus a couple extras
The odd thing about this GE's design is its blend of budget elements with higher-end features. A glossy black finish—also available in white—is great for hiding fingerprints and displaying your kid's latest artwork with novelty magnets.
On the inside, the lightweight wire shelves are very convenient to move around. Plus, a tiered design for one shelf makes storing unusually tall or bulky items quite easy. The downside is that wire shelves have absolutely no spill protection, so make sure any liquid is securely sealed before you put it away.
You can only adjust the shelf in the freezer if you don't plan on using the icemaker. When the shelf is in its upper slot, the removable bucket won't fit.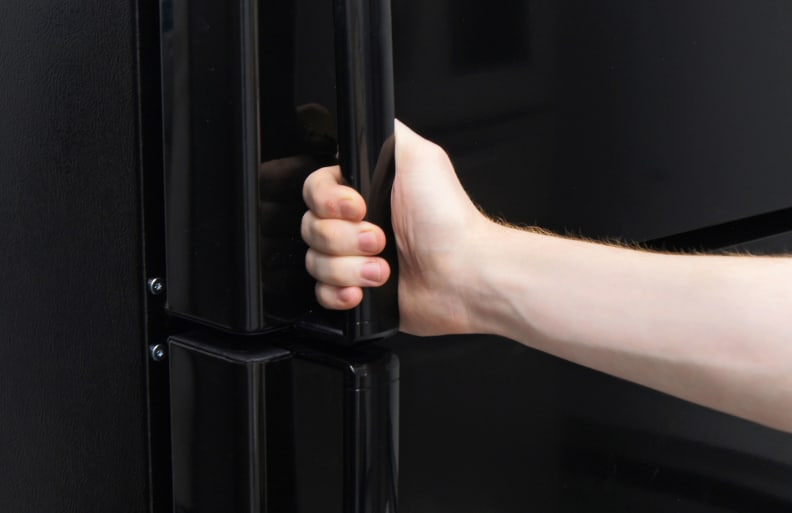 ×
Design
Performance & Features
Double-check the thermostat!
A budget top freezer like this GE isn't going to give you perfectly even cooling, but it works well enough. Your standard cold cuts and milk will be just fine here.
Our biggest complaint? The thermostat dial is inconveniently placed, forcing you to bend over or crouch in front of it just to see what the knob is set to. The knob also feels loose, making it needlessly difficult to choose the correct, precise temperature.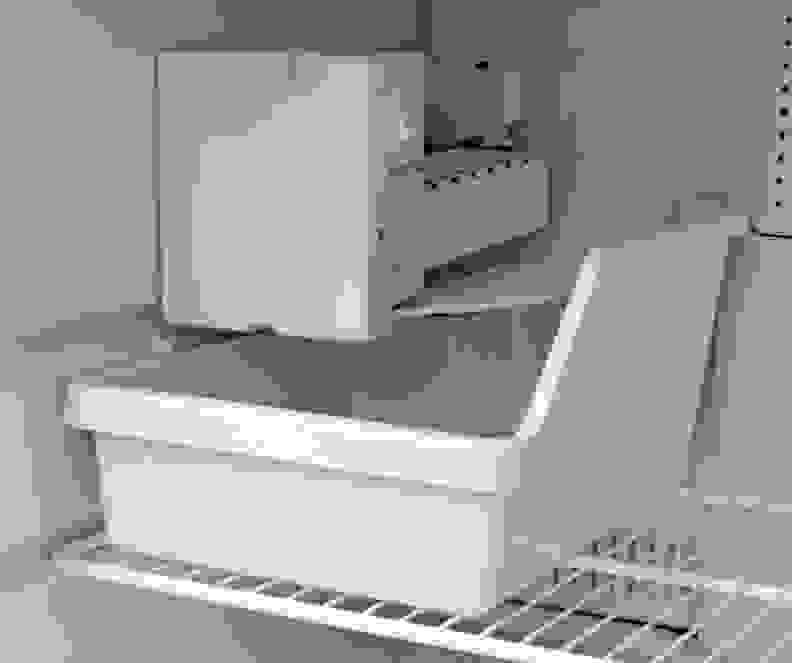 If you dial it too far to the right, you've got ice crystals melting all over your Hot Pockets. Too far to the left, and that bag of iceberg lettuce may start to live up to its name. If temperature accuracy is important to you—say you're storing especially delicate foods—you're definitely going to want to shell out the extra $25 or so for a separate thermostat.
Everything else about this top freezer did quite well. Crispers did an adequate job retaining moisture, freezing times were fast, and the machine proved to be very efficient, even with the icemaker running. All in all, this is a solid package.
For in-depth performance information, please visit the Science Page.
Fine Frugality
Efficient, roomy, and affordable
It can be difficult to find a decent 15-cubic-foot fridge for less than $700. In that price range, you're usually stuck with smaller units or truly rotten machines. While the GE GIE16DGHBB may have some issues, it strikes a balance between price, size, and performance that should make any frugal apartment-dweller very happy. With sale prices that can go as low as $585, you'll be hard pressed to find a better deal.
The Cold Hard Facts
Generally speaking, the GE GIE16DGHBB (MSRP $699) does a decent job without blowing any competition away. What makes this unit stand out is a combination of adequate performance and low price.
Temperature Performance
Setting the controls on this GE is surprisingly complicated. The angle of the thermostat dial means that if you look at it from any direction other than straight on—an awkward prospect given its relation to the doorframe—you might misjudge its position. Buy an external thermometer and double-check the settings if you want to make sure your food is being preserved correctly.
With that in mind, our tests ran quite cold despite setting the dial at what appeared to be the recommended setting. Average fresh food temps were recorded as 33.95°F at the top, 32.57°F in the middle, and 33.25°F at the bottom. It was also quite inconsistent over time, with a standard deviation of ±1.7°F. Temps that cold could potentially damage produce and freeze liquids like milk.
Unsurprisingly, the freezer was incredibly chilly, with average temperatures of -5.72°F and -2.17°F. While turning up the thermostat should help the fridge, this GE is a single compressor fridge, which means the freezer will get warmer as well. It will still be cold enough to freeze food, but you may notice an increase in freezer burn—especially considering the incredibly wide average fluctuation of ±1.78°F.
Moisture Retention
Dual crispers with adjustable humidity settings are unusual for a budget top freezer, but this GE's got them—and they actually do a pretty good job! Over the course of three days, our test materials lost an average of 0.13 grams of moisture per hour at its most retentive setting. That's spot on for the average, and means a full crisper's worth of produce should last long enough for you to eat it before going bad.
Freezing & Thawing
While the excessively cold temperatures may be bad for the fresh food compartment, they definitely seemed to help when it came to cooling food quickly. It only took our room-temperature items one hour and 19 minutes to hit 32°F—slightly faster than average.
The insulation was more than sufficient when it came to keeping that cold air inside the freezer. After three days without power, internal temperatures had only warmed up to 28.93°F.
Storage Space & Energy Efficiency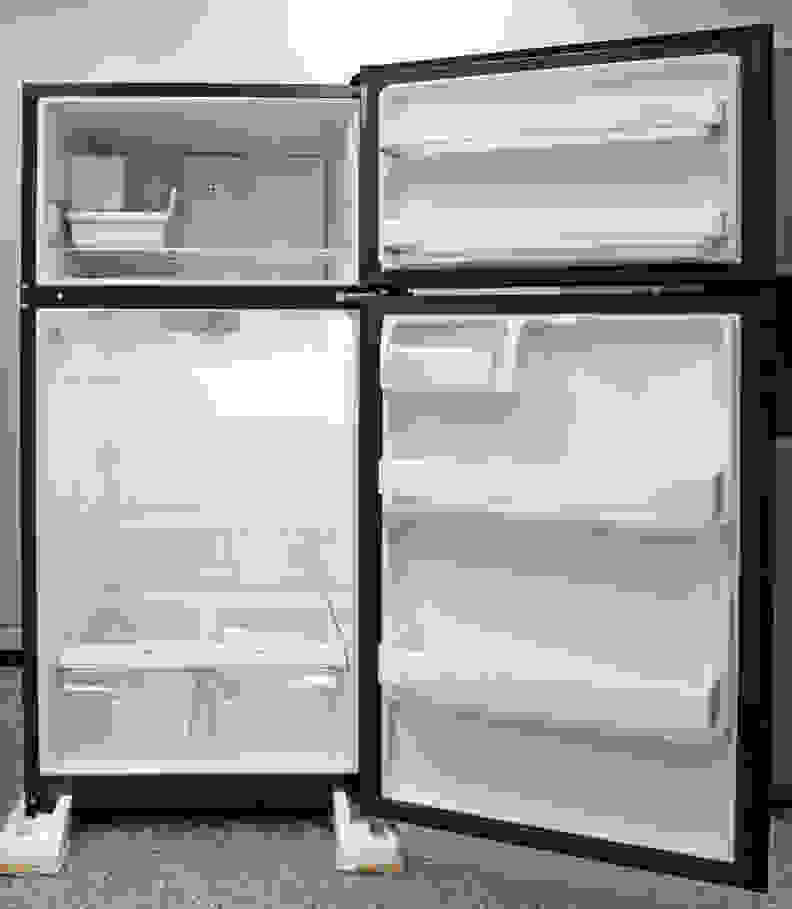 Depending on the kind of food you buy, getting at certain items may prove problematic for a fridge that only has three shelves in its main compartment. Nevertheless, this GE manages to provide you with plenty of storage: Those three shelves, in addition to the two crispers, dairy bin, and the two shelves on the door, provide 9.24 cubic feet of usable space.
The freezer is a bit more cramped due to the presence of the icemaker, but you still have enough to accommodate one or two people comfortably. The main section is split by one wire shelf (if you want to use the icemaker, you have to keep this shelf in its lower slot) plus two shelves on the door. Combined, these give you 3.86 usable cubic feet.
Even with the icemaker running, this GE turned out to be exceptionally efficient, requiring just 0.07 kWh to cool each usable cubic foot. At a fixed rate of $0.09 per kWh, that means this fridge should only cost you about $26.72 per year to operate. Check with your local electricity provider to see how your rates compare.
Meet the tester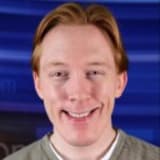 Matthew Zahnzinger
Logistics Manager & Staff Writer
@ReviewedHome
Matthew is a native of Brockton, MA and a graduate of Northeastern, where he earned a degree in English and Theatre. He has also studied at the Gaiety School of Acting in Dublin and spends most of his free time pursuing a performance career in the greater Boston area.
Checking our work.
Our team is here for one purpose: to help you buy the best stuff and love what you own. Our writers, editors, and lab technicians obsess over the products we cover to make sure you're confident and satisfied. Have a different opinion about something we recommend? Email us and we'll compare notes.
Shoot us an email