Introduction
Excellence has its price, however. In this case, it's an MSRP of $3,099. We've seen some sales, and if you can snag a lower price you'll be getting a great deal. If you can fit this fridge into your budget and into your kitchen, we suggest doing so.
Design & Usability
A curved front may not fit every kitchen, but it's far less boring.
We'll start our review of the GE Profile PFE29PSDSS in a specific spot: The water and ice dispenser. It's one of the most unusually designed features on this fridge, with an animated screen and controls that bow out from the left-hand door. The dispenser's bottom panel can slide out to create a larger platform; that feature, combined with its impressive height and width, make it easy to rest even gallon-sized containers in place for filling. You'll want to take advantage of that tray: this fridge has PreciseFill and AutoFill, which means it can automatically fill a large container to the top without spilling.
Inside, pale, blue-grey LED lighting gives the inside of this GE a clean and bright appearance. Steel highlights and clear plastic shelves also work to add an air of modern sophistication to the overall design. To save space, GE mounted the ice maker on the inside of the left fridge door, and hid the water filter inside. There are also lots of very usable cubby holes and hideaways, plus a temperature-controlled drawer for items that require the utmost care.
Performance & Features
Some of the best temperature consistency we've seen.
In all of our tests, this GE did exceptionally well. In both the fridge and freezer compartments, the PFE29PSDSS kept an astoundingly even temperature throughout our 72-hour test period, and the actual internal temperature was quite close to the one shown on the control panel. That will protect your foods against premature spoiling and freezer burn, which just might save you some money.
Moisture retention was exceptional, which means veggies in the crisper drawer will stay fresher longer. The freezer did, however, take about an hour and a half to freeze items from room temperature. A faster freeze — say, under an hour — would better preserve the texture of foods when they're unfrozen. Best of all, it was exceptionally efficient, especially for a fridge of this size.
Conclusion
We really like this fridge, and we bet you will, too.
Thanks to superb food preservation, a spacious interior, and innovative features, the GE Profile PFE29PSDSS earns every compliment we can give it. True, its $3,099 MSRP is steep, and its style may be a bit polarizing, but it excelled in every test we conducted. From nearly-nonexistent temperature fluctuations to vegetable drawers with incredibly effective moisture retention, this is one of the best refrigerators on the market.
Introduction
So you read our review of the GE Profile PFE29PSDSS and liked what you saw, but you want to learn more? You've come to the right place. This is where you can geek out over temperature stats and see exactly how much water our fake vegetables lost in our moisture retention test. You've been warned.
Temperature Performance
Nearly perfect, some truly exceptional consistency.
With temperatures shifting about one degree from top to bottom, this GE's main compartment proved to be exceptionally consistent. Average temperatures were actually just a bit cooler than the ideal 37 degrees, a sort of marginal inaccuracy that we can actually approve of. When you also consider the fact that, over time, temperatures shifted less than one fifth of a degree, you've got one of the most reliable fridge compartments we've ever tested.
The actual temperature in the freezer wasn't as reliable as it was in the fridge. The thermostat was set to zero degrees Fahrenheit; the top of the freezer average about one degree below zero, while the bottom got up to four degrees. Everything is still thoroughly frozen, but it's indicative of some air flow issues. Nevertheless, temperatures exhibited almost no fluctuation over time. Because of that, there's almost no risk of freezer burn for items stored here.
Moisture Retention
And it's a reliable fridge, too!
Moisture retention proved to be the fresh, crispy cream on top of the refrigerator-shaped cake. Over time, our test materials exhibited an average moisture loss of 0.11 grams per hour. This is very close to the best rates we've come across, and will keep your produce fresher for longer.
Freezing & Thawing
It's no surprise that after so many instances of high-quality test results, this GE would pass our power loss test. After being unplugged for 36 hours, freezer temperatures had only just cracked 26 degrees. Assuming you don't have a terrible utilities service provider, your frozen goods should be able to weather any power outage of average length.
It did, however, take an hour and 33 minutes to freeze food from room temperature. That's acceptable, but not exceptional. Some very fine or delicate foods may suffer a slight loss of quality when thawed, but most commonly frozen items should be just fine.
Storage Space & Energy Efficiency
While fridge manufacturers will tell you how much total space is inside their products, we measure how much space you can actually use. The GE Profile impressed, with 12.66 cu. ft. in the fridge and 6.06 cu. ft. in the freezer. Large fridges like this one generally cost a fair amount to run. The PFE29PSDSS, however, manages to run cheaply even on an objective basis. Using a standard rate of $0.09 per kW-h, this fridge will cost you about $35.79 per year. That sort of power usage is normally found on substantially smaller fridges, making this a definitively lucrative model.
Calculating how much energy is being used per cubic foot of usable space allows us to compare the energy efficiency of differently sized fridges in an objective manner. With that in mind, we've determined that the PFE29PSDSS uses 0.06 kW-h per viable cubic foot; that's some of the best we've ever seen. This fridge is exceptionally energy efficient, one that any environmentally conscientious consumer can be comfortable owning.
Meet the tester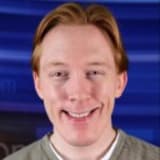 Matthew Zahnzinger
Logistics Manager & Staff Writer
@ReviewedHome
Matthew is a native of Brockton, MA and a graduate of Northeastern, where he earned a degree in English and Theatre. He has also studied at the Gaiety School of Acting in Dublin and spends most of his free time pursuing a performance career in the greater Boston area.
Checking our work.
Our team is here for one purpose: to help you buy the best stuff and love what you own. Our writers, editors, and lab technicians obsess over the products we cover to make sure you're confident and satisfied. Have a different opinion about something we recommend? Email us and we'll compare notes.
Shoot us an email