A place for everything, and everything in its place—That's the philosophy behind Whirlpool's new double drawer French door fridge. At CES 2015, we went hands-on with this versatile new ice box.
Everything about this fridge is geared toward organization. A host of adjustable shelves and compartments gave us the ability to arrange and organize groceries as we saw fit. But we were most impressed by the pair of self-contained drawers—these could be the best drawers we've ever seen on a fridge.
Design
Sleek looks, bright lights
The fridge we were able to get our hands on came in a neutral, unobtrusive stainless steel finish. Whirlpool told us that the fridge will also be available in Black Ice and White Ice, both of which will cost around $100 less.
Even on the well-lit show floor, it was clear that the interior lights brightly illuminated the inside of the fridge. They not only made the interior look bright, clean, and attractive, but their strategic placement made it easy to spot items that were placed further back or blocked by other groceries. Even when fully-loaded, it seems nearly impossible to lose anything in there.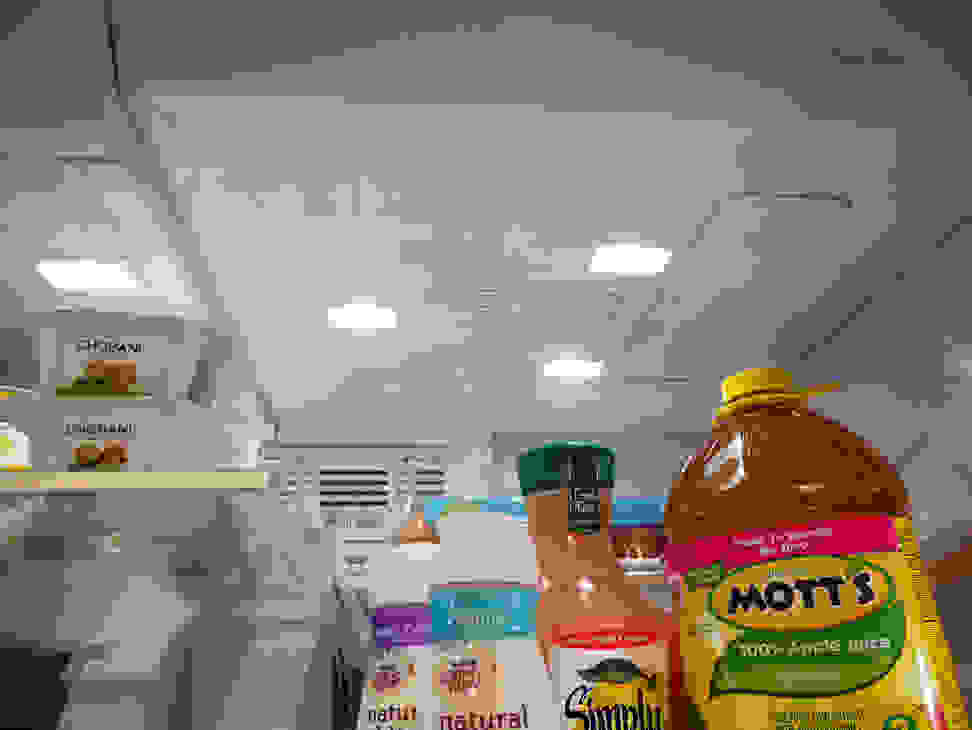 Usability
Responsive, seamless, accessible.
Everything about this fridge is geared toward organization.
This fridge wasn't any larger than a typical refrigerator, but its use of interior space was enormously efficient. There's a trio of crisper drawers, but the middle one was particularly interesting. It was narrower than the other two and seemed like the ideal size for snack items—Incidentally, it's well-positioned for quick extraction.
The duo of self-contained drawers steals the show, though. One of the drawers has adjustable environmental settings that are ideal for meat and fish, cold drinks, snack items, deli and cheese, as well as for thawing frozen food.
More importantly, the drawers open and close like silk. Pull a drawer out about halfway, and it will slowly open the rest of the way on its own. When you close it, the drawer will stop millimeters before shutting all the way and then gently slide closed by itself. This means it's impossible to yank these drawers open too quickly, nor can you slam them closed.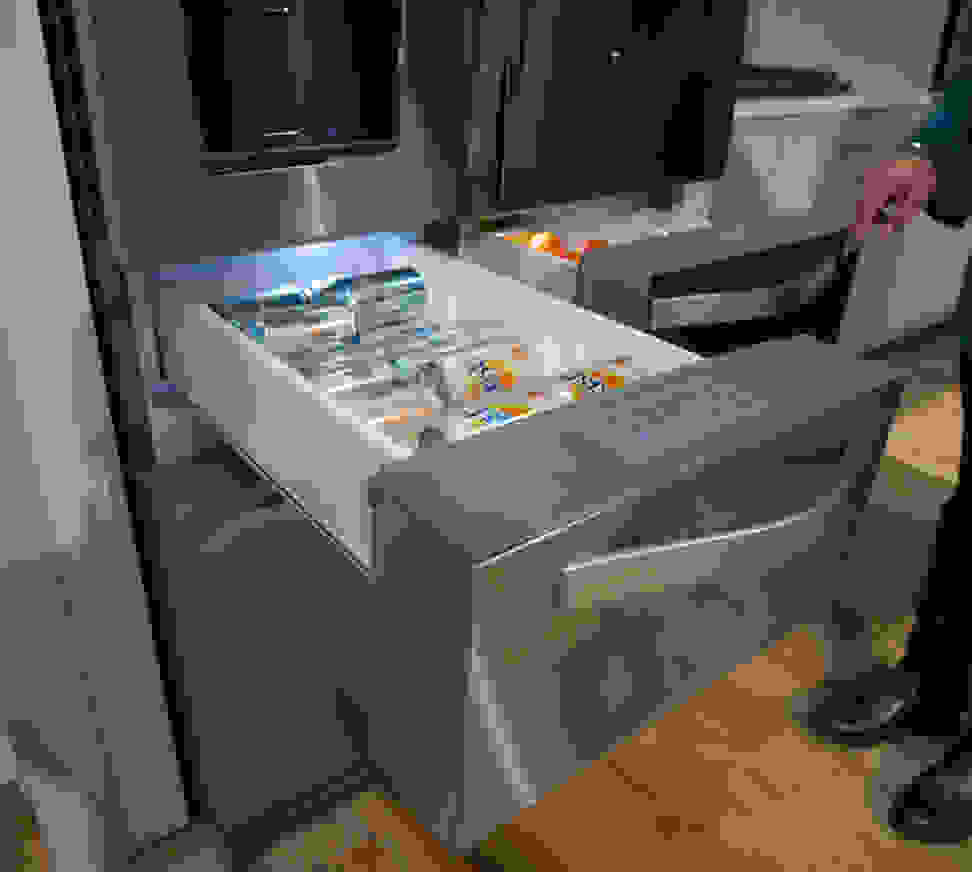 Features
The King of Compartments
Equipped with a host of adjustable shelves and compartments, this fridge let us arrange and organize groceries optimally and conveniently. The shelves easily lifted off and snapped into place, so adjustments were simple and hassle-free. The crisper drawers were also easy to remove, which makes cleaning the interior a much less daunting task.

The double drawer fridge will come in three trims. The one we played with had two full-size ice makers: one in the fridge and one in the bottom chest freezer. While most consumers might rather have the extra storage space, we can see it being a godsend to people who constantly host, effectively doubling the amount of icy refreshments they can provide.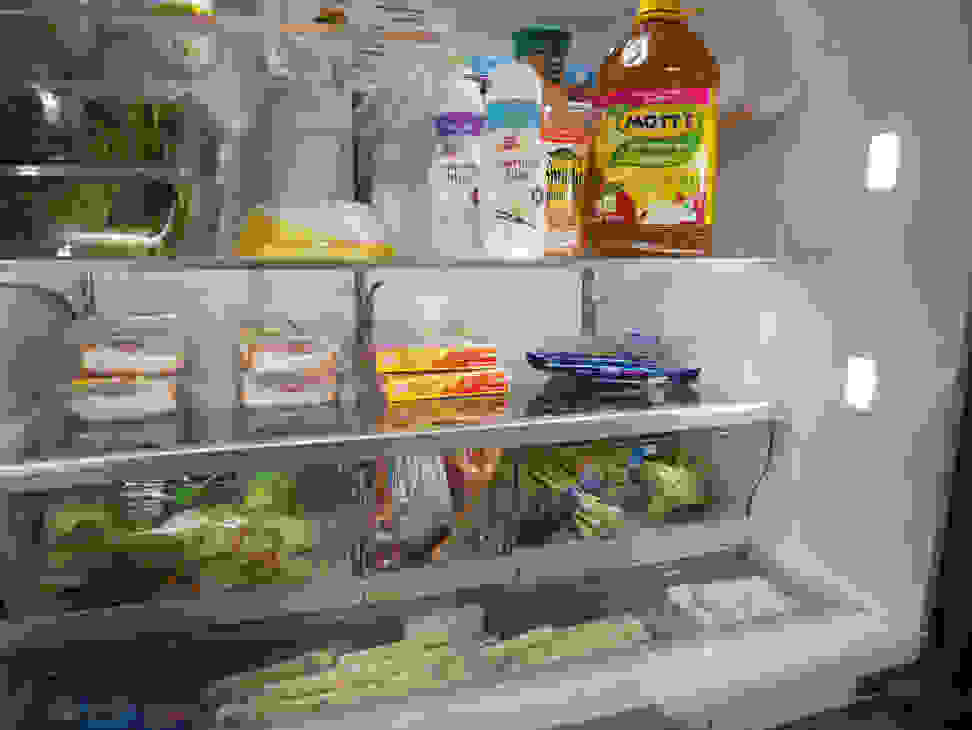 Truly Useful
Organization is key.
The idea behind organization and having a compartment for everything is that you're less likely to misplace or forget about them. Of course, teaching users how to optimally load their fridges is a difficult task. But by building so many compartments, Whirlpool is expecting that consumers will naturally separate items in a logical manner.
Whirlpool is looking at an April 2015 release for the double drawer French door, which doesn't even have an official model number yet. It will cost $3,099 to $3,199, depending on trim level and finish.
Our editors review and recommend products to help you buy the stuff you need. If you make a purchase by clicking one of our links, we may earn a small share of the revenue. Our picks and opinions are independent from any business incentives.