The exterior may remind you of dormitory living. There's nothing on the front to mar the uniform appearance created by the white matte exterior, except a brand logo in the upper right corner. Despite the barren front, we nevertheless found an indicator of the model's cheaper design: when it was attached, the brand logo was put on at a crooked angle.
Thankfully, the white matte finish is resistant to smudges and smears. You'll have to be careful about spilling any colored liquids or sauces, though, since the small rivers in the plastic can be difficult to clean.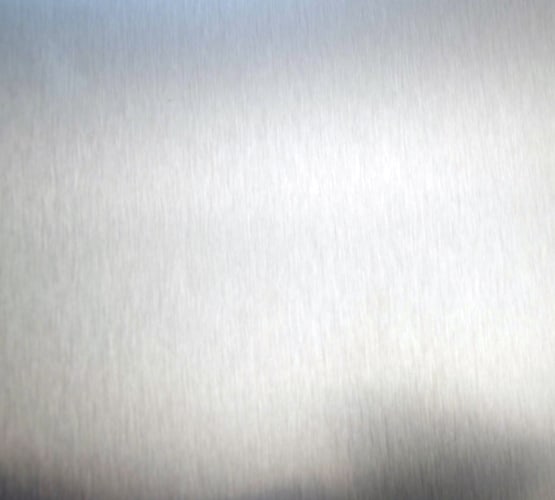 The is controlled with a simple little dial inside the fridge interior. This controls both sections, meaning the fridge is at the mercy of the freezer (or the other way around). There isn't any actual degree correlation or manufacturer's recommended setting, so if you want to know what temperature your actually storing your food at, you'll need to purchase an external thermometer.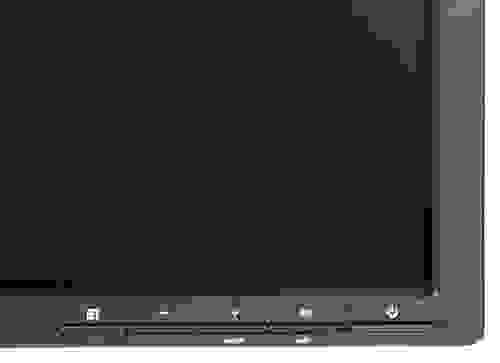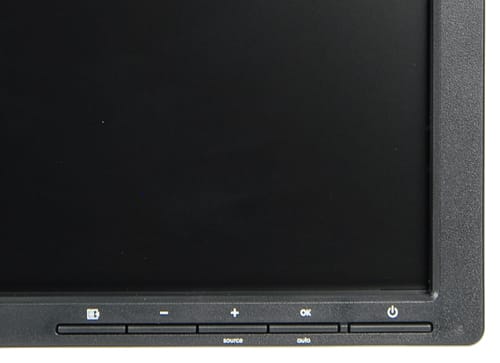 The handles are recessed into the sides of the two doors. There are handles on both sides, so reversing the door hinges to fit your kitchen shouldn't be a problem.

The plays off of open space rather than storage flexibility. Minimal shelves all around mean there isn't a whole lot of customization available in either compartment.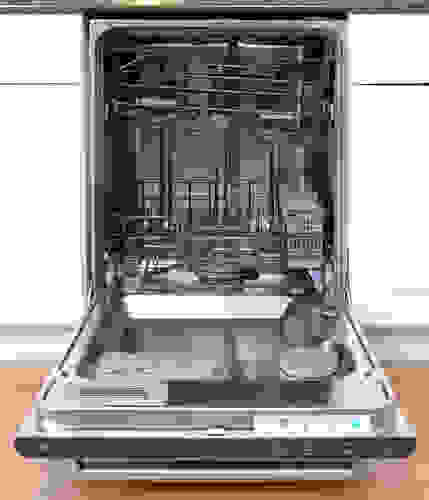 The main cavity of the fridge portion is made up of three shelves and a drawer. The two upper shelves are wire and can each be placed onto one of four different racks. The bottom shelf serves as a lid the wide drawer located at the very bottom.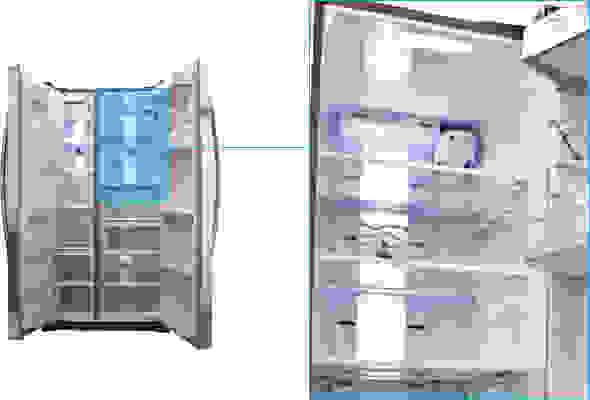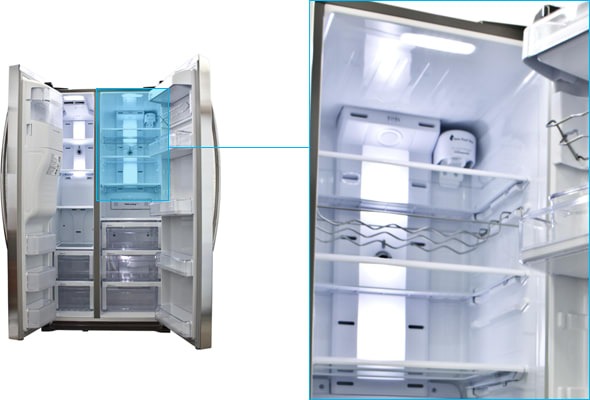 The fridge door has an opaque dairy tray in the upper left corner, as well as two fixed shelves. The front barrier on both shelves is removable, should you need to get a better angle for cleaning. The right portion of the upper shelf has more vertical space, allowing you to store gallon or liter containers with ease.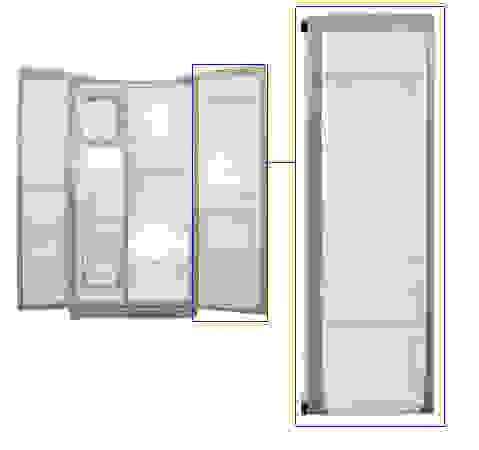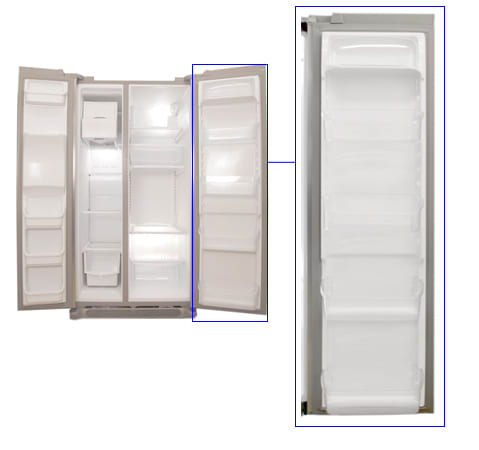 Looking for a low-tech freezer? Well, look no further. The possesses a simple box, with no shelves, no light, no features of any kind.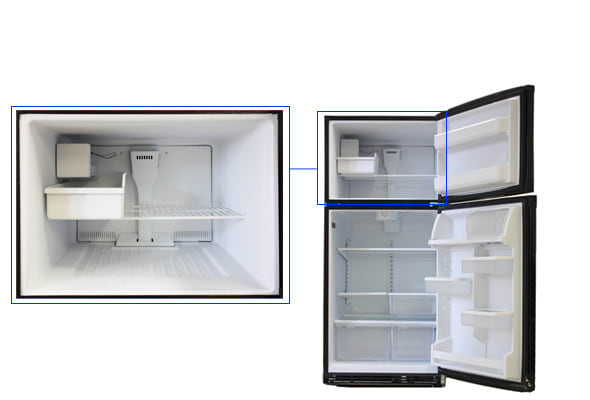 The freezer door has two simple, full-width shelves with removable fronts. The upper one is shorter, good for storing pints of ice cream, while the bottom one is a bit taller, allowing for somewhat more versatile storage. None of the door shelves are completely contained, with a gap occurring between the bottom of the shelf and the front edge.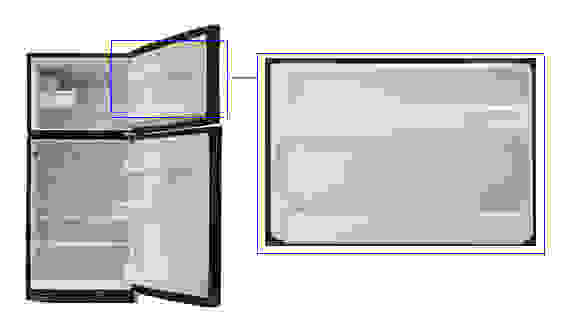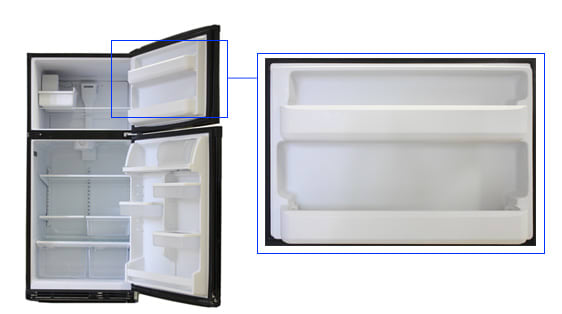 The back of the fridge is covered in a sheet of black plastic. The only thing back here is the power cable.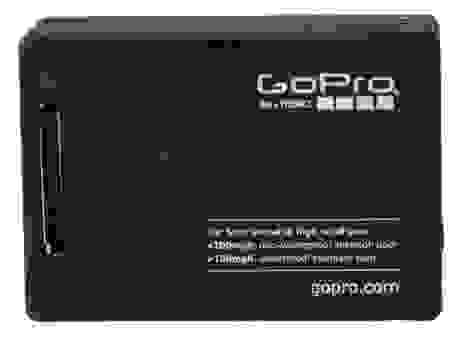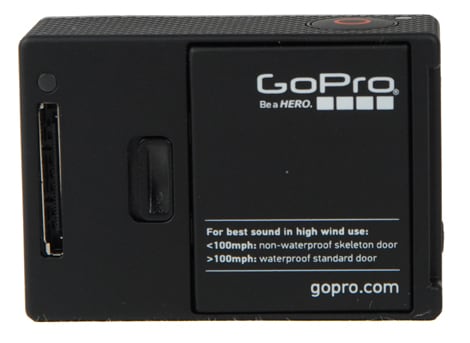 The sides also have a white matte exterior, meaning they match the front.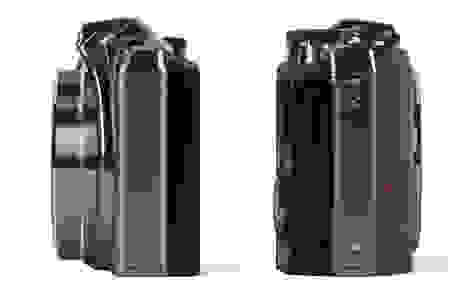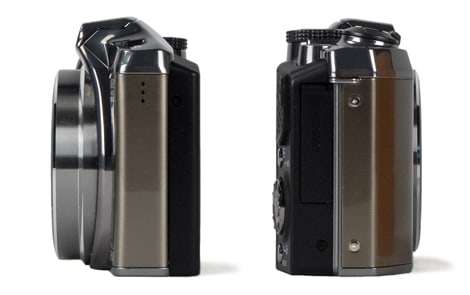 Frequently, low-cost or budget fridges will run up a fairly small electric bill. The is certainly no exception to this trend. It may not be the most economical fridge we've tested, but with an annual cost of $29.35, it's still on the cheaper end of things. As for how we got that figure, we use a base rate of $0.09 per kW-h to determine how much you'll have to pay to run a fridge for a full year.
The annual operating cost of a fridge by itself is all well and good, but you can't adequately comparison shop without some sort of proportional frame of reference. With that in mind, we determine how much energy is actually being used per cubic foot of storage space so consumers can compare fridges regardless of their overall size. The is a fairly small unit, and it uses just 0.07 kW-h per cubic foot of usable storage. This makes it both a cheap and highly efficient refrigerator.
There was a rather pronounced shift in temperature from the top of the 's fridge to its bottom. Near the top of the fridge, the temperatures were about 38 degrees Fahrenheit, just slightly warmer than the ideal 37. As we move toward the bottom, however, temperatures crawl up another degree, just breaking 39. Luckily, produce can be stored at a slightly warmer temperature than other refrigerated goods, so this slight change in shouldn't have any adverse effects on your food. The excellent thing about the 's fridge is that temperatures almost never fluctuated over time, so food is not being exposed to a wide range of temperatures and will be better preserved because of that fact.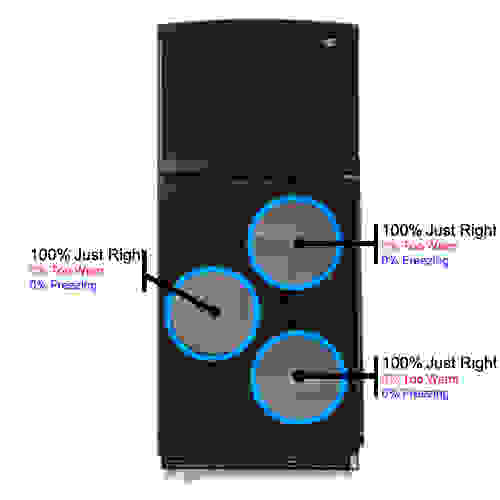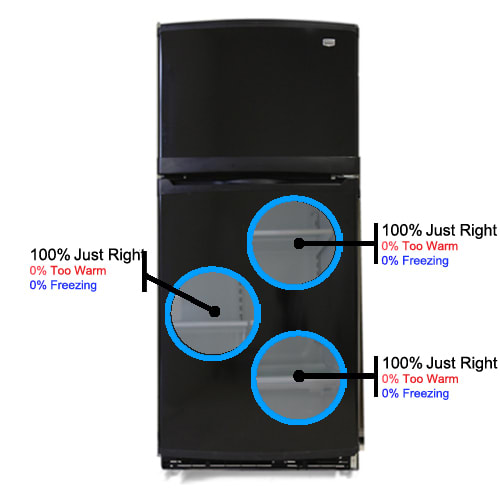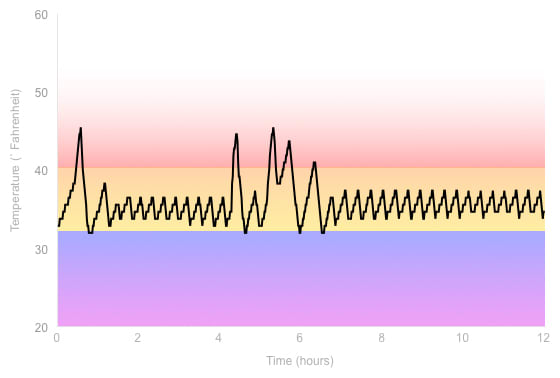 Despite having a box-like freezer, the temperatures actually varied greatly from top to bottom. Also, the fact that the only has a single temperature control means one compartment is always at the mercy of the other; we calibrated the appliance to a good fridge temperature, and as a result, the freezer never quite hit the ideal. Perhaps taking its brand name a bit too seriously, the was about two degrees warmer than the perfect freezing temperature, while the bottom was a full nine degrees too warm. The good news is, temperatures never fluctuated more than a quarter of a degree, so each section remained consistent over time. As long as you don't shift your frozen goods around all that much, you should be fairly safe from freezer burn.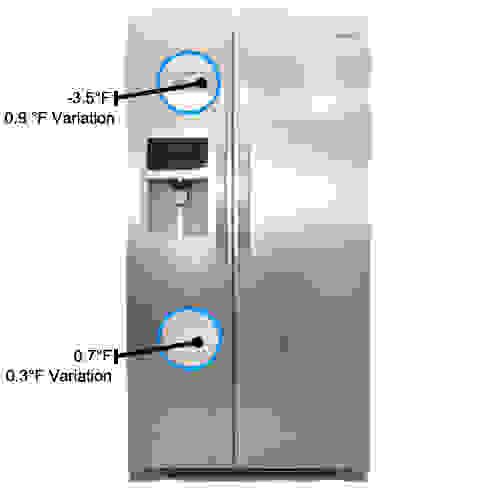 The doesn't actually have a proper crisper drawer. There's a wide, pull-out drawer at the bottom of the fridge, but it has no humidity control and it's completely opaque, so you won't be able to check on your produce without opening the drawer and letting out more moisture. That said, the rate of moisture retention in this "crisper" was surprisingly good. Despite its rather questionable appearance, our test materials lost an average rate of 0.17 grams of water per hour. Not only is this acceptable, it's actually pretty darn good, and a better performance quality than some models that have drawers with adjustable humidity control.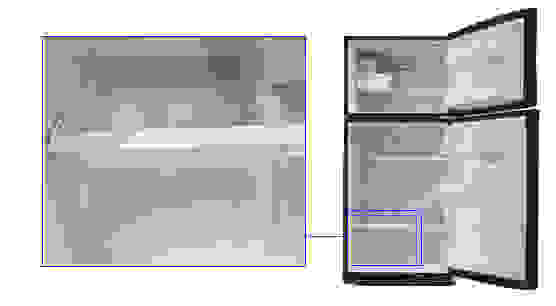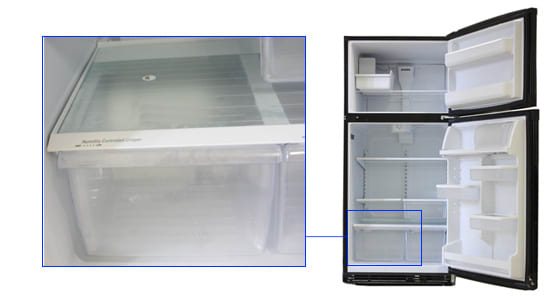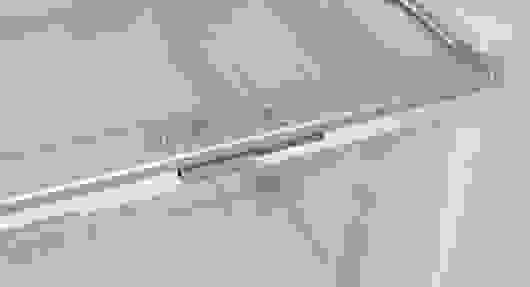 Simulating a power outage by simply unplugging the appliance, we check to see how long food will remain frozen. As long as the freezer door isn't opened, the will keep items thoroughly frozen for over 36 hours. If your power stays out longer than that, your concern may be less for the quality of your fridge and more for the effectiveness of your electric company.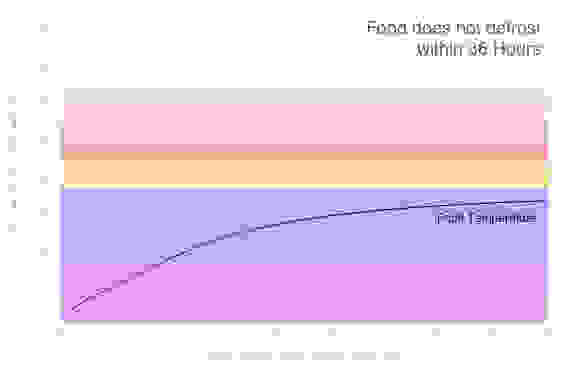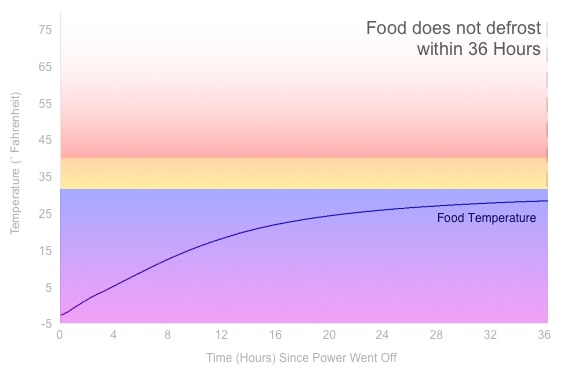 We make sure to pack our freezer to simulate air circulation in a well-stocked appliance, and as such, it took the one hour and 49 minutes to freeze our room-temperature test materials. For such a small freezer, this is quite poor. Ideally, food would be frozen instantaneously in order to preserve it at its highest point of freshness and nutritional value. The longer it takes, the worse your food will be when thawed. We've seen appliances of all sizes do much better than this; after one hour and 49 minutes, a piece of chicken or steak could have an altered, inferior texture when thawed.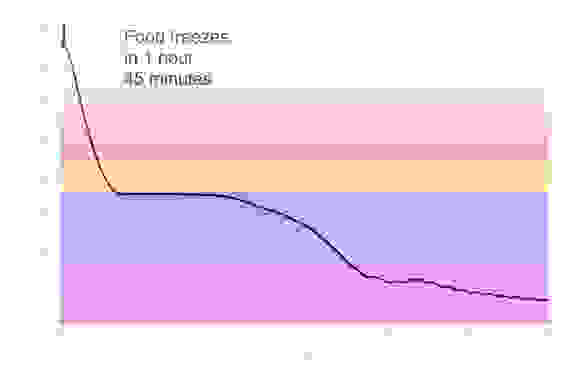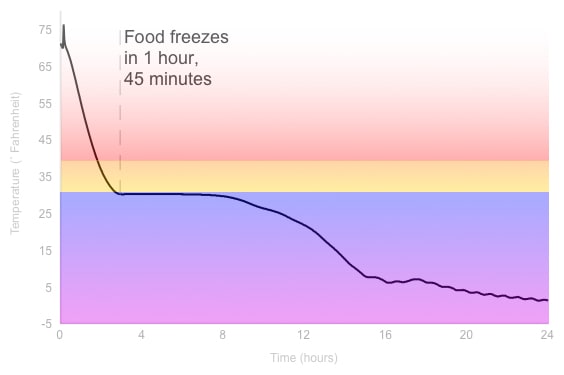 With almost as few shelves as is practically possible inside the 's fridge, you'll be stacking a lot of goods on top of each other if you're going to take full advantage of what's available. With three shelves and a drawer inside the fridge cavity, you can fit a total of 8.65 cubic feet worth of assorted stuff. The may be a fairly small model, but that's still a tight squeeze, making this fridge better for individual consumers or couples without children.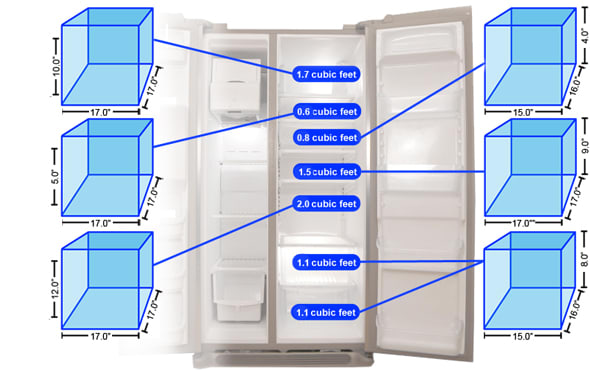 The fridge door has a somewhat unusual design. The upper shelf is covered on the left by a dairy bin, leaving just the right side with enough height to fit gallon or liter-sized containers. There's also no shelf on the bottom of the door, leaving you with just two shelves overall instead of the usual three.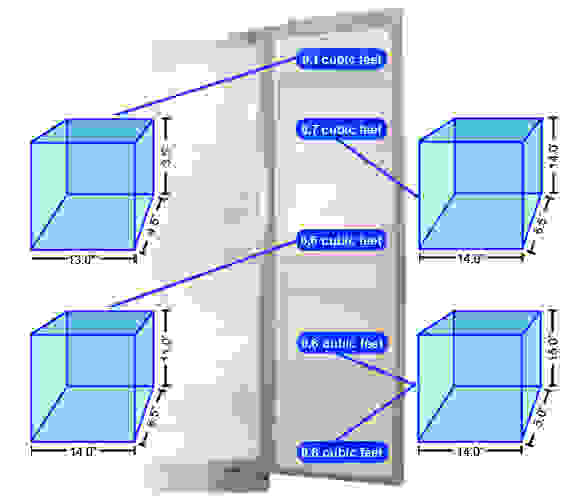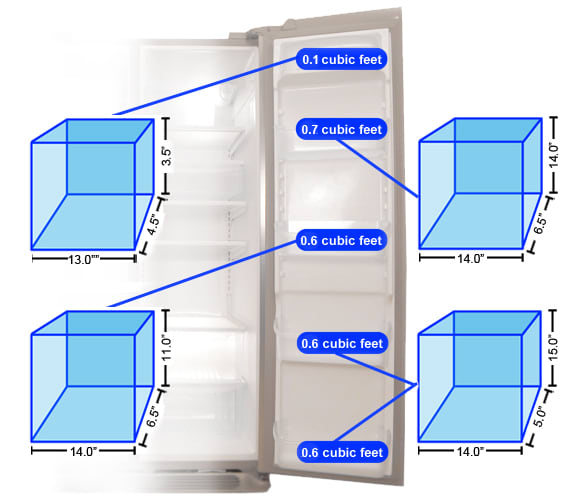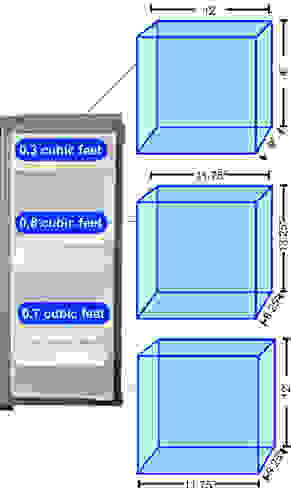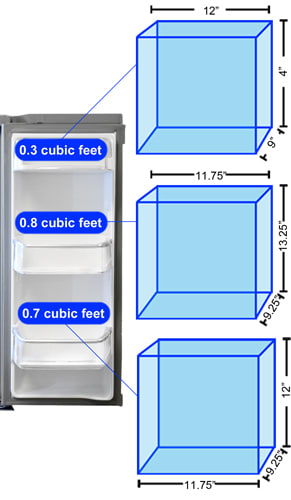 The wide open freezer looks deceptively large. Even without any shelves in there taking up precious storage space, the 's freezer can only hold 3.73 cubic feet worth of groceries. True, we've seen tinier models, but this is on the smaller end of the spectrum.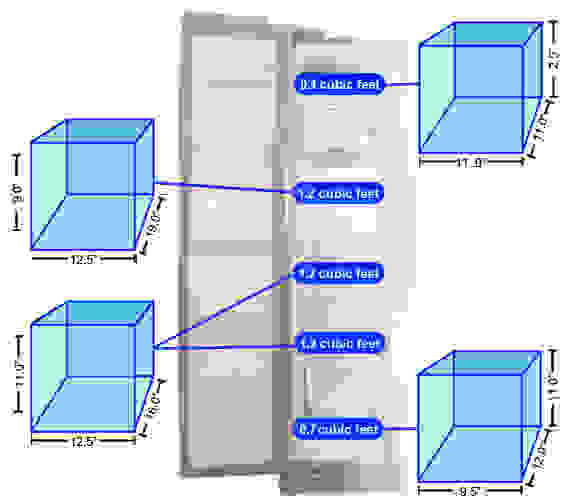 That rather meager amount of freezer storage also includes the space available on the door. The two shelves here had another small portion of usable space. The shorter upper shelf is just deep enough to fit a pint-sized container of ice cream, and the lower shelf isn't a whole lot bigger.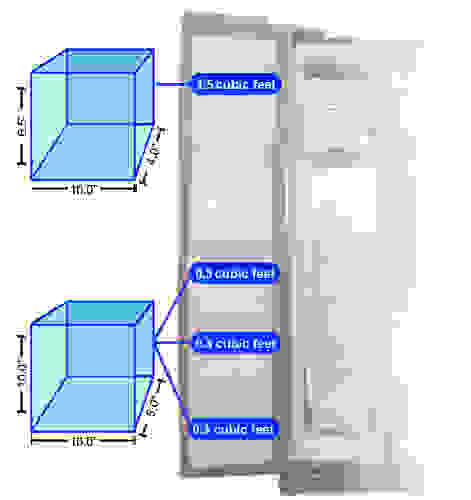 Below are the manufacturers own figures for capacity, and our own measurements for usable capacity. The manufacturers figures do not take account of the shelves, drawers and other removable features, but our measurements do account for the space these take up.
The lack of shelves means food is relatively easy to get at. Without other storage devices in the way, reaching into the back of the fridge isn't a problem. The only time this design becomes a hassle is when you overwhelm the appliance by shopping in bulk or for the long term. The more items you have, the sooner you have to start stacking things. If you have so much that things start to pile up, then getting to items in the back or on the bottom can become problematic. This is especially true in the freezer, since its complete lack of shelves means you'll wind up with a leaning tower of groceries sooner than you will in the fridge.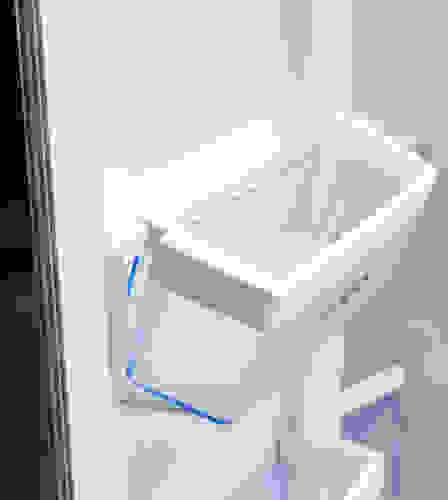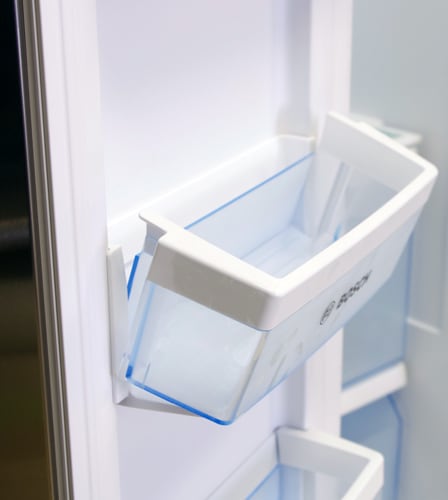 The is controlled with a simple little dial inside the fridge interior. This controls both sections, meaning the fridge is at the mercy of the freezer (or the other way around). There isn't any actual degree correlation or manufacturer's recommended setting, so if you want to know what temperature your actually storing your food at, you'll need to purchase an external thermometer.
The controls are easy to manipulate, since they consist of just a single rotating dial. What makes this simple design a pain in the neck, though, is that in no way does it indicate what exactly you're storing your food at. There's no degree correlation, and there's no mark indicating a manufacturer's recommended setting. If you want to know what temperature you're storing your food at, you'll need to invest in an external thermometer and then just start fiddling with things.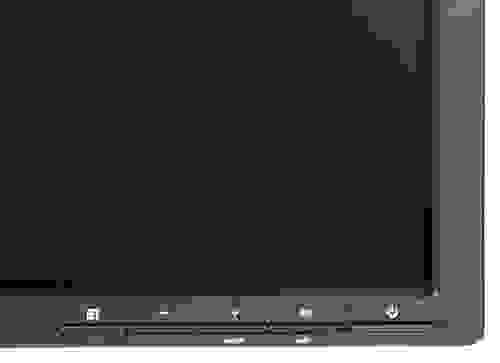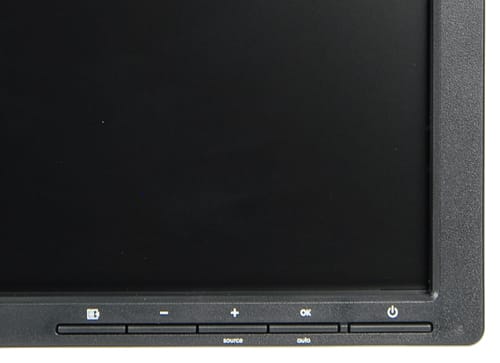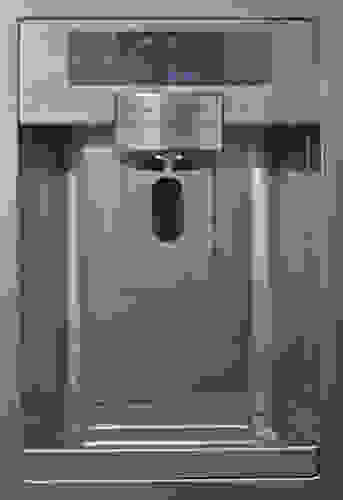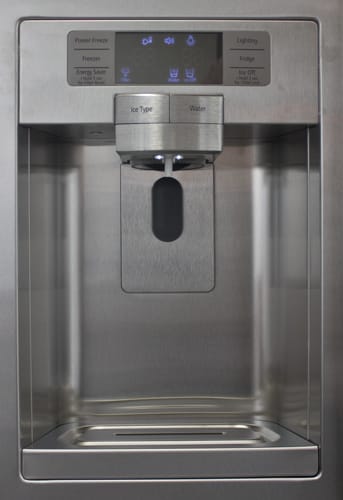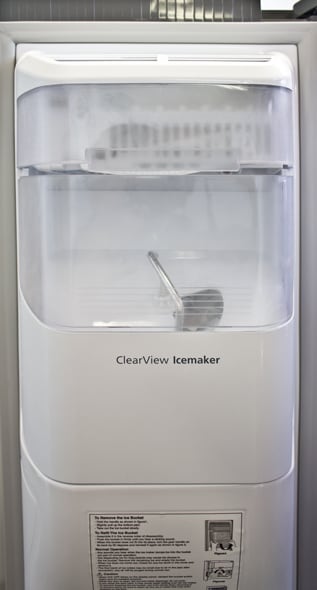 If anything spills in this fridge, you're in for a big mess both literally and metaphorically. You may not want to store liquids high up in the fridge, since the top two shelves are made of wire and won't prevent any spill, drop, or dribble from falling onto the items below. The bottom shelf is a bit better, with a raised edge keeping things from leaking behind the drawer. The door shelves are also quite poor at keeping things contained, since the bottom isn't attached to the front. A gap about an inch and a half wide will only keep larger items from falling out, and won't help in the least if your favorite condiment wasn't shut properly when you put it back. At least the freezer's boxy design means if something spills, you'll know exactly what happened and where without having to do much hunting.
This fridge isn't terribly noisy, but the ambient whir was a bit more prominent than the typical budget fridge. When the is working, you're likely to know, especially if you have a very quiet residence.
Energy Efficiency
With a low energy consumption rate and efficient power distribution, this fridge will save you money the in long run and keep your electric bill low.
Performance
There are some small temperature issues in the fridge, but nothing terribly major. The freezer, despite its open appearance, actually has some major temperature gaps from the top to the bottom; luckily, they don't fluctuate all that much over time. Moisture retention is adequate, as well, despite the cheap-looking drawer in the fridge.
Storage Space
The isn't exceptionally small, but it is on the tiny end of the spectrum. It's not so small as to be considered a compact, and there's enough space in both the fridge and freezer to accommodate one or two people quite comfortably.
Usability
The open spaces make getting to your food quite easy, as long as you don't plan on overcrowding the shelves and blocking items at the back. The lack of a freezer shelf also means you'll be stacking your frozen goods more often than not. The wire fridge shelves make spill containment virtually nonexistent, as well. The temperature controls are easy to use, though the lack of any specific degree marking means you won't know what your calibrating your appliance to unless you have an external thermometer.
Meet the testers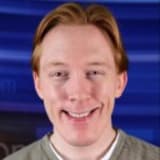 Matthew Zahnzinger
Logistics Manager & Staff Writer
@ReviewedHome
Matthew is a native of Brockton, MA and a graduate of Northeastern, where he earned a degree in English and Theatre. He has also studied at the Gaiety School of Acting in Dublin and spends most of his free time pursuing a performance career in the greater Boston area.
See all of Matthew Zahnzinger's reviews
Checking our work.
We use standardized and scientific testing methods to scrutinize every product and provide you with objectively accurate results. If you've found different results in your own research, email us and we'll compare notes. If it looks substantial, we'll gladly re-test a product to try and reproduce these results. After all, peer reviews are a critical part of any scientific process.
Shoot us an email