This fridge looks great, feels great, and performs... with moderate results. It may not be worth such a high price tag, unless you're a fan of fresh produce and like the concept behind the Preserva system. Most households refrigerate a lot more than just produce, however, and you should keep the big picture in mind when making as large an investment as a fridge can be. Some of our highest scoring French door models cost almost $1000 less than this one, though some retailers are offering it for as low as $2609. We question whether the performance is worth the price, but let's be clear: it's still a very good fridge, with plenty of storage space and lots of fun and convenience-oriented features that you may not find on cheaper models.
The stainless steel exterior looks very elegant. Its French door layout means there are two doors that open on to the fridge interior set above a pull-out drawer which accesses the freezer. The left fridge door has a through-the-door ice and water dispenser set below an external control panel.
For every stainless steel appliance that hits the market, there are at least 100 fingerprints lying in wait to strike...and smudge...and smear. The is no exception: if you've got small children, or a job that leaves you with particularly greasy hands at the end of the day, prepare to spend a lot time wiping this fellow down.

The external control panel does a nice job blending in with the stainless finish, but it's still easy to read and use. When the fridge is left alone, the control screen remains blank, but the images on it light up as soon as you touch one of its buttons. In an unusual design twist, the indicator symbols here are lit using straight white light, not blue or red or any other typically used color.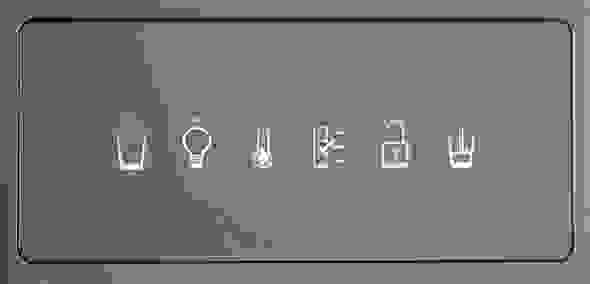 The handles are curved and very smooth. Easy to grip and quite sturdy, they serve their purpose without making any huge changes to a traditional design.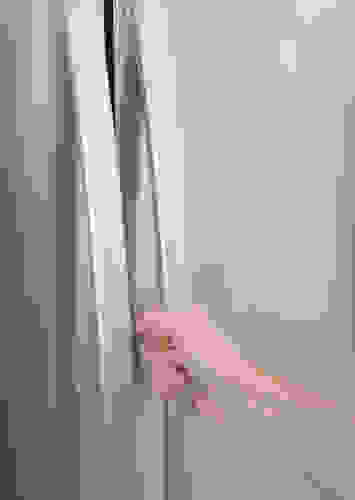 The through-the-door dispenser grants you access to filtered water, as well as both crushed and cubed ice. The moisture of choice is selected using the external control panel, which is located immediately above the dispenser cavity.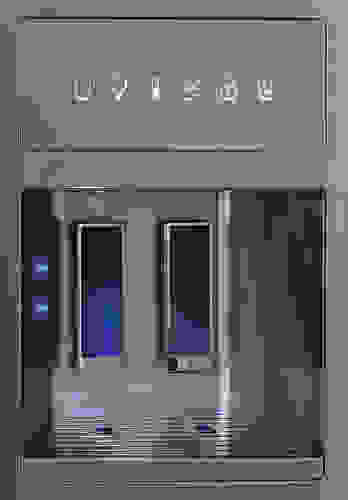 The slightly angled cavity is deep enough that you should be able to set your glass down when filling it. The dual paddles produce ice (on the left) or water (on the right). The cavity itself has a small light that can be turned on to make it easier to see when you need a late-night refreshment, as well.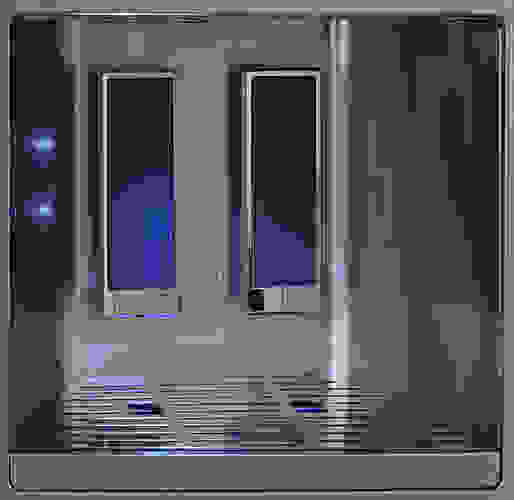 The inside of the is unremarkable in terms of overall layout. It does have a few interest design elements meant to somewhat optimize both storage space and user interaction, such as the attractive blue LED lighting.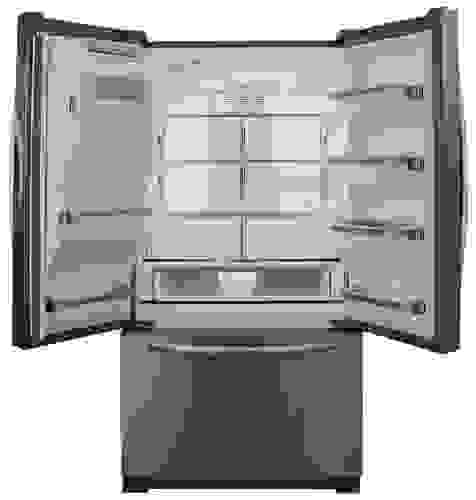 Glass shelves with stainless trim are mounted to the rear of the fridge cavity using hooks. There are four half-width shelves, each of which is adjustable, as well as a full-width shelf below those. Underneath that are two vegetable drawers equipped with Auto Humidity Control (more on that later). The fridge also comes with a detachable beverage rack that can be clipped to the underside of one of the main shelves.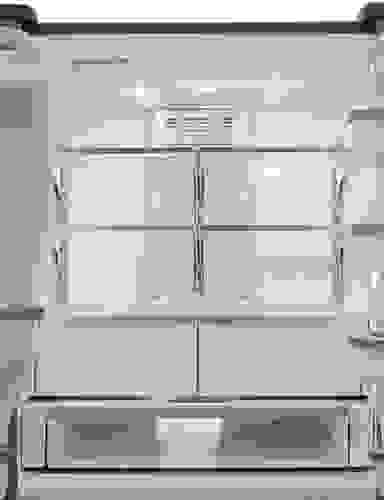 At the very bottom of the fridge is a full-width drawer that comes with an independently adjustable temperature control. It has its own interior light, as well as a removable plastic bin that be used to separate different items or to prevent them from rolling around.
While you can manually adjust the temperature using the plus and minus buttons (it ranges from 32 degrees Fahrenheit up to 41), this drawer's control panel comes equipped with four programmed settings. At the touch of a button, you can adjust it to 32 degrees for fresh meat, 36 degrees for the "party" setting (presumably for storing something like hors d'oeuvres), 39 degrees for deli storage, or 41 degrees for bottles of wine.

The water filter is stored at the top of the fridge interior in a recessed compartment located in the ceiling. It takes up very little space, and it's quite easy to replace despite being hidden away.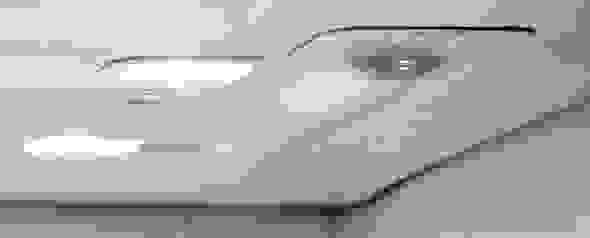 The left fridge door houses the 's ice bin. Below the ice maker are two small shelves that offer some additional fridge storage.
The right door offers more traditional storage options, with three adjustable shelves and a smaller fourth one at the bottom. The adjustable shelves are completely self-contained: the plastic bucket can slide up and out of the metal frame.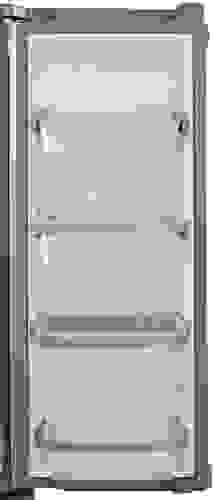 There are essentially four sections in the 's freezer. At the very front of the freezer, just inside the door, is a thin compartment labeled the In-Door Pizza Storage. It's as wide as the freezer, and is designed to fit two or three full-sized frozen pizzas when placed upright on their sides.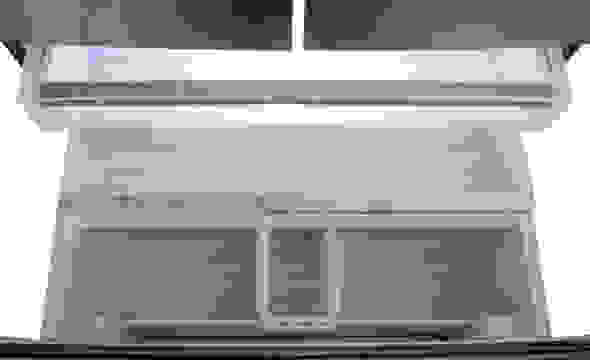 Two pull-out drawers sit at the top of the compartment; they're not terribly tall, but are quite wide and deep. The bottom portion of the freezer is divided up into three sections by a slightly adjustable plastic divider; this is where the majority of a household's frozen goods will be kept.
As mentioned above, the ice maker is located entirely on the left fridge door. It has a clear window in the front that allows you to see how full the ice maker is; the panel that this window is built into can be opened like a door, revealing a smaller removable ice bin inside. It's very easy to take out and put back, making the task of providing bulk ice an effortless chore.
With only the power cord and a single water hose on the back of the product, there's very little to be seen on the 's rear.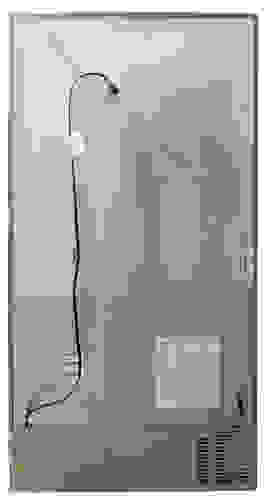 The sides of the product are finished with a typical grey matte exterior. This complements the stainless front quite well, and gives the product a cohesive, uniform appearance.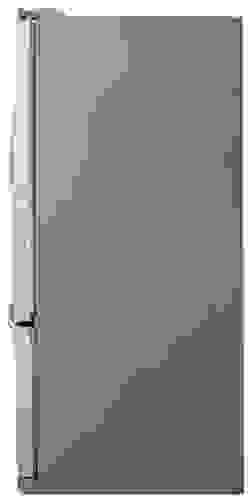 French door fridges are typically on the larger end of things, and as such they tend to rack up a pretty impressive electric bill. The is no exception to this, averaging an annual bill of $67.59. We reached this figure using a standard rate of $0.09 per kW-h.
Even though it may cost a lot, the is actually quite energy efficient for a fridge of its size. It used 0.12 kW-h per cubic foot of usable space. We've seen products do better than this before, so we weren't blown away, but that rate definitely puts the on the more efficient end of the spectrum.
True, the average temperature in the center of the 's fridge compartment was the ideal 37 degrees Fahrenheit. That comes with a slight caveat, however: temperatures average two degrees cooler at the top, and two degrees warmer at the bottom. Some temperature shift in fridges this size is inevitable, but a full five degrees is a bit disappointing. Luckily, temperatures only shifted about one quarter of a degree over time regardless of where our sensor was placed, which is excellent. As long as you remember to keep highly perishable items at the top, such as soft cheeses or other dairy products, you should be fine.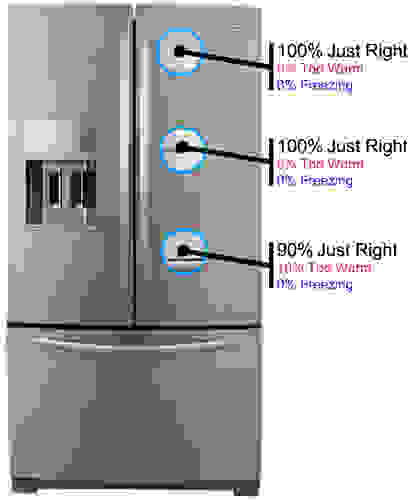 It's hard to be angry about the test results that came out of the 's freezer. True, temperatures varied widely from top to bottom—almost ten degrees, in fact. We were momentarily perplexed by this given the freezer's fairly short height; it makes sense, however, when you consider the fact that the number of drawers meant the air had a lot of obstacles to maneuver around.
The good news is that the average temperature was almost one and a half degrees below zero. Even though the temperature varied from top to bottom, food was never in danger of being thawed out. True, it does mean there is a slight chance of freezer burn—the average fluctuation over time was about a full degree—but the incredibly low temperatures works to slow that process down.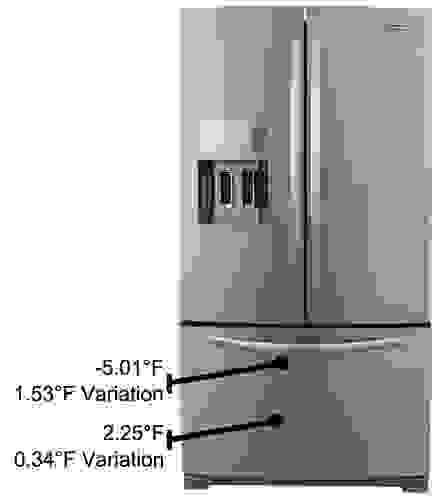 The vegetable drawers in the are quite unusual. According to KitchenAid, they automatically adjust to whatever setting will best care for their contents. The manual is very evasive about how this works—it just says it happens. We test moisture retention using a water-filled floral foam ball which mimics the water retaining properties of a carrot. As for what the fridge "sensed" when we put it in there, no one can say. What we do know is that it lost an average of 0.18 grams of water per hour on average, a disappointingly high number. It's not terrible, but considering how well the last KitchenAid we tested did in this category, we expected better.
It's worth noting that this particular model comes equipped with 's Preserva technology. You can attach a filter onto the inside of the vegetable drawer which is meant to absorb excess ethylene. This gas is responsible for the degradation of produce; for instance, it's what causes sliced apples to turn brown. Removing this harmful gas theoretically prolongs the lifespan of stored produce, resulting in less food and money wasted.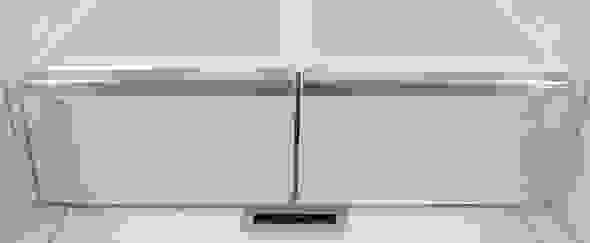 The very soundly passed our power loss test. Keeping in mind that we made sure the freezer door remained closed after we pulled the plug, the 's internal freezer temperature hadn't even broken 28 degrees after a full 36 hours had passed. If you live in an area that's prone to black outs, you can take comfort in knowing that anything placed inside this fridge should be safe.
Displaying what we would call adequate performance, the froze our room-temperature test materials in one hour and 30 minutes. In an ideal world, we could all instantly flash freeze our food, trapping in all the textures and nutrients at their peak. Generally, the best we see is about an hour for freezing temperatures to be reached; an hour and a half is respectable, but it's not going to win any awards.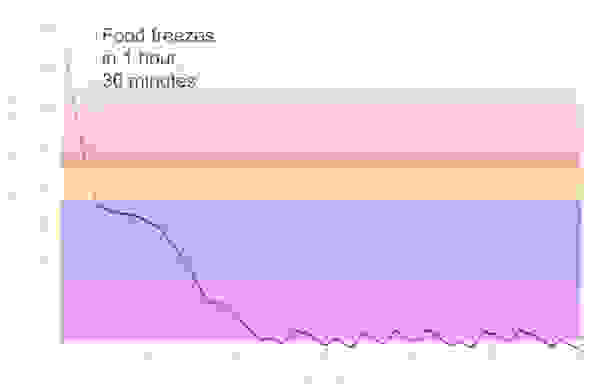 There's quite a lot of storage options available in the 's fridge. Four adjustable half-width shelves, a fixed full-width shelf under those, two large vegetable drawers and a full-width temperature controlled drawer gives consumers plenty of options to house their food just the way they want to. The combination of LED lighting, a recessed water filter, and an on-the-door ice maker means there's fewer spatial obstructions than usual. In total, this offers a sizable 11.53 cubic feet of fridge storage.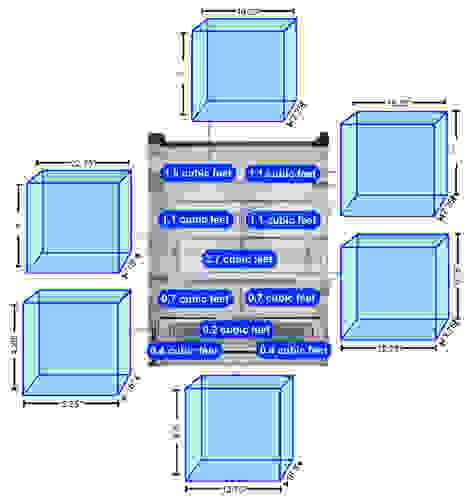 Keeping the ice maker on the door means there's more shelf space in the fridge proper...but conversely, there's less room on the door. Two small fixed shelves located under the ice maker offer some extra storage, perfect for things like condiments or salad dressings.
The right fridge door has four shelves, the top three of which are adjustable. It doesn't have a designated dairy bin, but if anything, that makes the available storage somewhat more flexible.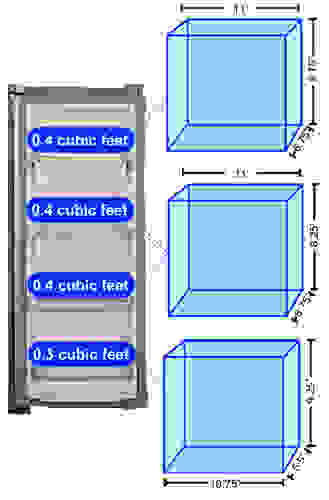 The freezer in the is split up into six distinct compartments. There are two wide pull-out drawers on the top, and a large bucket on the bottom attached to the door. This bucket is split up by a plastic divider, creating a separate left and right section (the divider itself also allows you to store things inside of it).
The front of the door hold a surreptitious little storage cavity called the In-Door Pizza Storage; if you place a frozen pizza on its side, it can stand up in this little compartment, allowing you to keep other items in the drawers and bins; it can easily fit two or three full-sized pizzas at a time. In total, all these storage options amount to 4.91 cubic feet of usable freezer space.
Below are the manufacturers own figures for capacity, and our own measurements for usable capacity. The manufacturers figures do not take account of the shelves, drawers and other removable features, but our measurements do account for the space these take up.
Getting to food shouldn't ever be a huge issue with this fridge. Sure, there's always the possibility that you may lose something in the rear of the fridge; if you like to overstock, it's inevitable. As long as you don't shop for food as though the world may end next Tuesday, you should be able to reach items without an issue. The freezer is actually quite accessible, even more so than usual for a pull-out compartment: the drawers slide out very far, and the buckets aren't so deep that you'd risk getting frost bite every time you wanted something at the very bottom.
The external control panel does a nice job blending in with the stainless finish, but it's still easy to read and use. When the fridge is left alone, the control screen remains blank, but the images on it light up as soon as you touch one of its buttons. In an unusual design twist, the indicator symbols here are lit using straight white light, not blue or red or any other typically used color.
The controls are quite basic: there are buttons for the dispenser light, a control lock, temperature adjustments, and a few other standard features. It uses a touch-panel set up, but the buttons themselves respond without having to bear down on them as though your life depended on it. We didn't have any issues using the product's controls, and we imagine you won't either.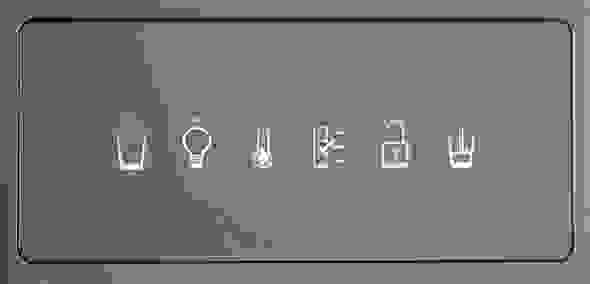 The dispenser is quite simple: there are two paddles, one of which you push for water, the other for ice. It's a traditional set up, and one that won't pose a challenge to any consumer.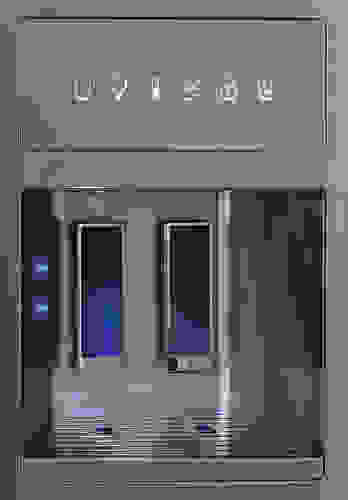 As mentioned above, the ice maker is located entirely on the left fridge door. It has a clear window in the front that allows you to see how full the ice maker is; the panel that this window is built into can be opened like a door, revealing a smaller removable ice bin inside. It's very easy to take out and put back, making the task of providing bulk ice an effortless chore.
We've never been a fan of rear-mounted shelves, and the heavy ones found in the aren't a treat to remove. Getting them out to administer a thorough cleaning isn't hard, it's just annoying. They do come with minor spill protection on the edges, however, which is a plus. The door shelves are almost entirely self-contained, so any spills which happen there should remain in one spot until you have a chance to deal with it.
We never noticed any unusual sounds coming from our fridge. At one point, we thought it had started speaking, but after a few minutes of scared confusion and a phone call to the local priest, we realized it was just some folks down the hall.
Energy Efficiency
It's not cheap to operate (about $67 per year), but you can rest easy knowing that it's using all the energy consumed very effectively for a fridge of its size.
Performance
Temperature consistency over time was pretty strong, but a five degree difference from the top to bottom of the fridge—not to mention a ten degree difference in the freezer—isn't the high-end quality we were expecting. The Auto Humidity vegetable drawer also failed to impress.
Storage Space
A recessed water filter, LED lighting, and an on-the-door ice maker all contribute to spatial optimization in the fridge; you'll have plenty of space in the fridge. The freezer's capacity isn't too shabby, either.
Usability
The overall design isn't terribly innovative; as long as you don't cram the fridge full of every sale item available in your local super market, you should be able to reach things without a problem. The fridge shelves can be a bit cumbersome to adjust, as well.
Meet the tester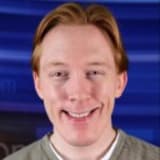 Matthew Zahnzinger
Logistics Manager & Staff Writer
@ReviewedHome
Matthew is a native of Brockton, MA and a graduate of Northeastern, where he earned a degree in English and Theatre. He has also studied at the Gaiety School of Acting in Dublin and spends most of his free time pursuing a performance career in the greater Boston area.
Checking our work.
We use standardized and scientific testing methods to scrutinize every product and provide you with objectively accurate results. If you've found different results in your own research, email us and we'll compare notes. If it looks substantial, we'll gladly re-test a product to try and reproduce these results. After all, peer reviews are a critical part of any scientific process.
Shoot us an email