This KitchenAid, part of the manufacturer's Architect Series II, is a stellar product. The Kenmore 72383 is another four-door model that's a few hundred dollars cheaper, but the KitchenAid's superior performance makes the extra expense worth it. Yes, KitchenAid made small tweaks to the traditional layout with this fridge, resulting in marginally less storage space, but it's a small price to pay for a substantially improved hands-on experience.
If you can afford the slight price increase but would rather not break into the $3,000+ range, then this KitchenAid is the way to go.
Design & Usability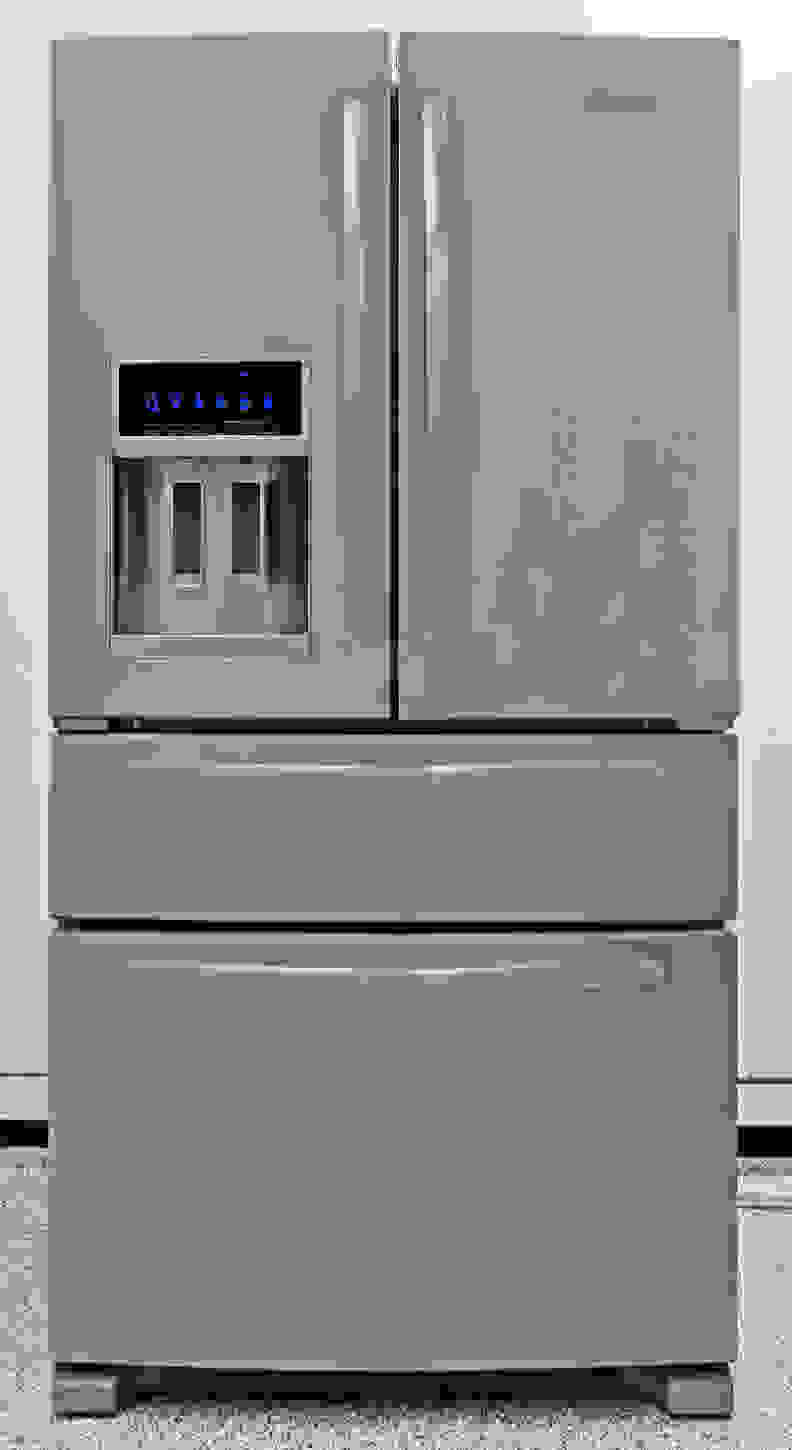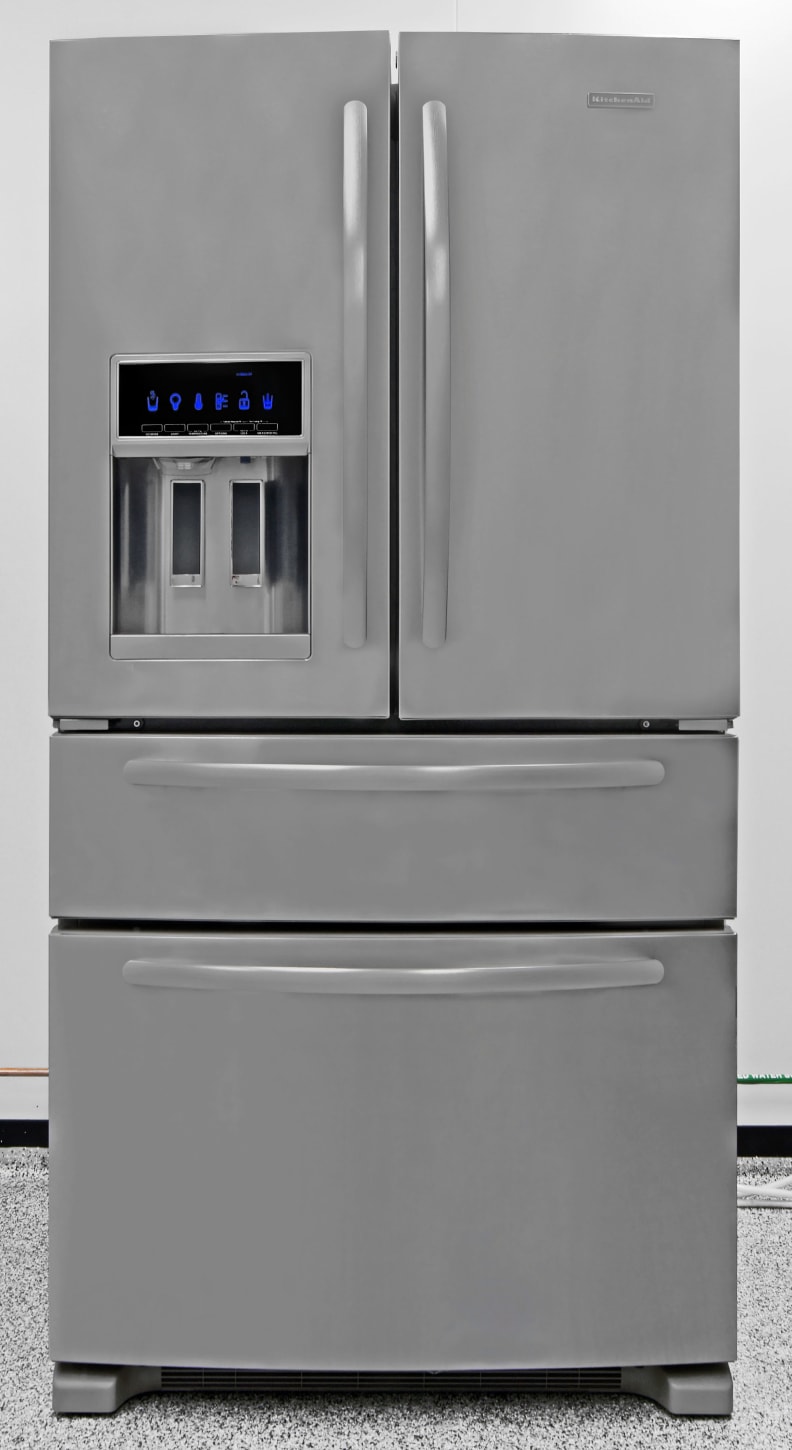 A familiar layout, with some twists
From the outside, this fridge looks like a fairly typical stainless French door. Open those doors, however, and you'll notice some unusual alterations from the norm.
For instance, the main fridge section only has one crisper. It's attached to one of the adjustable shelves, similar to what you'd expect with a deli drawer. That leaves the entire bottom shelf open for storing whatever you'd like.
If the idea of one shallow crisper doesn't appeal to you, don't worry: there's a handy dial control with settings ranging from Produce to Deli. You can turn the entire compartment into a massive crisper and stock up at the local farmer's market.
×
Central Drawer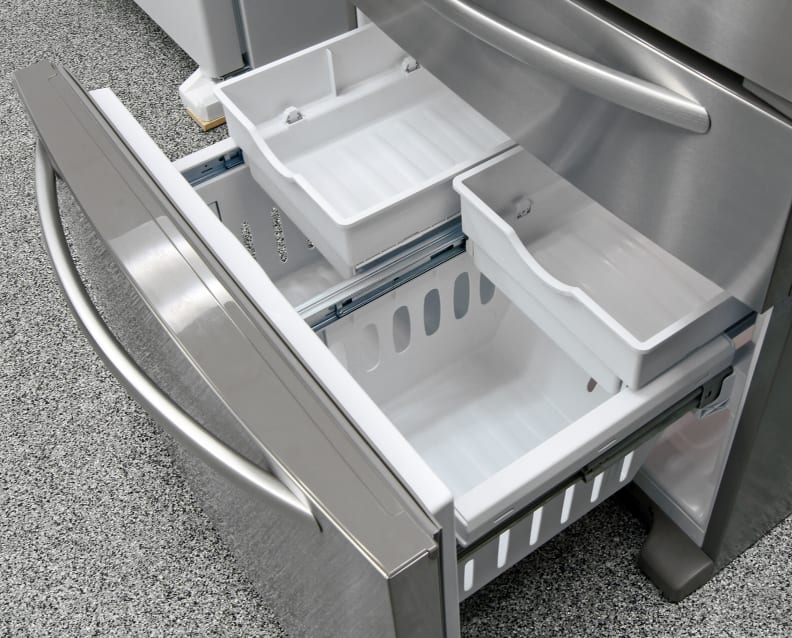 The pullout freezer has received a makeover that places accessibility over capacity. Instead of full-width drawers that can be tough to dig through, the KFXS25RYMS splits freezer storage into symmetrical upper and lower bins.
True, the extra plastic and sliding mechanisms mean the freezer has a little less usable space than other similarly sized models. That said, the upper bins slide very smoothly, and the overall layout makes it much easier to keep track of the food you're storing there.
We found the icemaker a bit bulky, and we aren't in love with the incandescent bulbs KitchenAid used in the freezer, especially in contrast with the fridge's LED lights. However, these are just minor aesthetic flaws in an otherwise clever design.
×
Design
Performance & Features
Shortening the gap
When we wrote about the Kenmore 72382 last year, we said you'd be hard-pressed to find another four-door fridge so affordable with similar performance. Well, after testing this KitchenAid KFXS25RYMS, it's time to eat our words. Like the Kenmore 72383, this KitchenAid is slightly outclassed by most of the top products in the $3,000+ bracket. Unlike the Kenmore, though, that performance gap is much smaller.
Our temperature readings ran just a hair on the warm side. Extremely steady output over time means air inside both sections is being cooled evenly and consistently, which is excellent.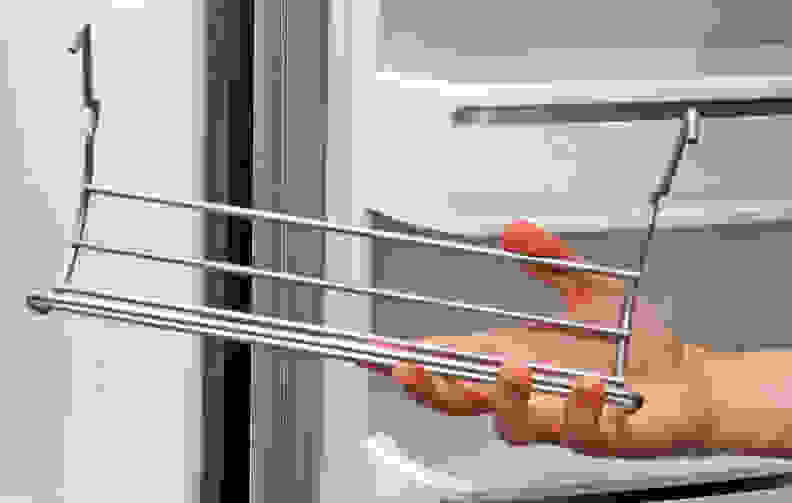 Energy efficiency proved spectacular in this model. The smaller crisper drawer's ability to retain moisture underwhelmed us a bit, but at this price point you can't have everything.
The feature set is pretty standard. You get through-the-door ice and water, Max Cool for rapidly chilling groceries you just schlepped home, and a control lock. Supplementing this set is a precision water fill feature, complete with a small plastic measuring cup for ...good measure.
KitchenAid also includes a beverage rack, but—full disclosure—we couldn't figure out how to attach it. It's too narrow to hook onto the shelving racks, and there's no picture in the manual to offer any guidance.
For in-depth performance information, please visit the Science Page.
A True Bargain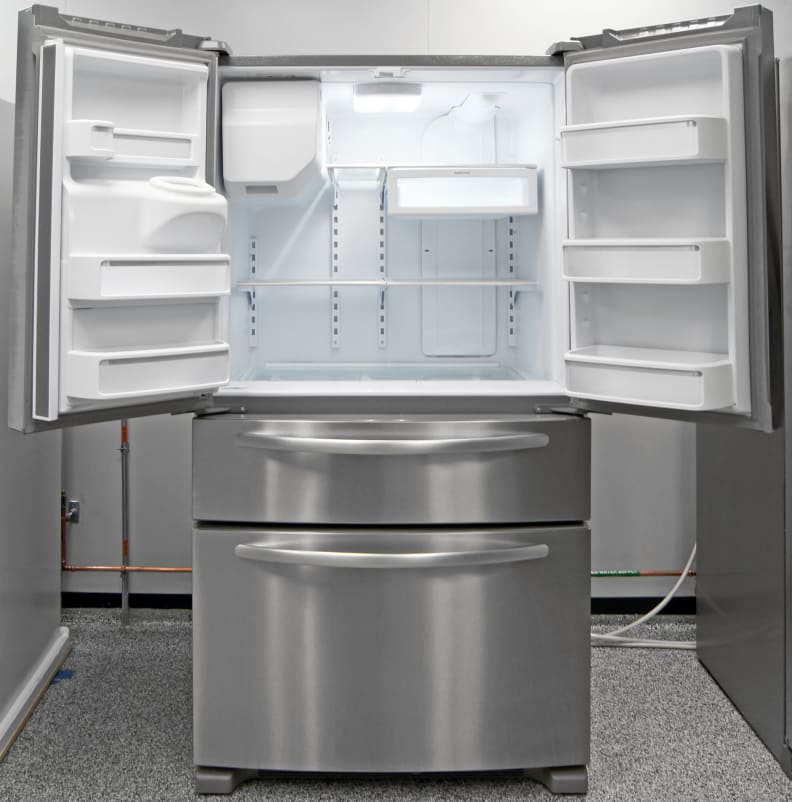 A little extra gets you a lot more
The KitchenAid KFXS25RYMS has everything you need: above-average performance, a user-friendly layout that helps keep food organized, and several unconventional—but useful—features. Throw in the exceptional energy efficiency and high-end design, and this is a deal that's difficult to fault.
Of course, deals and bargains are all relative. You'll find cheaper fridges out there, but high-end French door fridges under $2,800 are few and far between. This makes the KFXS25RYMS—which retails at $2,200-$2,600 at most retailers—an excellent deal.
The Cold Hard Facts
The KitchenAid KFXS25RYMS (MSRP $2,899) delivers consistent temperatures, has a roomy fresh food zone, and displayed some of the best energy efficiency we've ever seen for a fridge of this size. Optimal performance requires some tweaks to the thermostat, but nothing outrageous.
Temperature Performance
Smooth and steady
The main fridge section ran just a touch too warm: Sensors picked up an average of 39.38°F at the top, 37.29°F in the middle, and 38.68°F at the bottom. Temperatures were incredibly consistent, though, deviating only ±0.14°F over time. If you turn the thermostat down just one degree, the fridge will be pretty much on target.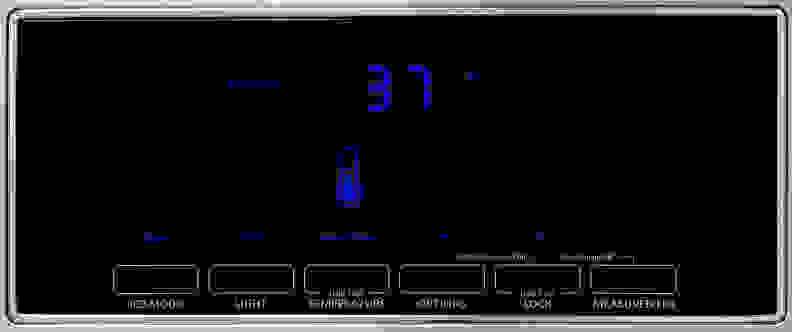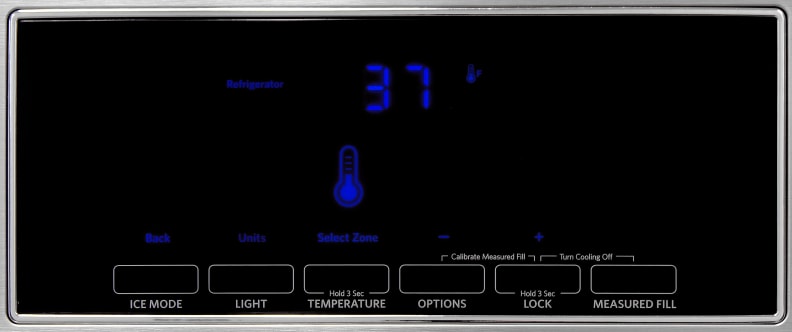 The freezer was even more consistent, deviating an average of only ±0.1°F. Average temperatures of -0.9°F at the top and 0.38°F at the bottom are so cold they negate the risk of freezer burn (a result of temperature fluctuations) almost entirely.
Moisture Retention
Standard crisping
The lone crisper drawer in the fridge did a decent job. Test materials lost an average of 0.2 grams of moisture per hour over three days, which is roughly average. Don't forget to keep track of your produce and you should be fine.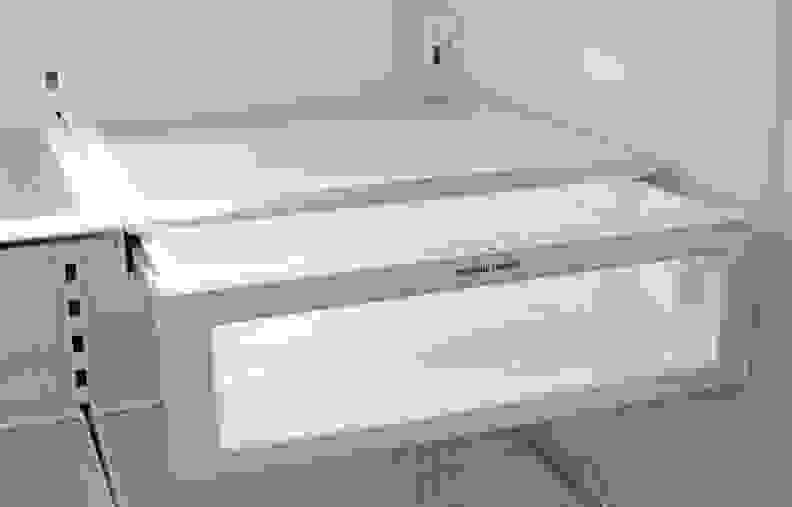 Freezing & Thawing
Slower than ideal
Despite its cold temperatures, the KitchenAid's freezer didn't do a great job cooling food quickly. It took 1 hour and 38 minutes to bring room temperature items down to 32°F, about 15 minutes slower than average. We did not test Max Cool, which could help out.
Fortunately, the freezer did a great job retaining cold air. After 36 hours without power, internal temperatures had only warmed up to 27.12°F.
Storage Space & Energy Efficiency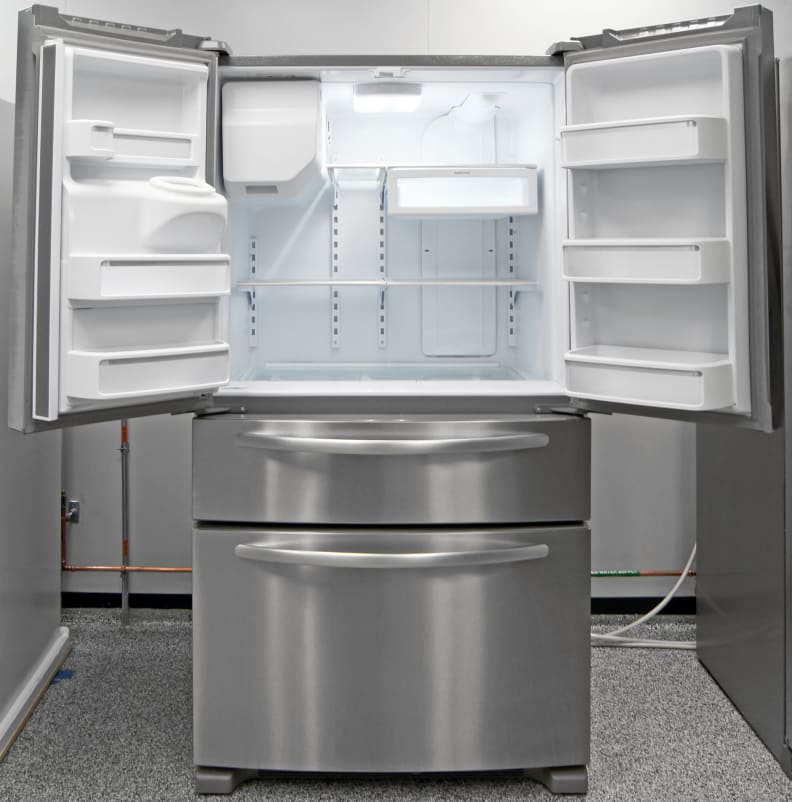 So much efficiency!
The KitchenAid's fridge layout is different from most other French door models. Instead of dual crispers on the bottom, a single crisper is attached to one of four adjustable fridge shelves. The entire bottom is made up of a translucent glass shelf that lets you see into the large sliding drawer below. This drawer can be used to supplement the small crisper, or—with the twist of a dial—be used as a giant deli tray. All told, the fresh food section—including that drawer—provides you with 12.77 usable cubic feet of storage.
The freezer is a bit more cramped, but for good reason: Instead of using full-width pullout drawers, KitchenAid has divided its freezer into two half drawers on top and a bisected bin on the bottom. The upper drawers slide smoothly, and make it easier to keep the freezer organized. However, it also means more plastic and moving parts, which cuts back on storage space. All told, you get 4.14 usable cubic feet of frozen food storage.
×
Storage
Perhaps most impressive is just how energy efficient this large fridge really is. Our calculations show—with the icemaker running—you only need 0.06 kWh to cool each usable cubic foot. That translates to an annual electricity bill of roughly $35.71 for this appliance, making the KFXS25RYMS one of the most efficient French door fridges we've ever tested.
Meet the tester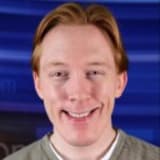 Matthew Zahnzinger
Logistics Manager & Staff Writer
@ReviewedHome
Matthew is a native of Brockton, MA and a graduate of Northeastern, where he earned a degree in English and Theatre. He has also studied at the Gaiety School of Acting in Dublin and spends most of his free time pursuing a performance career in the greater Boston area.
Checking our work.
Our team is here for one purpose: to help you buy the best stuff and love what you own. Our writers, editors, and lab technicians obsess over the products we cover to make sure you're confident and satisfied. Have a different opinion about something we recommend? Email us and we'll compare notes.
Shoot us an email