The LG LPXS30866D (MSRP $4,299.99) is a new key player in the four-door fridge market. This massive appliance—advertised with a 30-cu.-ft. interior—is part of LG's new Black Stainless Steel Series, formerly known as the Diamond Collection, and features a black stainless steel finish unlike any other we've seen.
This darker stainless coats a fridge that offers low energy consumption, stable temperatures, and adjustable storage concealed behind four doors… but there's a catch. It's pretty darn expensive—even on sale, it costs $3,865. Plus, the new finish won't exactly match anything else in your kitchen unless you're buying the entire Diamond Collection.
As one of the best models we've tested, it's definitely worth considering. Just make sure you weigh your options carefully: It's more expensive than the basic Samsung four-door counterpart, and it lacks the Samsung's adjustable temperature zone. On the other hand, it offers superior functionality, and it's cheaper than the Samsung's Chef Collection alternative—a key thing to consider if you're looking for a full kitchen remodel.
Design & Usability
A new twist on a classic material
Tall, dark, and chilly, this LG's "black" stainless steel finish will add an edgy, modern look to any kitchen. To be clear, this is still genuine stainless—it's reflective, nonmagnetic, and has a visible grain. However, the darker finish is harder to smudge, making it an even better fit for households with small children.
×
Design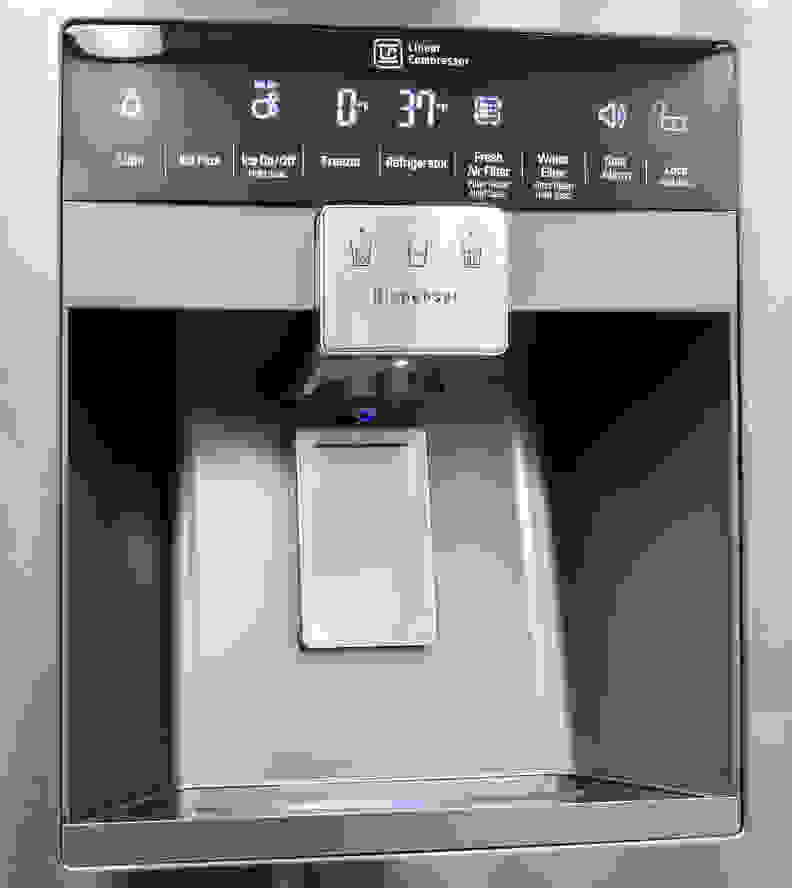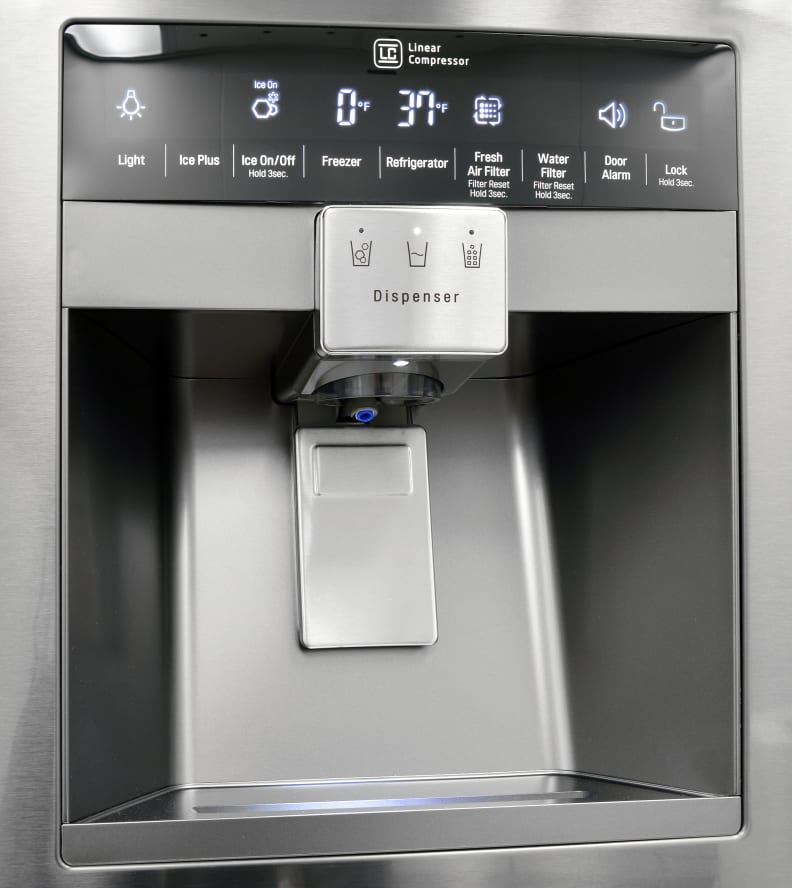 Silver trim directs the eye to the recessed door handles. The handholds are large enough to grip comfortably, and won't take long to get used to.
The control console, has a black, reflective touchscreen set above the grey water dispenser niche, and blends seamlessly into the finish. Permanently visible text may not be as elegant as something that fades out entirely, but the font is unobtrusive and keeps the doors from becoming visually monotonous.
Inside, you've got everything you'd expect to see in a high-end fridge: adjustable shelves with silvery trim, smooth-sliding crispers, and bright LED lights illuminating swathes of clean, white plastic.
The features that really make this fridge stand out, however, are its door-in-door storage and split freezer.
Door-in-Door Storage
Too much plastic blocking the way
This model's door-in-door storage is a mixed bag. The exterior section—the "door in door" part, if you will—is accessed simply by pushing a prominent—but not garish—silver button on the outside of the fridge. The shelf layout is one of the more flexible designs we've seen, featuring an EasyLift Bin that can be raised or lowered to adjust how you want to use the space.
However, accessing those shelves with the main door completely open is cumbersome. One of the ideas behind this design is that the secondary door lets you conveniently access oft-needed items while letting less cold air escape. It keeps things handy and improves efficiency. As such, the door shelves are usually blocked off by a plastic barrier, as is the case here. However, the barrier in the LPXS30866D is fixed into place and can't be popped open. There are two undersized holes cut into it that are fine when you need something small like a jar of relish, but far too awkward for getting something larger like a gallon of milk.
We've seen LG come up with door-in-door storage that doesn't do this, so we have to wonder why they've gone with a more restrictive approach here.
×
Door-in-Door
Dual Freezers
Mirrored Ice
On Samsung's four-door fridges, a key selling point is the addition of a compartment that can be switched to one of four different temperature brackets. Don't have a ton of frozen food? Warm it up to create a mini fridge for wine or bottled water.
LG's design for the LPSX30866D is similar: you've got identical twin freezers… but the right-hand freezer doesn't do anything else. It's just a freezer.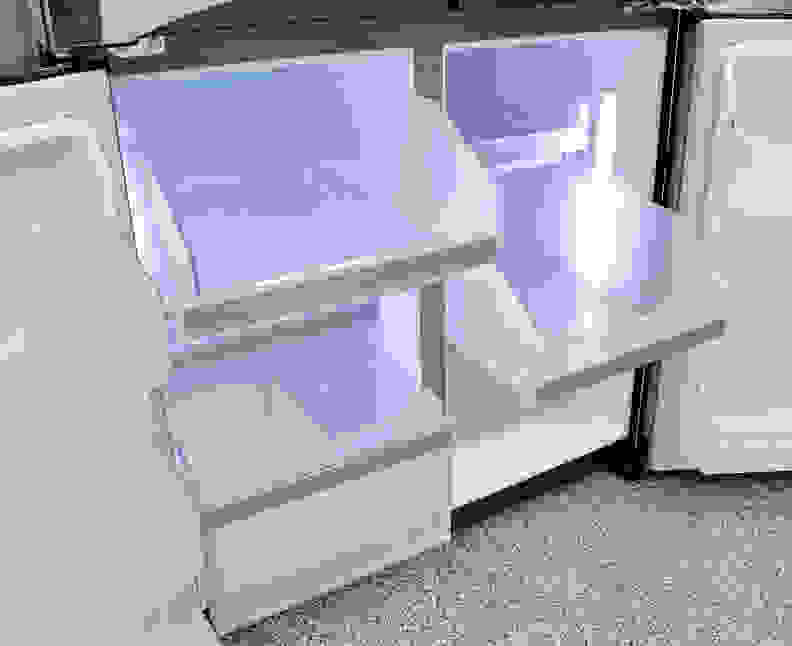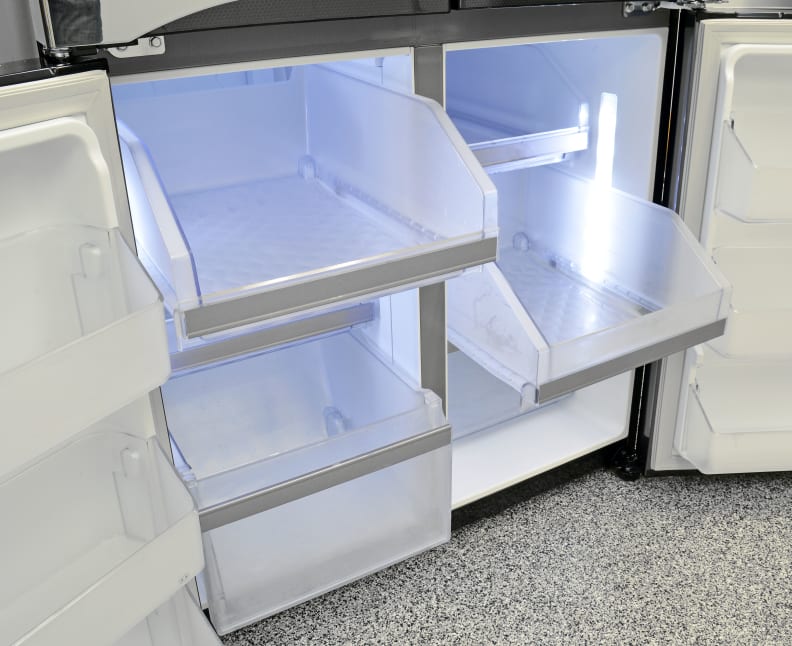 One of our issues with the Samsung design—and therefore the new LG's—is that the drawers used in these smaller freezers require even more stooping than a traditional pullout freezer. The temperature flexibility that helped mitigate the extra frustration in the Samsung is absent in this LG, making us question whether the split design is a perk or a hindrance.
What's more, if you can't get the freezer door open all the way—and we mean all the way—the drawers can't fully extend because they catch on the edges of the door. If your fridge is going against a wall, that's something to keep in mind.
×
Freezer
Performance
Stable and efficient
Design issues aside, our tests quickly revealed the LG offers precise and consistent food preservation…but it's not perfect, which may be a turnoff in a $3,900 fridge.
The upper fresh food storage area is highly consistent over time. That's fantastic news if you're a connoisseur of soft cheeses that may not last as long in an environment where temperatures fluctuate. The food inside the fridge averaged 39°F overall—which is well below the 42ºF "danger zone" for leftovers.
The freezer was even more consistent over time, though we noticed an almost two-degree difference between the top of the chamber and the bottom. If the air circulating around your food causes temperatures to slip above and below 0°F repeatedly, you'll find your frozen food covered in freezer burn. Turn it down about 2°F for best results.
Test results from the crisper drawers were exceptional. They preserve plenty of moisture to help keep your produce fresh, and they're roomy enough that you can buy whatever you want at the farmer's market.
Despite its impressive capacity, this 30-cu.-ft. fridge was also surprisingly energy efficient. Based on the national average cost for electricity, this fridge will cost you less than $59 a year to run, even if you use the ice maker.
For in-depth performance information, please visit the Science Page.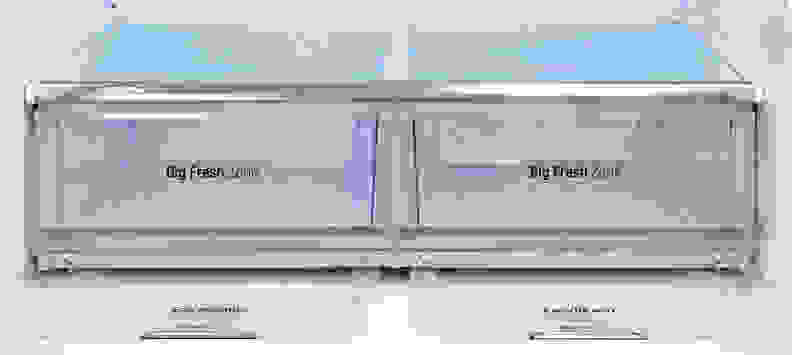 Warranty
Despite this particular model's luxuriousness, LG's warranty fits the industry standard: One year of coverage for full parts and labor if anything should fail or break through no fault of your own.
LG does throw in an additional seven years of parts-only coverage for the sealed system. That includes the compressor, condenser, and evaporator.
Four Stars for Four Doors
Well, four out of five, anyway…
The LG LPXS30866D is a gorgeous fridge with a (mostly) sensible layout, low energy costs, and consistent temperatures working in its favor. And with its singular design, this fridge is a true statement piece for your kitchen.
However, a standard retail price of about $3,865 may scare off many potential buyers. Comparison shoppers may be drawn to Samsung's original four-door, which costs about $800 less. Conversely, Samsung's Chef Collection includes a four-door fridge that costs about $600 more than the LG, which means the Black Stainless Series may make for a better package deal.
And then there's the look: Nothing else out there has the same grained, black stainless that LG is offering. Check your budget and design sensibilities, and plan accordingly.
The Cold Hard Facts
The LG LPSX30866D (MSRP $4,299.99) is a striking fridge, but our labs don't score fancy exteriors. By subjecting this sizable four-door to our lab tests, we uncovered a variety of strengths and weaknesses at play that will have an impact on your food.
Temperature Performance
Temperature stability is the key to high-quality food preservation, and this model's upper fresh food section varied by only ±0.17°F, making this one of the most stable fridges we've tested. The freezer was even better, shifting a mere ±0.09°F over time—a level of consistency second to none.
Actual average temperatures did run a bit warm in both compartments. In the upper section, our sensors recorded averages of 38.8°F at the top, 38.11°F in the middle, and a balmy 41.57°F at the bottom. We'd recommend storing delicate leftovers and dairy towards the top of the fridge.
The freezer clocked in at -0.36°F and 1.16°F around the top and bottom, respectively. Since temperatures that fluctuate above 0ºF can cause freezer burn, we suggest turning both sections down about two degrees.
Moisture Retention
The crispers were exceptionally retentive. We way test materials each day for three days to determine the average hourly loss of moisture. The drawers in this LG lost an average of just 0.10 grams of moisture each hour. That's better than average, and great news for salad fans who appreciate a crisp head of fresh lettuce.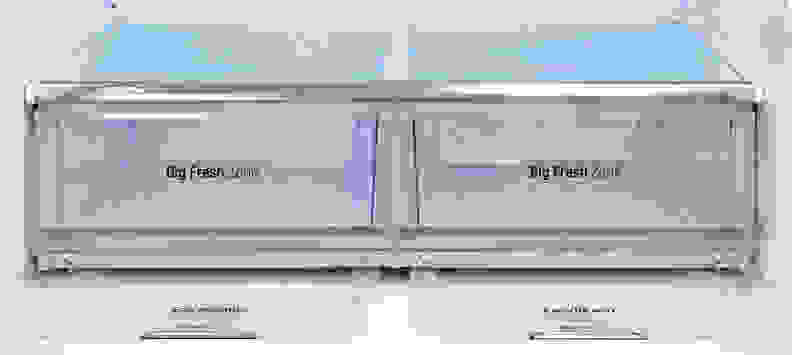 Freezing
With respect to average freezing times, the numerous drawers in this unit's lower section didn't do it any favors. We placed room-temperature test materials at various points inside the freezer. It took 1 hour and 45 minutes for our sensors to cool down to 32°F—roughly 20-25 minutes longer than average. If you buy meat in bulk, just be aware that the texture of your protein may have changed by the time you thaw it back out.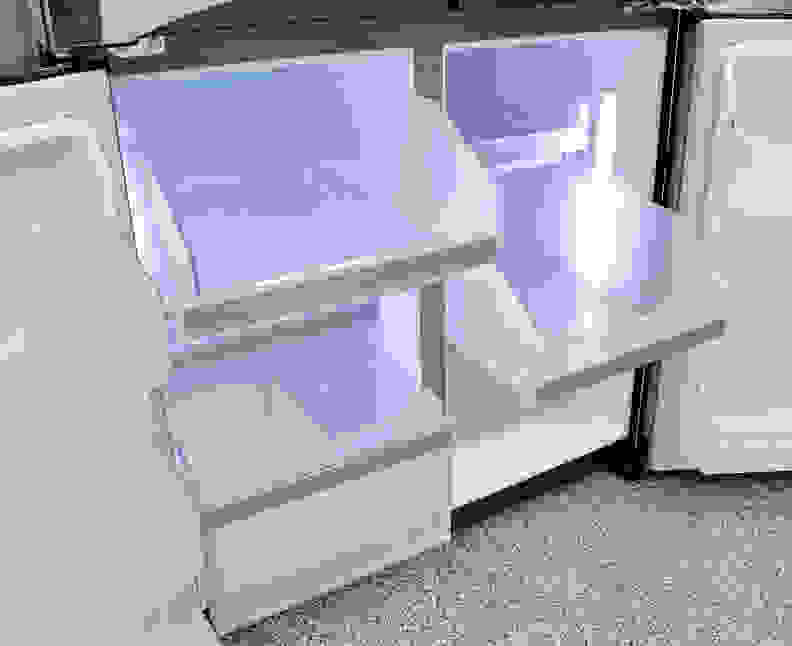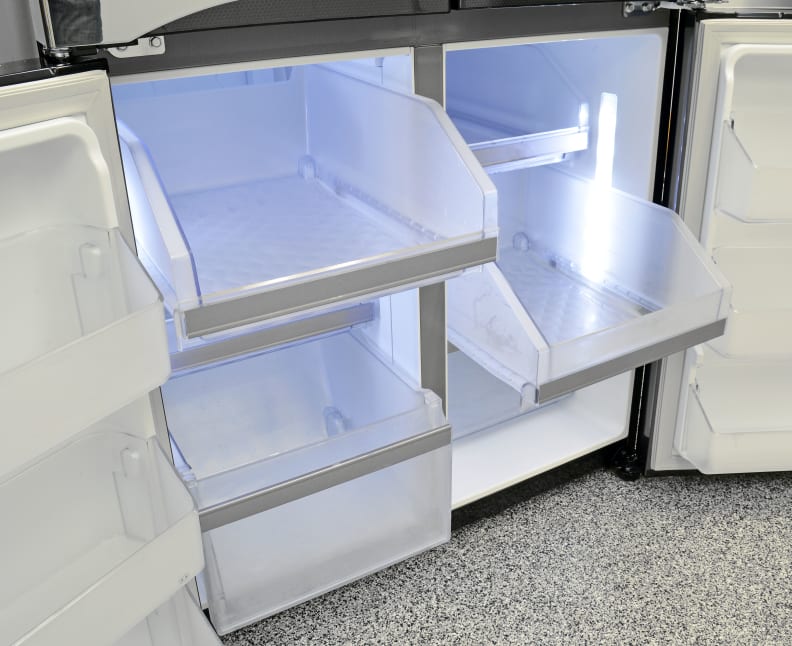 Storage Space & Energy Efficiency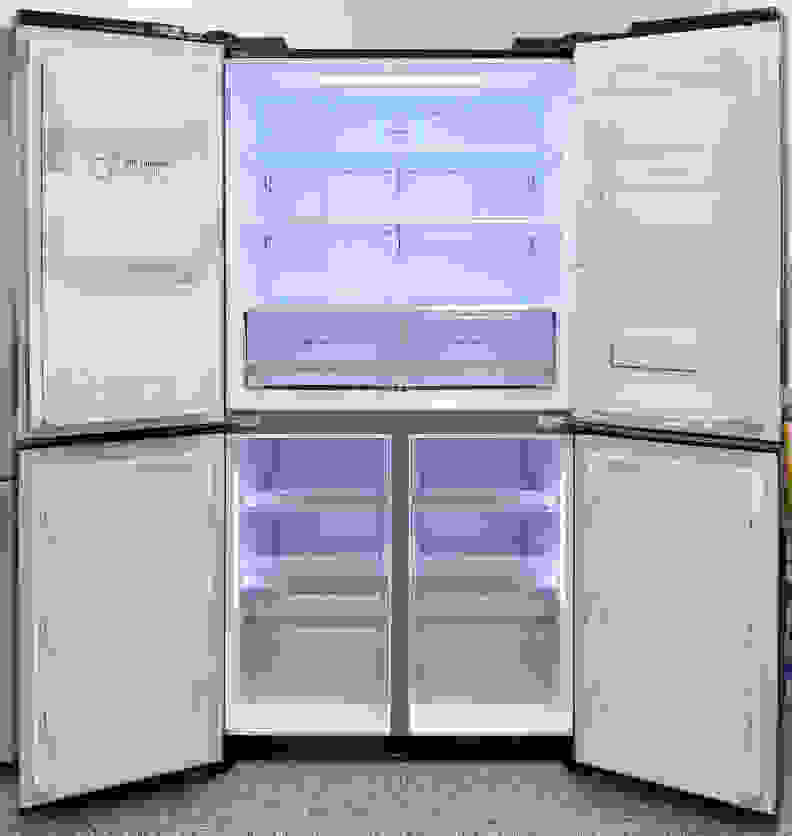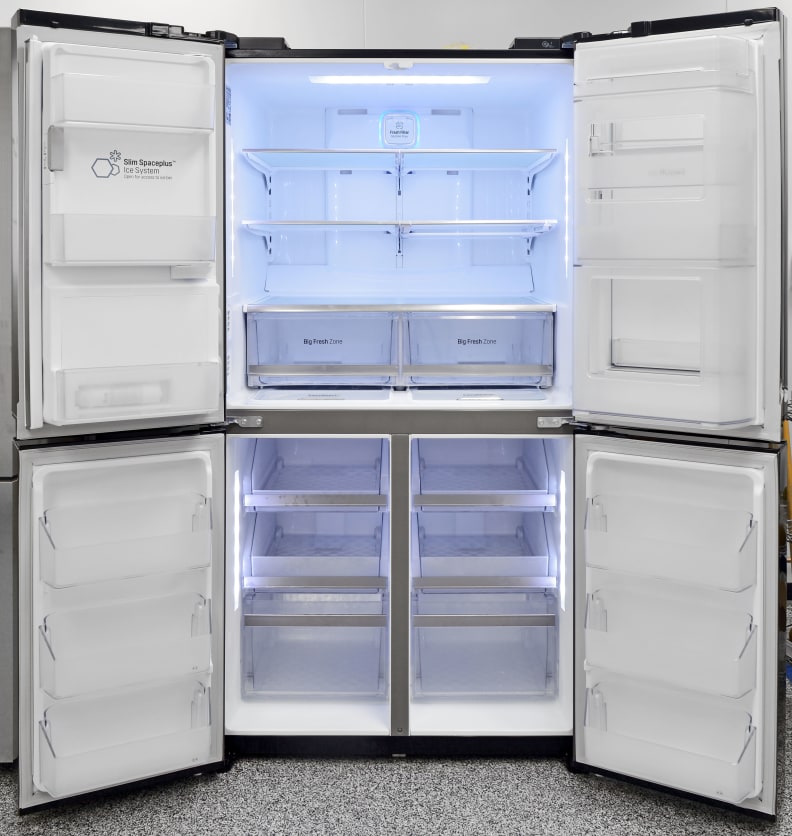 With an advertised 30 cubic feet of space, this LG is certainly a large appliance. However, with all of the plastic surrounding the door-in-door storage, as well as other obstructions, the actual usable space was somewhat less than that.
The upper section, including both doors—and all the shelves that encompasses—will provide you with 12.58 usable cubic feet of space. Down below, both freezer sections combine to serve up 9.18 usable cubic feet.
Of the fridges we've tested to date, this is the most efficient model in its size class. Assuming the average American electricity cost of $0.09 per kWh, we estimate it will cost you about $58.75 each year to power this fridge with the ice maker running. That comes out to roughly 0.08 kWh for each usable cubic foot—highly efficient, indeed.
Meet the tester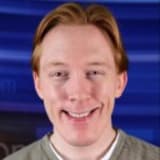 Matthew Zahnzinger
Logistics Manager & Staff Writer
@ReviewedHome
Matthew is a native of Brockton, MA and a graduate of Northeastern, where he earned a degree in English and Theatre. He has also studied at the Gaiety School of Acting in Dublin and spends most of his free time pursuing a performance career in the greater Boston area.
Checking our work.
Our team is here for one purpose: to help you buy the best stuff and love what you own. Our writers, editors, and lab technicians obsess over the products we cover to make sure you're confident and satisfied. Have a different opinion about something we recommend? Email us and we'll compare notes.
Shoot us an email