After getting past my initial rose-tinted view of this platinum fridge, we found that there were simply too many differences for the good times to last. While the LG was content with sleek curves and pretty lighting, I wanted something with more substance, something that could maintain an even temperature, retain moisture in the crisper, maybe hold an intelligent conversation about the industrial revolution . You know: a fridge you'd be proud to introduce to your family, not just show off to your friends at a fancy cocktail party. Who knows? Maybe this will be the fridge of your dreams; alas, that it couldn't quite be ours.
A jaw-dropper with more form than function.
Might as well start with the best attributes and go from there. This fridge is one heck of a looker. It's got a so-called platinum finish, which is essentially LG's version of faux stainless. On one hand, it's not going to fool anyone into think it's actually steel. That said, it's still very attractive, and an affordable option to folks who want steel but may not be able to afford it. The lack of smudging is a definite plus, and unlike actual stainless, magnets will work here. Semi-recessed handles make for easy gripping while maintaining a sleek overall look, while the blue LED lighting in the back on the fridge compartment makes this model look more expensive than it actually is.
That blue LED light may look great, but how effective will it be if you have a fridge full of food blocking it?
The truth of the matter, though, is that this is still very much a budget top freezer. Think about it: that blue LED light may look great, but how effective will it be if you have a fridge full of food blocking it? The crisper drawer is finicky when it comes to opening and closing, plus it lacks a humidity control. There's no light in the freezer, no ice maker, no water filter, and only one temperature control panel to manage both compartments; in terms of functionality, this is getting close to a bear-bones appliance.
A relationship built on looks alone will never last.
What really pains us is just how mediocre this fridge turned out to be. We wanted it to be amazing, we really did! But the truth will out, and so the LG must be exposed. Temperatures in the fridge were never quite spot on: the top and middle were a bit colder than our desired 37 degrees Fahrenheit, while the crisper drawer was a hair warmer. The freezer was even worse, exhibiting a big jump from the top to the bottom of that tiny compartment.
Moisture retention in the crisper was just plain bad; don't plan on buying veggies in bulk if you go with this model. Freezing times were mediocre, the amount of usable storage space is just average...heck, the only thing that was blatantly deserving of praise was the strong energy efficiency. Oh, and it comes with a tiny egg tray.
So much for love at first sight...
Well, dear one, it's over between us. True, you're the most beautiful fridge at the ball, with your shiny platinum finish and your piercing LED blue lights...but there's just not enough going on inside where it really counts. You make a good point, though, with your mere $699.99 MRSP...
Creepy fridge love story aside, this is a pretty decent product. It doesn't cost a ton, it looks fantastic (assuming you like the "platinum" finish as much as we did), and it doesn't do a bad job...just an average one. What this LG offers is budget fridge performance with more mid-range fridge aesthetic. If your kitchen is a highly-trafficked part of your house, sure, by all means, give this one a closer look. If you don't care about appearances and are more focused on tracking down the best level performance you can find, you can find models that do just as well for one or two hundred dollars less.
There's a reason we don't score products based on appearance; the subjective nature of personal taste just can't be scored (or shouldn't be, anyway). Take a look at the numbers behind the LG LTN16385PL to see why it broke our hearts.
First off, this fridge is very consistent over time. We're talking shifts of no greater than 0.2 degrees in the fridge and 0.7 degrees in the freezer. It's a good start...that doesn't really go anywhere. The fridge's controls consist of an arbitrary set of five colored lights; no corresponding degree scale, just five lights. Using the recommended middle light, we found that fridge temperatures averaged 34 to 35 degrees, a bit colder than the ideal 37. We tried it on the fourth light, but average temperatures shot past the 37 degree mark by more than a little, so what we got is as close to perfect as this fridge can get.
Temperatures near the crisper drawer shifted up, too; down near the bottom of the fridge, it averaged about 39 degrees. While this would be bad in the fridge proper, produce should be stored at a slightly warmer temperature than other refrigerated items. If only the rest of the fridge were closer to 37, we'd be happy. The large jump between sections, though, is too unusual to look past.
The freezer was even more frustrating. It's not a big compartment, and yet the top averaged temperatures of 2.8 degrees, while it got as warm as 6.1 near the bottom and on the door. Temperatures that warm and that far apart means you're looking at an increased risk of freezer burn. Don't plan on saving any sort of delicate meat or fish in here, unless you're okay with a reduction in quality and a risk of spoilage.
We're turning green at the thought...then moving on to brown.
The crisper drawer was just bad. There's no other way to put it. It looks fancy, with all the dips and textured surfaces, but we noticed one important thing was missing: a humidity control switch. There's only one big drawer here, so no separation of fruit and veg. On average, we found that this drawer lost an impressive (depending on how you look at it) 0.3 grams of moisture every hour. To put that into context, we have come to treat 0.18 as about average, with 0.2 starting to push it. At 0.3 grams, you can bet that any produce stored in here for more than a week is going to start turning.
It's not slow, but then, it's not not slow...
For our test materials to go from room temperature to frozen in the LG's freezer, about one hour and 46 minutes had to pass. Is that great? Not really. It's on the slow end of average, just slow enough that the quality of some foods may be impacted, but just fast enough that it's not guaranteed.
At the very least, we can confidently say that the freezer is well insulated. After we had unplugged it and left it alone for 36 hours, our testing items were still frozen.
Quite efficient, possibly because there's not a lot to power.
Between the four fridge shelves, the single crisper, and the four storage shelves on the fridge door, we found that the LG could hold up to 9.23 cubic feet worth of fresh food. That's not a ton, but top freezers in this size bracket aren't exactly spacious. The best part here is that most of the space is pretty open; you're not losing capacity because some large protrusion is getting in the way. The freezer's open spaces are fairly proportional in size; four shelves there can hold up to 3.39 cubic feet of frozen items. Again, it's not a lot, but you get what you pay for.
What really surprised us was just how energy efficient this fridge turned out to be. Perhaps it's because of all the open spaces, or the less-than-ample capacity, but it actually takes very little energy to power the LG. An annual electric bill will total about $28.63, with an average energy consumption of 0.07 kWh per cubic foot of usable space. Cheap and efficient; it definitely gets our approval in this regard.
Meet the testers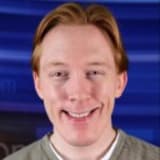 Matthew Zahnzinger
Logistics Manager & Staff Writer
@ReviewedHome
Matthew is a native of Brockton, MA and a graduate of Northeastern, where he earned a degree in English and Theatre. He has also studied at the Gaiety School of Acting in Dublin and spends most of his free time pursuing a performance career in the greater Boston area.
See all of Matthew Zahnzinger's reviews
Checking our work.
We use standardized and scientific testing methods to scrutinize every product and provide you with objectively accurate results. If you've found different results in your own research, email us and we'll compare notes. If it looks substantial, we'll gladly re-test a product to try and reproduce these results. After all, peer reviews are a critical part of any scientific process.
Shoot us an email