A side-by-side isn't usually the best choice if you need to freeze lots of large-size pizzas, since it's not easy to fit them into the narrow freezer. On the plus side, it's harder for frozen foods to go missing in a side-by-side, since you can spot them more easily than you can in a deep, wide bottom freezer. And side-by-side models come in at a lower price point than French door models.
Side-by-sides tend to have challenges with fluctuating temperatures. If you wanted to keep milk in the door, as you'd expect to, it can go bad quickly when the temperature rises. To keep milk cold enough, you'd have to keep it on the top shelf, where kids couldn't reach it. That somewhat defeats the purpose of a side-by-side.
Bearing all this in mind, we tested the 26 cubic-foot Maytag MSS26C6MFZ and you can get major discounts if you buy it as part of a bundle.
Exterior Design
This fridge looks sharp, and that's its best quality. Our model was stainless steel, with a contemporary industrial look that would fit into a new or renovated kitchen. It's also available in white (MSS26C6MFW) and black (MSS26C6MFB), so you can match the color to your space.
If you worry about small hands leaving smudges on a stainless fridge, Maytag's stainless finish is called PrintShield, and—true to its name—it resists fingerprints. I dragged my hand across it, and didn't leave a mark.
Hinges are seamed plastic, but mostly invisible. Sturdy, rounded handles have matching endcaps at the top and bottom. However, there's a little groove around each endcap, and it could collect grime if you don't keep after it.
If handles that match those on your other appliances are an issue for you, you should know that Maytag is owned by Whirlpool, and some Whirlpool fridges look similar to Maytags, but their handles are flat rails with no endcaps.
Settings on the control panel on the freezer door let you turn on a light, adjust the temperature, select water, choose crushed ice or ice cubes, and activate the faster chill of FastIce and PowerCold modes. In addition, you can check the status of the water filter.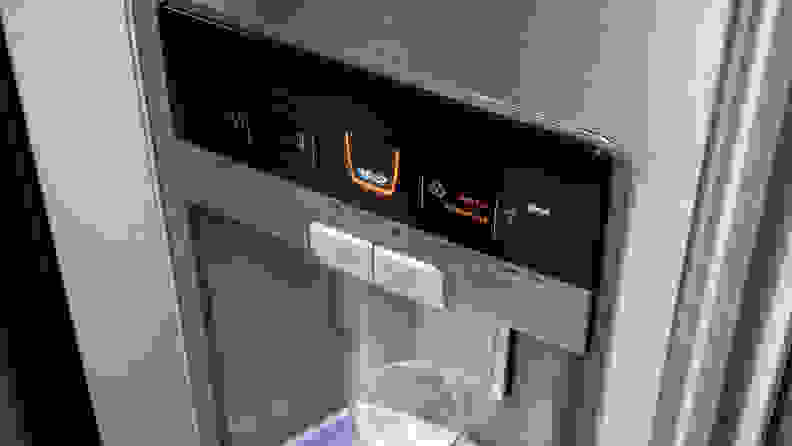 Inside the Fridge
It took me a bit of force to open the refrigerator doors. Once I got them open, the LED lighting illuminated the space brightly. We measured only 69% of the space as useable.
On the fridge side, the dairy compartment is generous in size, big enough for the butter plus a couple of packages of cheese. Plastic bins in the door can accommodate gallon-size containers of milk, though there are safer places to keep them in this fridge. Customize by moving bins and shelves to make room for taller items.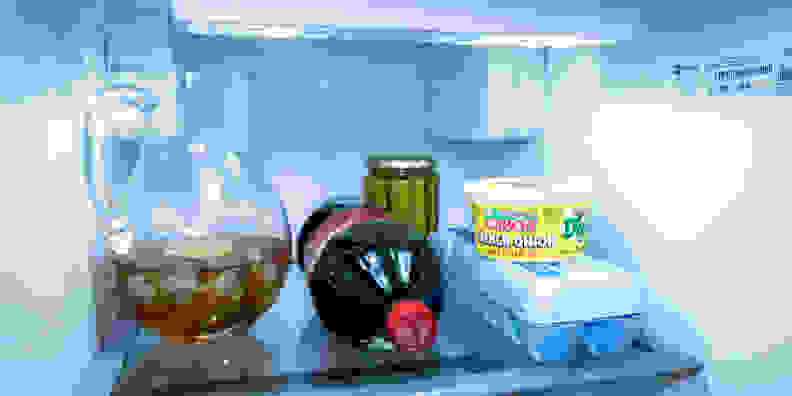 Three glass shelves are relatively easy to wipe up with a paper towel. You can pull the shelf out to clean it, though not smoothly.
The first drawer would work for storing deli meat for lunches. Underneath, two crisper drawers are stacked. They make a scraping noise when you open them, related to their design. You can adjust the humidity settings on them individually.
Freezing in Here!
The icemaker is in the freezer door, leaving more storage space for frozen food in the freezer. It wasn't difficult to remove the ice bin once I figured out that it could lift up and pull out.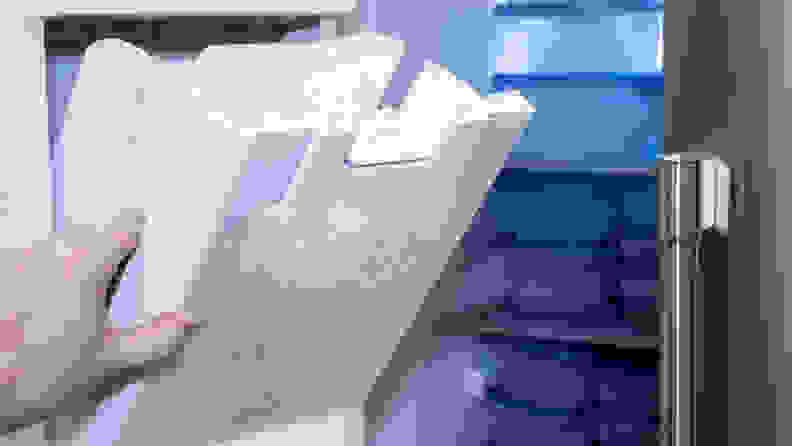 There are five shelves and one bottom drawer on this side. Single serving pizzas and many frozen entrees fit with room to spare. A large pizza or a roast would be awkward. That's the downside of this side-by-side.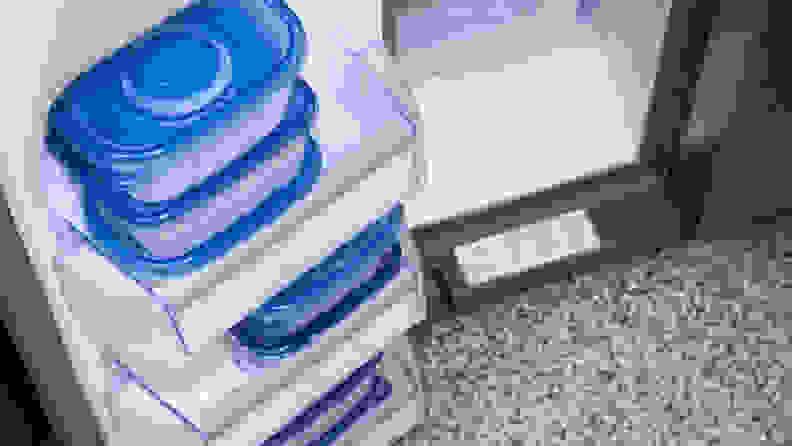 How it Works
In this model, as in most refrigerators priced below $2,000, one evaporator maintains the cold in the fridge and the freezer. Single evaporator refrigerators tend to cost less, but there's a disadvantage.
Say you have a family member who likes to fling open the refrigerator and stand there for awhile, searching for the perfect snack. (I know that kid!) When it happens, the refrigerator has to make an extra effort to keep both the fridge and the freezer at the right temperatures. And if the freezer warms up regularly, you can expect freezer burn.
Another potential drawback with one evaporator refrigerators: smells from the fridge side can migrate to the freezer side. Keep stinky items tightly wrapped. Nobody wants a popsicle that reeks of fish or garlic.
Pay attention to the temperature. A major drawback to this refrigerator is its difficulty maintaining appropriate chill. In our tests, the fridge compartment varied from 37° (just right) to 41° (borderline too warm.) Food spoils faster when it hits that higher temp, and that can spell disaster for your groceries.
What the Owners Say
Recent buyers praised the Maytag side-by-side's good looks, and liked its bright LED interior lights. However, some cited issues with the water dispenser and ice.
The Bottom Line
This side-by-side fridge, made by a well-known manufacturer, has desirable features, and it's a handsome addition to a modern kitchen. The performance is a concern, though.
In our tests, the temperatures in both the refrigerator and freezer were very inconsistent. For better value, consider this Whirlpool side-by-side that you can find at a good price point. It's a great fridge, and as a bonus, it can easily fit a large frozen pizza.
Meet the testers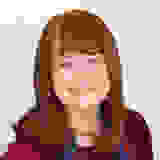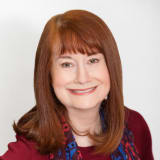 Cindy Bailen
Editor
@orangesandlemon
Cindy Bailen loves writing about major appliances and home design and has spent over 15 years immersed in that. In her spare time, Cindy hosts pledge programs for WGBH-TV in Boston and other public television stations.
See all of Cindy Bailen's reviews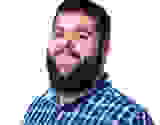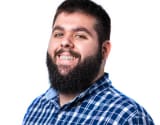 Kyle Hamilton
Product Tester
Checking our work.
We use standardized and scientific testing methods to scrutinize every product and provide you with objectively accurate results. If you've found different results in your own research, email us and we'll compare notes. If it looks substantial, we'll gladly re-test a product to try and reproduce these results. After all, peer reviews are a critical part of any scientific process.
Shoot us an email