Design & Usability
Cool and shiny.
While this has nothing to do with CoolVox itself, there is one element of the concept fridge that we felt simply had to get some attention. The particular donor fridge that Whirlpool decided to graft speakers into is identical to a stainless steel version that we tested a few months ago in every way but one: it has the White Ice finish that caused such a splash when it was released last summer.
It's somewhere between stainless and enamel: cool, but not shiny. While we're certain some consumers would definitely find it appealing, we're simply not sold one way or the other based on this single experience. That said, we'd be intrigued to see how it looks in a kitchen, where it undoubtedly would seem less out of place.
Features & Performance
Either a new way to think of design and function...or a small earthquake in your kitchen. Who can say?
When we arrived at Whirlpool's small display at the Digital Experience in Las Vegas, we couldn't hear anything but the cacophony of various booths nearby, so the first thing the representative did was tell us to place our hands on the fridge itself. To our surprise, the whole thing was vibrating, not unlike a rather weak massage chair. CoolVox (Latin scholars will know that translates roughly to Cool Voice) is a design concept put forth by Whirlpool which places speakers inside the doors of a refrigerator. From what we can tell based on the concept model, this technology results in no loss of storage capacity whatsoever, nor does it produce any unsightly holes or mesh squares in the door itself—the whole thing is completely enclosed inside the doors of the fridge.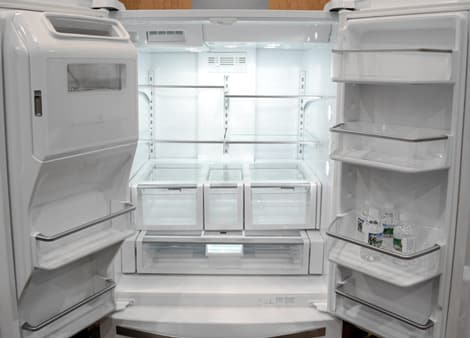 The idea behind this unusual melding of fridge and radio is founded on the idea that, when it comes to kitchens, consumers want to make the most of the space they have available without turning a heavily trafficked room into a monkish cell. Normally, if you want to listen to music while cooking, you would need a radio or iPod dock, which takes up precious counter space. The CoolVox eliminates the need for such a device by providing wireless Bluetooth connectivity: simply sync your smart phone with your fridge, and voila! You've got music at your fingertips, allowing you to set funky playlists for when you have friends over, listen to podcasts while preparing a pot roast, or rock out to Madonna while mopping.
There are many questions still unanswered, not the least of which is when we can expect to see this on the market. According to representatives, the technology is still very much in the concept phase. It's nothing revolutionary technologically speaking, but Whirlpool is still hammering out a number of details—such as whose speakers will be installed or which fridges will get the technology (again, the model we saw was a concept fridge, and is in no way indicative of what the final product may be)
As far as the current sound quality...it's hard to say. Large conference rooms filled with rowdy convention-goers and blaring background music aren't exactly the best places to do a sound check, but it'll likely fill your kitchen with song as if Josh Groban were your personal chef.
Conclusion
The CoolVox doesn't blow the doors off fridge technology, but it will make them play Vivaldi.
While speakers inside a fridge door may seem like a pointless gimmick at first, a deeper evaluation reveals a piece of technological innovation that could in fact change how we think about appliances.
If Whirlpool can cross the hurdles of poor speaker quality, practical ease of use, potentially high cost, and all the other components that could dampen this interesting concept, they may have a whimsically charming result that could lead to an entirely new range of appliances that could improve spatial efficiency in the home without forcing consumers to make lifestyle sacrifices. Big challenges for a simple machine, but one which could lead to some very exciting places; we look forward to seeing just how well it turns out.
Our editors review and recommend products to help you buy the stuff you need. If you make a purchase by clicking one of our links, we may earn a small share of the revenue. Our picks and opinions are independent from any business incentives.