Pros
Two extra temperature drawers

Snack compartments
Cons
Crispers lose moisture quickly

Less energy-efficient
You read that right, folks—it's got five doors.
This behemoth is very similar to the KitchenAid KRMF706EBS, a high-end black stainless five-door that sells for about $4,000. For those who experienced a small heart palpitation looking at that number, don't fret: This Whirlpool retails for about $2,500, which means it's priced to compete with other high-end French doors regardless of how many handles are on the front. (Check out our full list of the best French door fridges on the market.)
That's not to say there aren't some tradeoffs. Extra drawers means the fridge takes a small hit to efficiency, as well as total available space. In terms of accessible, flexible storage for the price, though, this Whirlpool definitely sucked us in.
In our tests, the Whirlpool WRV986FDEM (MSRP $3,399) managed to meet expectations, but never really exceeded them. The data shows that it's a commendable product without really excelling in any one particular area. If anything, the fridge on the whole was a little underwhelming, with more of an emphasis on layout and accessibility instead of performance.
Stunning on the outside, acceptable under the hood
If you take the extra drawer out of the equation for a moment, this Whirlpool is actually pretty conventional. White plastic interiors, glass shelves with gray trim, and bright LED lighting are all common features on high-end fridges, and this Whirlpool is no exception.
For a fridge this costly, though, you can certainly expect a few extra perks. Two ice makers—one mounted to a door that feeds the dispenser, one down in the freezer for bulk ice—is great news for folks who like to throw cocktail parties. The freezer's ice maker even has a small hook used for storing a convenient little plastic scoop.
Parents (or people who just get a kick out of organizing food) will also appreciate the recessed bin found just in front of the crispers, an ideal spot for storing easy-to-reach snacks.
×
Design
Design aside, our extensive tests revealed that this gorgeous fridge leans toward form over function... but not by much. It's a perfectly adequate appliance, but both the fridge and freezer run a bit warm for our taste. Simply turn down the thermostat a bit for both sections to get optimal performance. Freezing times, moisture retention in the crispers, and energy efficiency were also serviceable, if somewhat underwhelming compared to other conventional French door models.
For in-depth performance information, please visit the Test Results Page.
The upper section of this Whirlpool actually ran warm, something which surprised us for such a pricey appliance. Our sensors recorded average temps of 39.25°F at the top, 38.36°F in the middle, and 40.12°F at the bottom. Degree shifts over time averaged ±0.26°F, steady enough that simply turning the thermostat down to 36°F or so should remedy the excess warmth.
The freezer was more on point, with our sensors recording temperature averages of -0.12°F and -0.91°F at the top and bottom, respectively. An average shift of ±0.3°F, however, does mean that certain sections of the freezer—primarily the upper drawer—are at risk for freezer burn. Turn it down a degree or two here to be safe.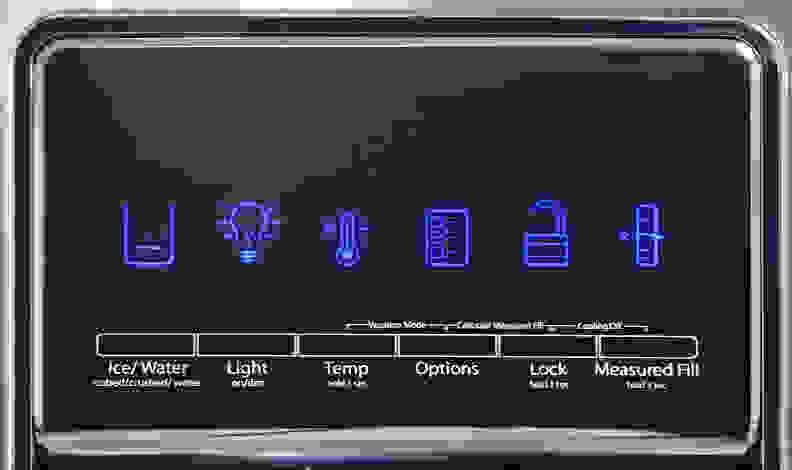 We've found that crispers that lack manual controls don't seem to do as well in our moisture retention tests, and this Whirlpool was no exception. Over the course of three days, we determined that each crisper will lose about 0.2 grams of moisture per hour. It's not the worst we've seen, but definitely below average.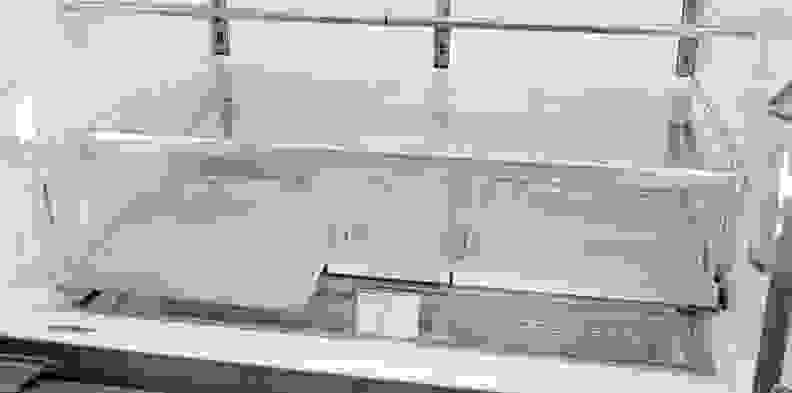 Now with more handles!
A typical four-door French door features an independent drawer nestled between the freezer and fresh food compartments. What this Whirlpool does is split that drawer up into two smaller zones with distinct purposes.
The right-hand drawer makes this fridge ideal for gardeners, farmer's market aficionados, and salad lovers in general: It's an extra crisper! No more awkwardly folding over your fresh kale, or squishing cabbage up against peppers. The long produce drawer—it's almost two feet deep and one foot wide—can fit anything from whole broccoli stalks to leeks and other space-consuming veggies.
On the left is a multi-purpose drawer with five distinct temperature settings: Meat / Fish, Cold Drinks, Snacks, Deli / Cheese, and Thaw Zone. Whether you're defrosting some steaks to cook the next night, or keeping your dinner party hors d'oeuvres fresh, this drawer will serve consumers that like to change things up. Just make sure you give the drawer 24 hours to adjust between changes, or your deviled eggs might end up a bit too pungent.
Both drawers do have a small handful of similarities. They're the same size, and each one comes with a small plastic divider that you can move around for even more organization. Perhaps the best part is that both drawers have a soft close feature, a decidedly luxurious feature.
The catch for all this is two-fold: Extra drawers mean more plastic, metal, and insulation, which cuts into the fridge's overall usable storage. Of course, it means the space leftover is more easily organized. Also, extra drawers also mean more independent sections to cool, which makes this fridge somewhat less efficient that other 2016 models.
This fridge may be unconventional, but its warranty is pretty tame. A standard one-year limited warranty covers parts and labor for any defective fridge components that fail through normal use.
Freezing times in the spacious freezer were also lackluster. Room-temperature sensors were placed inside the freezer, and were chilled down to 32°F in 1 hour and 37 minutes. Ideally, a freezer should make that transition a good 10 minutes faster at least.
For when four doors simply aren't enough
Fridge innovation is a tricky thing; we've seen more than a few models try to break new ground and fail miserably. The five-door design, though, really does have some functional potential. With the Whirlpool WRV986FDEM selling for as little as $2,500, that potential is well within the reach of interested consumers who prefer this layout to conventional models.
Compared to conventional French door fridges of similar size, this Whirlpool actually has less usable space. Extra drawers and other features mean more potential storage is filled up with plastic, metal, and insulation. Nevertheless, it does create more accessible storage, and there's still a fair amount of it: This particular model offers up 11.77 usable cubic feet of fresh food storage, which includes both of the extra drawers.
For the freezer, we measured with the ice bucket still inside, since it can be used as storage for more than just ice. On the whole, we found that the freezer drawers serve up a total of 4.99 usable cubic feet of space.
Extra drawers also mean less energy efficiency, it seems. This also makes sense, as the Whirlpool has more lights and segregated compartments to power. It also has two ice makers, unlike most other models. As such, we found that this fridge requires 0.11 kWh to cool each usable cubic foot. Using a fixed rate of $0.09 per kWh, that comes out to about $58.92 per year; adjust accordingly based on local utility rates, and on how much you expect to run the ice makers.
×
Storage
Meet the tester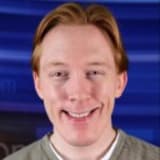 Matthew Zahnzinger
Logistics Manager & Staff Writer
@ReviewedHome
Matthew is a native of Brockton, MA and a graduate of Northeastern, where he earned a degree in English and Theatre. He has also studied at the Gaiety School of Acting in Dublin and spends most of his free time pursuing a performance career in the greater Boston area.
Checking our work.
Our team is here for one purpose: to help you buy the best stuff and love what you own. Our writers, editors, and lab technicians obsess over the products we cover to make sure you're confident and satisfied. Have a different opinion about something we recommend? Email us and we'll compare notes.
Shoot us an email