Refrigerators
5 ways you can upgrade your kitchen—without breaking the bank
A popular designer tells you how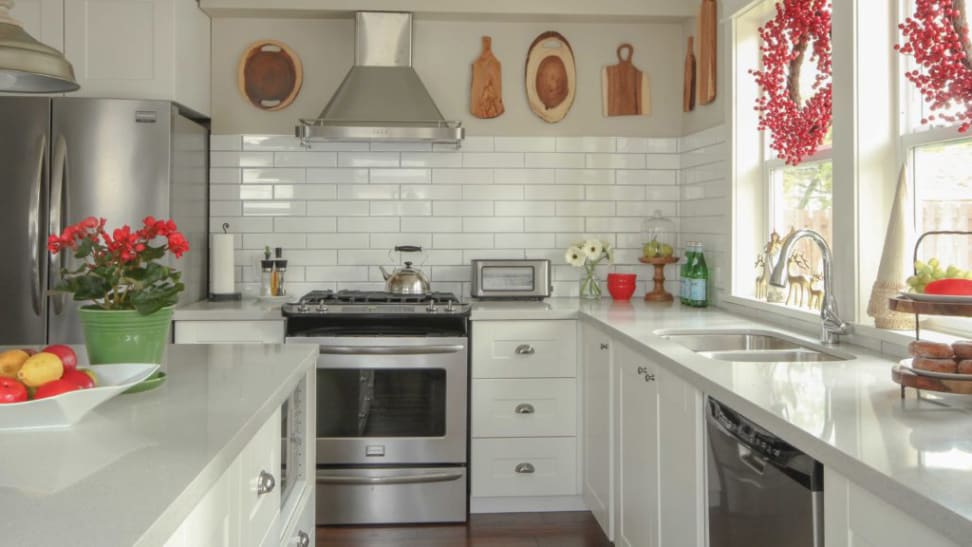 Credit: Maria Killam
If one of your plans for 2018 is rebooting your kitchen, congratulations. You'll be adding to the value of your home, while creating a room that makes you happy. And there's plenty you can do without changing the footprint or undertaking a major construction project.
In fact, Remodeling Magazine says that for 2018, the highest-ranking kitchen project, in terms of adding value to your property, is a minor kitchen remodel, returning 81% of your investment at resale.
So, how do you update your kitchen without a total gut job?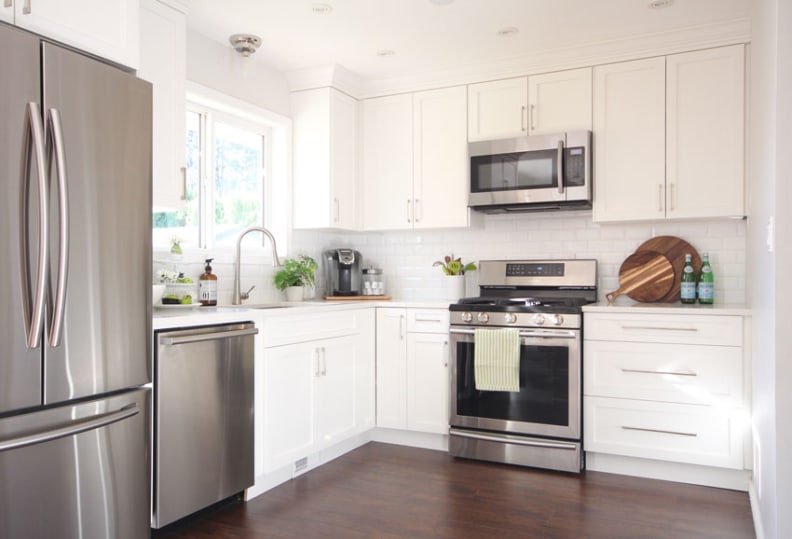 We recently sat down with color designer Maria Killam to get her recommendations on kitchen updates. Killam's blog, Colour Me Happy, has hundreds of thousands of followers, and, in addition to her design work, she trains and certifies designers and homeowners in the art of color.
1. Update your kitchen with paint
To create a gorgeous, timeless kitchen, use paint. Killam is a big proponent of the white kitchen. White always looks fresh and classic. And for a typical home without a lot of architectural interest, she said, "A timeless white kitchen usually works best."
You can't pick a can of white paint at random and expect it to work. Color doesn't exist in a vacuum. Killam teaches that every color, even white, has an undertone. She explains her system in her e-book White is Complicated.
For your kitchen upstyle, you need to choose the right white. As Killam explained, "Your countertops will dictate whether you should choose a true-white, off-white or cream." To figure that out,"Put your surfaces on white paper."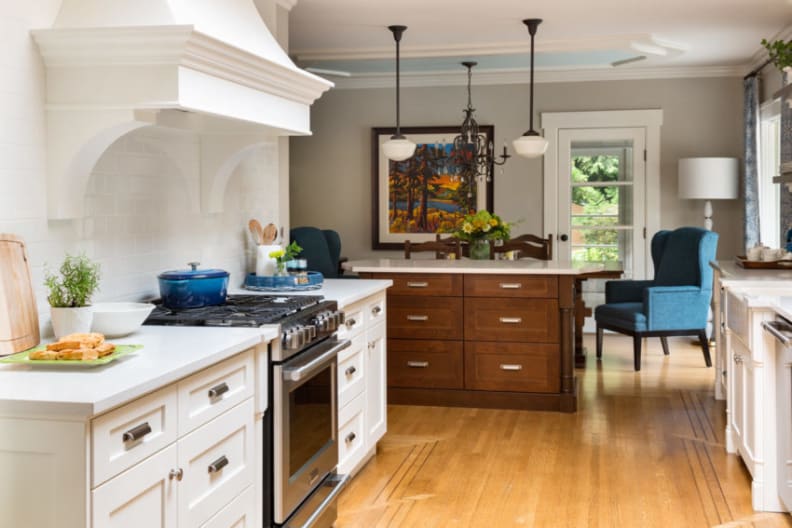 2. Pick the right neutral
In the world of style, neutrals come and go, and using too much of any neutral can make your kitchen look dated fast. Lots of icky pink-beige surfaces from the 90s are still around to remind us.
Black is the sharpest neutral right now, but don't overdo it. "Don't be fooled by what you see on Pinterest. You need a lot of light to make a black kitchen work," noted Killam, "No matter how you "sex up" black, it's still very dark."
You can use black to add some drama to a mostly white kitchen. Killam suggests this: "You can paint just the lower cabinets black, so it looks more like furniture. Have them professionally sprayed." That ensures you'll get the smoothest finish.
If you like black plumbing fixtures, take the opportunity to mix metals in the kitchen. "Be careful. Don't do every fixture in black," Killam warned. "Black can look harsh and cheap." Should you choose a faucet in rose gold? "No! Trendy finishes don't last."
Killam believes that stainless steel appliances are your best bet. When we asked whether it's a good idea to bring a single black stainless appliance into your kitchen, she laughed. "Don't do that. It looks like you're waiting for something to die."
3. Remove some of the upper cabinets
Want a more open look to your kitchen? Get rid of the uppers. "Put in shelving—it's fresher," she said. Floating shelves above the island look very modern, and shelves with brackets are more classic. Still, if you don't like to dust, avoid exposed shelving. "Have a pantry wall instead," advised Killam.
4. Replace your current backsplash.
Put up subway tile in your home's best white, and it will never go out of style. To add a little more glamour, you can choose white tile with a pearlized finish. "Pearl is everywhere," Killam told us.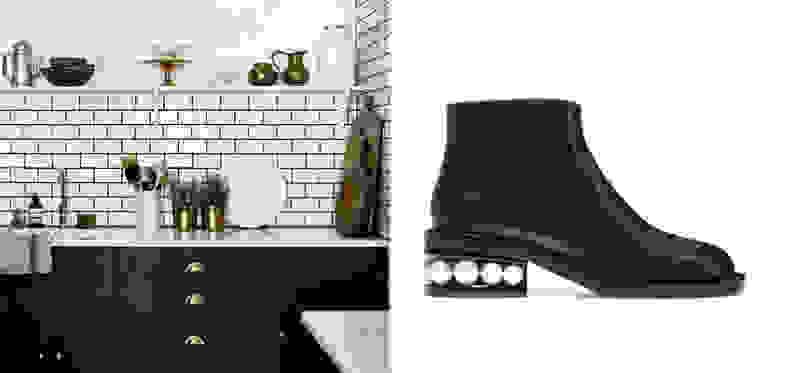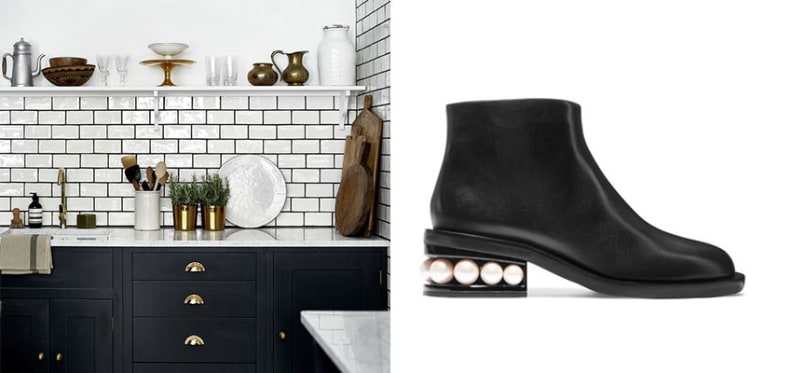 Although it's tempting, you should think twice about including pattern in your kitchen's hard finishes. "Ask yourself how fast you'll get tired of a trendy geometric tile or backsplash," said Killam.
5. Up your kitchen's style quotient with a millwork range hood.
Stainless range hoods have been a big trend for years, but Killam suggested adding custom millwork on the hood fan for a lift to your kitchen. "It's more expensive, but it looks better in a more traditional kitchen." A stainless steel hood still looks great in a contemporary kitchen.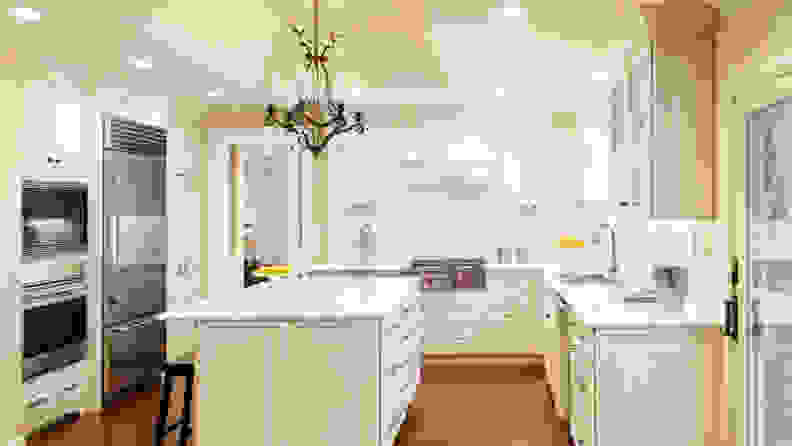 Classic, with colorful touches
No need to worry—your white kitchen will not become passe. "It's here to say," Killam said. And your kitchen is unlikely to look like anyone else's, because once you've updated it, you can use bright, colorful art and accessories to add personality.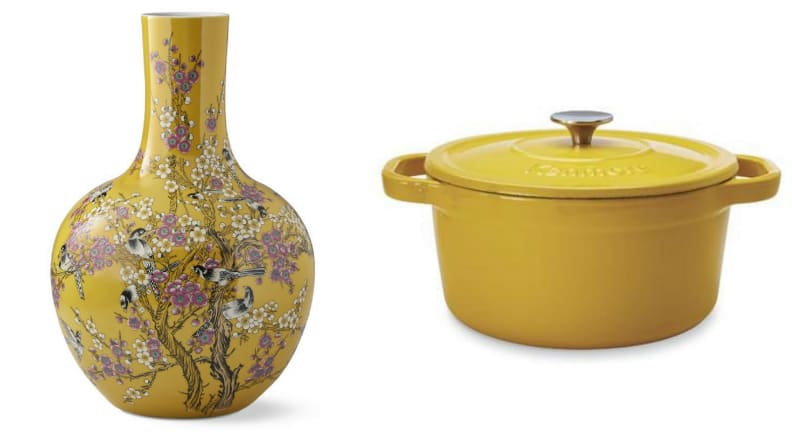 "Yellow is the real color of 2018," Killam said—so feel free to add a shot of optimism via yellow accents in your fresh, classic kitchen. You can switch out the accessories when trends change.