Refrigerators
A Smooth Future for Fashionable Appliances: Glass, Glitter, and More
Glass is the new stainless… according to European manufacturers, at least.
Credit:
While wandering our way through the different booths and displays at Berlin's IFA conference, we were amazed at the plethora of different finishes on the large appliances we saw. Among the zebra stripes, wood grain, and granite finishes, one particular finish kept popping up: colored glass. It caught our eye, and upon asking some representatives from different manufacturers, we learned that it's a popular choice for European consumers.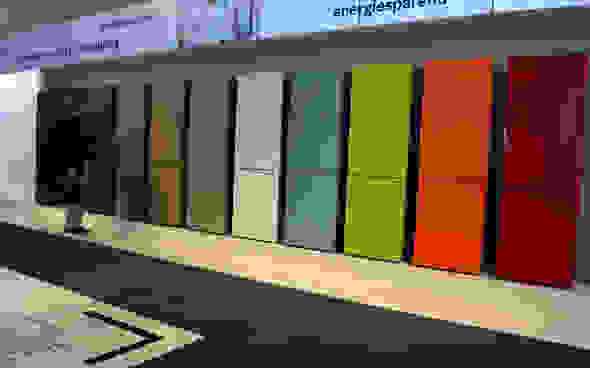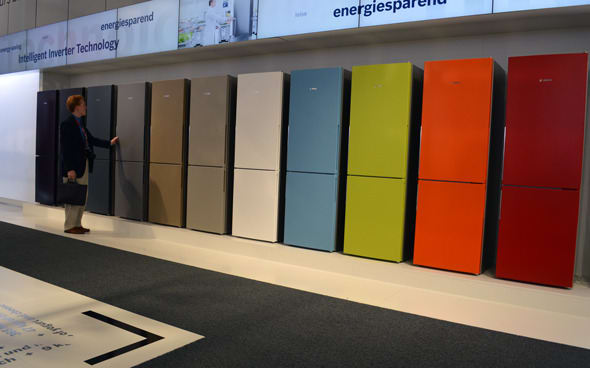 Now, we know what you're thinking: "Glass? It'll never work. It'll break too easily!" Well, manufacturers have taken that into account: there were also a few conspicuous-looking "test" booths where you could pull back an item—such as a wine bottle or frying pan—that was attached to a string, release it, and watch as it bounced off of a fridge door that had a glass finish. Surprise, surprise: not a scratch or crack on it. This isn't your traditional window pane; while we weren't told exactly how they stress-proof this particular grade of glass, we were assured that it's been through the most rigorous tests in order to stand up the wear and tear of busy family life.
What with the advent of Whirlpool's new White Ice look, you may think we already have glass finishes in America. That's not exactly true: White Ice is actually a metal finish that has been painted to create a new color while maintaining the smooth texture of stainless. Attractive as this may be, it's a multilayer finish that, if scratched deeply enough, can mar. Glass, on the other hand, doesn't rust and is very easy to clean.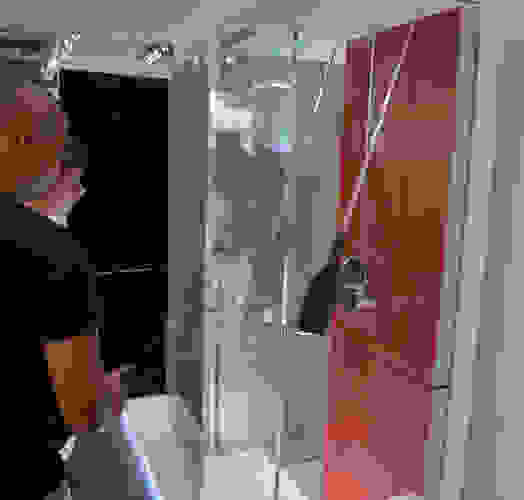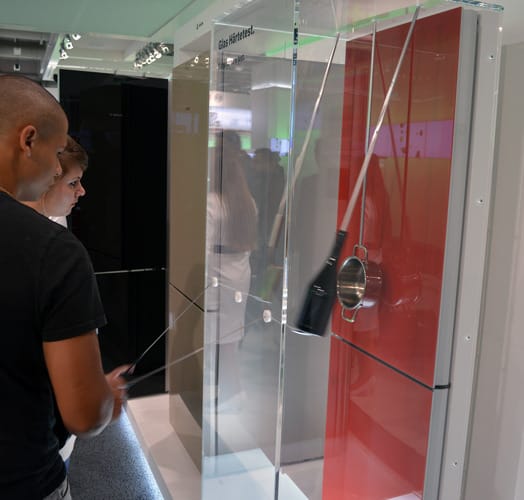 Glass finishes take the best qualities of stainless steel—its smooth, polished exterior—and remove all the negative elements—utilitarian sterility and lack of warmth, its easily-smudged surface, and memories of the flashy, cheaply built McMansions so common during the housing bubble. It's also an alternative to the textured or glossy black and white finishes that serve as the only two common alternatives to stainless, which don't necessarily provide the smooth look that so many consumers seem to prefer.
Glass combines a high-end texture with pizzazz and personality, producing a kitchen that emanates whatever sort of life style you want to project just as thoroughly as the other rooms in your house. A fan of peace and quiet? Find something in a soft pastel. Like to throw lots of parties? Get a jazzy red fridge to complement your decor. It's also perfect for consumers with retro tastes who don't necessarily want a retro appliance.
It may have to do with the necessity of outfitting smaller kitchens in smaller homes compared to what Americans are used to, but products made for the European market absolutely have more visual flair than what we get here. Take a look through our photo gallery to see some of the more exciting products available, made by a variety of manufacturers. We were especially intrigued by Haier's textured, glittery purple fridge.
---