With the school season slowly creeping up on us, it's time to start thinking about that most important of subjects: school lunches.
Far be it from us to criticize the venerable brown-bag lunch, but you have to admit that it's as stale as a day-old sandwich. And the less said about the lunches provided by your average public school, the better.
So what's an attentive, concerned parent to do? Consider the bento box.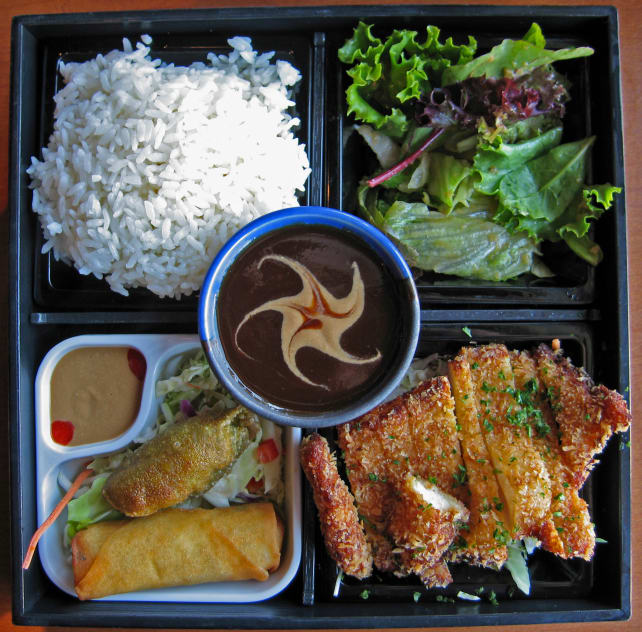 These healthy, creative meals have been a staple of Japanese cuisine for centuries, and lately they've taken over myriad mommy blogs and Flickr accounts with their bright colors and beautiful symmetry.
Far from recent invention, the bento box has a long and storied history in its native Japan. Its earliest ancestors first appeared around 1135 A.D., and the modern variant coalesced circa 1885. Derivatives exist in a number of Asian countries, including Philipines, Korea, Taiwan, and India.
Far be it from us to criticize the venerable brown-bag lunch, but you have to admit it's as stale as a day-old sandwich.
Tweet It
The benefits of bento boxes, aside from the obvious convenience, are many. For one thing, their small compartments are a great way to enforce portion control, and they also encourage a varied diet.
Though a traditional bento box contains rice, a protein, and pickled or cooked vegetables, there aren't really any hard and fast rules for what you can and can't include. Still, a good rule of thumb is to stick with three parts carbohydrates, two parts fruit and/or vegetables, and one part protein.
When combining items, pay careful attention to balance—not only nutritional balance, but also the balance of colors, flavors, and textures. Fill any gaps between foods, and only allow complementary foods to touch, in order to avoid any unwanted mixing of flavors.
Besides being beautiful, bento boxes are an ideal way to finish off leftovers.
Tweet It
While they can be intimidating at first, bento boxes are remarkably simple to create once you have a grasp of the formula. Better still, they're an ideal way to finish off leftovers.
If you're just starting out on your bento journey, we recommend Just One Cookbook's easy-to-follow bento box guide, as well as Wendy Copley's child-friendly school lunch bento box tutorial.
Once you're comfortable with the basics, it might be worth dipping your toes into the world of kyaraben, or "character bento." These eye-catchingly artful creations take the idea of playing with your food to a whole new level with elaborate recreations of beloved fictional characters and pop culture icons.
Hero image: Flickr user "gamene" (CC BY 2.0)
Our editors review and recommend products to help you buy the stuff you need. If you make a purchase by clicking one of our links, we may earn a small share of the revenue. Our picks and opinions are independent from any business incentives.