Refrigerators
It's Easy Being Green With the Guac-Lock
An airtight seal helps keep your guacamole greener longer.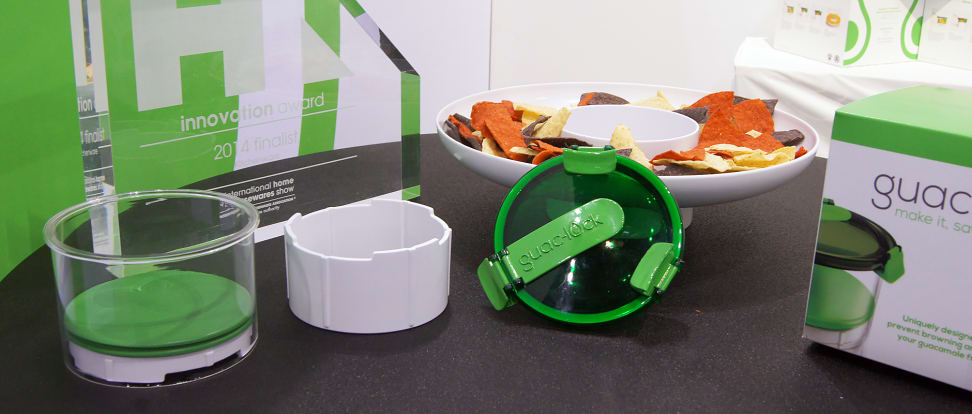 Credit:
Ever had day-old homemade guacamole? Of course not: It's all brown and gross.
Avocados, the main ingredient in guacamole, turn faster than victims of zombie bites. Even storing the leftovers in tupperware container in the fridge won't save you.
But before you resign yourself to your fate (and force yourself to polish off the guac all by yourself), you should take a look at the Guac-Lock. This little container is specially designed to squeeze all the air out before forming an airtight seal. Oxygen exposure is what causes avocados to turn brown, so this sealing method means your green stuff will stay greener much longer.
We've seen airtight food storage solutions before, and they usually involve a vacuum pump mechanism of some sort. The Guac-Lock uses a surprisingly simple push-up mechanism instead, compressing all the air out of a vent on the lid before it's sealed shut.
The Guac-Lock's unique design made it a finalist in the 3rd Annual Innovation Awards run by the International Housewares Association. Although clearly aimed at guacamole, it is versatile enough to store and serve other kinds of dips.

The push-up design has the added bonus of making the Guac-Lock container always appear full, and makes it easier for dipping. There's also a matching chip dish accessory (sold separately) to keep the party alive. If all of this strikes your fancy, here's the kicker: You can pick one up for just $19.99 when it goes on sale later this year.