Refrigerators
IKEA Unveils its High-Tech Kitchen of the (Near) Future
Multipurpose, environmentally friendly, and full of technology
In pop culture, future societies can take a lot of forms, from Orwell's grim totalitarianism of 1984 to the desert landscapes of Mad Max to the bustling city planet of Coruscant in Star Wars. While these world views may seem very different, there's one thing they all have in common: scarcity. Whether it's a lack of control, resources, or space, the worlds created by these artists all seem to hinge on forcing humanity to cope with a loss of... something.
But that's fiction, which is meant to be entertaining. What about designers, thinkers, and engineers in the real world? To find a more practical vision, we turn to IKEA.
The hugely popular furniture and storage company recently paired up with design consulting firm IDEO and design students at the Lund University in Sweden to create Concept Kitchen 2025, which was on display at this year's Milan Design Week.
Fueling this prototype kitchen is the belief that humanity will eventually be forced to live and work in smaller spaces while remaining aware of dwindling resources. As with most of the stuff you buy at IKEA, it's spatially conscious and multipurpose. What really sets it apart, though, is the incorporation of modern technology.
The center point of the whole display is the Table for Living. Anyone who has lived in a studio apartment can appreciate the need to use items like a mattress or chair for more than just the item's primary purpose. The Table for Living takes that multiplicity to the next level through a combination of cameras, projectors, and induction technology. It can function as a basic surface, work space, cooktop, or even a play area.
Placing food on the table causes it to bring up recipe suggestions that can be tweaked based on what you have in the house, or how much time you can spend cooking on a given evening. Sensors allow you to measure ingredients without special cups or spoons, and tips for cutting vegetables or trimming meat serve as a virtual chef's assistant.
Induction technology—already a big hit with chefs—allows you to fry chicken mere inches away from a cookbook or iPad. It also serves to wirelessly charge devices, including that very same iPad.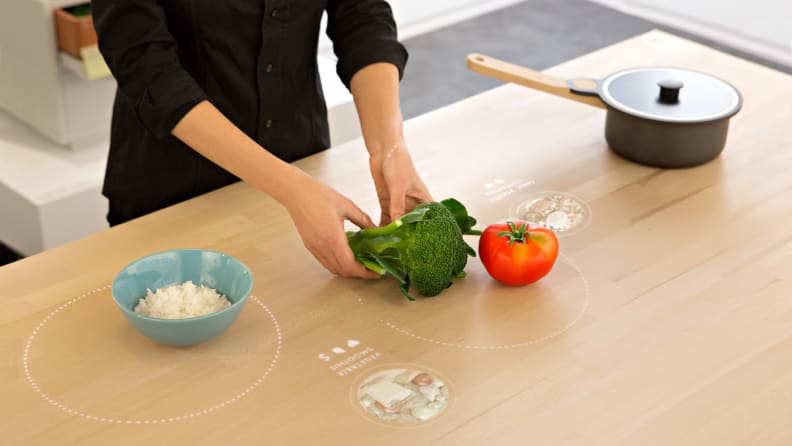 ×
Table for Living
The rest of the kitchen is more about reusing and recycling. A special sink pivots left to drain grey water that can be used for plants, or right to send black water (basically, wastewater) out into a city-wide sewage treatment system.
Food waste is composted and turned into pucks that can either be safely disposed of or used as fertilizer for a personal garden.
A special recycling system helps sort various types of materials, which is then vacuum packed for efficient removal. Depending on how wasteful you've been, the system could potentially issue you an energy credit or smack you with a surcharge.
Lastly, IKEA—king of storage—does away entirely with the traditional fridge. Instead, you get "Casual Shelving" designed for everything from produce to deli meat. Wood shelves are mounted onto a wall. These can be used like regular shelves to store unrefrigerated food like bread or fruit, or even basic kitchen items like cookbooks or spices.
But there's more to these shelves than meets the eye. They contain special sensors and induction technology. When special inductive cooling containers are placed on the shelf, it activates—in the same way magnetic pans are needed to activate induction cooktops.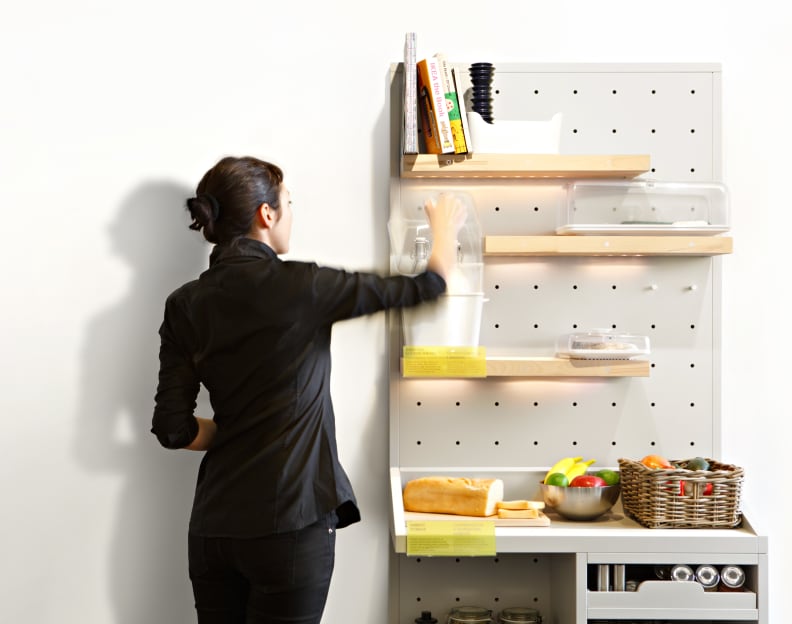 ×
Casual Technology Shelving
The containers would have wood or porcelain insets and a base made of a magnetic, stainless steel-gadolinium alloy. This material would help transfer the temperature, while a double-walled glass cloche would trap the cold air. It essentially turns the shelf into a fully contained mini fridge. Since the lids are made of glass, you can always see what you have, and the adjustable nature of the shelves means you'll always be able to store exactly how much you need—no more wasted space or overworked fridges.
No more wasted space or overworked fridges.
In the lowest section, terracotta drawers serve as naturally cool storage spaces for your produce. It's essentially like your Italian grandmother's old-fashioned crisper drawer, but revamped for modern living.
But before you start tracking down the nearest contractor to remodel your kitchen, keep in mind that the Concept Kitchen is very much in the prototype phase. In truth, this multipurpose kitchen of the future may never exist at all (predictions for the future have a way of turning on themselves). That said, all of the technology used in the model currently exists; it's just a matter of how much we as a society want to embrace this highly sustainable—and highly economical—lifestyle.
Related Video