Refrigerators
Korea's Coolest Fridges Are All About Kimchi
Keep fermented veggies fresh with a dedicated fridge.
Credit: Reviewed.com / Keith Barry
In Korea, kimjang is a time-honored autumn tradition. To preserve food through winter in the days before refrigeration, communities came together to prepare fermented vegetables, known as kimchi. The kimchi was then buried underground in jars to keep it cool—but not frozen—and shared throughout the community all winter long.
Kimchi is such an important part of Korean culture that, in 2013, UNESCO declared kimjang part of the world's intangible cultural heritage.
While kimchi remains a beloved national dish in Korea, specialized kitchen appliances now do the work of underground jars. They're called kimchi refrigerators, and they're found at nearly every appliance store in Korea. They're specially designed to keep different kinds of kimchi at optimal temperatures and humidities without mixing their unique flavors and odors.
The kimchi refrigerator is a staple appliance in homes in Korea.
See, while many Americans might only know of cabbage-based kimchi, there are multitudes of other varieties—all made to take advantage of the vegetables available nearby, or in season. (This article and recipe from Lucky Peach will tell you all you need to know.)
That remarkable variety makes the kimchi refrigerator's job especially important, as it needs to hold many kinds of kimchi at once. If you open one up, that's why you'll find it full of stackable plastic containers designed to seal in freshness. The fridge directly cools the containers, the same way the earth historically kept buried kimchi pots at the right temperature.
In Seoul, we visited a store dedicated to LG appliances, where dozens of kimchi fridges sported attractive exterior designs. Some were designed to look like chest freezers, while others looked like narrow, French door refrigerators with a lot more compartments.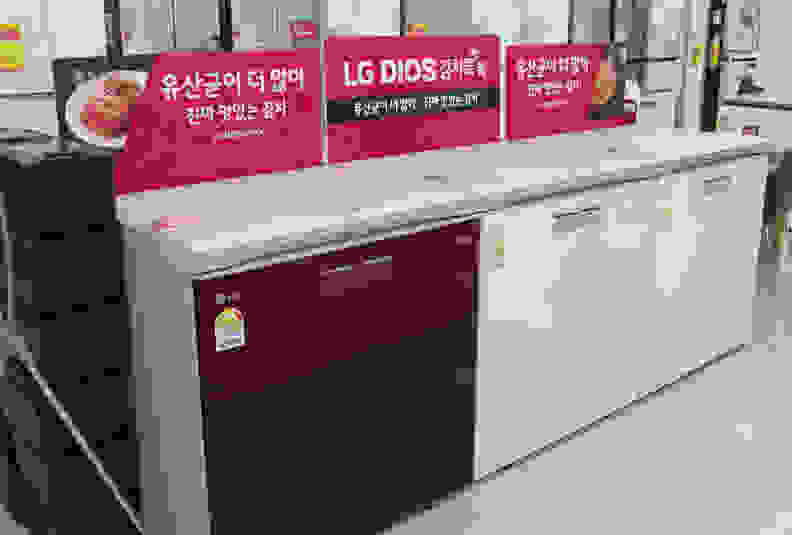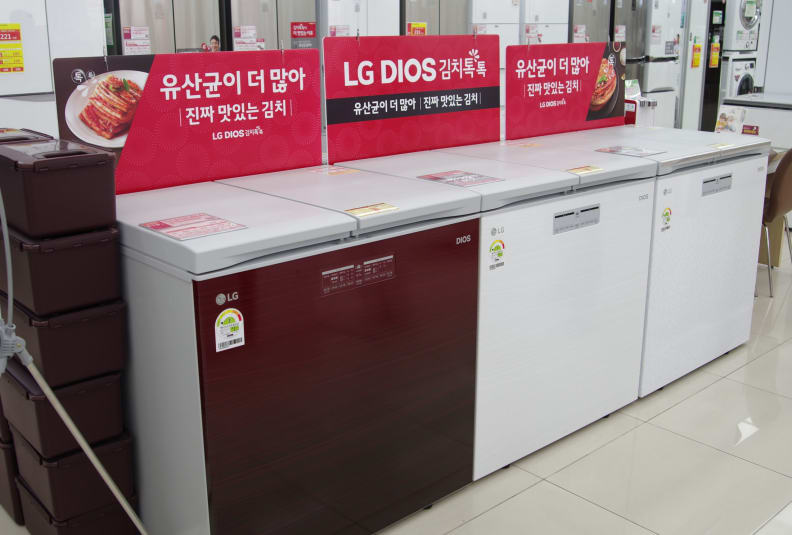 Depending on the fridge, those compartments can be designed to preserve kimchi for months, or to accelerate the ripening process. Some even have UV lights and odor-eliminating filters. Frequently, there will be a drawer for storing drinks and other snacks.
While none of LG's kimchi fridges have yet made it to the U.S., there's good news for American aficionados of fermented vegetables.
Dimchae, one of the first companies to sell kimchi fridges in Korea, has started importing them to the U.S. After realizing how much consumer demand there is for specialty food storage, the company adapted its fridges for U.S. power outlets and started selling them online and in Korean markets. Some other importers have been converting Samsung kimchi refrigerators for use in the U.S.
"The kimchi refrigerator is a staple appliance in homes in Korea, and that is increasingly becoming the trend here among Korean-Americans across the U.S.," said Dimchae's Jenny Shin. In fact, the brand is so popular that, in Korea, "Dimchae" is a genericized word for a kimchi fridge—much like Kleenex, or Xerox.
But that doesn't mean Dimchae is limiting itself. "We have had great feedback from non-Korean consumers who have tried Dimchae," Shin said. Customers like the way the fridge helps them keep food organized, and how well it preserves produce. "Because of the positive feedback we have received, we are currently working to expand our market to include more non-Koreans."
Some of Dimchae's kimchi fridges are sold to Korean restaurants, but most end up in private homes. A few owners have even posted about their buying experiences online.
×
Fridge gallery
Related Video