Refrigerators
Samsung's Sparkling Fridge is Fizzing Awesome
Fizzy water from your fridge: Is it a taste of the future?
Credit:
Get ready to ditch those plastic bottles: Samsung and SodaStream have teamed up to bring an endless supply of sparkling water to your refrigerator door.
That's right: Fizzy water from your fridge that's always cold and always available. Samsung's newest French door fridge will have the option to dispense water at three different levels of carbonation from its through-the-door water-and-ice dispenser. Inside the door, there's a slot for a SodaStream CO2 cartridge, each of which can make up to 60 liters of sparkling water. Of course, you can still dispense ice and flat water, too. (But why would you do that when you have a fridge that makes sparkling water?)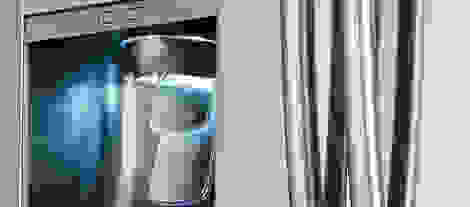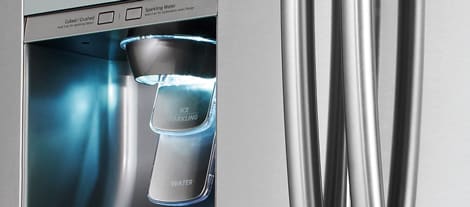 We had a chance to try out the fridge a few months ago, and came away quite impressed: The water was cool and crisp, just like soda water from a chilled bottle—but unlike bottled bubbly water, it won't go flat over time, because it's always fresh. The fridge doesn't dispense any SodaStream syrups or flavors, but you can add those later.
Unsurprisingly, this carb-innovation (hiyo!) won't come cheap: Samsung says the SodaStream-equipped fridge will have an MSRP of $3,899. That's equal to about 4,935 bottles of store-bought sparkling water, though it's only a few hundred dollars more expensive than Samsung's other high-end French door fridges.
While integrating a SodaStream into a fridge door may save some counter space, those who want instant fizz may have to renovate their kitchens. The sparkling water option will only be available on the Samsung RF31FMESBSR, a massive 36-inch wide, 30.5 cu. ft. four-door French door refrigerator. Sadly, that won't fit into our office kitchen, but if you've got the room and the cash, it goes on sale in April and yes, thank you, we'd love to come over for mojitos.
We look forward to that glorious day when fridges without sparkling water dispensers are as passé as men selling blocks of ice from horse-drawn carriages, and young children ask their grandparents what still water tasted like. Until then, this Samsung will make your friends and neighbors jealous while tickling your tongue with delicious bubbles. Refreshing, invigorating, glorious bubbles.