Refrigerators
The 7 best things to buy at Trader Joe's
Here's what you need to know to get the best from Trader Joe's.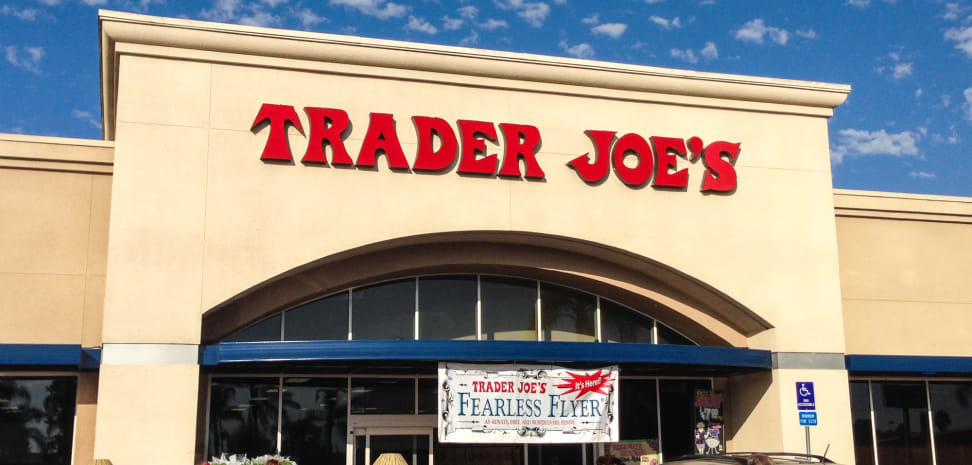 Credit:
With its array of affordably priced, yuppie-approved, vaguely gourmet foods, Trader Joe's is fast becoming an American institution.
Showcasing both cultural variety and genuine value with its quirky lineup of staples and indulgences, the specialty grocer has more than 400 stores—about half of them in California, where Trader Joe's started.
The chain's format dates back to 1967, as detailed in Fortune magazine, though it wasn't until 1996 that the first Trader Joe's opened on the east coast. Following four decades of measured growth, the grocer is now rapidly expanding, particularly in Texas and Florida.
Over time, Trader Joe's has developed a cult following—Jessica Alba is a regular, as is Supreme Court Justice Sonya Sotomayor. But it also has its share of detractors.
"It has a very passionate following," explained Nathan M. Rodgers, co-creator of review blog What's Good at Trader Joe's. "But it's one of those things that polarizes people—they either love it or hate it."
I've been shopping at Trader Joe's for a long time—long enough to be able to tell you that you can't do all your shopping there.
But there are some products so good that I always keep them in stock at home—Thai Green Curry Sauce, frozen tilapia fillets, and Lemon-Verbena Triple Milled Soap are just a few. For newcomers, though, it might be more helpful to highlight the general categories where variety, value and quality coalesce.
---
1. Nuts and Seeds
From basics to exotics, Trader Joe's has nut fans (nut nuts?) covered with some of the best pricing I've found on cashews, pecans, macadamias, Brazil nuts, walnuts, pumpkin seeds, and sunflower seeds.
Pine nuts are a steal, and there's a terrific variety of trail mixes to keep you full of energy on long hikes. The Old-Fashioned Blister Peanuts are savory and delicious, while luxurious Marcona Almonds from Spain are lathered in olive oil and rosemary—an irresistible splurge at $6.49 for six ounces.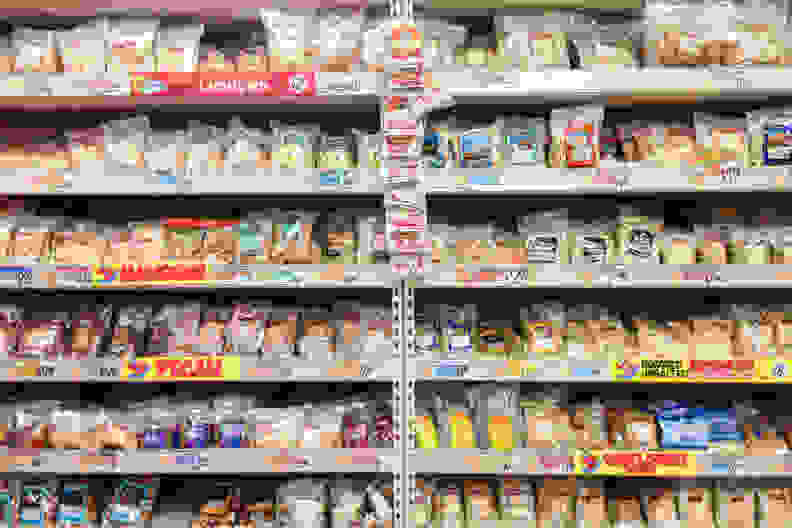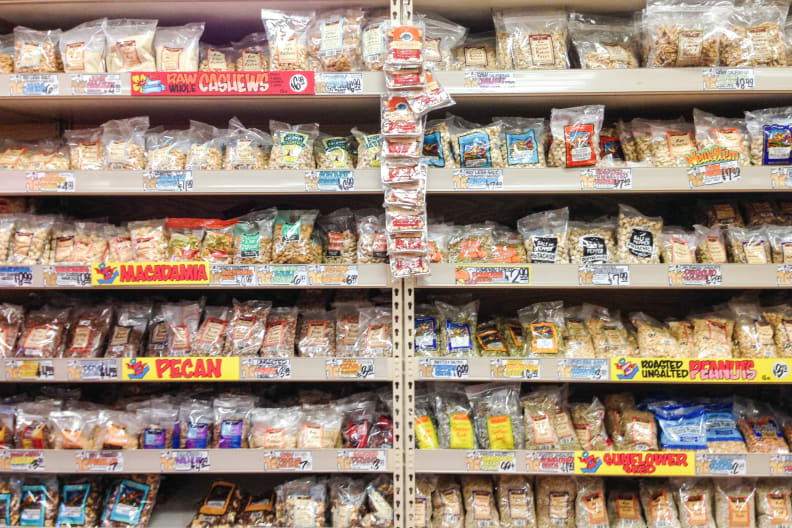 Don't overlook the peanut butter, along with sunflower seed and almond butter options. Almond meal for gluten-free baking is another great buy at just $3.99 a pound.
---
2. Olive Oil
While shopping at a grocer for just one product is a bit silly, Trader Joe's affordable selection of high-quality olive oils is impressive enough for me to make an emergency run to the nearest branch when EVOO supplies run low.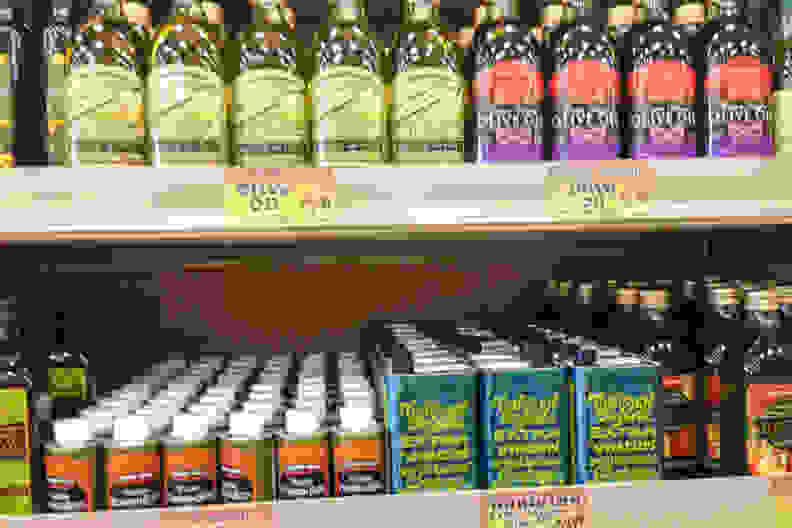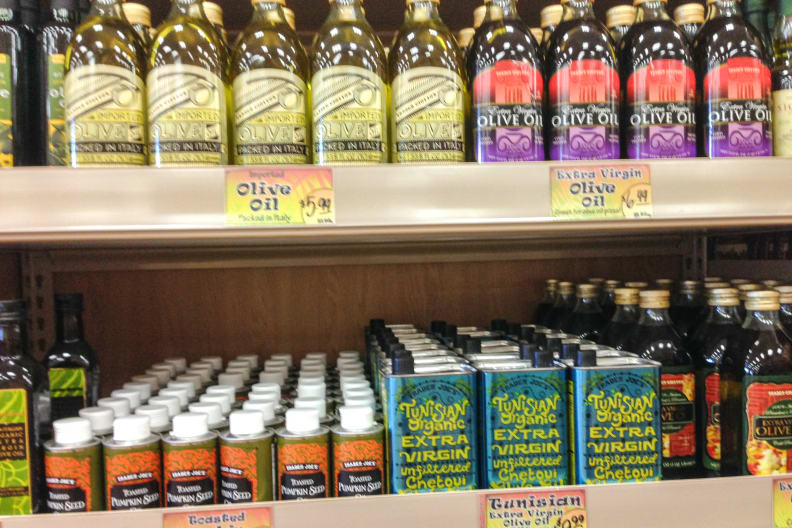 Extra virgin olive oils stocked by Trader Joe's are sourced from Italy, Spain, and California, but it's the Greek Kalamata Olive Oil that experts say is best.
Having purchased many bottles, I can't disagree, except to say that my latest find is Tunisian Organic Chetoui Olive Oil (which even the U.S. Embassy promotes). It comes in a handsome can (good for keeping taste-degrading light away) and it's an excellent buy at $9.99 for 34 ounces.
Of course, oils at TJ's aren't limited to olive. The chain also stocks organic Coconut Oil—16 ounces for the bargain price of $5.99—and there are also sesame seed, grapeseed, and pumpkin seed oils.
---
3. Cheese and Dairy Products
The array of cheeses at Trader Joe's puts most grocers to shame.
From simple shredded or sandwich-grade Swiss, cheddar, and jack varieties to more esoteric specimens—like Gouda with Wasabi, Red Leicester with Chili and Red Bell Pepper, or English Cheddar with Truffles—the chain seems to have everything I ever could need.
Products like real grated Parmesan that count as luxury items at most major supermarkets are standard-issue at Trader Joe's, while crumbled feta and bleu cheeses are priced well below competitors.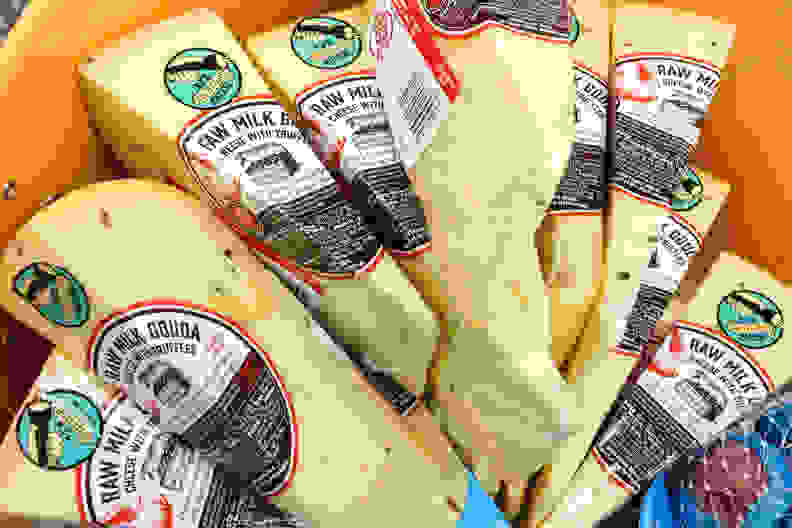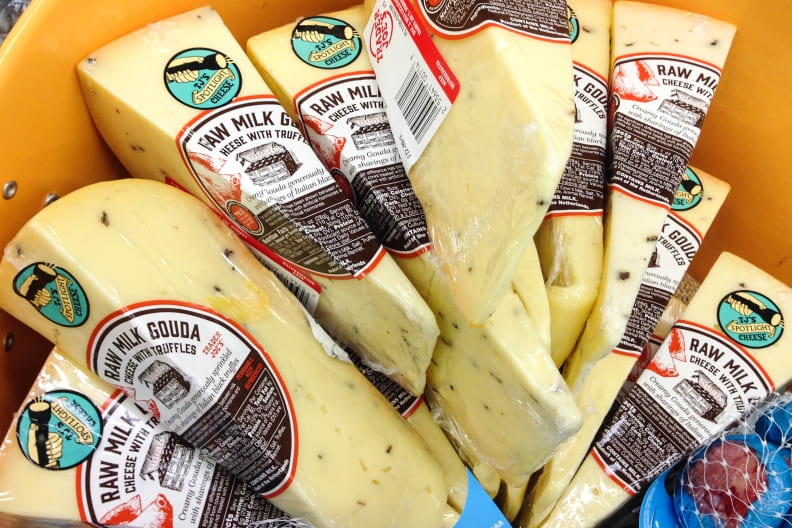 The entire dairy section is worth careful perusal. Milk and butter are good values, with the usual assortment of organics also on offer, and the selection of yogurts will keep your lunch box happy. If you're dodging lactose or allergic to soy, the Non-Dairy Almond Beverage (almond milk) is another great buy.
Whole Foods does offer much greater variety, with some fine boutique cheeses on offer. But Whole Foods' prices are also—well, you know.
---
4. Finger Foods
From assemble-yourself gourmet goodies to pre-made, heat-and-serve appetizers like Chinese Style Pork Buns, Spinach and Cheese Stuffed Mushrooms, or the new Lamb Koftas with Masala Sauce, the enticing roster of party-ready options at Trader Joe's can seem endless.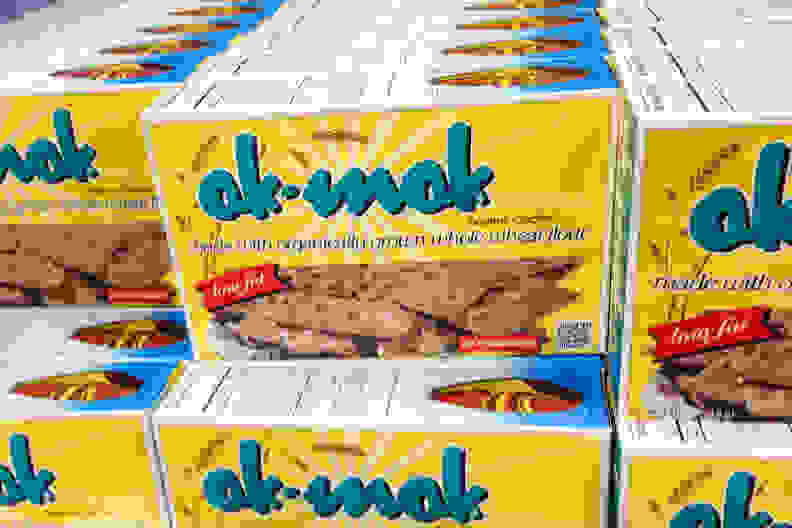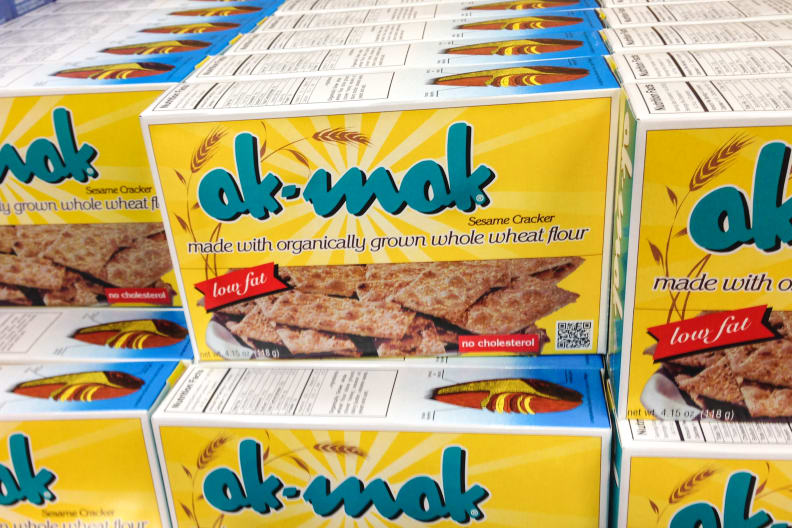 I tend to prefer the DIY combos. They can be as simple as hummus and pita chips, or as complex as French chevre cheese on top of the savory Fig and Olive Crisps, garnished with a sliver of marinated Fire Roasted Red and Yellow Peppers. (Thanks for that one, mom.)
There are still more nut options that are also great for parties, like the Thai Lime and Chili Almonds or the Honey Roasted Macadamia Nuts.
---
5. Sweet Treats
One of the dangers of wandering into Trader Joe's is the temptation to fill the shopping basket with all manner of chocolates, cookies and candies. I'd guess that about a quarter of the overall store is devoted to snacks, about half of which are sweets.
I'd guess that about a quarter of the overall store is devoted to snacks, about half of which are sweets.
My default order of operations is to ignore desserts until I've got a couple dinners in the basket, then top things off with (let's be honest here) what I really came for.
Cookies in various permutations (Triple Ginger Snaps are a top seller); chocolate-covered blueberries, coconut, cherries, espresso beans, and so on; and Apple Blossoms—perfect for two—are among the items I've succumbed to on multiple occasions.
---
Related Video
---
6. Wine, Beer, & Spirits
Since regulations vary from one state or town to the next, not all Trader Joe's locations stock liquor. But where they do, their prices almost always beat those at conventional grocers and liquor stores. (Only at Costco do I regularly find prices lower than Trader Joe's, though large bottles and cases are all that's available.)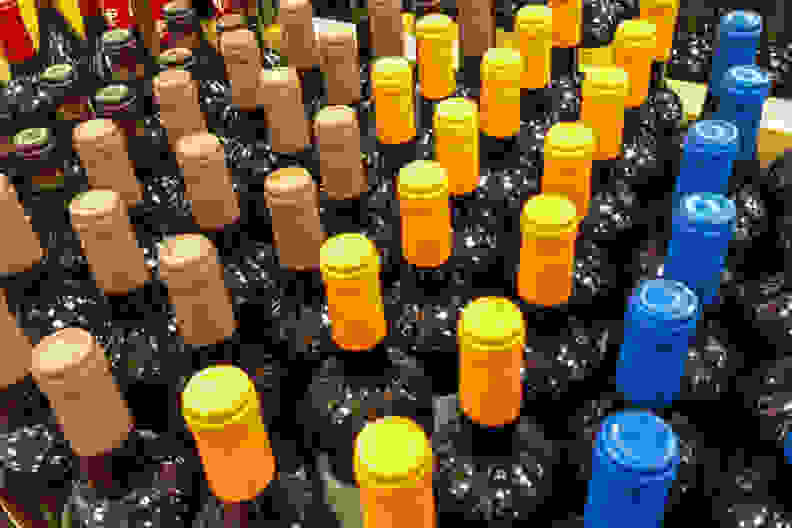 While TJ's range of spirits isn't extensive, all the major categories are covered. House-brand liquors like Vodka of the Gods, Kentucky Bourbon, and the Premium Silver Tequila are great for mixers or unfussy sippers at well under $20 a bottle.
The beer selection is also less than impressive, but continually expanding. For those who like hoppier brews, I recommend the Mission St. IPA, bottled for Trader Joe's by the estimable Firestone Walker Brewing. It's a great value at little more than a buck a pour. The annual Trappist-style Vintage Ale, brewed by Quebec's Unibroue, is another great buy at just $5 for a 750mL bottle.
Trader Joe's is famous for its "Two-Buck Chuck," but there are much better wines to be had, some of them under $10.
On the wine front, Trader Joe's is famous for its Charles Shaw wines, aka "Two-Buck Chuck." But there are much better wines to be had, some of them under $10.
You won't find many boutique wineries represented (the chain moves too much volume), and there will be many unfamiliar labels sold only at Trader Joe's, but head-to-head comparisons reveal wines at conventional supermarkets selling for $2 to $3 more.
Top shelf bottles such as Grgich Hills Chardonnay, Veuve Clicquot Champagne, and Stag's Leap Artemis Cabernet Sauvignon yield even bigger savings.
---
7. Re-branded Products
Okay, I have to be a little vague here because I just don't know for sure what I'm talking about. Still, it's well-known that most supermarket chains take established name-brand products and re-brand them under a hush-hush licensing deal.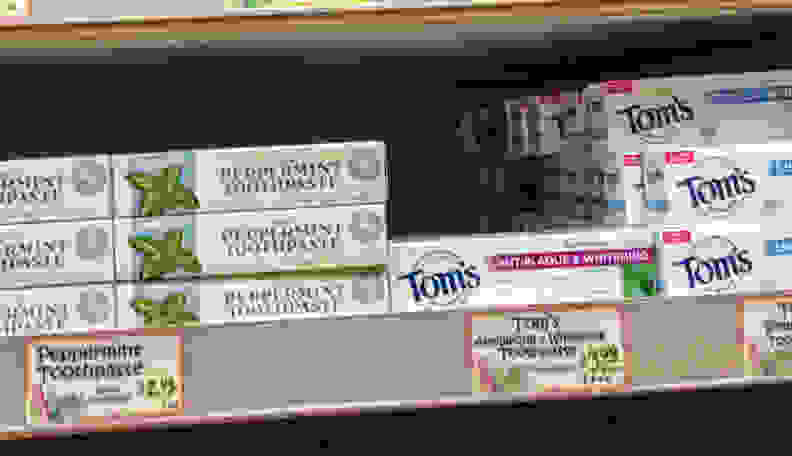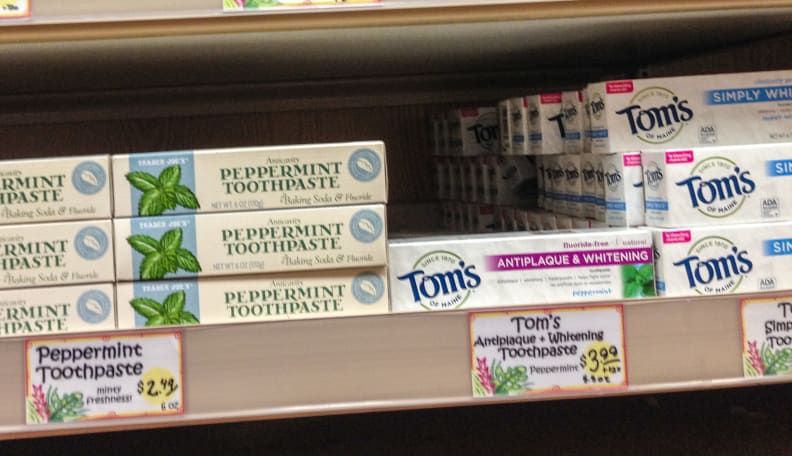 Trader Joe's is no different, but the goods tend to be a little more upmarket and lean to the healthier side of the aisle.
Need a few examples? Trader Joe's tahini-spiked Goddess Salad Dressing tastes remarkably similar to Annie's Natural Goddess Salad Dressing—but costs about 40 percent less. Trader Joe's Fennel-Propolis-Myrrh Toothpaste is either a slick knockoff or, more likely, the very same toothpaste sold under the Tom's of Maine brand. Trader Joe San's Soyaki marinade not only tastes like Soy Vay Veri Veri Teriyaki but has virtually identical packaging—again, for little more than half the price.
Trader Joe's keeps its business partners out of the spotlight; both sides have incentives for keeping mum about re-branded products. But if you try things around the store, you'll probably find a few that, um... strongly remind you of big-name favorites.
---
But...
There are some aisles in Trader Joe's where I fear to tread. Through years of trial and error, I've identified several broad categories of products that are simply bad bets. Check them out, and don't say you weren't warned: