Refrigerators
Side-by-Side Refrigerators
The best side-by-side fridges that we've tested so far.

Credit:
If you're looking to upgrade your refrigerator from a top- or bottom-freezer model but don't need an expensive French-door fridge, a side-by-side fridge is a good way to go. The sections are narrower than most other fridges, but innovations like sliding shelves facilitate easy access to food. Many models have through-the-door ice and water dispensers, a feature not found as commonly in top- or bottom-freezer units. Wider items like pizza boxes or a Thanksgiving turkey can be problematic to fit in, however. Here are some of our current favorites.
Samsung RSG257AARS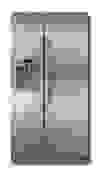 Samsung's RSG257AARS ($1,999-$2,299) won our Best Side-by-Side Fridge of 2012 award. It is an attractive, well built device that can hold a decent amount of food. It costs around $54 per year to run, which is pretty efficient for its size. Both the freezer and refrigerator held pretty constant tempertures, so food should keep well, especially vegetables stored in the drawers. The Samsung is a little more cramped, however, with the shelves not particularly wide and the icemaker taking up space on the door. For this reason, it may not be good for big families or bulk buyers. It does integrate an LCD screen into the front, which is attractive to look at, but doesn't provide many useful features. While the touch-screen control is good, the photo editing and note features are useless. Just get magnets.
---
GE GSL25JGCLS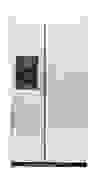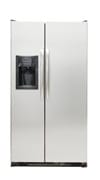 GE's GSL25JGCLS ($995-$1,099) is a solid fridge for the price. It costs under $40 per year to operate, much better than average for this range. Temperatures remain stable inside the fridge, though they aren't perfectly consistent from shelf-to-shelf within the fridge. Food towards the top of the fridge can be several degrees cooler than food at the bottom, so keep your leafy greens toward the top. It has a ton of usable space, but don't expect to store very wide items in the freezer. Shelves are adjustable, easy to clean, good at containing spills, and slide out for easy access.
---
Kenmore Elite 41003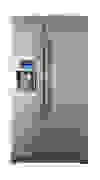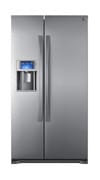 Kenmore's Elite 41003 ($2,499-$3,039) is at the high end of Sears' house brand of products. Temperatures are mostly consistent aside from some bizarre spikes, which could damage some foods over time. Efficiency is about average, costing around $54 each year to run. It has 11.48 cubic feet of usable fridge space, but the freezer is smaller, offering only 4.94 cubic feet of usable space. However, the slide-out shelves are very convenient. An LCD screen on the front adds to the cost but as usual doesn't add any sort of worthwhile functionality. All in all, though, this Kenmore is a strong performer.