Refrigerators
At IFA, LG's Newest Fridges Open Doors, Tear Down Walls
The refreshed lineup sports sleek looks, ultra-thin insulation.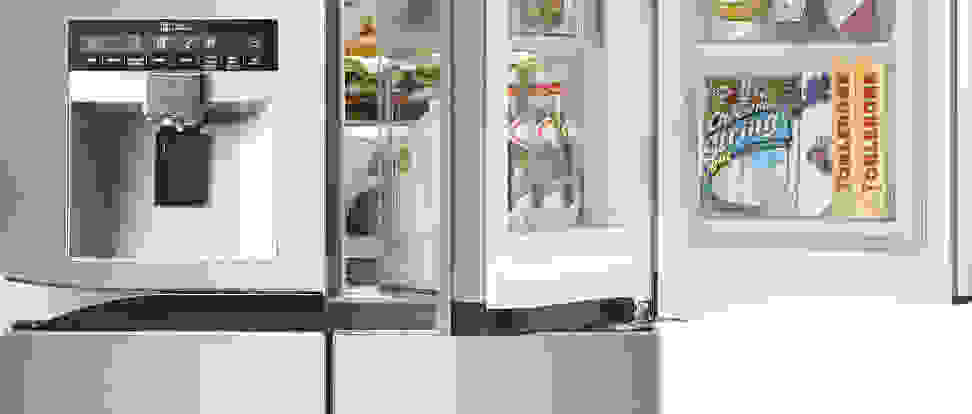 Credit:
LG is bringing a new lineup of energy-efficient, stylish fridges to IFA in Berlin this year. In addition to some exterior updates, the Korean manufacturer is showing off a new four-door fridge that lacks a central partition.
Based on the company's popular door-in-door designs, and using LG's Linear Compressor, the new fridges sport a sleeker look than the models we saw last year.
The new GMJ916NSHV also features a new, ultra-thin insulation, which boosts interior space. And to make food storage even easier, there's no central partition between the two side-by-side compartments. That's a common feature on American French door fridges, but somewhat unique among European-style four-door models.
In addition, the new GBB930KRQZT will be on display. It's a Red Dot Design Award–winner, and features a curved glass exterior with unique patterns.
The new GBB930KRQZT is a Red Dot Design Award winner, featuring a curved glass exterior with unique patterns.
Sadly, we aren't expecting to see the GBB930KRQZT on sale in the U.S.—it's just too small and too unique to sell in great numbers. But if past IFA debuts are any indication, a version of the larger GMJ916NSHV door-in-door may go on sale in the U.S.
Pricing, energy efficiency, and even interior dimensions vary greatly when a product crosses the pond, so we won't speculate on any of those. We will say that if it goes on sale, it will probably be in late 2015.
Up next
Get Reviewed email alerts.
Sign up for our newsletter to get real advice from real experts.