It's Labor Day Weekend! Aside from barbecues and a long weekend, one of the best things about this holiday weekend is all the sales. Now, for the most part, Labor Day sales center on large appliances, mattresses, cars, and clothing.
This year, Etsy is holding a weekend-long sale too. Thousands of Etsy sellers are participating, offering discounts from 10-60% on all sorts of great items.
Etsy, if you've never browsed the site, is a place where individuals and small businesses can easily sell their handmade and vintage items. It's especially fantastic for custom gifts, unique jewelry, vintage home decor, crafting supplies, and so much more. Most importantly, Etsy gives you an easy way to support talented makers with special skills.
Whenever you buy something online, it's important to do your due diligence before you order anything. With Etsy, since you're shopping from individual retailers, it's extra important. I've been shopping on Etsy for nearly a decade and I have never had a bad experience. Here are the two things I always do before I buy.
Read reviews: Pictures only tell part of the story. Buyer reviews will give you more insight into the quality of the product and the seller. Etsy shows reviews for the whole store, so you might need to do some digging. And keep in mind that a low number of reviews doesn't mean the shop isn't worth buying from.
Reach out to sellers: One of my favorite things about Etsy is that sellers are super accessible. If you're not 100% confident after reading reviews, or if there aren't many to go off of, another way to get a sense of the seller is to contact them. Ask any questions you have about the product, shipping, or return policies.
The seller's response will tell you a lot about them. Did they respond quickly? Were they helpful and friendly? If there is an issue with your product, this is a great way to see how they'll act in that situation.
10 awesome things you can get in the sale
There is so much to shop through on Etsy. Before you get lost in an online window shopping session, check out these 10 fun things I found that are all from stores with great reviews. Most of the shops, include those featured here, have discounted some if not all of their listings, so browse the rest of the shop's listings if you find one item you like. You never know what might be hiding on the next page!
1. An adorable ring with whatever latitude/longitude coordinates you want
Shop rating: 5 stars
Reviews: 32,264
Custom jewelry makes a fantastic gift for pretty much any occasion. These rings, which come in gold, rose gold, or silver, can be engraved with coordinates of a special location. Choose a birthplace, childhood home, destination wedding spot, or anywhere that's meaningful to you and your recipient.
Get a Dainty Coordinates Custom Ring from CaitlynMinimalist for $21+ (Save 25%)
2. A unique, rustic way to display your favorite memories
Shop rating: 5 stars
Reviews: 1,967
Love those rustic vibes? These pallet photo displays are the perfect fit. The pallets are built by hand, and then any photo you want is printed right onto the wood for a fresh new way to display your memories.
Get a Custom Photo Pallet Art Sign from MyWoodPhoto for $15+ (Save 50%)
3. Modern, handmade cork coasters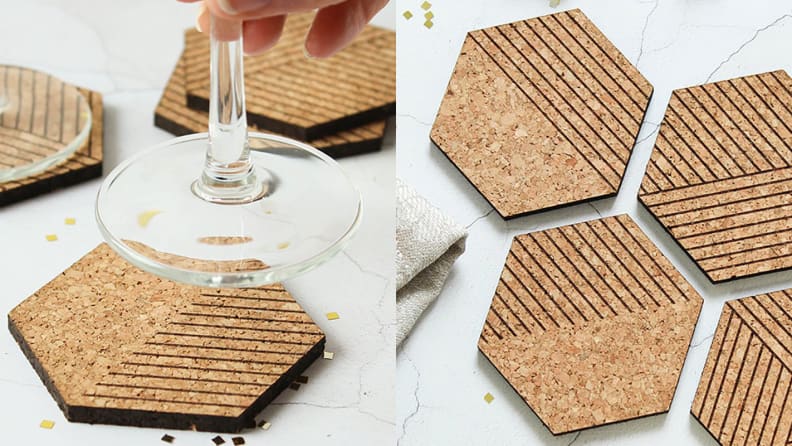 Shop rating: 5 stars
Reviews: 301
Cork coasters are a timeless look, and these hexagon coasters give any table a modern flair. Each one is hand-engraved. Don't like this style? The entire store is 10% off and they have loads of awesome designs. Plus, they offer custom creations!
Get a set of 4 Cork Hexagon Coasters from RocketandFox for $9.67 (Save 10%)
4. A whimsical constellation necklace for zodiac lovers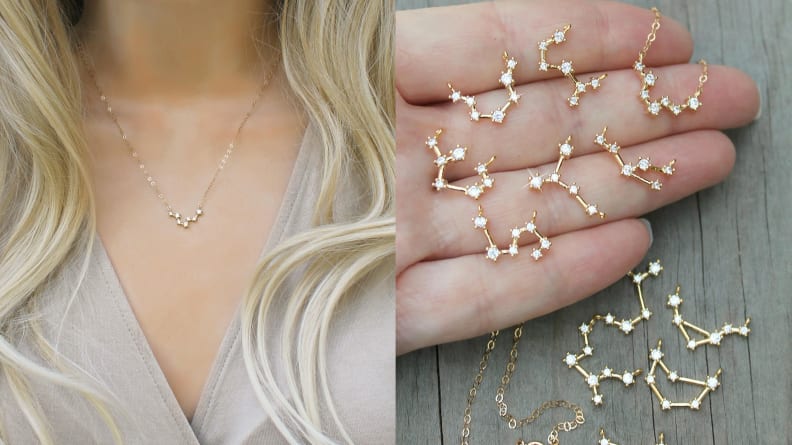 Shop rating: 5 stars
Reviews: 4,932
Whether you believe in horoscopes or just enjoy celebrating yourself (or your loved ones), zodiac jewelry is always a winner. These constellation necklaces use gold-plated settings and cubic zirconia jewels for an elegant, understated design.
Get the Celestial Constellation Necklace from potionnumber9 for $23.80+ (Save 15%)
5. Custom toiletry bags made with real leather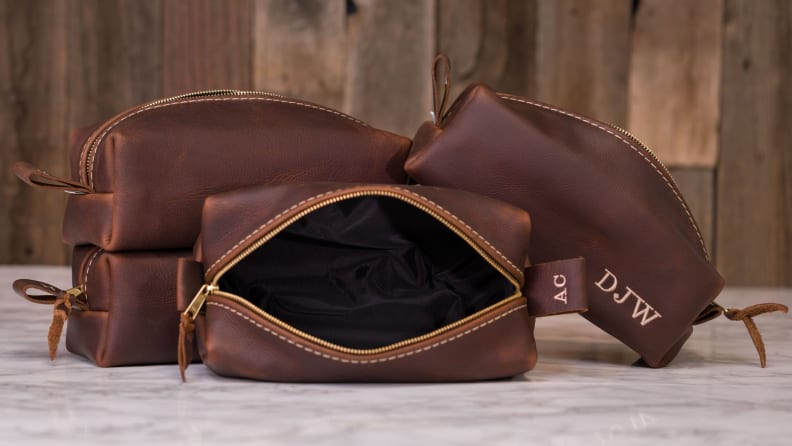 Shop rating: 5 stars
Reviews: 5,503
Etsy, often thought of as a place to buy jewelry and home decor, is also a treasure trove for masculine gifts. These leather dopp kits are a great example. They're made by hand, you can have them monogrammed, and they come in three sizes. They'd be perfect as gifts for groomsmen, fathers, college grads, etc.
Get a monogrammed leather toiletry bag from LifetimeLeatherCo for $38+ (Save 50%)
6. Super soft custom apparel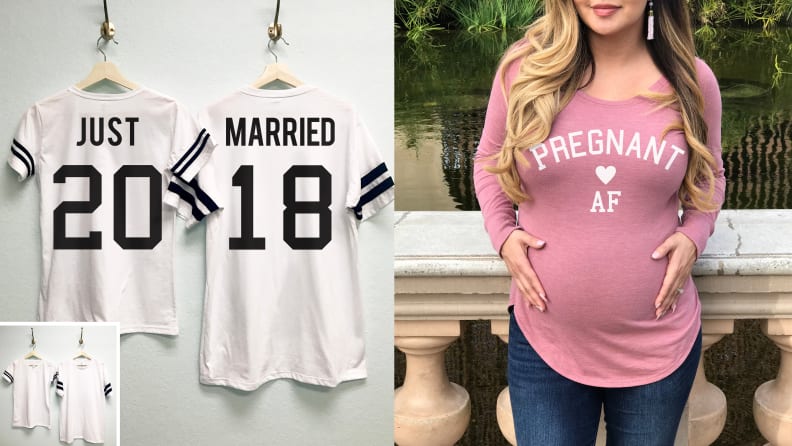 Shop rating: 4.5 stars
Reviews: 5,385
Custom shirts are a fun way to commemorate a big event, and this shop has some unique styles for newlyweds, expecting parents, vacations, holidays, and whatever else you want. Reviewers rave about how comfy their clothes are, which is always a win.
Get custom tees, tanks, bags, and hats from NobullWomanApparel for $11.96+ (Save 20%)
7. Custom wooden cutting and serving boards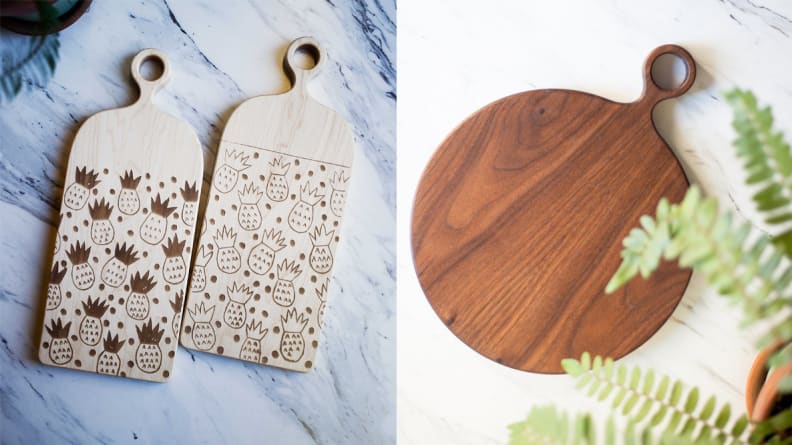 Shop rating: 5 stars
Reviews: 229
This shop caught my eye because Better Homes and Gardens actually featured the pineapple cutting board in the May 2018 issue, and pineapples are adorable. But the rest of their shop is filled with plenty of other unique, handmade pieces.
Get a pineapple-engraved cutting board from AdirondackKitchen for $27.36 (Save 15%)
8. Fun, affordble personalized wedding gifts
Shop rating: 5 stars
Reviews: 20,596
Wedding planning is fun, but it's also stressful and freaking expensive! Etsy can help, and this store in particular is a great place to start looking. You can get all sorts of custom decor and gifts from them, and the whole store is 20% off right now, so stock up and check a few things off your wedding to-do list.
9. A stunning industrial Edison desk lap
Shop rating: 5 stars
Reviews: 1,576
Table lamps add serious ambiance to any room, and Edison bulbs are super trendy these days. The soft, low light they give off will warm up your home office, your den, or even your bedside table, and the 30% discount on this one makes it a great time to try the look.
Get an Edison bulb desk lamp from UrbanIndustrialCraft for $49.70 (Save 30%)
10. Sweet, simple birthstone rings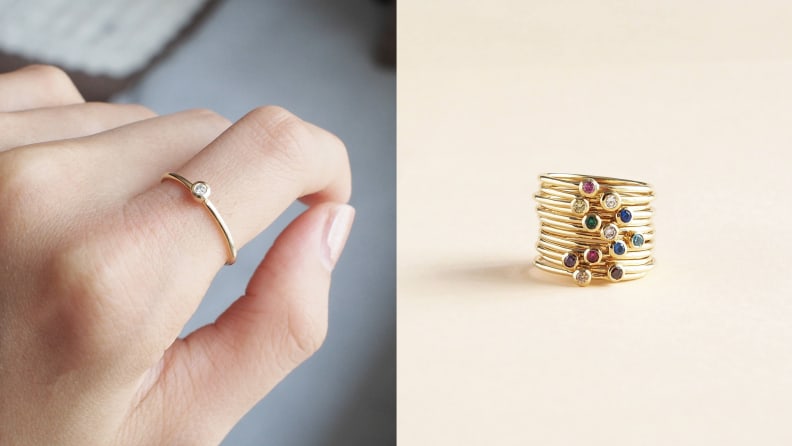 Shop rating: 5 stars
Reviews: 4,559
Subtle jewelry adds a beautiful sparkle without being too in-your-face. Sometimes that's exactly what you want, and these rings are perfect. You can choose your birthstone or pick any one you want. And they're small enough that you can stack a handful for a bolder look.
Get a dainty birthstone ring from IMEJEWELRY for $19.50+ (Save 25%)
Prices are accurate at the time of publication, but may change over time.