Reviewed
AT&T Introduces Sponsored Data, Draws Fire
Announcement generates concern over net neutrality, level playing field.

Credit:
AT&T announced Tuesday that it will begin allowing third-party companies to sponsor users' data charges. The unconventional system could see popular content providers like Netflix and YouTube, along with other traffic-dependent sites, paying for your mobile content consumption.
"With the new Sponsored Data service, data charges resulting from eligible uses will be billed directly to the sponsoring company," said the company in a press release.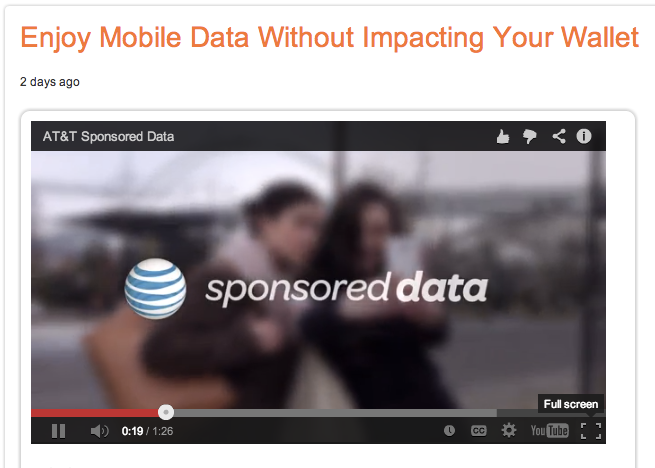 The announcement sent a cascading wave of alarm through the internet. Some outlets warned the practice signals the end of net neutrality, others suggested the companies billed for users' bandwidth would simply pass the costs on to customers, and others worried that the imbalanced playing field would cripple small app developers.
The all but unanimous consent is that this announcement is bad for everyone not named AT&T.
The bold announcement went almost unnoticed amidst the cacophony of 4K TVs, VR gaming headsets, and 3D printers at CES 2014—at least until journalists started to realize the implications of giving preferential treatment to data used by specific applications.
The all but unanimous consensus is that this announcement is bad for everyone not named AT&T. It seems the FCC agrees, since Chairman Tom Wheeler used his talk at CES today to warn AT&T that the regulatory agency wouldn't stand for any kind of anticompetitive practices.