Reviewed
Live From LG's CES 2014 Press Conference
Your source for LG's enormous CES presence, broken down in full detail.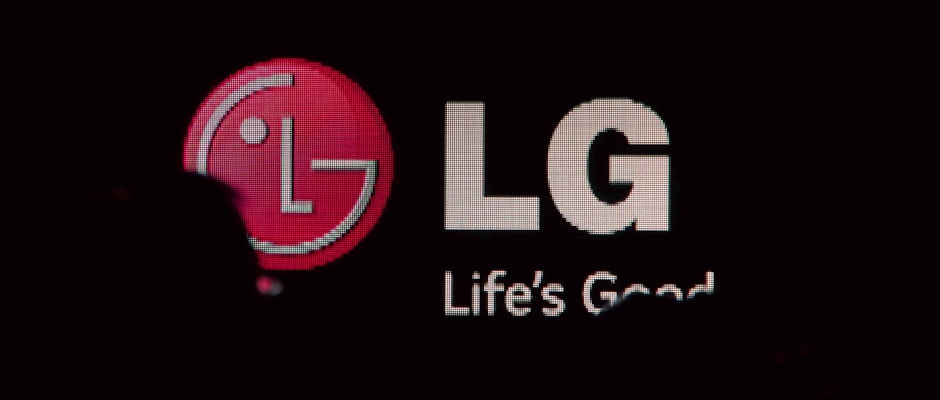 Credit:
Below is our live transcript of LG's massive press conference at the 2014 International CES this morning.
For a more detailed look at LG's new smart home tech, click here. And for an overview of the company's expansive 2014 TV lineup, check out our detailed analysis.
---
Press Conference
LG is charging out of the gates at the 2014 International CES early this morning, unveiling its latest wave of technology and consumer electronics.
—The theme of LG's presence this year is "It's All Possible." LG's aim, it says, is to provide its customers with technology that is smart and simple.
—John Taylor has taken the stage to introduce the incoming president of LG USA. LG has increased market share over the past year. He anticipates growth in all LG's key categories as LG strives to meet the needs of US consumers.
—Dr. Skott Ahn has taken the stage to introduce what he claims are key innovations in the company's product lineup. To begin with, LG is focused on flexible technology, with the he G Flex smartphone as the prime example. WebOS is the new hotness in LG's TV lineup, purportedly simplifying how we connect to our TVs and discover new content. The new platform will have a fun and easy setup with cartoon characters that guide you through. It will also allow users to search for content while watching other content.
Netflix Brings 4K Streaming to LG TVs in 2014
—LG continues its partnership with Netflix in 2014. Mr. Reed Hastings, CEO of Netflix, has taken the stage to express his excitement over new LG TVs that will stream 4K content direct to consumers via an embedded Netflix app.
LG Joins the Wearable Tech Fray
—LG's head of US product development, Mr. Tim Alessi, is now on stage to discuss the Lifeband Touch and Heart Rate Earphones. The Lifeband Touch has a touch-enabled OLED display to see data in realtime. It works with Android and iPhones via bluetooth connectivity. Heart Rate Earphones provide audible updates on your heartrate.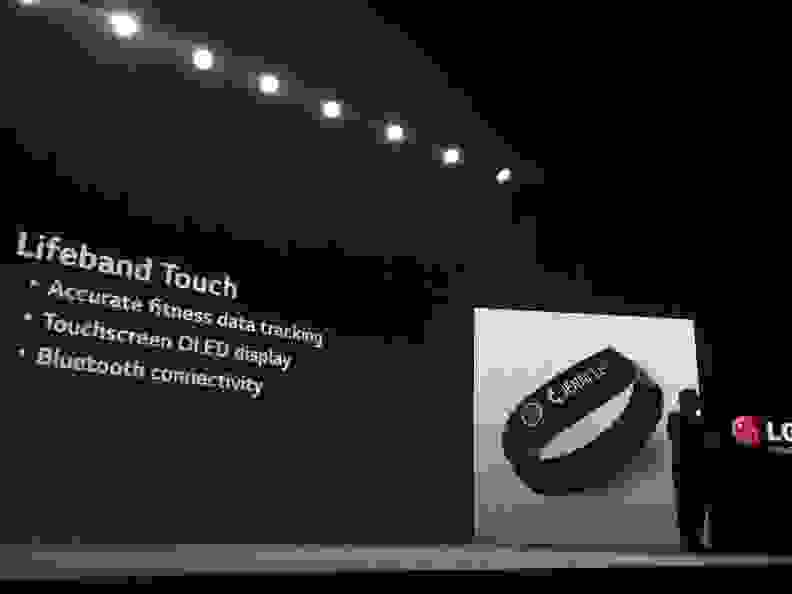 ChromeOS in an all-in-one? Sure, why not?
—Mr. Alessi is also enthused about the new LG Chromebase, which is a 21.5-inch ChromeOS all-in-one desktop computer with full HD resolution. It will be released in the first quarter 2014.
Home Audio Innovations
—Also kicking off the year is a robust lineup of audio products. The SoundPlate provides a built-in dual subwoofer and smart TV connection. Two new wireless speakers have WiFi and Bluetooth connectivity to stream music over a MESH network; these come in 70-watt and 40-watt varieties. Finally, there will be two new sound bars in 2014, along with wireless subwoofers and bluetooth streaming.
TV Announcements
—LG has announced three Blu-ray players with its Magic Remote and UHD upscaling. That's a perfect match for the new range of 4K UHD TVs, which come in sizes ranging from 40 to 105 inches. Many models will include built-in subwoofers.
—The most-talked about LG TV sets are the 105" UHD Curved OLED TV and the 77" UHD Curved OLED TV, which is on stage right now. LG is also unveiling a Gallery OLED TV that includes a picture frame that hides the set's speakers. We already saw this TV at IFA Berlin in September 2013, but it's expected to hit in the US this spring.
Home Appliance Highlights
—Dave Vanderwaal is here to explain LG appliance innovations. HomeChat is a new feature that lets consumers text their appliances, and also allows various LG devices to interface with each other. There are no machine-specific commands—consumers just speak in plain English (among other languages), and can ask their washers things like, "What are you doing?" to find out where it is in its cleaning cycle. Fridges will be able to tell consumers what's inside them, and what the consumer needs to pick up at the grocery store.
—TurboWash technology highlights the laundry innovations, saving up to 20 minutes per cycle. This core LG technology will be expanded to more front-load models in 2014. For top-loading washers, LG has moved the location of the control panel from the back to the front of the machine, an innovation that ought to make them significantly easier to use. A new LG dryer also has two ways of opening its door: from the top or from the side.
—EasyClean technology for ovens allows a fast, 20-minute self-clean cycle that will be expanded across LG's oven and microwave line-ups in 2014.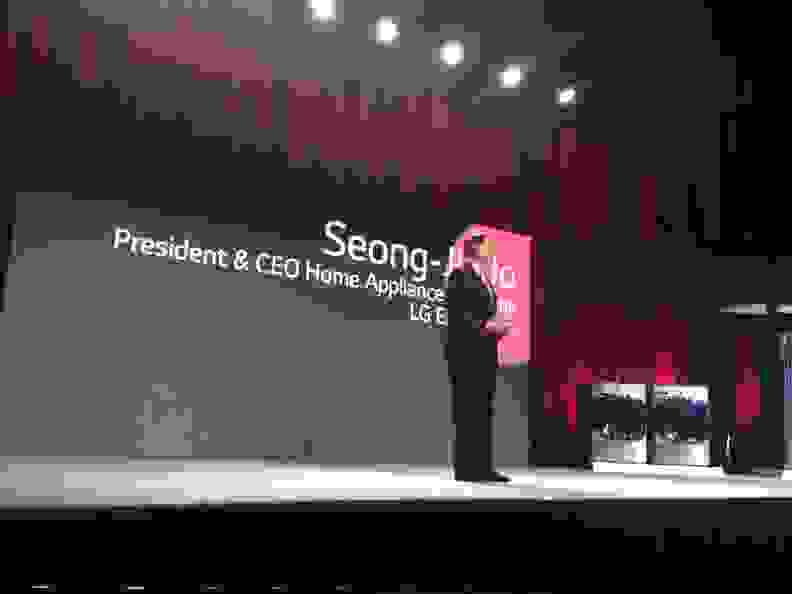 —Renowned designer Nate Berkus is now on stage, explaining how his kitchen is the heart of his home. He's behind the latest wave of LG Studio series appliances, which he says aim to help consumers make their kitchens more comfortable place to be and make memories.
Mobile Tech
—Mr. Frank Lee, Mobile Communications, is here to explain the mobile side of LG's announcements.
—Innovation for innovation's sake doesn't work for consumers, Lee says. LG's philosophy is to use innovation to make lives better through technology.
—In 2013, he adds, LG was very successful with its "G" premium line of Android smartphones. This year, the company is unveiling its most advanced smartphone yet with the G Flex.
—LG didn't make the 6-inch curved phone just to be different: The G Flex supposedly allows consumers a higher voice quality due to its curved structure, and the curve is also reported to provide a better grip. Finally, LG says the curved display creates a cinematic viewing experience similar to LG's curved OLED TVs.
—The G Flex will make its debut in the U.S. in Q1 2014, and will be available from Sprint, AT&T and T-Mobile.
—The VP of Product Management and Logistics from Sprint, David Owens, is now explaining how excited Sprint is to be partnering with LG on the GFlex. He has been carrying the GFlex for the past few weeks and has loved his experience with it. The GFlex has all three bands from SprintSpark.