Reviewed
Live From Intel's CES 2014 Press Conference
All the details from Intel's big CES coming out party.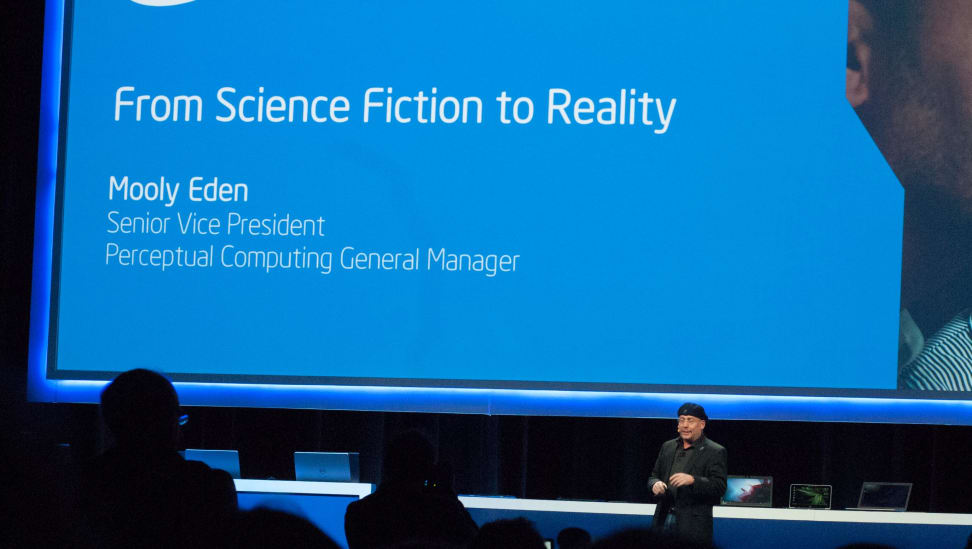 Credit:
Everything's all wrapped up at Intel's CES 2014 presser, but the company had plenty to talk about. For all the details, you can track the announcements as they happened below. And for every single bit of important news from the 2014 International CES, follow our CES landing page.
---
We're here at the Mandalay Bay resort in Las Vegas, and Intel is about to reveal what it has brought to CES 2014.
—And we're off! First up, Intel is showing off its 3D sensing technology. "Your world in all dimensions," the announcer reminds us.
—Mooly Eden, SVP of Perceptual Computing at Intel, has taken the stage. He's taking us through the history of computing, or as he puts it, the consumer computer evolution. Where are we going from here? Eden says everything will be connected—it won't be carry-with-you, it'll be carry-on-you. Eden believes we're on the verge of a revolution in computing.
It's all about 3D.
—How should humans and computers communicate? Naturally, intuitively, and immersively.
Eden believes everything will be moving to 3D. It's a 3D world. But given the market performance of 3D TVs, we're a little skeptical.
—Eden believes everything will be moving to 3D. It's a 3D world. Given the market performance of 3D TVs, we're a little skeptical.
—Now he's showing an embedded 3D camera. Actually, two embedded 3D cameras, and together they're smaller than a quarter. Intel is working with Lenovo, Asus, and Dell to embed these 3D cameras in laptops, and prototypes are on display. Even with the cameras, these laptops are thinner than Eden's finger.
RealSense is how we get there.
—Intel just announced its new "RealSense" technology. The RealSense 3D camera is the first product in this lineup.
—The company aims to use their RealSense technology in five main ways: capture and share, immersive collaboration/creation, interact naturally, gaming and play, and learning and edutainment.
Capture and Share
—We're being shown a demo of a tablet with an embedded 3D camera. It understands depth and can pick and choose and change pieces of the picture in real time.
Immersive Collaboration/Creation
—Intel has revealed a partnership with 3DSystems. The company's president says the question is not whether everyone will have a 3D printer in their home, but where will it will be positioned.
With Intel's embedded 3D camera, the ability to change the background of your video in real time means there's no need for a green screen.
—Intel is now showing a demo of how to use an embedded 3D camera with Skype. The ability to change the background of your video in real time means there's no need for a green screen. For video bloggers, this technology provides access to an entire studio from your home.
Interact Naturally
—Now we're watching a demo showing off the simple gestures used to open and close apps on a Windows 8 device. The gestures are basic and intuitive.
—The 3D camera is now tracking a woman's face while she uses Google maps. When she looks up, the map shows her what she would see if she were to look up at that location on the map. The same goes for looking right and left.
—Speech-to-text is also incorporated into the 3D camera through Nuance's Dragon software. You can simply say, "Hey Dragon..." followed by your question, and you can play music, find TV shows, etc, simply using your voice to direct the computer.
Gaming and Play
—We are being shown a demo of gesture control through the 3D camera, including an arcade-type game, a 3D pinball game, and a flying game.
Learning and Education
—Intel is collaborating with Scholastic, bringing the real world and the virtual world together for educational purposes. The 3D camera recognizes depth and can incorporate real-world objects into video on screen. We're now seeing a demo of a program developed by Scholastic using Clifford and the 3D camera technology to help teach children the alphabet.
—The 3D camera can also bring books to life. Children can play with the figures on the screen while reading a story on a mobile device. The 3D camera listens to your voice, recognizing where you are on the page and changing the page on the screen as you progress through the story.
—Intel is working with a host of companies—including Tencent, DreamWorks, Autodesk, Microsoft, Skype, Nuance, and Scholastic—to come up with more innovative ways of utilizing Intel's embedded 3D cameras.
—"We've finally removed fiction from science fiction and made it real."