Reviewed
Live from Samsung's CES 2014 Press Conference
Everything you need to know about Samsung's CES 2014 Press Conference.
Credit:
Press Conference
The Samsung press conference is over, but you can read our live coverage below. For detailed coverage of Samsung's television lineup, read our detailed analysis, and additional coverage here, and here. For further appliance coverage, check out our in-depth coverage here and here. Tablet and PC enthusiasts can read our coverage here and here. Finally, check out the BMW Samsung Galaxy Gear collaboration right here
---
We're at Samsung's CES press conference, ready to bring you the latest updates. Stay tuned!
—The press conference is about to start.
—BK Yoon, President and CEO of Samsung, is the first speaker.
—He's speaking about how consumers are rapidly embracing new technology. He believes that our world is changing, becoming more interconnected as a larger percentage of people move to urban areas. This highlights the need for smart tech that can be used to improve life in cities.
—Yoon is also speaking about smart home tech, which could allow a greater percentage of people to work from home. Smart home tech needs to be responsive.
—Samsung will be showcasing new solutions for the home computer. For example, receiving a health checkup through your home TV.
—Yoon is speaking about innovation, and its importance in helping world communities. He has mentioned Samsung's Hope for Children.
—Tim Baxter, president of Samsung Electronics America, is the next speaker,
—Baxter is mentioning Samsung's mantra three years ago, which highlights smart tech. He's also talking about how Samsung uses customer feedback to tailor its products and services. For example, at CES, Samsung is showcasing the Samsung Smart Home service. It provides three initial services - Device control, home view, and smart customer service.
—Smart Home will be rolling out this year.
—Now Baxter is mentioning sports, and Samsung's partnership with UFC and MLB. This year, Samsung will also be partnering with the NBA.
—Samsung is also partnering with the PGA. THe CEO of the PGA, Pete Bevacqua, takes the stage.
—Samsung has co-developed an exclusive Samsung PGA app, to be used by both spectators and fans.
Curved UHD TVs and UHD streaming
—Mark Cuban, Entrepreneur of Mark Cuban Companies, takes the stage.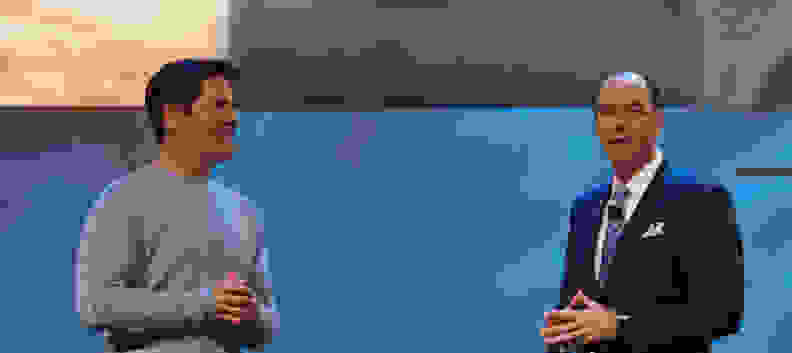 —Cuban is talking about UHD, and how the extra resolution can be used both for entertainment, gaming and for developer content.
—Joe Stinziano, Executive Vice President of Samsung Electronics America, takes the stage.
—Stinziano is speaking about Samsung's UHD, and how it will change how we view entertainment. He also says that UHD TVs will drive market growth.
—UHD won't be the only star of 2014 for Samsung. A demo video for Samsung's UHD TV 4K Curved begins.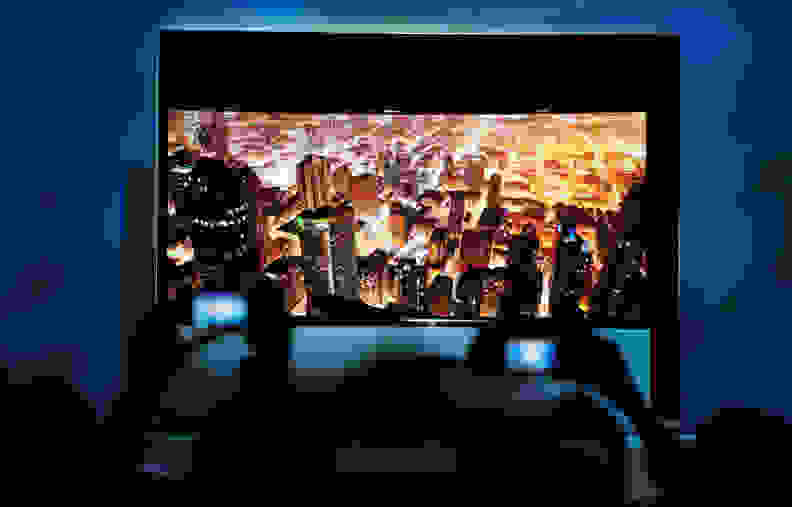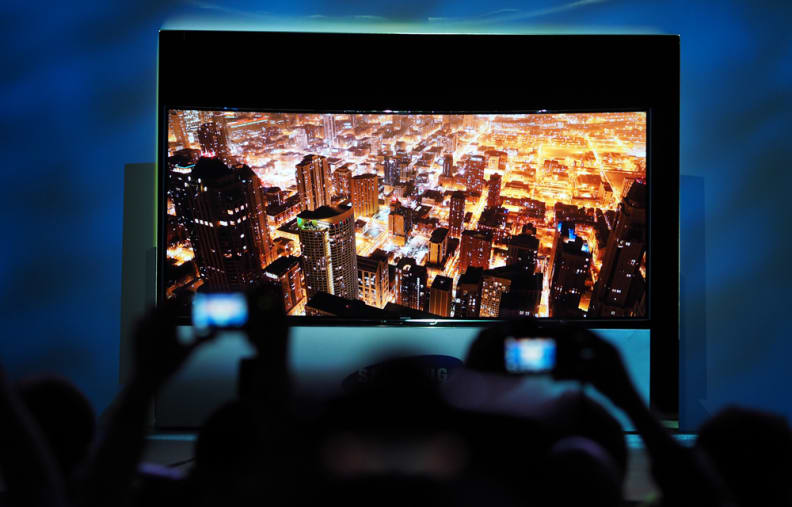 —Samsung's UHD TV 4K Curved will be the world's largest curved UHD TV, for a "truly cinematic experience".
—Surprise! Director and producer Michael Bay takes the stage.
—Bay is speaking about how Hollywood creates a viewer escape. However, he isn't able to read his teleprompter, and leaves the stage.
—Samsung's new UHD TV will come with a Samsung UHD evolution kit, which will have UHD streaming support.
—This spring, Samsung will be releasing a UHD video pack, allowing users to stream UHD content.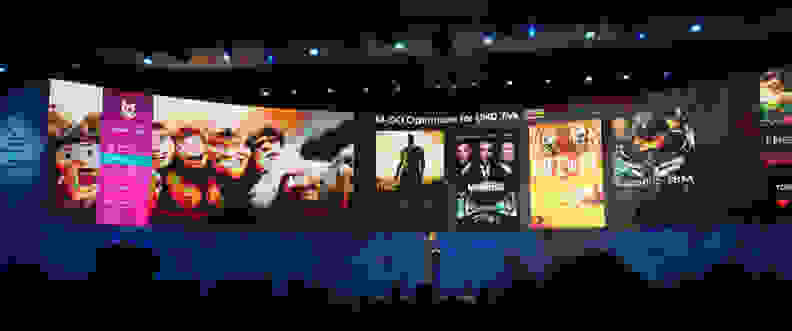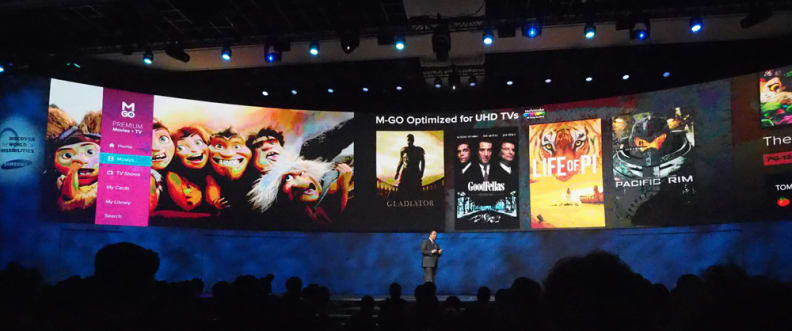 —New multi-link screen will display smart content alongside video.
—Samsung is now showcasing "Samsung Bendable TV". With the press of a button, Samsung's curve transforms into a "Bendable TV".
Kitchen tech.
—Kevin Dexter, Senior Vice President of Samsung Electronics America, takes the stage.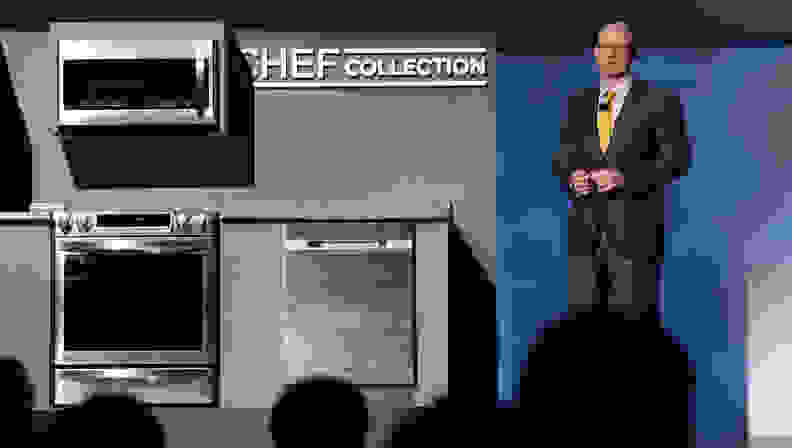 —Samsung's Food Showcase Refrigerator is displayed in a video demo.
–Samsung's Chef Collection will include a line of precision kitchen appliances.
—Michel Troisgros and Christopher Kostow, two top chefs, take the stage.
—The Chef collection includes a refrigerator with a storage unit that provides optimal storage space with a custom temperature setting. Also included is a "fridge-in-freezer", offering further temperature customization.
—Samsung's Chef Collection includes an oven with consistent temperature settings, which will also allow you to cook two different dishes at different temperatures at the same time.
–Samsung's Chef Collection dishwasher won't use a conventional rotary, will instead use new "WaterWall" technology to achieve spotless dishes.
—Next up - Samsung's new 9000 series washer and dryer. The 9000 series top-loading washer includes an easy reach tub.
Tablets and Personal Computing
–Nanada Ramachandran, Vice President of Samsung Telecommunications America, takes the stage.
–Ramachandran is speaking about tablet technology, and how it can help people meet their goals. Samsung will be releasing the Galaxy NotePRO and the Galaxy Tab PRO into the tablet market. There is one Note PRO tablet, and three Tab PRO tablets. Screen size will be 12.2 inches.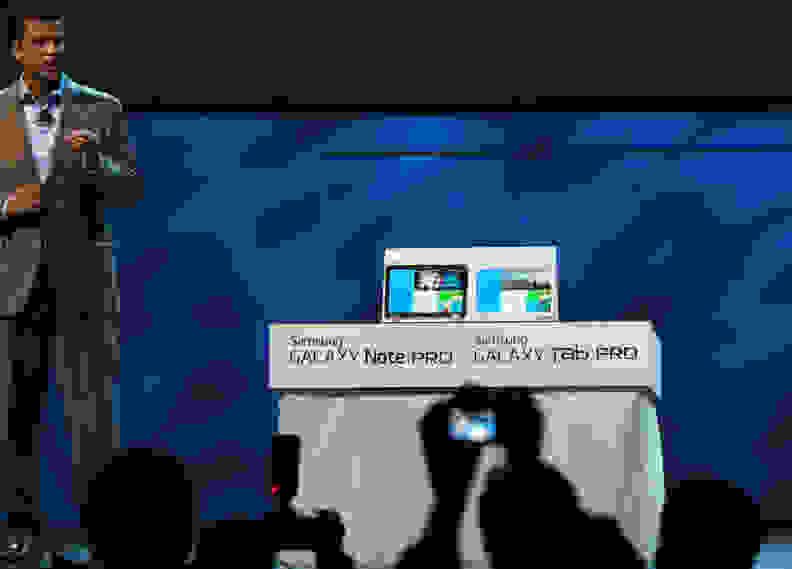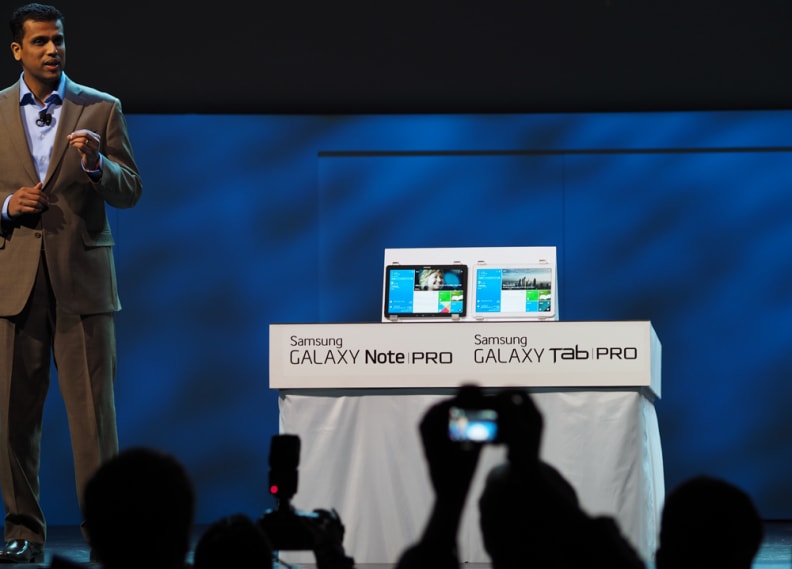 —Ramachandran is speaking about Magazine UX, which allows for a custom app experience on the Note PRO.
—Multi Window allows you to view four windows at once. For example, opening a browser, a chat window, photos, and your email.
–Cisco webex allows you to seamlessly chat and share documents. Remote PC is also shown.
—Network Booster will allow you to combine a 3G or 4G connection with your existing WiFi.
—The 12.2 inch Note PRO will weigh just 750 grams.
Photography
—Next up - Samsung's new cameras - Samsung Smart Camera NX30 and Samsung's GALAXY Camera2.
—Tim Baxter comes back to the stage, bringing out all of Samsung's new products at once.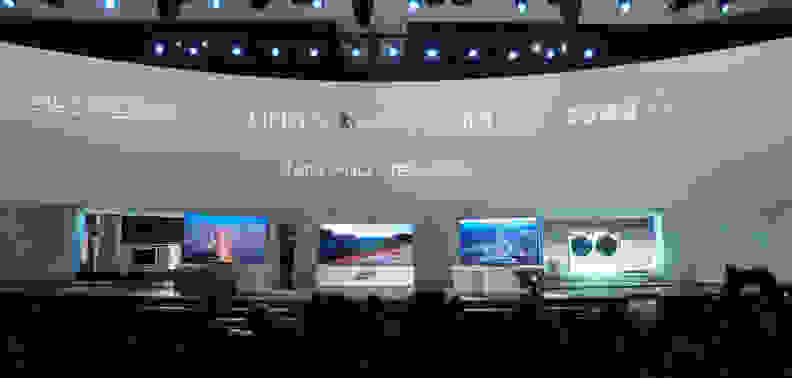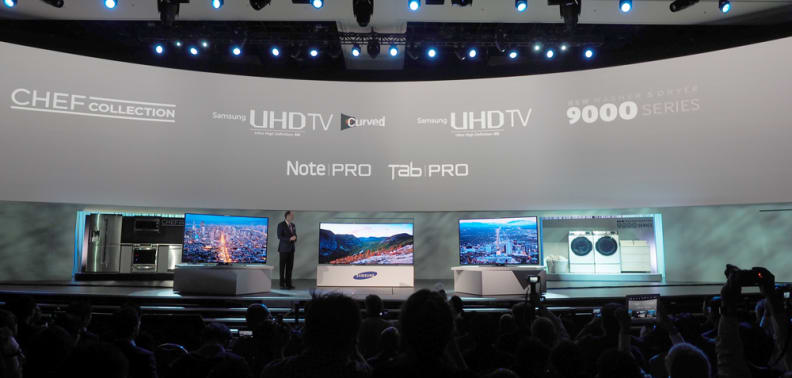 —That's it! Everyone applauds.