Reviewed
Marissa Mayer Keynote at CES 2014
Yahoo! Simplify, summarize, and personalize.
Credit:
Big names joined Yahoo!'s CEO Marissa Mayer on stage at the LVH Theater this afternoon as Yahoo! unveiled its new mission—to create and curate, personalize and simplify the massive amount of information available on the internet today. Katie Couric, David Pogue, SNL, and John Legend were there to support the proceedings.
By 2017, there will be upwards of 3.8 billion devices connected to the internet. There's been, and will continue to be, a massive shift to mobile. So, Mayer asked, what are people doing on their phones? Everything Yahoo! is and has always done.
Acknowledging that your phone knows everything about you, Mayer announced that Yahoo! recently acquired Aviate to help reinvent the mobile home screen. Yahoo! is also working on making the mail experience on mobile devices more personalized, thoughtful, precise, and secure.
Nick D'Aloisio, Product Manager at Yahoo!, showed off Yahoo!'s new app, the sleek Yahoo! News Digest, created to help people deal with information overload in our highly connected society. The Yahoo! News Digest is available now across all platforms, offering readers two daily digests—the day's top news stories, compiled from sources across the internet. Each summary includes a series of "atoms"; tweets, maps, story text, infographics, and a stock ticker are just a few examples of the atoms that can make up each summary.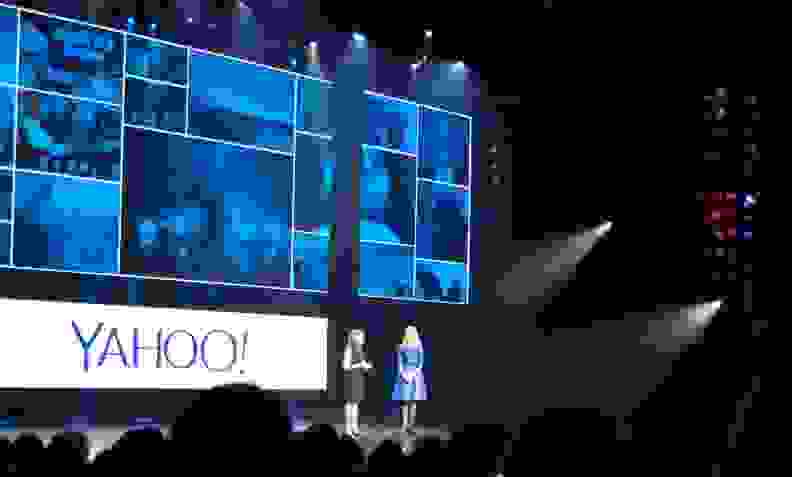 Yahoo!'s next announcements focused on harnessing the power of the web with immersive experiences inspired by the elegance of print magazines.
Yahoo!Food is the first in a line of Yahoo Digital Magazines, a core part of Yahoo!'s media business, that will present food-related information curated from Flickr and across the web.

A new design for yahoo.com/tech has articles that expand in place rather than open in new windows.
For 2014, Yahoo! will be bringing their focus on creation and curation to video content as well, starting with their new Smart Guide, giving users recommendations tailored as closely as possible to their personal viewing habits.
Another sphere that Yahoo! believes will benefit from simplification and personalization is online advertising. Yahoo! is releasing a new unified ad solution that will help advertisers better reach their target audiences. Tumblr-sponsored posts will be powered by Yahoo Advertising, using geographic and gender targeting. Brands will pay for engagement, not just impressions.
John Legend's performance closed out the afternoon.