Reviewed
Live from Panasonic's CES 2014 Press Conference
The tech giant announces 4K imaging HDTV technology, wearable cameras, and indestructible tablets.

Credit:
The Panasonic press conference is over, but you can read our live coverage below.
---
Technology giants Panasonic are unveiling a full list of innovative products at this year's CES. New imaging developments for their much-beloved cameras and televisions will be introduced in 2014, along with new advances in smart home controls, automobile devices, consumer and home appliances, and more.
At the press conference being held at CES this morning, Joseph Taylor, the Chairman and CEO of Panasonic North America, addresses the group with a summary of how Panasonic hopes to successfully meet and surpass consumers' needs both in and outside of the home.
Professional 4K Technology
Rance Poehler, President of Panasonic Systems Company of North America, talks about the development of 4K Professional technology. While other companies are focused on bringing 4K technology to the consumer market, he states, Panasonic intends to lead the field in 4K when it comes to corporate and business needs. The 4K Varicam professional video camera will be the first main product in this area, and will be unveiled later this year.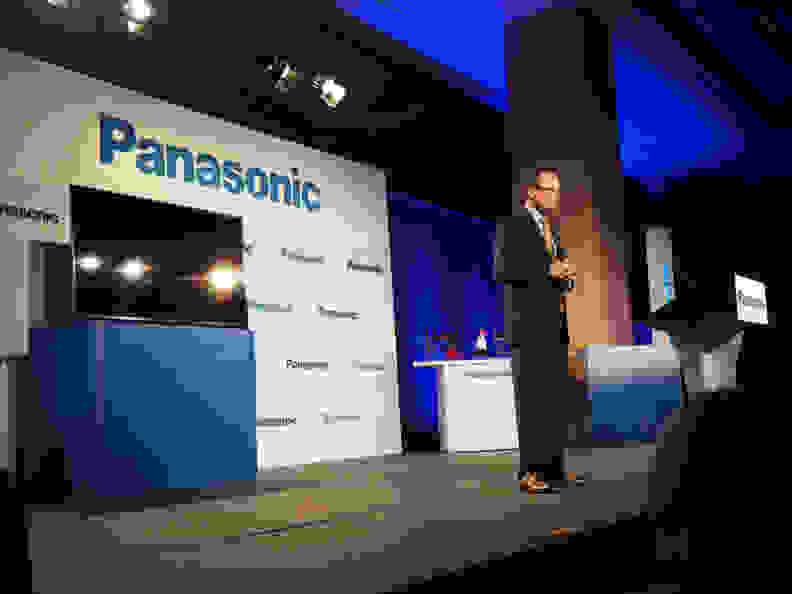 Also introduced will be 4K projectors with pixel-quadrupling high frame rate technology that will produce "true-to-life details even beyond 4K." Poehler states that 4K security cameras will also become an important addition to the Panasonic professional market this year. The use of such high imaging technology in the security field will reduce the need for multiple cameras and improve security coverage.
4K technology doesn't stop there: it's also being used in a high-definition LED Board known as the Big Board, the largest outdoor viewing screen in the world with a 170-degree viewing angle. The Board will be in use for the first time at the 2014 Kentucky Derby.
Consumer 4K Technology
Julie Bauer, President of Panasonic Consumer Electronics, says that while the company's main focus for 2014 is indeed the professional market, the major advancements to visual technology will also benefit general consumers. Specifically, 4K technology will make its way into homes via the release of a new HDTV.
The Life Plus Screen HDTV system is coming to the market this year. It operates with 4K visual quality that, according to Bauer, delivers "plasma-quality imaging;" in screen sizes from 58 to 65 inches, it uses a variety of smart technology that does everything from saving favorite programs automatically to offering remote operation via applications, and even recognizing the user's face.
Wearable Cameras and Updated Lumix GX7
Other areas of consumer product development at Panasonic this year, per Bauer, are new options for cameras, including the Wearable Camera HX-A100 and the Lumix GX7 camera with hybrid abilities. Audio home technology and new beauty products are also within the 2014 line. A new hair dryer that adds moisture as it dries the hair is earning particular attention from the CES attendees.
Automotive Developments
Tom Gebhardt, the President of Panasonic's Automotive Division, is unavailable at the time of the conference due to a flight delay; instead Poehler takes on the job of presenting Panasonic's 2014 automotive developments. In the year of the smart car and self-driving options, which are currently flooding the market, Poehler states that automotive technology is currently the largest area of development within Panasonic. A recent contract and agreement with Tesla has helped bring Panasonic to its current position as the leader in the electrification of cars. They're also in the process of developing other smart car technology such as rear-view cameras, vehicle "infotainment," and more.
Panasonic's heads-up displays (HUD) within the consumer's vehicle, while not a new innovation, are being improved upon for 2014. The new family of displays are 40% smaller than before, making them safer, easier to see on the dashboard, and less distracting for drivers.
The Toughpad
The last main area of focus during the CES conference is, as to be expected, mobile devices. A new tablet known as the Toughpad FZ-M1 is coming to consumers shortly. It's touted as the thinnest and lightest tablet yet produced and operates with a top-of-the-line Intel Celeron processor. The M1 will be available in a range of sizes from 7 to 21 inches.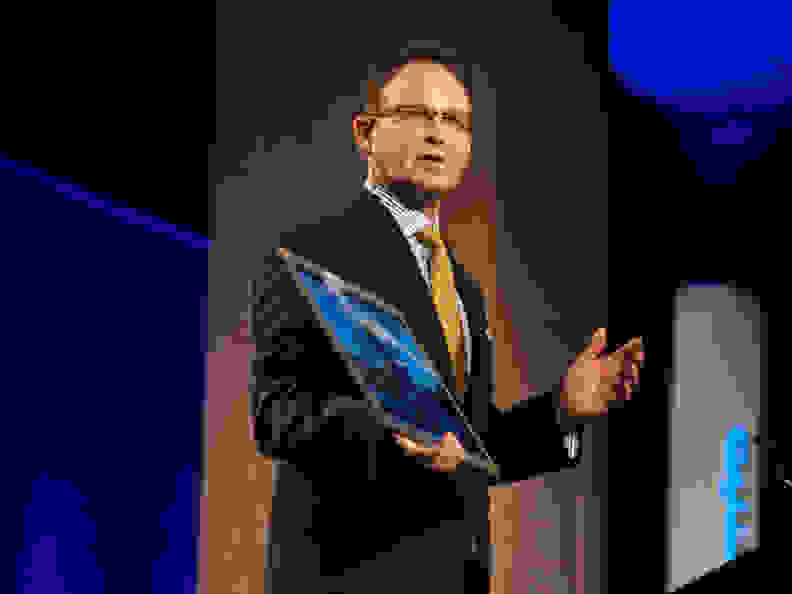 ---
Check out our continuing CES 2014 coverage right here.