When it comes to music, you like the hard stuff—heavy metal. But your wife? Not so much. When she comes into the room, the music needs to change.
Or let's say the party is dying down, so those big, bass-heavy beats aren't what you're looking for anymore. Again, it's time for the playlist to get shuffled.
The new Prizm Music Brain, a 2016 CES Innovation Award winner, can help. It automatically takes the temperature of the room, so to speak, and adjusts the music to match the mood.
The small, pyramid-shaped device plugs into any set of speakers through a standard 3.5mm headphone jack, an optical cable, or Bluetooth, then uses internal sensors to evaluate the noise level of the room and adjust the music accordingly.
You can link the device to a primary music account—either Soundcloud, Deezer, or Spotify—and it'll scan your playlists to get a sense of the music you like, then start playing a mix. If you like the song, you can press the heart on one side of the pyramid. If not, simply tap the X on the other side.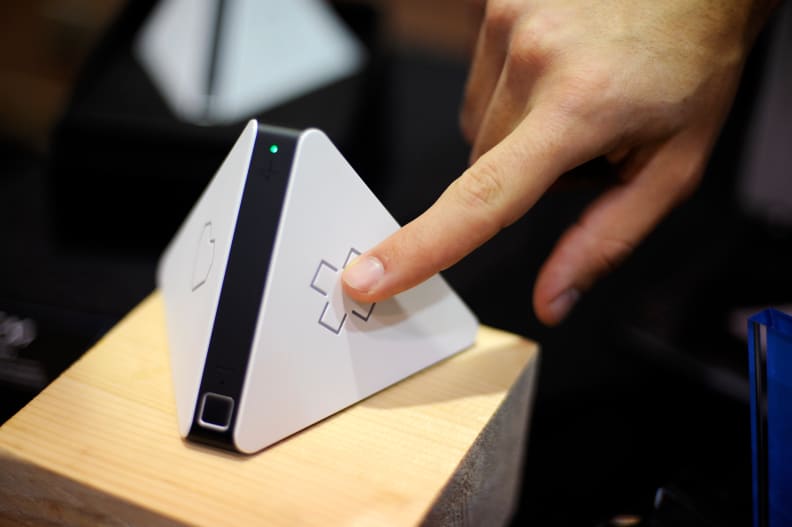 The Prizm Music Brain uses AI software to learn your tastes, habits, and likes, and will even suggest new music you might like. It uses an internal mic to tell what's going on in the room, but also senses WiFi and Bluetooth signals to detect other individuals; if they have a guest account (free), it can then add their taste into the mix.
For example, your premium account may have a full playlist of West Coast hip hop, but when your showtune-loving roommate walks in, the Prizm knows, and will try to pick something you both might like—the Hamilton soundtrack, perhaps?
Using its microphone, Prizm also senses how many people are room and tries to pick tunes accordingly. A ton of people? Party music. Just you on the couch? Something a bit softer.
The Prizm Music Brain is set to roll out this spring, with a list price of about $160 (€149).