Whether you have an older-model TV or the latest OLED, the built-in speakers typically leave a lot to be desired. The reason? It's getting to be rare that you don't have supplemental speakers to boost the sound, at least for your main TV. Old-school surround sound setups are falling quickly out of fashion because soundbars are here, and they're awesome.
This Samsung soundbar has been making waves for its superior sound quality, and we scored an exclusive deal that knocks a whopping $1,000 off the price tag. Yes, this soundbar that costs $1,700 everywhere else is only $800 on Massdrop now through Tuesday, Feb. 19. That's insanity. The only catch, basically, is that Massdrop doesn't order from the manufacturer until the drop ends, which extends shipping times. Considering how much you'd be saving, there's no way it's not completely worth the wait if this sounds like a dream come true for your home.
What you should know about this soundbar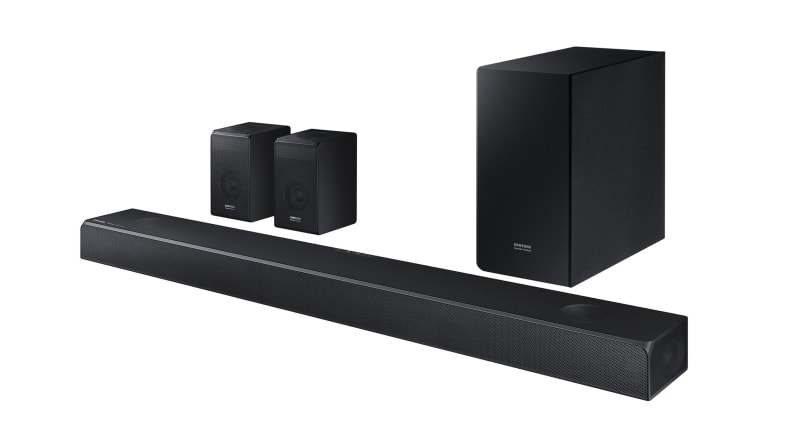 While we haven't yet reviewed the HW-N950 soundbar, we did read and watch a lot of other reviews to get a better sense of the quality and some of the possible issues you might run into. The overall consensus is that this thing is massive, but it sounds amazing.
It's got nine front-facing drivers (speakers) along the front, four that project sound upward, and another two on each side, as well as a wide-range tweeter, which is responsible for high-frequency sounds. You also get two wireless speakers that sit behind your couch and a wireless subwoofer. Just note that wireless means you don't need to run cables from the speakers to your entertainment center. They just plug into wall outlets and connect to the soundbar wirelessly.
Pros:
Works with most TVs
Dolby Atmos and DTS:X Object-based sound
Can be wall-mounted
2 extra HDMI ports for Blu-ray players, consoles, and streaming devices
Alexa and SmartThings connectivity
Bluetooth 4.0 connectivity
Supports 4K, HDR, and 3D
Cons:
No automatic equalizing, so you'll have to adjust things like bass and treble yourself—or get an audio-savvy friend to help.
It's very large at about 4 feet long and may not be ideal for some setups.
It weights 19.4 lbs., so if you want to mount it, take that into consideration.
The subwoofer weighs 21.6 lbs, too, but you don't usually mount those so it's not as big a deal.
Other soundbar options
OK, I get it—$800 is a big chunk of change for an add-on for your TV. But soundbars in general can really change your viewing experience, whether you want a richer sound for movie nights or you just have a hard time. If you're shopping on a tighter budget, you're not out of luck in getting a decent soundbar. In fact, we've tested a bunch of great options that cost less than $300, and even some formidable models that cost less than $200.
It all boils down to how important your home theater setup is to you, how much money you're willing to invest, and how much room you have. If you host movie nights or are really into gaming or have a discerning ear or just like having the biggest, best stuff, then I'd suggest checking out this exclusive Massdrop sale.
Prices are accurate at the time this article was published, but may change over time.
The product experts at Reviewed have all your shopping needs covered. Follow Reviewed on Facebook, Twitter, and Instagram.