Reviewed
Smart Home Meets Total Control with Lowe's Iris
Iris expansions give you even more remote home control

Credit:
CES 2014 attendees may agree: This is a big year for smart homes. At this year's convention, home improvement leader Lowe's unveiled a few important updates to the Iris Home Management System.
As with many competing systems currently on the market, Iris lets homeowners access, monitor, and control various aspects of their homes through a convenient cloud-based remote system. Users have the choice of logging into the system via the internet or from a mobile smartphone application.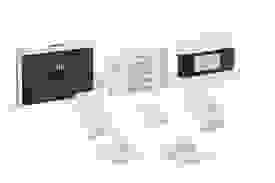 The system hasn't changed much since it was released two years ago. Prices range from $179—the basic system—to $299—the most advanced. Installation is easy, requiring basic amenities such as a broadband internet connection and an open router port. From there, users can choose from several levels of monitoring: A basic security system can be monitored via the app or internet for free, while other features such as remote thermostat control require additional monthly subscription fees.
At CES 2014, Iris got an upgrade promoting even more user control. Some of the new additions sound useful, if not earth-shattering, such as new voice control for the mobile app. On the other hand, a new water shut-off valve could be a game changer. It can detect leaks or other potential problems, turning off the water and preventing additional damage when you're away from home. Other newly-developed options promote energy efficiency, like a sprinkler on/off system, smart-meter power controls, and more.


Lowe's is also bringing in third-party products, such as the Linear Z-Wave garage door opener. A new UL-compliant garage door operation system, it's fully compliant with Iris and boasts built-in safety sensors and a programmable timer. If Lowe's continues to expand in this fashion, the possibilities could be endless.
So far, the Iris system has done quite well in the eyes of consumers and reviewers alike. On paper, Lowe's seems to be moving in the right direction with its 2014 upgrade. In a market as fast-moving as the field of smart homes, though, success and longevity can be fleeting. Either way, we're interested to see how the future of Iris unfolds.