Reviewed
The Most Beautiful Wireless Speaker Ever?
The hexagonal 'Unmonday' is aesthetically pleasing, but will the sound quality hold up?

Credit: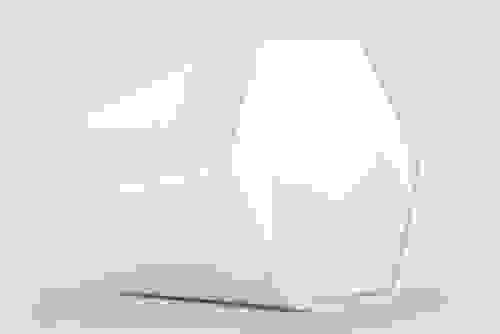 While the unconventional name helps, the Unmonday definitely captures your attention at first glance. With a sleek ceramic exterior and a custom-fit leather carrying case, it's quite visually appealing for a speaker. And it should be, for 699.00€.
Developed by the Finnish company of the same name, the Unmonday Model 4.3 is marketed as "the world's first wireless multi-channel speaker". Due to its size—not to mention the industry's long history of bad wireless speakers—it'll be interesting to see if the Unmonday can stand out during hands-on demos on the loud show floor of International CES 2014.
Here's a quick rundown on the Unmonday's specs:
Motion Sensor
One of the Unmonday's key features, the motion sensor changes the outputted sound channel depending on the position the speaker is in. Own three Unmondays? Tilt one to the left, one to the right, and leave one in the center to play three discrete channels together.

Body
The Unmonday sports a ceramic body case, which won't vibrate when you're dropping the bass, and won't break if you drop more than that.

AirPlay Receiver
This allows you to stream lossless audio directly from your smartphone, tablet, or laptop.

Power Adapter
The power adapter is built-in, requiring only a small cord for charging.

Battery
The Unmonday speaker is able to play for 8 hours on a single battery charge.

Canvas Grill
Just in case you want to swap in some snazzy colors, the protective canvas grill is magnetic and fully removable.
Of course one of the most well-marketed features of the Unmonday is its portability and style. Wireless speakers offer flexibility, but few are designed to be attractive enough to fit in with modern design schemes.
We'll have to hear this speaker in action to judge if the versatility is matched with passable sound quality. Stay tuned!