Combine its dirt removal capabilities, carpet-cleaning prowess, navigational awareness, and sturdy design, and you're left with an effective device for floor maintenance in between full cleanings. That is, unless you've got a lot of furniture.
The Scout can clean carpets better than most and floors well enough, but its sense of adventure doesn't extend to underneath couches or between table legs. Of course the upside of a timid robot vacuum is that it won't often get stuck or flipped over. We were impressed by how "hands off" it was during our tests.
Be prepared
The first thing you'll notice about the Scout RX-1 is its price. At $899, it's a high-end machine, comparable in price to the Samsung Powerbot VR9000, which has similar camera-based navigation, and the iRobot Roomba 880, which uses infrared navigation.
If you were to open the three vacuum boxes side-by-side, you'll notice that the Scout travels lighter: Instead of infrared "virtual" barriers, Miele opted to use magnetic strips instead. There's a tradeoff here. While virtual barriers can be moved, turned off, and require batteries, the magnetic strip may be adhered to the floor as a permanent sentinel.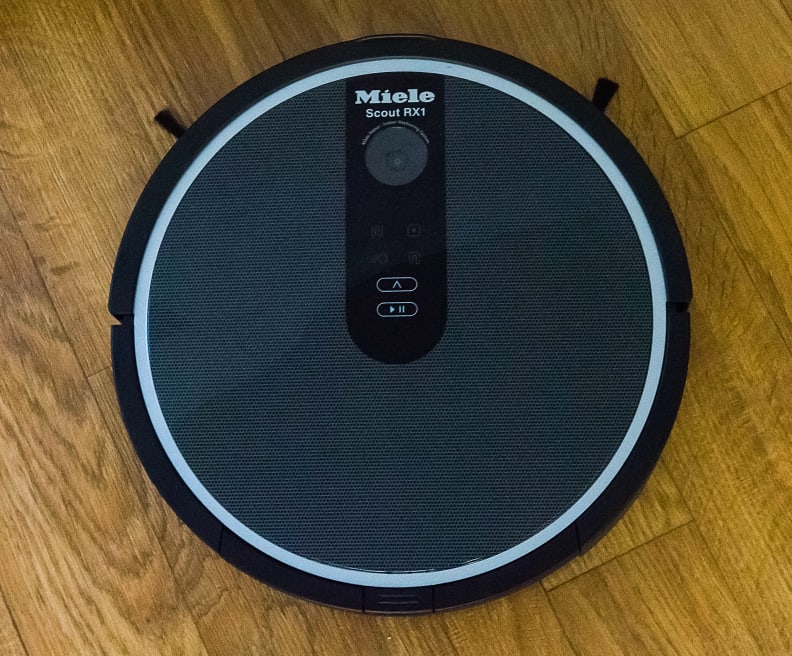 ×
Miele
Miele and iRobot also diverge on the design of their charging docks. The Scout has a more traditional dock, as well as a direct plug. The Miele also has a slight advantage when it comes to charging: it requires to two hours, compared to the 880's three.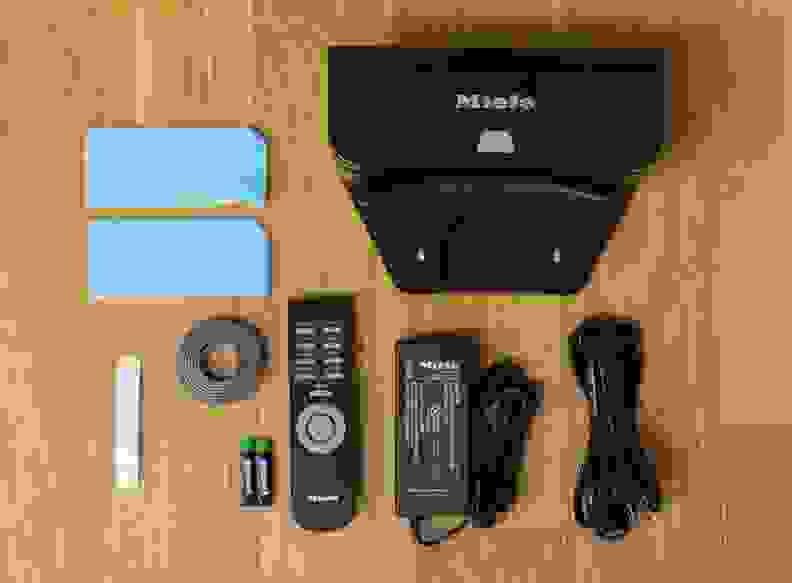 After you've set up the magnetic strip and the robot's all charged up, you're ready, right? Not yet. If you want to get the most out of your robot vacuum, you have to set a schedule. The Scout can't clean as well as a human being, but it can clean everyday, at any hour. When you set the timer on this Miele, it'll start cleaning at that time everyday until you dictate otherwise.
All you'll have to do is empty the bin, which fits about 30 grams of dirt. That means–based on this model's average dirt pickup per cleaning–it'll have to be emptied every four days.
Intelligent, not tenacious
In the world of robot vacuums, cleaning and navigation are inextricably linked. The Scout's brushes only clean where it explores. However, this Miele wasn't particularly adventurous. We presented the Scout RX1 with four different categories of obstacle: uneven floors and thresholds, carpets of varying heights, barriers that simulate low-clearance furniture, and furniture legs. The Scout had a small comfort zone.
To simulate that bump between your carpeted living room and your tile kitchen, we installed 2/3-in., 1 and 1/3-in., and 2-in. risers in our testing labs. The Scout was able to summit the the 2/3-in. riser without much of an issue. The larger risers were too much—but at least the Miele didn't attempt to surmount them and get stuck in the process, like the Neato XV-21 did. That means this robot vacuum should be able to breeze from bare floors to carpet.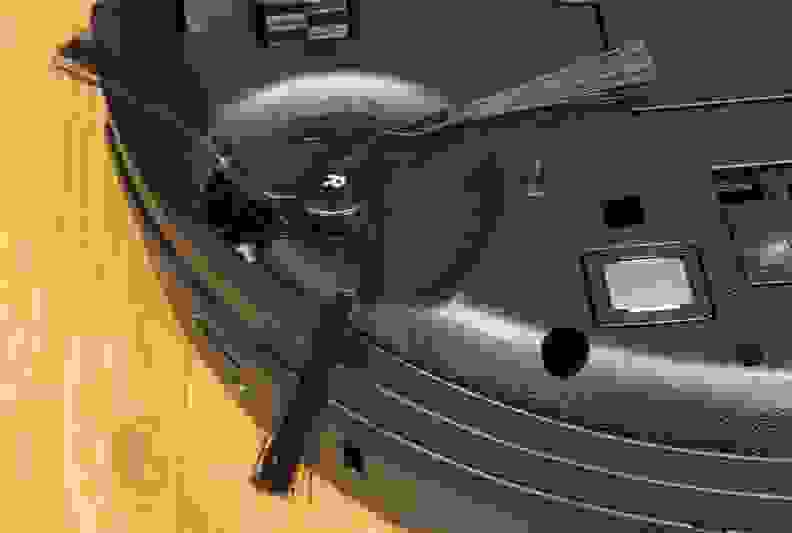 What do you want the Scout to do when it gets to carpets? Clean up, of course.
Our testing facilities have three levels of carpet: a doormat, normal carpet, and high-pile carpet. All the robot vacuums we've tested thus far have had no problems getting on and off the first two. High-pile carpet is another matter. Most robot vacuums avoid the high-pile area completely. A few will get up there, but most become stuck and require a helping—albeit annoyed—human hand to escape.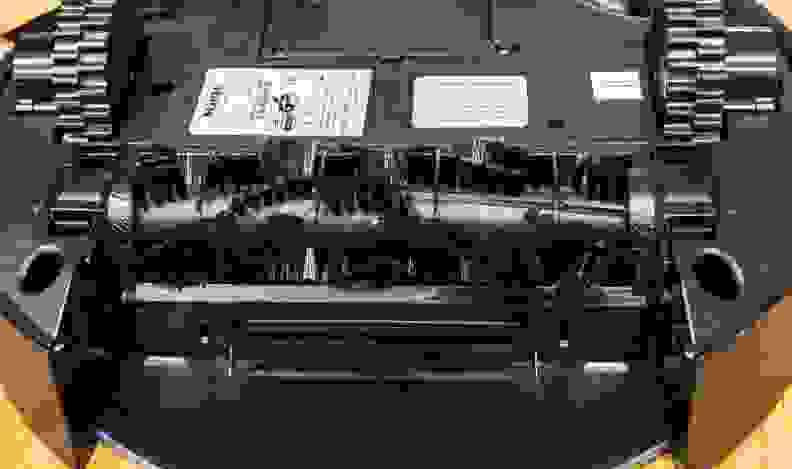 Yet the RX1 seemed to love high-pile carpet. It loved high pile so much, that in one test run it picked up the high-pile area rug and dragged it all the way across the rest of the testing area. It might be a good idea to see how the Scout deals with your area rugs before walking away. If it shows a similar attachment issue, you might want to get a non-slip pad for under the rug.
The Miele is good at climbing over thresholds and loves its carpets, but is weakest when dealing with the unknown.
Throughout our tests, we observed that the Scout RX1 does whatever it can to avoid getting stuck. For an automated cleaner, this is a very admirable trait. But sometimes it's possible to be too cautious.
For instance, our testing area has barriers that are 2, 4, and 6 inches off the ground to simulate low-clearance furniture—like bed frames and sofas. The Scout is 3.5 inches tall, so it shouldn't have had a problem with the 4-in. or 6-in. shelves. Still, it only cleaned halfway underneath each before rolling out backwards. And the Scout didn't even attempt the 2-in. shelf, even though it has edge cleaning brushes that might have swept up a small amount of dirt at the periphery.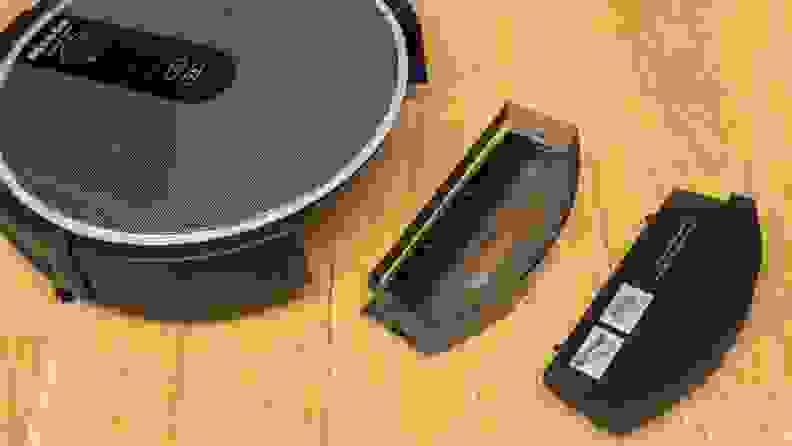 Timid AI also kept the Scout from acing our furniture tests. We presented the Miele with three sets of table legs that had six, twelve, and eighteen-inch openings. At 13.8-in. wide, the Scout only dared to clean the 18-in. opening. It got the area perfectly clean, but didn't even try the other two.
In our pet hair tests, the Miele did quite well, picking up 75 percent of the cat and dog fur we put down. And when it finished cleaning, it never had any issues getting back to the dock.
When it was all said and done, the Miele Scout RX1 picked up 6.8 grams of dirt. If you use it everyday, that adds up to 47.6 grams per week—about half what a regular vacuum may pick up in a single day of cleaning.
Good, but expensive
If you live in a minimalist studio, this robot vacuum will work like a charm. And when used everyday, the RX1 will keep an open area presentable. However, this Scout will actually avoid the unexplored regions of your floors that it deems too difficult to access.
On the plus side, excellent navigation software means this model requires little supervision. You shouldn't come home to find the Scout lost under the couch or next to a vase it knocked over. But you also won't find clean floors under the couch or near the vase, either.
If you're looking for a hands-off robot vac that won't do more harm than good, and you're willing to shell out $900, the Miele Scout RX1 is worth checking out.
Meet the tester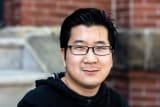 Jonathan Chan
Senior Manager of Lab Operations
@ReviewedHome
Jonathan Chan currently serves as the Lab Manager at Reviewed. If you clean with it, it's likely that Jon oversees its testing. Since joining the Reviewed in 2012, Jon has helped launch the company's efforts in reviewing laptops, vacuums, and outdoor gear. He thinks he's a pretty big deal. In the pursuit of data, he's plunged his hands into freezing cold water, consented to be literally dragged through the mud, and watched paint dry. Jon demands you have a nice day.
Checking our work.
Our team is here for one purpose: to help you buy the best stuff and love what you own. Our writers, editors, and lab technicians obsess over the products we cover to make sure you're confident and satisfied. Have a different opinion about something we recommend? Email us and we'll compare notes.
Shoot us an email