Smart bulbs are smart because they can do so much more than turn off on and on. You can dim them with the touch of a button in an app, or change their colors with a simple voice command, or set schedules to keep would-be thieves away when you're on vacation (or just reduce your carbon footprint). Some smart bulbs can even be programmed to work with third-party apps, many of which can help perform some neat tricks you wouldn't otherwise be able to do with the default mobile app.
The Philips Hue lighting system, which is the best smart lighting option we've ever tested, is an exceptionally flexible smart lighting platform.
You can find plenty of apps in both the Google Play and Apple app stores that can give you easy access to some of these "unlockable" tricks. Some of these apps even work with other smart bulb systems, which is a great way to control different brands of smart bulbs all on one platform.
You don't have to be a top-notch programmer to set these things up yourself, either. All you need is one of the mobile apps from this list and a little patience to string together a few commands that will let you do even more with your smart lights.
1. HueDisco (Android and iOS)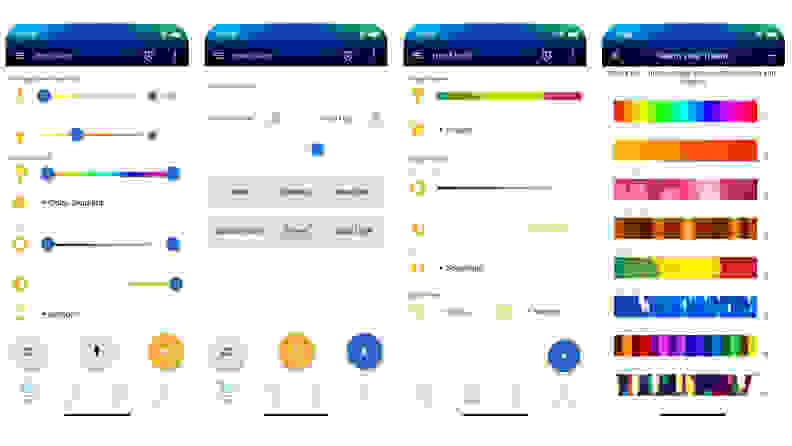 HueDisco is pure fun. It's available for both Android and iOS users, so everyone can turn their home into a dance party whenever they want. The app creates a connection between your music and your lights, so the lights change colors to the beat.
You can adjust things like microphone sensitivity so that you can fine tune how precisely the bulbs pick up the sound captured by your phone's microphone, and color range control, so that your lights aren't hopping from one end of the rainbow to the other. There's even a variety of strobe patterns and arrays, and an option that can set a mood for the Hue bulbs even when you don't have music blaring.
Get HueDisco for Android ($3.99)
Get HueDisco for iOS ($3.99)
2. Hue Essentials (Android only)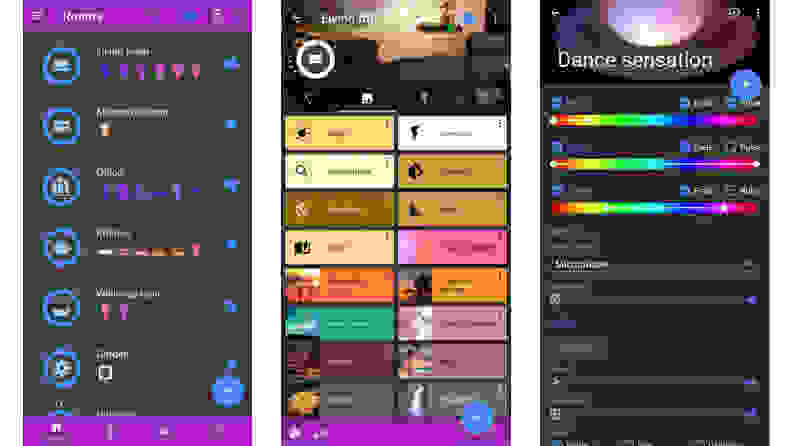 For Android users, the Hue Essentials app is a worthy alternative to the default Hue app. It's nicely designed, featuring a shelf that houses quick links to other connected lights and their corresponding groups and accessible slider controls for every bulb. Hue Essentials also offers quick settings tiles, which are nice if you like to set the scene for communal activities, and there's even a Quick Settings toggle that you can configure to enable push-button access from inside the Android notification shade.
Like Hue Disco, this app also has a handy feature that syncs your Hue lights with whatever's playing. For those who like to tinker around with settings, the Hue Essentials app also supports control for multiple bridges at a time, as well as Tasker plugins. And if you've got any of IKEA's automated TRÅDFRI lights hanging around, you can sync them in tandem with the Hue bulbs through this app.
Get the Hue Essentials App for Android (Free)
3. iConnectHue for Philips Hue (iOS only)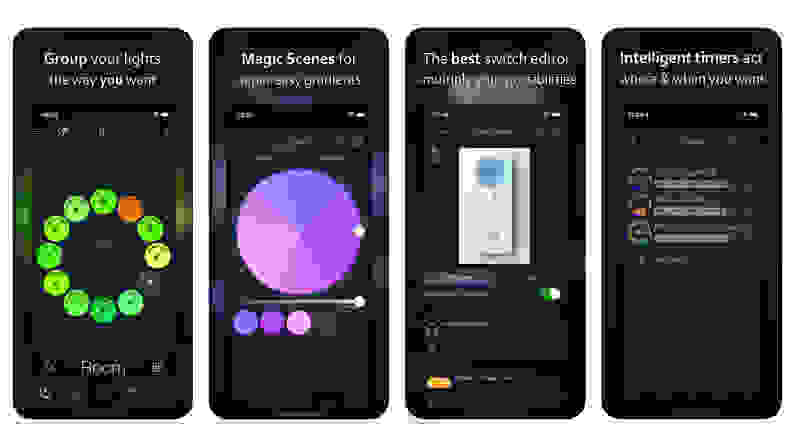 For iPhone users looking for an equivalent to Hue Essentials, the iConnectHue for Philips Hue app is a comparable alternative. This app adds automation, individual light and group configurations, multi-bridge support, and even Apple Watch controls to the Philips Hue light system. It supports some lesser-known lighting brands, too, like Cree, Osram, and GE Link, so even if you've paired your Hue lights with other smart bulbs, this app could be the solution to control them all in one place.
Get iConnectHue for Philips Hue for iOS ($4.99)
Yeti (Android and iOS)
If you have more than one kind of smart bulb in your house, try consolidating them with the help of a third-party app. Yeti is an keen choice for those who are new to the idea of a third-party smart home controller that supports automation schemes. It's easy to use, the interface is not too overwhelming, and it's compatible with smart gadgets from the likes of Philips Hue, LIFX, Nest, Ecobee, and TP-Link.
Get Yeti for Android
Get Yeti for iOS (Free)
4. Stringify (Android and iOS)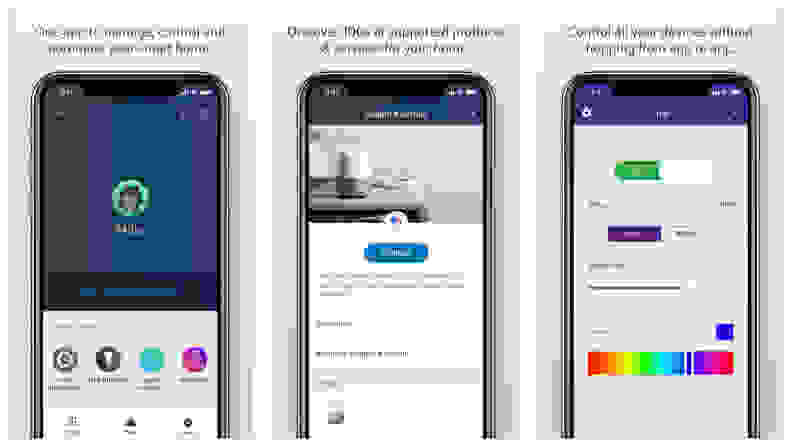 If you're looking for more robust controls between your smart bulbs and other smart stuff, Stringify can help get you get started. The app uses an automation schematic it calls Flows that are simple to configure. All you have to do is drag around the different abilities in the order that you want the various actions to take place.
Stringify even works with external services like IFTTT and RSS feeds, for more sophisticated automation setups. Ever think of programming your lights to flash red when you receive an email from the boss? An app like Stringify will help you get that sort of thing going.
Get Stringify for Android (Free)
Get Stringify for iOS (Free)
5. Yonomi (Android and iOS)
Like Stringify and Yeti, Yonomi serves as a one-stop-shop for your smart home gadgets. You can easily control the brightness and the hue of your connected lights from Yonomi, whether they're GE Link connected bulb, the LIFX A19, or Philips Hue. Yonomi supports third-party assistants like Google Assistant and Amazon Alexa so that you can set up custom voice commands. The app also offers geofencing, so you can set it up to have all the connected lights turn off the minute you leave your house.
Get Yonomi for Android (Free)
Get Yonomi for iOS (Free)
6. IFTTT (Android and iOS)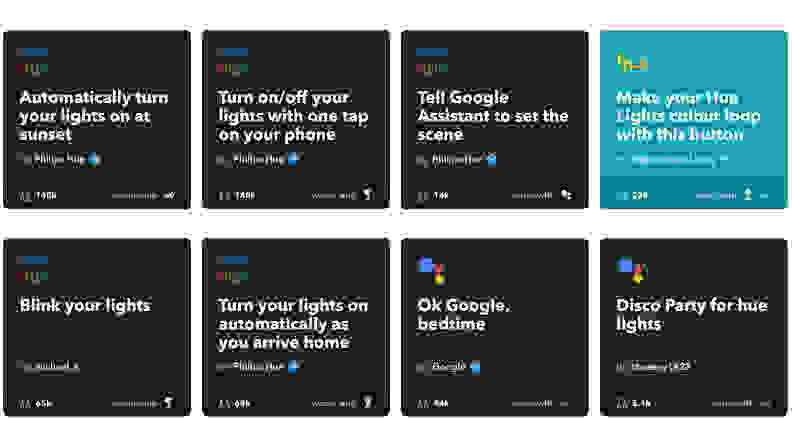 If you don't want to spend the time getting deep into the weeds with home automation, IFTTT, which stands for "If This Then That," is a perfectly viable alternative to the complexities of Stringify and Yonomi. It integrates with a majority of the popular smart lighting systems out there, including Philips Hue, LIFX, TP-Link, Sengled, and more. It works with a whole host of other services, too, including cloud accounts like Dropbox, and social media accounts like Twitter and Facebook. IFTTT is the perfect way to whet your appetite for automation if you haven't already had the chance to dive in.
Get IFTTT for Android (Free)
Get IFTTT for iOS (Free)
Prices are accurate at the time of publication, but may change over time.