The Best Car USB Chargers of 2019
By Dan Roth, Updated January 02, 2019
If you've got a smartphone, you've been there: just a tiny sliver of battery remaining, and even though your device is plugged into the car's USB port, it's not pumping enough power for you to charge and navigate at the same time. That's because not all USB ports are created the same. Today's devices are hungry for both volts and amps. The ports in your car may not be strong enough to fill up the tank, if your car even has USB ports at all.
Luckily, there are plenty of converters—like our favorite, the RAVPower Mini Dual USB Car Charger (available at Amazon)—that plug into the 12-volt socket and deliver the 4.8 volts and 2.4 amps modern devices crave. Some will do even more: Qualcomm's Quick Charge tech "negotiates" the optimal charging level for compatible devices, delivering up to 20 volts and 4.6 amps as needed. If your phone can lap it up at that rate, it'll charge more quickly. Newer USB-C ports are also becoming more common, which is welcome news for early adopters.
We selected a total of eight car chargers to test, representing a wide cross-section of what's currently available. The RAVPower wowed us with compact design, quick charging, and consistent power delivery. It helped that it was also the least expensive charger we tried. Other units have different talents, not least the Scosche 3-in-1—a true multi-tasker that's a charger, a portable battery backup, a flashlight, and an emergency strobe.
Here are the top car smartphone chargers, in order:
RAVPower Mini Dual USB Car Charger
Maxboost Car Charger
Aukey USB-C Car Charger
AmazonBasics Dual Port USB Car Charger
Anker 24W Dual USB Car Charger
Scosche 2600 PBC71R GoBat 3-in-1 Car Charger
Spigen 30W Quick Charge 3.0 Car Charger
Timloon Quick Charge Car Charger
Advertisement - Continue Reading Below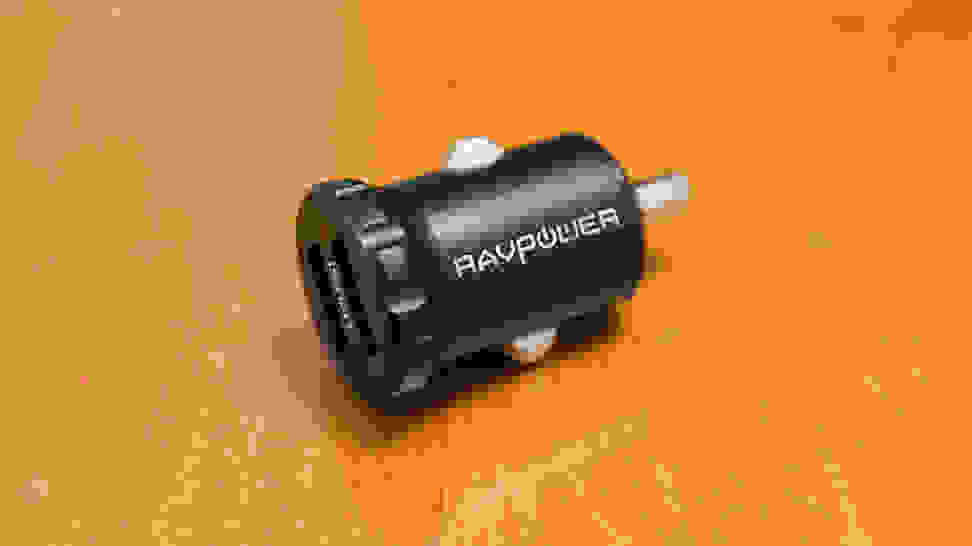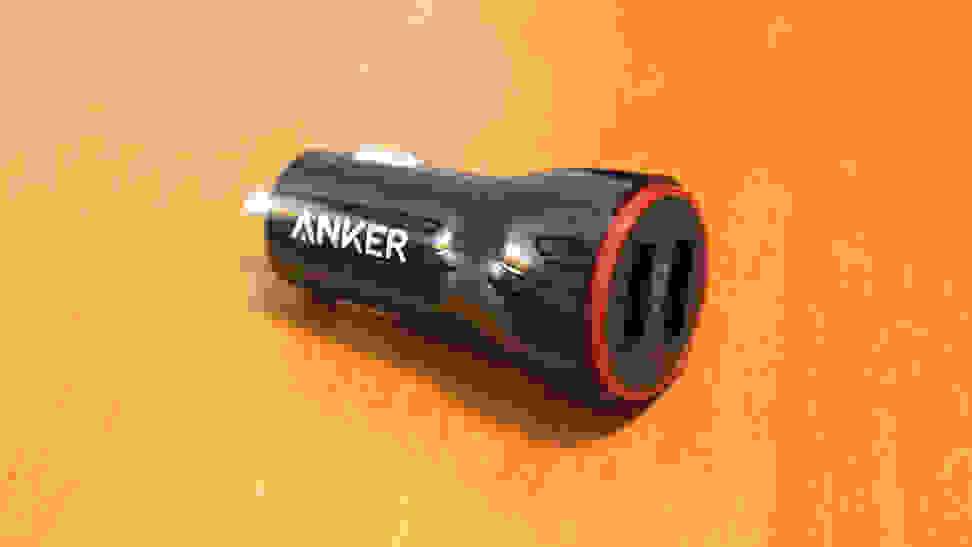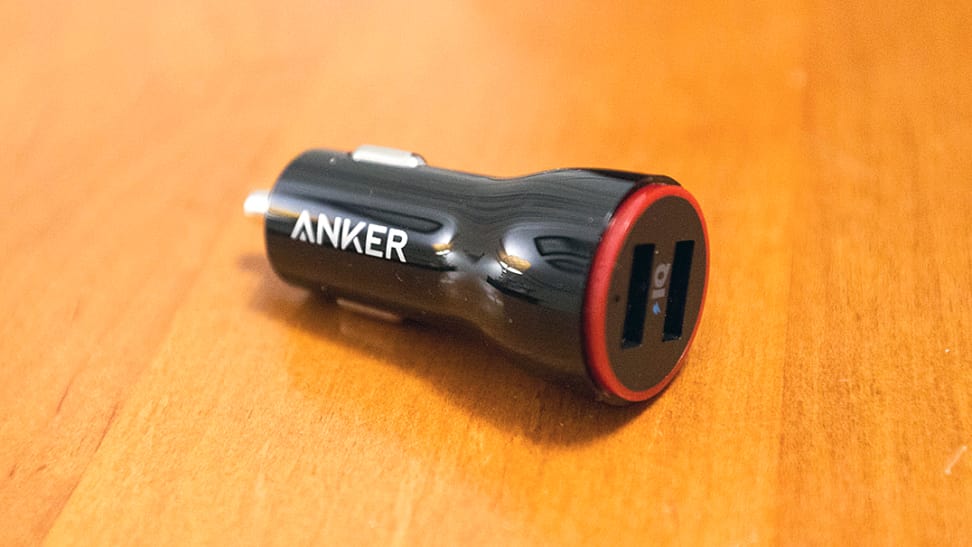 How We Tested
The Tests:
It's a titanic understatement to say that there are a lot of USB car chargers to choose from. There are dozens of options under $15 that are well-made and up to the task of modern smartphone charging. To find the best of the best, we researched user ratings and professional reviews alike, searching for units that stand out in such a crowded field. Each unit we selected for testing is unique from the others, offering a feature you can't get elsewhere.
While most of the chargers we tested have the muscle to also feed power-hungry tablets, our testing focused on phones. Throughout the test, we used a single device: a Motorola XT1030 (Droid Mini), with a 2000 mAh battery. To avoid the natural variables that come with an automobile's charging system, we used a Tripp Lite 13.8 volt 7 amp bench power supply for all tests. We let the battery run completely empty between each test and re-charged the phone while it was turned off to avoid inconsistent battery drain caused by apps and fluctuating WiFi or cellular reception.
Who am I?
I'm Dan Roth. I've made a career helping readers easily understand complex things. With a technical background in film and video production, a career as an advertising creative director, as well as a parallel career as an automotive journalist, I've spent countless hours trying to use all kinds of devices. Since I understand what makes people tick and how technology works, my goal is to advocate for the end user whenever I'm evaluating products.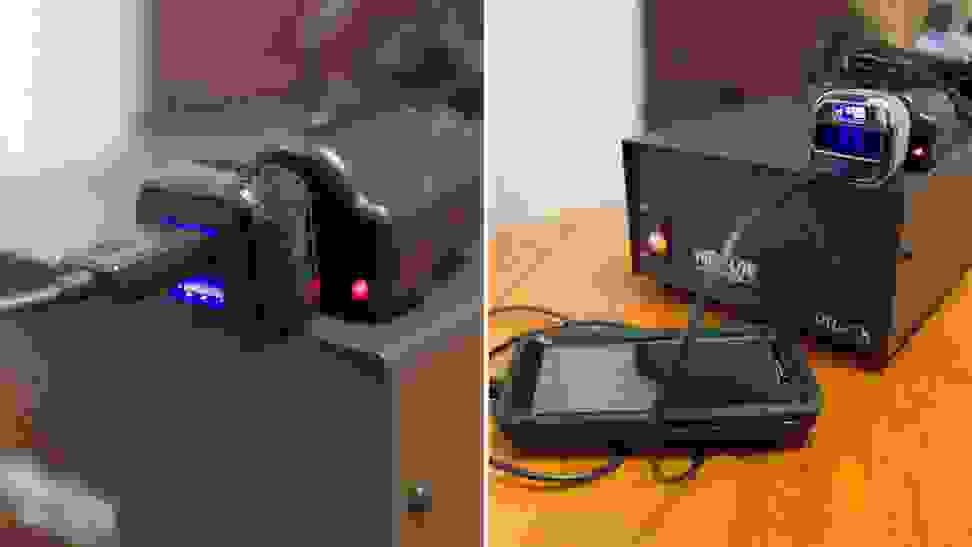 What Is Qualcomm Quick Charge?
Not all phones are able to take advantage of Qualcomm Quick Charge, but those that do support one of its levels—Quick Charge 3.0 is the most common, and 4.0 is on its way—are able to top up a battery much more quickly than standard USB chargers. Designed to be independent of port or charging cable standards, Quick Charge is compatible with just about every plug and cable out there. It's backward-compatible, too, so Quick Charge outlets can function as standard chargers when non-Quick Charge phones are plugged in.
So what's the upshot? The Quick Charge 3.0 standard can re-charge compatible devices four times faster than regular USB chargers by negotiating the optimal voltage level for the device. It can deliver up to 20 volts and 4.6 amps—far more power than standard USB.
You can find a list of devices that support Qualcomm QuickCharge technology here.
---
Other USB Car Chargers We Tested
Advertisement - Continue Reading Below