Apple's apparently falling in line with that thinking, evidenced by the launch of not one, but two larger phones this year: The 4.7-inch iPhone 6, and the 5.5-inch iPhone 6 Plus (MSRP $799 off-contract). While late to the phablet party, Apple is the only manufacturer that can bring the slick presentation of iOS to such a large display.
The iPhone 6 Plus doesn't take too many risks, but this is the most dramatic redesign of an iPhone yet. It's thinner, meaner, and, of course, that screen is enormous. It's certainly the biggest iPhone to date, but is it the best one? We put it through our labs to find out.
Design
Is that a phone in your pocket?
While the flagship iPhone 6 and its 4.7-inch display are larger than all previous iPhones, it doesn't feel substantially different from its predecessors. It's just a regular iPhone, but stretched a little bit around the edges. The iPhone 6 Plus, by comparison, is shockingly large. Ever have a childhood friend go on vacation for the summer and come home two feet taller? That's the iPhone 6 Plus. It's familiar, but a massive growth spurt yields an entirely different iOS experience.
Of course, it's still an iPhone. Even if the 6 Plus is destined to be defined by its size, it's still an Apple product. It has the same iOS interface you know and love, and the same painstaking attention to details, both practical and aesthetic. Like some other luxury products we've seen, the chassis of the iPhone 6 Plus is milled out of a solid block of aluminum, and despite being supermodel thin Apple has crammed a lot of hardware inside.
Gone is the iPhone 5S's boxy, substantial brick silhouette, replaced by a far more rounded phone. While the lack of broad edges is more comfortable, it doesn't feel nearly as secure as in your hand—especially given how much wider the 6 Plus is than any previous iPhone. The choice of aluminum is also perilous, as it can get mighty slick in certain conditions.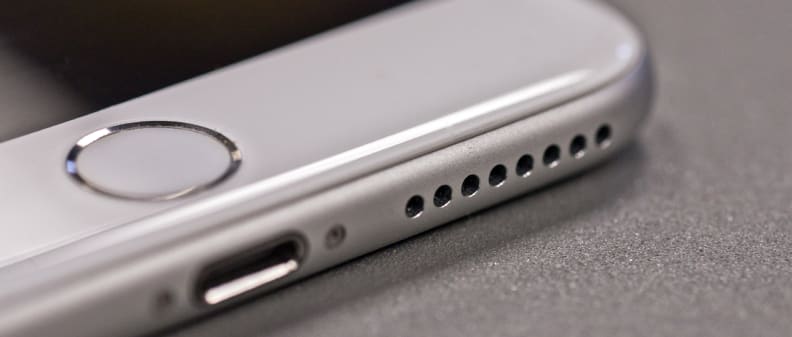 Beyond that, it's more or less the same old iPhone: Buttons live exactly where they were on the iPhones of old, and nothing new graces the front, sides, or back of the phone. Apple's nonpareil reputation for attention to detail is also still intact, with seemingly every millimeter polished to perfection. On the bottom of the front face is the famed home button, ringed with the same fingerprint scanner as the iPhone 5S and iPhone 6. If you've ever used another iPhone, you've used the same control layout as the one found on the 6 Plus.
Taking center stage, of course, is a bright 5.5-inch 1080p LCD, which can be a bit unwieldy at times. The screen is spectacular, but it's also extremely wide. The result is that it's almost impossible to hold the phone in one hand and reach the entire display with your thumb. It's a common complaint of the "phablet"—a chimeric device halfway between phone and tablet.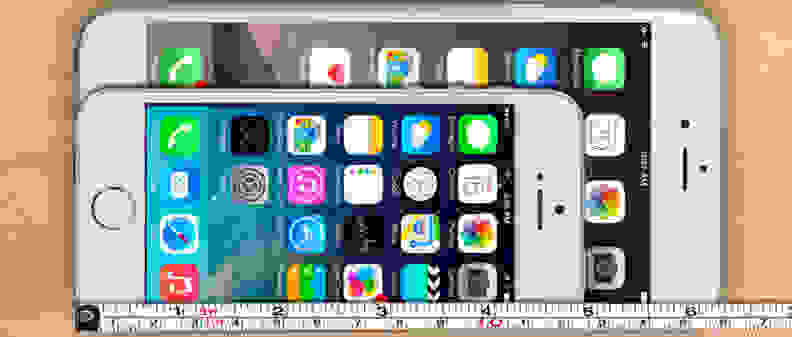 As frequent phablet users ourselves, operating a device like this takes some serious getting used to. Even scaling up temporarily from a 5- or 5.2-inch phone to something this size takes a couple of days to two weeks. Going from the 4-inch iPhone 5S to the 5.5-inch 6 Plus? It might be a month before you're fully adjusted.
If you can get past that, however, you'll find that the large screen makes using a smartphone far more enjoyable. Web content, photos, videos, messages, and productivity apps take on a whole new life on a screen this size. And with iOS 8 bringing a host of new features to the table, there's never been a better time to opt for bigger screen.
In Use
iOS 8 and the 6 Plus are as familiar as ever—just bigger.
If you've only ever stuck with Apple's line of smartphones, the iPhone 6 Plus will be your first foray into the phablet experience. Most will be unfamiliar, or even uncomfortable using such a gigantic device, and we reckon more than a few will wind up swapping the 6 Plus for the smaller 6. After all, who doesn't look goofy making a phone call on those giant phones?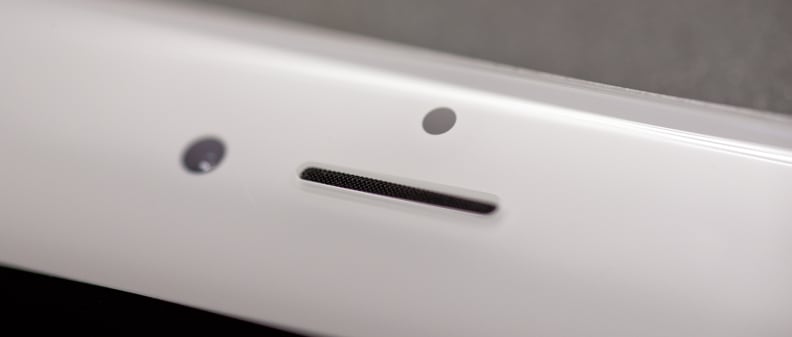 Here's the rub, though: How often do you actually make a phone call with your smartphone? And how often do you actually hold it to your head? For users who spend most of their time on their phone checking the web, weather, messaging, taking photos, browsing social media, or any of a thousand other tasks that don't involve pressing a device to your face, the larger screen makes a massive difference.
From a hardware perspective, that's the main selling point of the 6 Plus. Unlike Samsung, which has loaded up its giant Note series of phones with a stylus and all sorts of fancy software tricks, the 6 Plus is getting by on just the bigger screen. On the software side of things, Apple hasn't done much specifically for the larger screen, though the jump to iOS 8 is still a big improvement.
To wit, the biggest things you'll probably notice from making the jump from iOS 7 to 8 are the ability to add Apple-sanctioned widgets to the notification shade, and the ability to install third-party keyboards. That second one is a game-changer, fixing our biggest complaint about older iPhones. It was mystifying that a company so focused on design could fail to improve the primary means of interacting with your phone. Third-party keyboard solutions have long outdone Apple's barebones default version, and it's the first thing you should change if you pick up any iOS 8 device.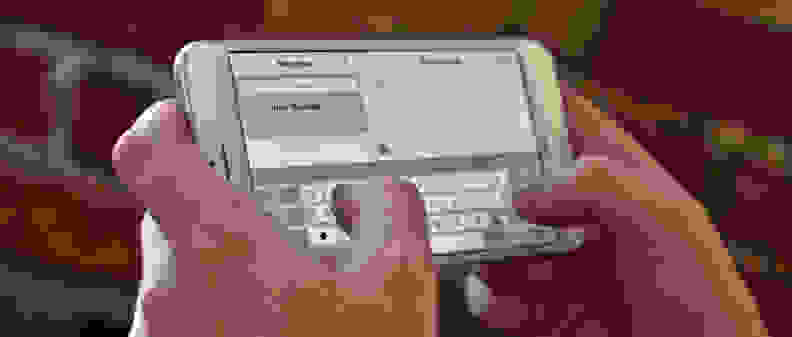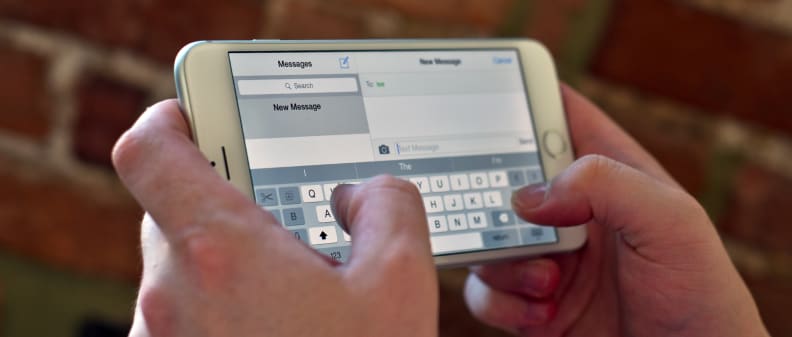 Beyond that, iOS 8 and the 6 Plus offer more of the same. Apple's App Store is still king when it comes to the latest and greatest apps, and the software is just as aesthetically pleasing as it was with last year's iOS 7. Android still wins out when it comes to pure customizability, but we're greatly encouraged that Apple is finally marrying its dead-simple operating system while taking a more open approach to its "walled garden."
Performance
Bigger, brighter, but oddly not for better—or worse.
One of the key benefits of designing a larger device is that you naturally have a lot more room to fit components inside. Though the iPhone 6 Plus must power a larger display than the iPhone 6 with the same processor, it also gets the benefit of having a much larger battery and a camera module with optical image stabilization. The result is a phone that performs nearly identically overall to the iPhone 6, meaning you can pick your poison when it comes to screen size.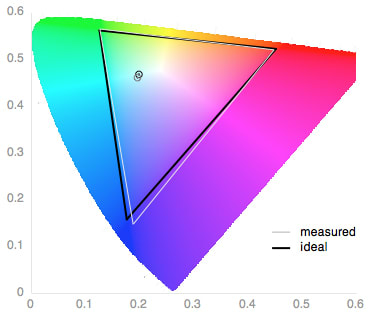 The 6 Plus's screen is both big and bright, boasting excellent color rendition along with a surprisingly good contrast performance. It's one of the better LCDs you'll find on a phone in 2014, with a peak brightness of 498.72 cd/m2 —more than bright enough to be usable on a sunny day.
The penalty of powering such a large screen? Reduced battery life. Despite boasting a battery with a much larger capacity than the iPhone 6, the 6 Plus only managed to squeak out a few more minutes in our web browsing battery rundown, even with brightness dropped to 400 cd/m2. It's still disappointing, given that Sony gets nearly two full days of use from the similarly sized battery in its flagship Xperia Z3. You can expect a full day under normal conditions, but in a year or so that 6 Plus may feel constantly out of juice.
Where the iPhone 6 Plus really shines, however, is processor performance. Though Apple's not known for putting subpar silicon in its smartphones, the newest A8 chip is no slouch at all. Especially proficient at churning through both basic processing tasks and more intensive games. It'll hold up quite well for some time, even if next year's phones are likely to outpace it.
Camera
With optical stabilization, Apple stays near the top of the class.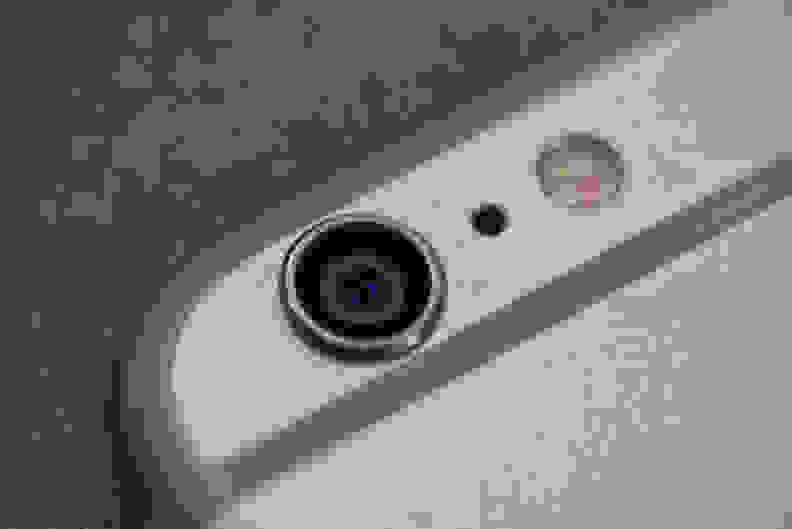 On paper, the iPhone 6 Plus boasts an improved camera unit from its predecessor, the iPhone 5s. Though the latest phone model has yet another 8-megapixel sensor with a constant aperture of f/2.2, the iPhone 6 Plus has something previous iPhone cameras do not: on-sensor phase detection and optical image stabilization. It may not sound like much, but phase-detection is one of the better autofocus methods out there, speeding up AF in low light and better tracking moving subjects. Image stabilization is also a huge boon, as the lack of grip on smartphones frequently leads to blurry shots.
More and more companies are starting to put the R&D behind better smartphone cameras, so it's good to see Apple making serious hardware improvements. Though the 8-megapixel sensor here pales in comparison to the 20MP sensors in phones like the Sony Xperia Z3, it's more than enough for shots viewed on such small screens.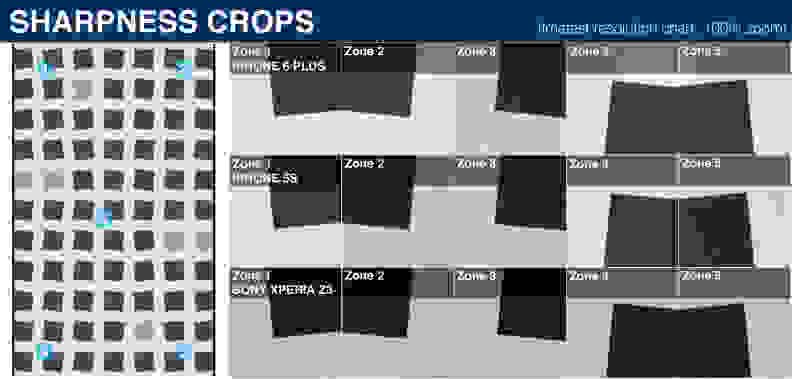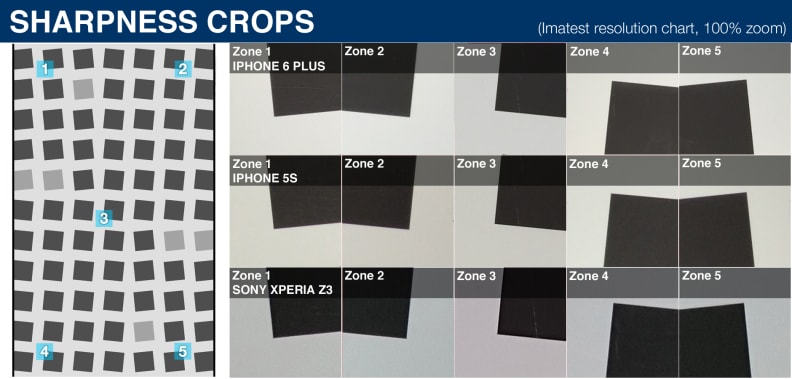 We still wouldn't recommend the 6 Plus over a dedicated camera (even a high-end point-and-shoot), but it is still one of the best mobile options on the market. The dynamic range is severely limited by the small image sensor, but even in low light images have point-and-shoot levels of sharpness. In our lab testing, the 6 Plus resolved on average 1,476 line widths per picture height at MTF50 (a common measurement of visible sharpness). Just about anything around 1,5000 LW/PH is deemed acceptable, but the best smartphones and point-and-shoot cameras routinely hit 1,900 line widths or more in this test.
The 6 Plus makes up most of the performance gap there by doing a better job at maintaining fine detail in noisy low-light snaps. Apple has also done a better job of reproducing accurate, pleasing colors, with a color error of 2.58 ∆C00 (anything below 3 is fine) and a saturation of 107.3%.
These are all respectable, if unspectacular results. I wouldn't want the 6 Plus to be the only camera that I own, but for most day-to-day shots you can certainly rely on the 6 Plus to capture your moments. A dedicated high-end camera will do much, much better, but you could also do much, much worse and this is Apple's best smartphone camera to date.
Conclusion
The iPhone 6 Plus is phabulous—sorry, we had to.
If you're looking at the iPhone 6 Plus it's likely because you like the simplicity and aesthetic quality of iOS, but are drawn to the larger displays of the best Android handsets. Though it's reductive to simply say that the 6 Plus is just a giant iPhone, that's truthfully the best way to describe it. It's thin, extremely well-designed, and has a gorgeous (gigantic) screen that truly brings iOS 8 to life.
It's good to know that "think different" isn't quite a dead philosophy for Apple
Compared to other large-screen phones on the market, the iPhone 6 Plus is one of the more cohesive efforts you can find. Where most other manufacturers of phones this large try to do too much, the iPhone 6 simply takes the typical smartphone experience and gives you more room to stretch your legs. Though we still found Samsung's Galaxy Note 4 to be a better all-around phone, the iPhone 6 Plus is just as enjoyable to use.
But like all phones this large, you need to account for your personal habits. If you've been perfectly happy with previous iPhones and are just looking to upgrade then we're more inclined to suggest the regular ol' iPhone 6 instead. The iPhone 6 has almost all of the same performance upgrades as the 6 Plus, but comes in a size that will feel far more manageable. It has worse battery life than the 6 Plus, but neither are fantastic.
If you've been yearning for an iOS experience on a device as large and expansive as Samsung's Note phones, however, the 6 Plus is an easy recommendation. As long as you know what you're in for with a phone this large, the 6 Plus will give you what you looking for. It definitely won't be for everyone, but the market has proven that there's an appetite for large phones, and the 6 Plus delivers.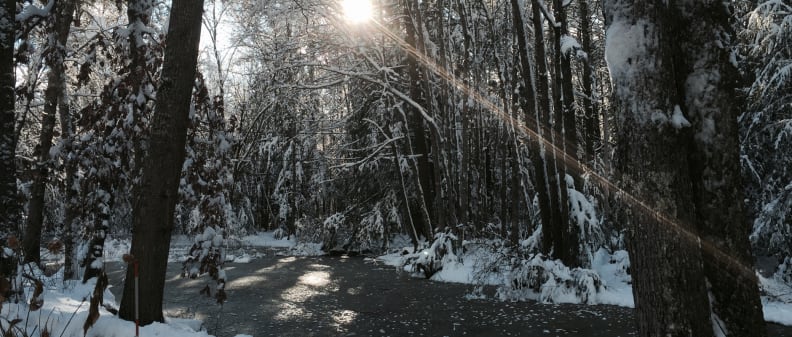 Of course, if you just want a larger phone and aren't married to iOS, then we recommend giving Samsung's Note 4 a try. It's just as powerful, just as large, and has the benefit of a much, much better battery. Sony's Xperia Z3 will also mop the floor with most other phones performance-wise, and it has one of the best batteries we've ever tested.
The 6 Plus shows that Apple might not yet be willing to think totally outside the box, but it's at least willing to make the box a whole lot bigger. If this new, giant iPhone has us excited about anything it's less about what it can do now, but what Apple will do next.
Meet the tester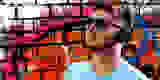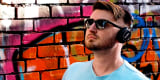 Chris Thomas
Staff Writer, Imaging
@cthomas8888
A seasoned writer and professional photographer, Chris reviews cameras, headphones, smartphones, laptops, and lenses. Educated in Political Science and Linguistics, Chris can often be found building a robot army, snowboarding, or getting ink.
Checking our work.
Our team is here for one purpose: to help you buy the best stuff and love what you own. Our writers, editors, and lab technicians obsess over the products we cover to make sure you're confident and satisfied. Have a different opinion about something we recommend? Email us and we'll compare notes.
Shoot us an email