So naturally, when it comes time to consider a new phone, the last thing most people want is a "budget-friendly" phone. Ask the salesperson where the budget phones are and they're not going to think you're thrifty and wise; they're going to think you're a klutz who smashed their phone. But while budget phones don't get the respect they deserve, there's an art to cutting corners.
That's an art that Asus has mastered, as evidenced by the Asus ZenFone 2 (MSRP $199.99 and up). The ZenFone 2 is Asus's second attempt at creating an inexpensive smartphone that nonetheless looks and acts like a far more expensive device.
And while it's not our favorite low-cost phone, there's enough here to warrant your attention. Photographers should avert their eyes, but if you're in the market for a phone that does a little bit everything, does it well, and doesn't cost a lot, the ZenFone 2 is worth checking out.
Design & Feel
A solid build with a few quirks
Aesthetically, the ZenFone 2 sends mixed signals. At first glance it looks like it should be heavy, with its thick body and brushed metal exterior. But pick it up, and you'll find that its brushed metal backside is actually a lightweight plastic. It's still quite sturdy—and plastic is arguably more durable than metal—but it's still a phone that looks better than it feels.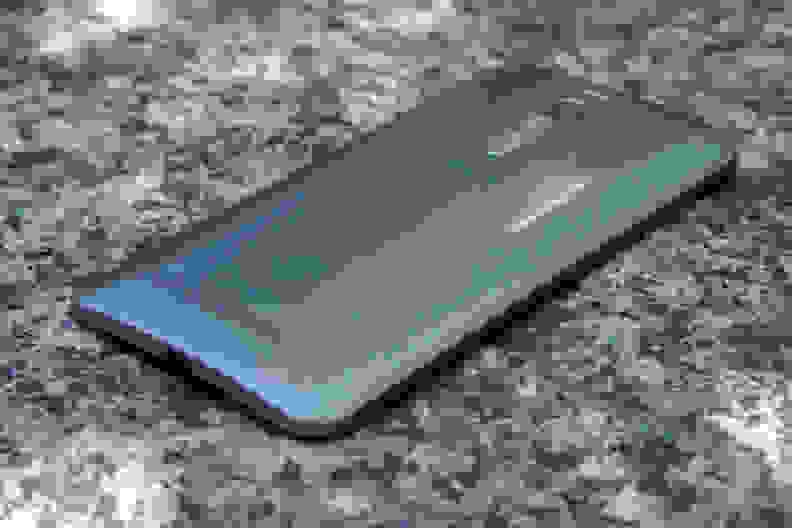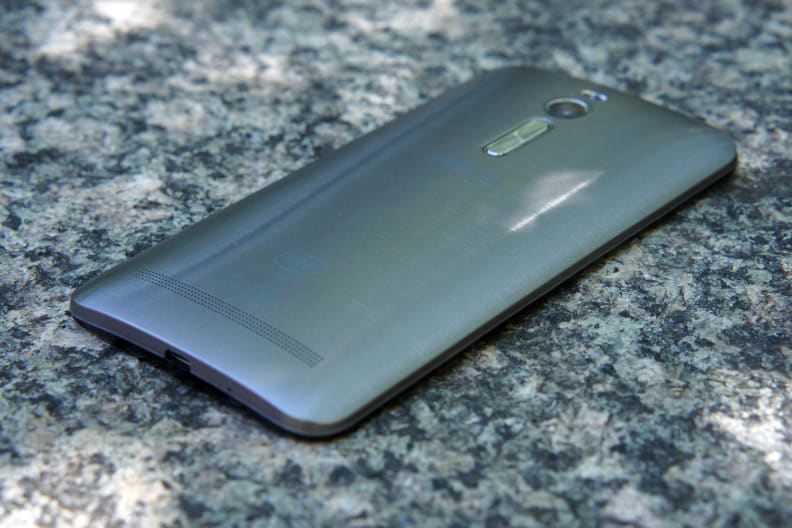 After spending a bit of time with the phone though, you'll adapt. It's still a perfectly functional device, and there are times when the plastic is preferable. It's a bit like discovering the pears in a decorative fruit dish are wax; as long as you weren't depending on eating them, you'll forget it even happened.
Unfortunately, while Asus's deception is something easily forgotten, the control layout isn't.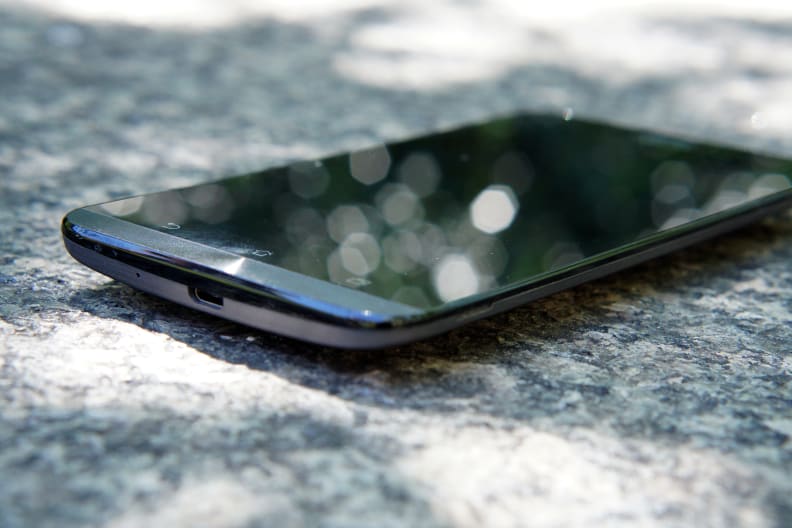 Let's talk about buttons.
In a polarizing move, Asus has borrowed a page from LG's book and placed the ZenFone 2's volume rocker on the back of the phone, just beneath the camera lens. This is where your index naturally falls when holding the phone in one hand, so it makes sense on paper. Again, you'll adapt over time, but it'll be annoying the first few weeks you use the phone.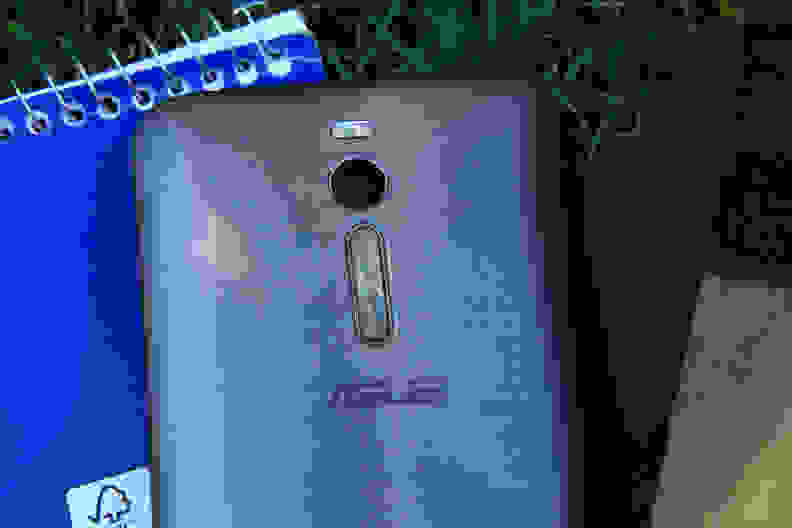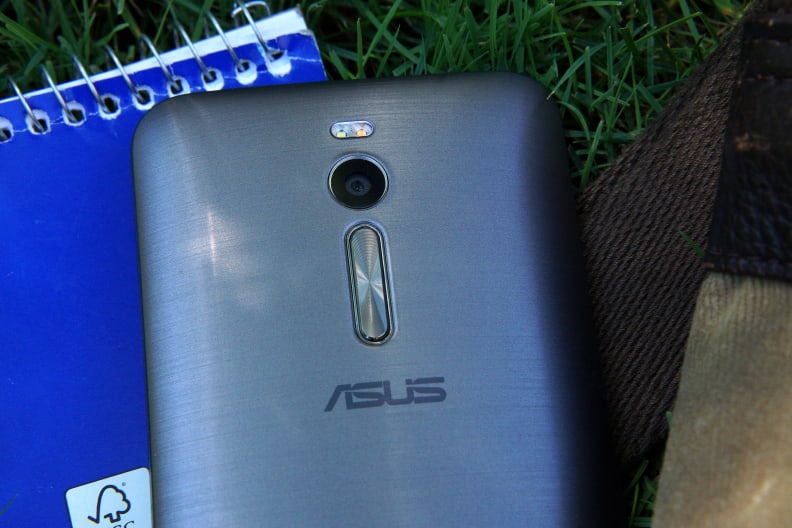 The power button is worse, however, as it rests right smack-dab in the middle of the top of the device. There isn't any justifiable reason we can think of for putting it there, other than it's nearly impossible to hit accidentally. But if you're a person who compulsively checks their phone every few minutes, you'll constantly be shimmying the phone in your hand to reach the button.
Worse still, the power button is not responsive—at all. The button doesn't stick out from the body of the phone, has an exceptionally long travel, and provides almost no feedback; most of the time it's difficult to tell if you've successfully pushed the button at all. This makes using the button somewhat of a guessing game, especially when you want to quickly turn the phone on or off.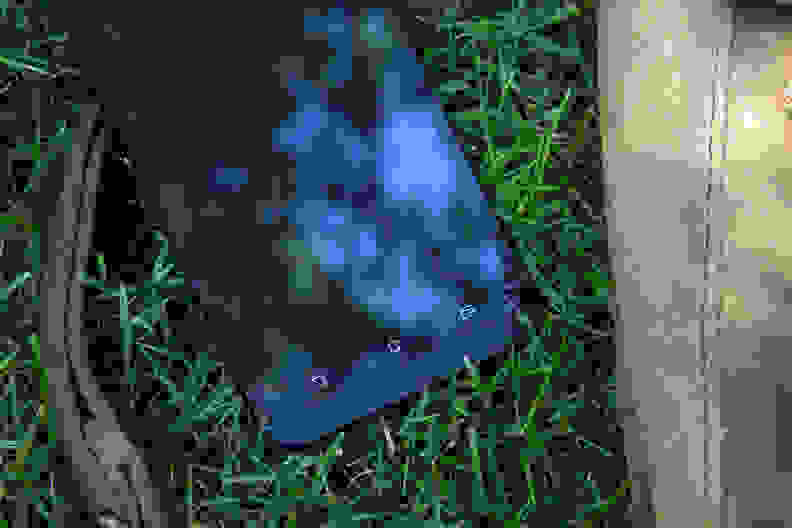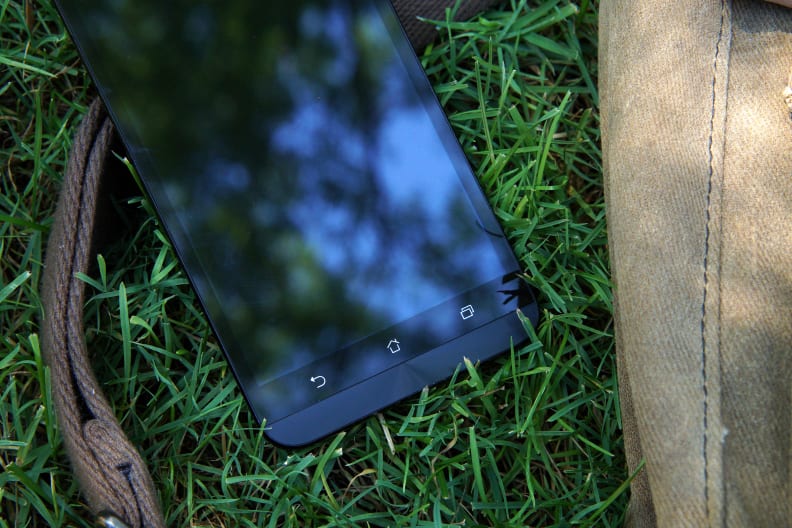 The rest of the ZenFone 2's layout is standard fare, but Asus still found a way to make them more difficult than necessary. Case in point: beneath the ZenFone 2's 5.5-inch screen are three touch-sensitive keys that don't actually have a backlight. Want to operate your phone in the dark? Good luck.
I'm not sure why something as simple as this was overlooked, or—worse yet—purposely left out of the final design. Will you adjust to it? Sure, but this is a painfully obvious thing to miss, and it's a pain you'll deal with quite often.
In Use
The beauty of Android is its adaptability, and the ZenFone 2 is a perfect example of this. It's one of the least expensive ways to upgrade to Android Lollipop right now, which has loads of benefits that should give budget phones a leg up. If you haven't upgraded or used Android in a few years you'll be shocked how far it's come. In particular it's much more user-friendly, thanks to Google's renewed focus on improving the design and functionality of core apps like Gmail and Chrome.
Unfortunately, like most phone makers Asus has elected to do a re-skin of Android, dubbed the ZenUI. While most of the basics—home screen, notification shade, app drawer—are basically the same, there are some issues. Again, it'll take some time to adapt to this (noticing a pattern?).
The ZenUI isn't universally terrible, as it includes some helpful shortcuts to things like the messaging app and phone dialer on the lock screen. But there are some things that rubbed me the wrong way, like the phone's baked in organization of common apps into pre-existing folders.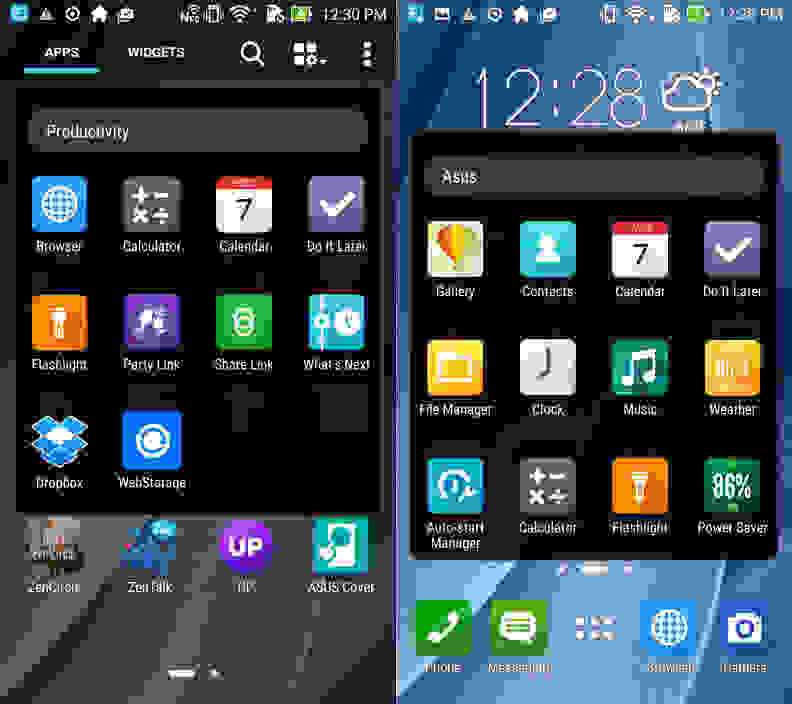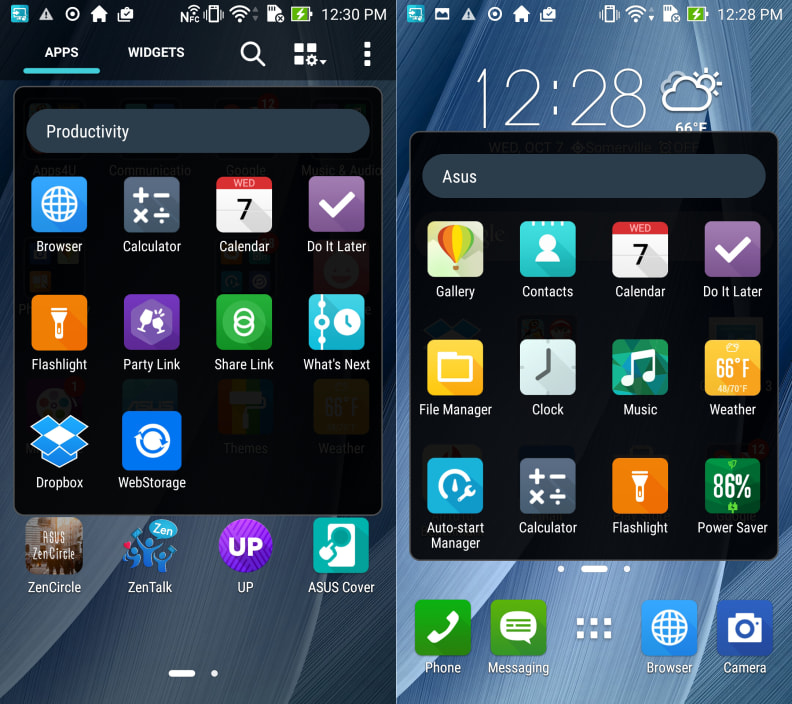 While it's fine to have all the Google apps in a folder called "Google," it makes much less sense to have basic things like the Clock and Calculator apps in a folder called "Asus" on the home screen and then in separate folders called "Productivity" and "Tools" in the app drawer. Organization is great, and it makes for a cleaner interface out of the box, but I'd rather handle this myself so I know where everything is.
Personal issues aside, by far the most universally annoying aspect of the ZenFone 2 is the amount of pre-installed apps that ship with it. Apps like "Clean Master" and "Omlet Chat" (sic) can be disabled or uninstalled, but the process is somewhat painstaking and it's just one more thing to deal with.
The ZenFone 2 has more bloatware than most of the Android smartphones I've seen this year.
Now let's be real: bloatware is still a common occurrence, but the ZenFone 2 has as much as any other phone I've seen this year. There's just no need for it.
Battery life
One of the drawbacks of going with an uber-powerful flagship phone is that flagship-quality processors tend to torch batteries in less than a day. As a result, so-called "budget" phones and their midrange CPUs have been putting on battery life clinics. Over the past year, we've seen affordable, middle-of-the-pack phones like the ZTE Grand X Max+ and the Motorola Moto G outperform a number of flagships in this department.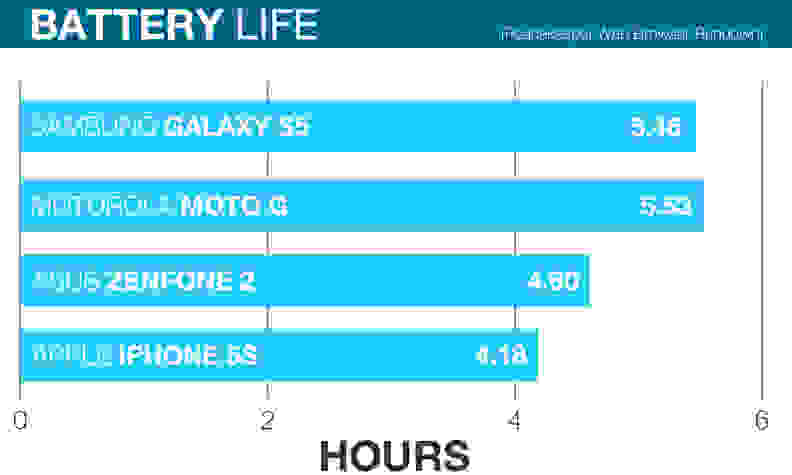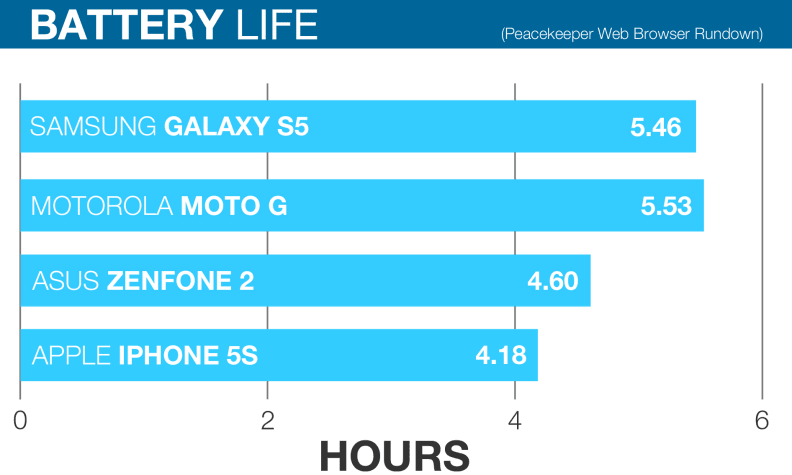 Granted, the hardware in these phones are operating at a much lower level than the that of their top-tier competitors, but it's still a respectable feat. Any time I can go a full two days without needing to find a charger, I'm in.
The battery life isn't dismal, but it's disappointing compared to the performance of comparable mid-level smartphones.
Unfortunately, the ZenFone 2 doesn't quite live up to the lofty heights of those other mid-range All-Stars. In our intensive battery test it can only muster up about four and a half hours of heavy browser use. It's not dismal, but it's disappointing compared to the performance of comparable mid-level smartphones. It did slightly better when just playing a video on loop, but even that will buy you an extra couple hours of battery life (about seven hours total)—above average, but not exceptional.
Camera
If there's one area where budget phones always are lacking, it's the camera. Most people just need something functional, making this an easy place for manufacturers to limit costs. Even with my expectations for the ZenFone's camera suitably tempered, though, I was optimistic.
After all, there are midrange phones that at least have reliable—if reliably mediocre—cameras. Unfortunately, the Asus ZenFone 2 is not one of those phones. It's not all bad, though; in most scenarios you find yourself—well-lit rooms indoors or sunshiny venues outside—the ZenFone's camera does an OK job hiding its flaws. Images don't hold up to even medium-sized prints, but they're fine for Facebook.
In tougher situations, the phone just has trouble keeping up. Under artificial lighting shots too often took on an odd greenish cast, while indoor incandescent light left us with overly warm photos. In low-light settings, things were truly ghastly. Dimly-lit shots viewed at 100% resolution reveal an immense lack of detail and edge fidelity. The camera applies a very heavy-handed noise reduction filter in these situations, reducing the detail that should be apparent to nothing but a constellation of mosaicked color.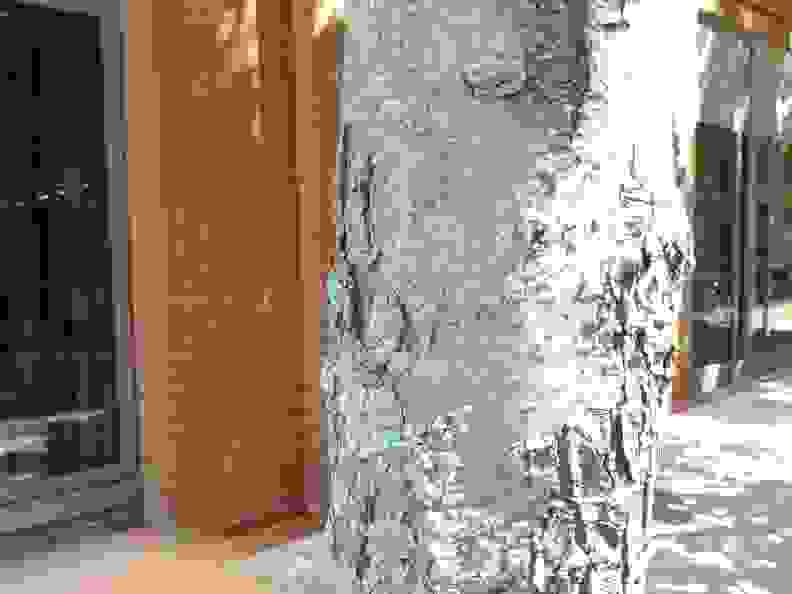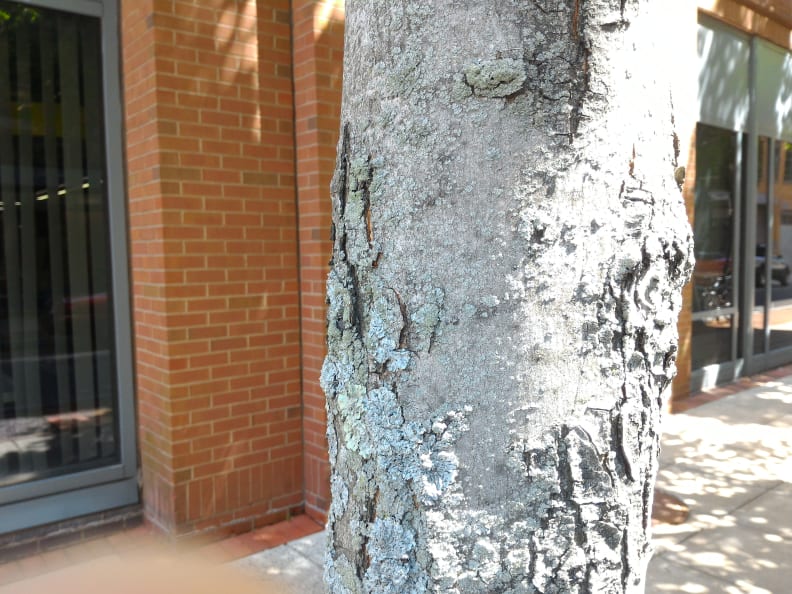 The camera's video performance isn't any better. Our video sharpness test produced some of the worst results I've seen in a while. If sharp, crisp detail is what you're looking for, run far, far away from the ZenFone 2. Motion, too, leaves more to be desired than it ought to; footage of moving objects is laced with artifacts and interference. When compounded with the camera's already-shaky low-light abilities, good luck shooting any sort of quality video in settings that aren't amply lit.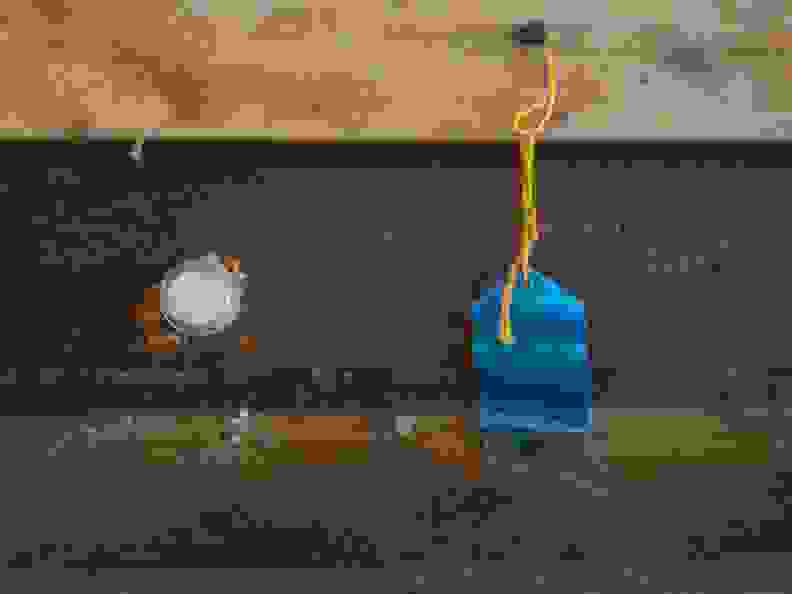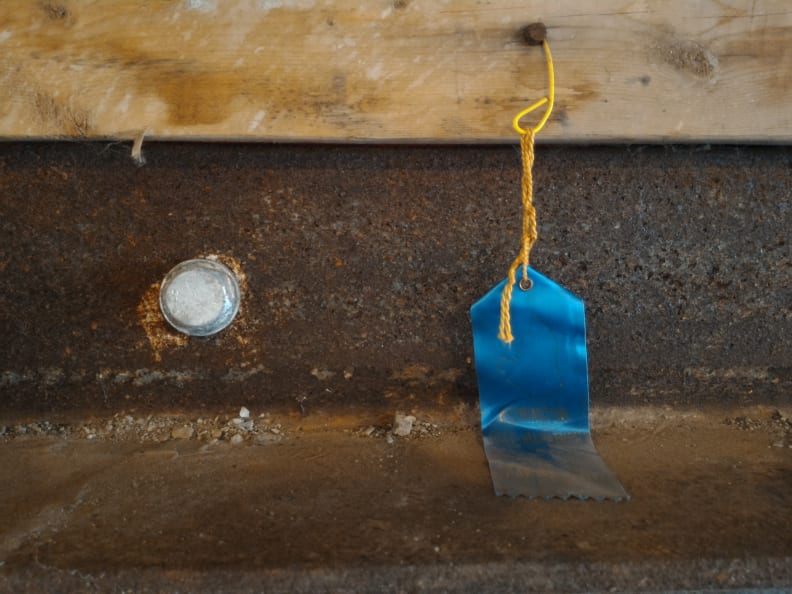 Here's the bottom line: Its camera is not good. Even amongst low-end phones, it doesn't make par. Customization is limited (naturally), it's not very fast, and the image quality is immediately a turn off. It's okay if you just need to occasionally send a photo of something to a friend, but if you care about photography this is not the phone for you.
×
Asus ZenFone 2 Test Shots
The Verdict
The Asus ZenFone 2 is the very definition of a "budget" phone; it doesn't have a curved screen, it's not at all water resistant, and it certainly isn't the most attractive piece of hardware out there. But Asus found a way to pack the ZenFone 2 with a bunch of value, and not at the expense of its overall performance.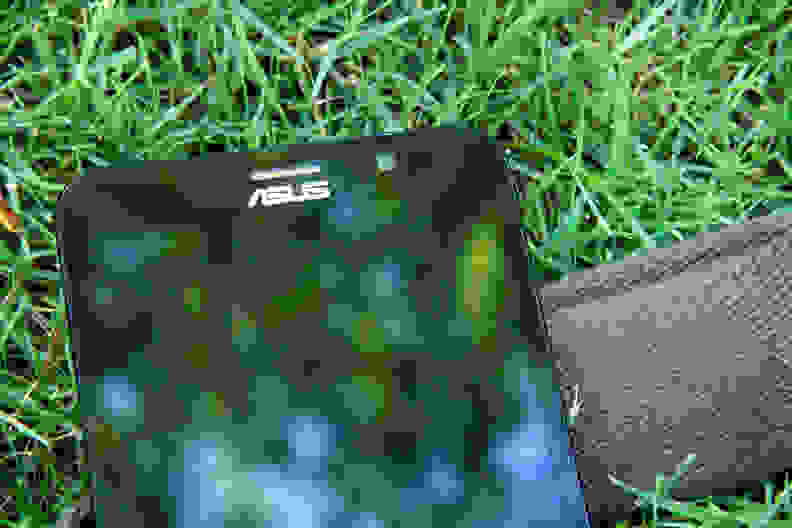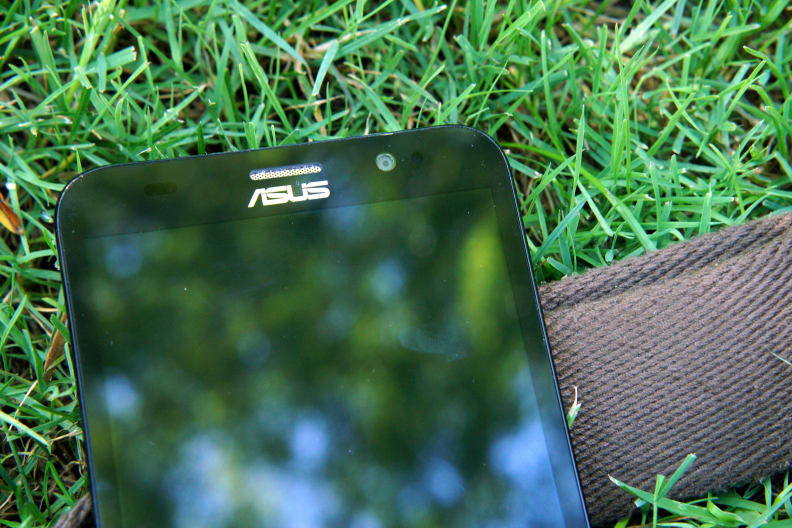 For $200-$300, you're looking at a smartphone that can handle day-to-day tasks nearly as well as its twice-as-expensive competitors. Its battery life is commendable, too, running circles around phones like the iPhone 6 and giving flagships like the LG G4 and the HTC One M9 a run for their money. In essence, it's big, inexpensive, and it runs Android with ease.
Of course, there are some drawbacks. The biggest for us was the untraditional button placement and incredibly annoying power button, which are problems that just aren't going away. The camera is also among the lowest-quality that we've tested, though it's on par with others we've seen in this price range.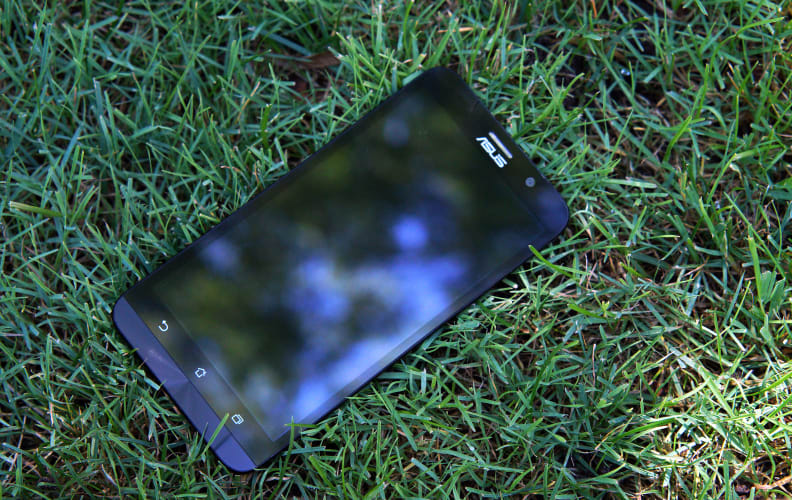 On the software side we also found the sheer amount of pre-installed bloatware maddening, but I haven't spoken to many people that see it as a deal-breaker. If you feel strongly about it, consider this year's version of the Motorola Moto G; a somewhat comparable phone that ships with no redundant software to speak of.
For all intents and purposes, the ZenFone 2 is an example of a budget phone done the right way. If you want a juiced-up phone with a better camera, you'll have to pay for it, but we get the feeling that most prospective ZenFone buyers can live with that. The results aren't always pretty, but if you're in the market for a low-cost smartphone, you can do a whole lot worse than the ZenFone 2.
Meet the tester
Michael Desjardin
Senior Staff Writer
@Reviewed
Michael Desjardin graduated from Emerson College after having studied media production and screenwriting. He specializes in tech for Reviewed, but also loves film criticism, weird ambient music, cooking, and food in general.
Checking our work.
Our team is here for one purpose: to help you buy the best stuff and love what you own. Our writers, editors, and lab technicians obsess over the products we cover to make sure you're confident and satisfied. Have a different opinion about something we recommend? Email us and we'll compare notes.
Shoot us an email