The Honor 8 (MSRP $399.99) is somewhere between the the GX8 and the P9—in performance and design, it has more in common with the dual-lensed P9, but it's closer in price to the lower-end GX8. Compellingly, it's not that far off from Apple's modestly-priced iPhone SE, but its crummy software and lackluster camera falls short of providing as much value as Apple's 4-inch underdog.
At this point, I don't think it's possible for the Huawei brand to obtain the type of ubiquitousness it's enjoyed overseas for quite some time; there's simply no catching up with Samsung and Apple anytime soon. That said, I think the company's best shot at finding a long-lasting home in western markets is to fill the very niche that the Honor 8 is trying to occupy—affordable, mid-range smartphones built on the attractive hardware usually found in premium devices.
Unfortunately, the Honor 8 doesn't nestle as snuggly into that niche as it should. It's a good phone, but maybe not good enough.
About the Huawei Honor 8
The Honor 8 may not carry the price of a flagship smartphone, but a quick look under the hood reveals a surprising amount of giddy-up for a middleweight smartphone.
• Kirin 950 quad-core processor (2.15GHz, 1.6GHz)
• 4GB RAM
• 32GB or 64GB internal storage, up to 256GB of expanded storage via microSD (uses second SIM slot)
• 5.2-inch full-HD (1920x1080) LCD display
• Dual 12MP, f/2.2 primary cameras with laser autofocus and dual-tone LED flash
• 8MP f/2.4 front-facing camera
• 4G LTE, WiFi, AC/Bluetooth, NFC support, and IR blaster
• 3,000mAh lithium-ion polymer battery Smart Power 4.0 fast charging
• USB Type-C port
• Fingerprint scanner
It's also important to note that the Honor 8 is only available as an unlocked device running on GSM frequency bands, which means you'll only be able to use it with a SIM card from AT&T or T-Mobile.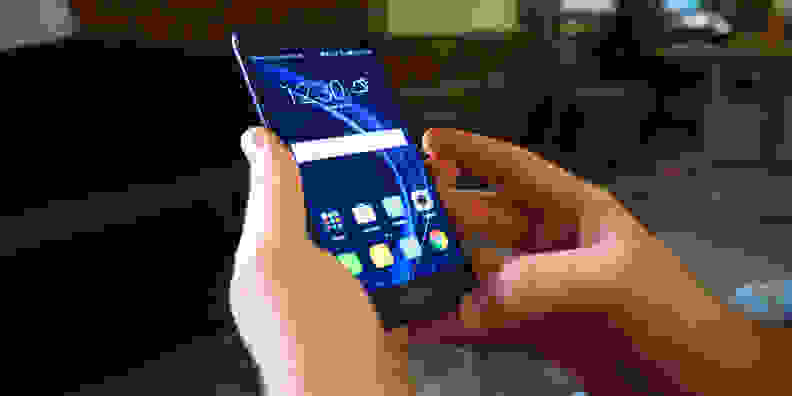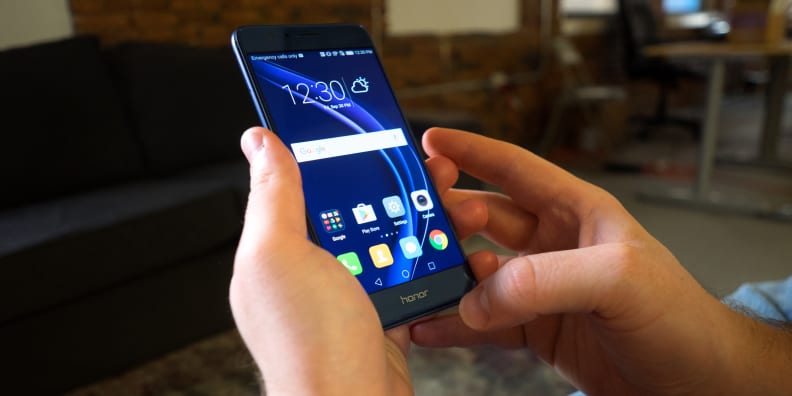 What We Like
Serious performance for a not-so-serious price
From a hardware standpoint, there's quite a bit of value packed into the Honor 8; at around $400, it's a zippy smartphone that won't break the bank.
At around $400, it's a zippy smartphone that won't break the bank.
Our benchmark tests—Geekbench and AnTuTu—put the Honor 8 slightly below top-shelf phones like the HTC 10 and the Nexus 6P. And although the Honor 8 didn't nab the spectacular 3D Mark scores that top-shelf smartphones routinely put up, it still did quite well for a phone of its stature, meaning graphics-heavy games shouldn't present an issue.
Most impressive, however, is the Honor 8's 3,000mAh battery, which crushed Geekbench 3's battery test. At just over five hours of performance, the Honor 8 matched the performance of Google's Nexus 5X and even sniffed the superb results of the HTC 10.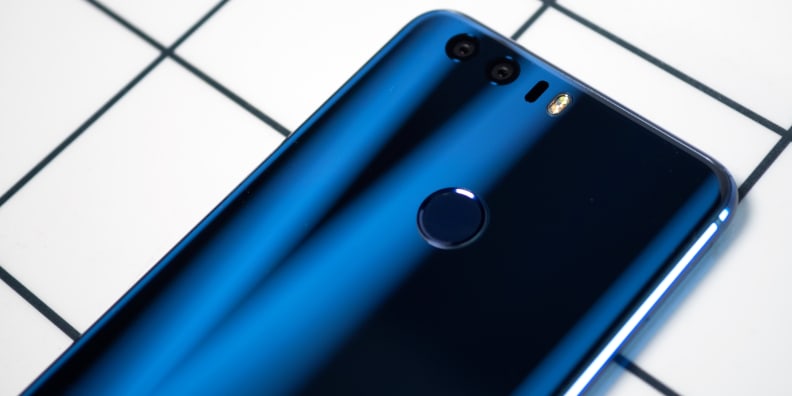 Elegant, no-nonsense design
We received the "Sapphire Blue" version of the Honor 8, which immediately drew the attention of my coworkers and elicited some "oohs" and "ahhs". The Honor 8 is mostly glass and its backside is comprised of several layers of it, giving the device a lustrous, laser-light-show effect whenever the light hits it. My coworker James said the effect reminded him of a tiger's eye gemstone, whose parallel bands of crystals create a dazzling shimmer.
The effect reminded my coworker of a tiger's eye gemstone.
The Honor 8 also feels sturdy and well-thought-out, which plays to one of Huawei's biggest strengths—it outfits mid-range smartphones with top-shelf hardware and understands the importance of good design, even when it comes to its more affordable devices.
The fingerprint scanner on the Honor 8's backside doubles as a programmable task button which can start a voice recording, take a screenshot, enable a flashlight, or open a designated app, depending on whether it's pressed once, twice, or held down. It's a nice feature, but it took a while to get used to the fact that the button doesn't access the home screen the way, say, the LG G5's backside fingerprint button does.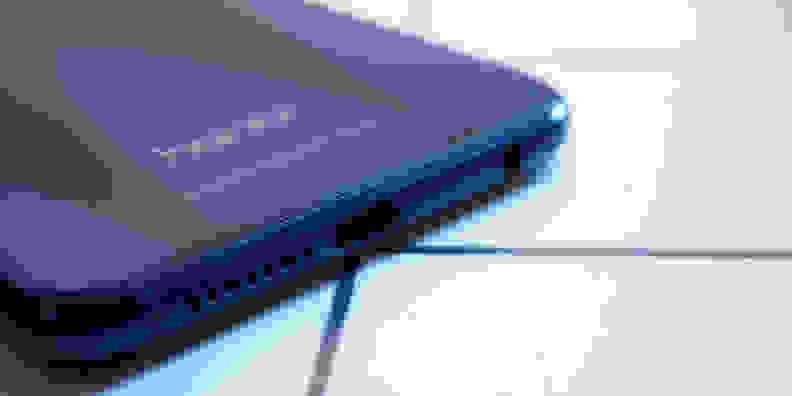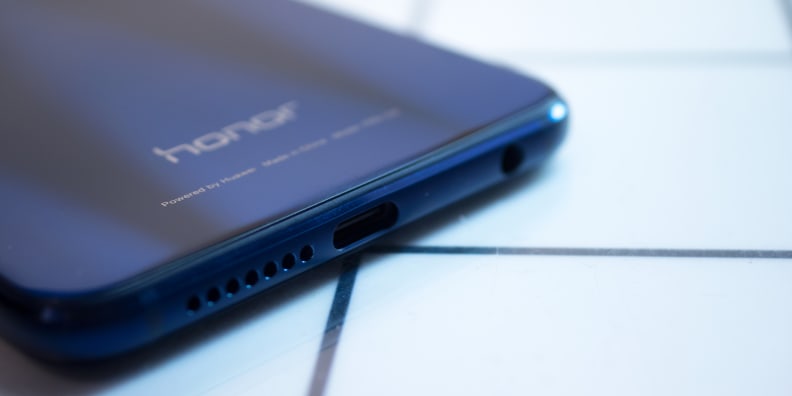 USB-C isn't just for the flagships anymore.
The advent of USB Type-C is finally inescapable, and its inclusion in mid-range smartphones like the Honor 8 is a perfect illustration of the industry's sea change; what was once a luxury reserved for premium smartphones on the cutting edge is now an expected feature in affordable, middle-weight devices. The Honor 8's outfitted with a reversible USB-C port and enjoys 9V/2A fast charging—it's not the fastest phone to recharge on the block, but the uptick in charging speeds is noticeable.
What We Don't Like
The glass build makes for a slippery, smudgy experience.
As much as I dig the colorful, multi-layered glass and reflective visuals it makes when it catches a beam of light, the result is a phone that slides off just about every surface it's placed on. Sometimes a series of notifications vibrates the phone off a table, and other times the phone doesn't even need to be vibrating for it to fall off the armrest of a couch and onto the floor. It's the kind of thing that isn't immediately apparent but becomes insufferable after just a few hours of use.
The other issue with the Honor 8's nearly-uniform glass-body approach is how susceptible it is to fingerprints and smudges. This is obviously a cosmetic issue and not as serious as the Honor 8's penchant for falling off of stuff, but it kind of puts a damper on an otherwise attractive looking device.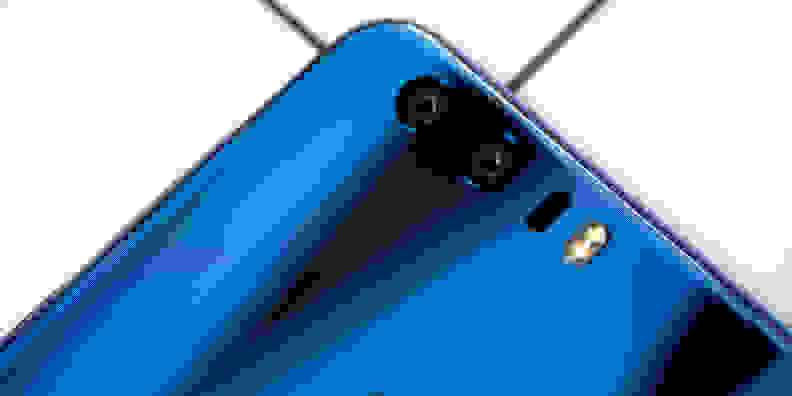 The dual cameras aren't as good as you'd expect.
Huawei's dual-camera set-up first made its appearance in the company's most recent flagship, the P9. It was an interesting way for Huawei to set itself apart from the competition, but ultimately fell short of expectation.
The Honor 8's dual, 12MP cameras are significantly worse than the P9's, though not a total face-plant. Most of the nagging issues rear their heads in low-light photos, which tend to lose a good amount of fine detail (despite one of the two cameras ostensibly enhancing contrast).
Like the P9, the Honor 8 also doesn't capture 4K video, and we've reached the point where this could be considered a disappointment, especially after the similarly-priced iPhone SE rolled out with it earlier this year.
The easy-to-please crowd might be satisfied with the photos they snap with the Honor 8, but anyone expecting the dual-camera set-up to deliver flagship-level imaging performance will likely wind up disappointed.
Huawei's software is predictably disappointing.
If you include Google's Nexus 6P, the Honor 8 is the fourth Huawei-designed phone I've covered this year (the others being the Huawei GX8 and the Huawei P9). Being a Google Nexus phone, the 6P had the benefit of running pure Android—something that unfortunately can't be said for the GX8, the P9, and the Honor 8.
Huawei's Emotion UI is more distracting than seamless; it feels like an anchor tied to your leg instead of a streamlined platform. A good amount of the software—app management, for example—is reminiscent of iOS, but without any of the finesse that makes Apple's UI arguably the most well-oiled machine in the business. Buttons and sliders are unresponsive, certain tasks are sluggish at best, and the interface just isn't very attractive.
Huawei's Emotion UI is more distracting than seamless.
We recommend simply installing Google Now Launcher and calling it a day (especially if you're hurtin' for an app drawer), but it's worth noting just how lackluster Huawei's software is (and has been) compared to Samsung's TouchWiz and even HTC's Sense UI.
Should You Buy It?
The Honor 8 is a fine phone, it's just not really a satisfying one. On one hand, its internals offer premium-level performance that's hard to come by in a $400 smartphone. On the other hand, its software is cumbersome, the camera is a disappointment, and the experience of using it isn't very rewarding.
If you're cruisin' for an affordable Android phone comparable to the Honor 8 in both performance and price, you may want to give the Nexus 5X a spin. The 5X has a much better camera and runs stock Android (a huge leg up over the Honor 8's clunky software). It's also available on more networks, which adds to its flexibility.
The Honor 8 is a fine phone, it's just not really a satisfying one.
The iPhone SE is also a better-performing, better-built smartphone in the Honor 8's price range, but I suspect the leap over to iOS is one not many Android users are willing to make.
I'd love to see Huawei succeed in the United States, and the relatively-untapped, affordable-but-luxurious niche is a good place to start. But if the Chinese manufacturer is going to keep up, it's going to have to do better than a middling, frustrating smartphone that's only available on a couple of carriers.
Related Video
Meet the tester
Michael Desjardin
Senior Staff Writer
@Reviewed
Michael Desjardin graduated from Emerson College after having studied media production and screenwriting. He specializes in tech for Reviewed, but also loves film criticism, weird ambient music, cooking, and food in general.
Checking our work.
Our team is here for one purpose: to help you buy the best stuff and love what you own. Our writers, editors, and lab technicians obsess over the products we cover to make sure you're confident and satisfied. Have a different opinion about something we recommend? Email us and we'll compare notes.
Shoot us an email