Until now.
The Moto G4 Plus (MSRP $249.99-$299.99) is one of three Moto G phones to be released this year (along with the Moto G4 and the Moto G4 Play), and ostensibly, it's the most "premium" of the three. Sadly, if this supposed to be the best Moto G offering of the year, I don't see much of a future for the Moto G lineup.
Sure, the G4 Plus has some bright spots—the battery stands tall, the camera isn't a total loss, and you can mix-and-match the color accents—but for a phone that costs somewhere between $250 and $300, there's no excuse for how routinely it fumbles when it comes to the basics.
Make no mistake—this phone has a good chance of frustrating you (unless you're just now waking from a 16-year coma and this is your first time seeing a smartphone). Before you decide to save some money, you better know what that discount is costing you.
About the Motorola Moto G4 Plus
The G4 Plus is available in two variations that differ only in RAM and internal memory. What sets it apart from the Moto G4 is its fingerprint scanner and a slightly better camera that features laser autofocus. Our review unit is black (the G4 Plus is also available in white) and features 4GB RAM and 64GB of internal storage.
• Qualcomm Snapdragon 617 processor • 2GB RAM (with 16GB of memory) or 4GB RAM (with 64GB of memory) • 16GB/64GB internal storage, up to 256GB of expanded storage via microSD • 5.5-inch, full-HD (1920x1080) LCD display • 16MP, f/2.0 primary camera with phase detection, laser autofocus, and dual-LED flash • 5MP f/2.2 front-facing camera • 4G LTE, WiFi, and AC/Bluetooth • 3,000mAh lithium-ion battery • Non-reversible microUSB 2.0 port • Fingerprint scanner
We're at the point where microUSB seems like ancient tech, so if you're used to a reversible Lightning cable or if you're thinking about downgrading from whatever USB Type-C-equipped Android phone you're used to, be prepared to fumble with the G4 Plus's non-reversible USB port.
What We Like
A pretty decent battery In Geekbench 3, the G4 Plus clocked in a total battery time of just over seven hours, which is quite respectable, especially when compared to pricier, more premium smartphones. Because the battery test is purposely work-intensive, seven hours is not indicative of what a person might experience in the real world. Generally speaking, one can expect the G4 Plus to last all day and well into the evening with regular, on-and-off use throughout the day.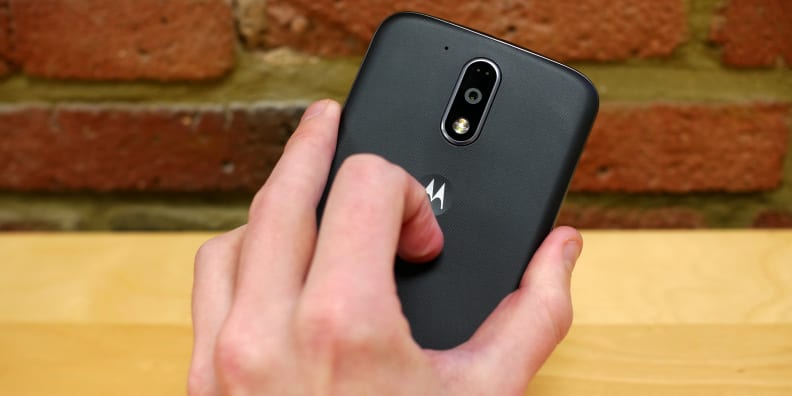 The camera's not a total loss... ...But it's not awesome, either. I mean, for a phone that starts at around $250, it pretty much gets the job done. Instagram photos will look good-but-not-great, and full-HD videos will look fine (provided you're not hoping to put any serious artistic statements on film anytime soon).
The ideal conditions for the Moto G4 Plus's 16-megapixel primary camera is outside in plenty of sunshiny daylight. In low-light settings (or places with fluorescent/incandescent lighting), the G4 Plus struggles to take commendable photos, even by fast-and-loose, fix-it-with-a-filter Instagram standards.
The G4 Plus's camera software has a tendency to overexpose its shots, too, but thankfully, users can adjust exposure manually within the phone's otherwise slow and clunky stock camera app.
Affordable price Look—as far as big smartphones go, the G4 Plus is really, really affordable. For a lot of people, just having a large display and a camera that doesn't totally bite is good enough. That has to count for something, I suppose.
For better or worse, the Moto G4 Plus's best feature is its price tag.
I can also understand the appeal of having the flexibility to choose a custom color scheme (via Motorola's website), especially if you're the type who wants to stand out in a sea of grey, black, and silver smartphones.
For better or worse, the Moto G4 Plus's best feature is its price tag, which unfortunately, also says a lot about how poorly it performs in just about every other category.
What We Don't Like
Sluggish, lackluster performance Once upon a time, Moto G smartphones were all about value; you paid far less than most people pay for a premium Android phone, and in return, you got a solid, dependable phone that might have lacked the bells and whistles of its high-priced competitors, but still delivered a worthwhile experience.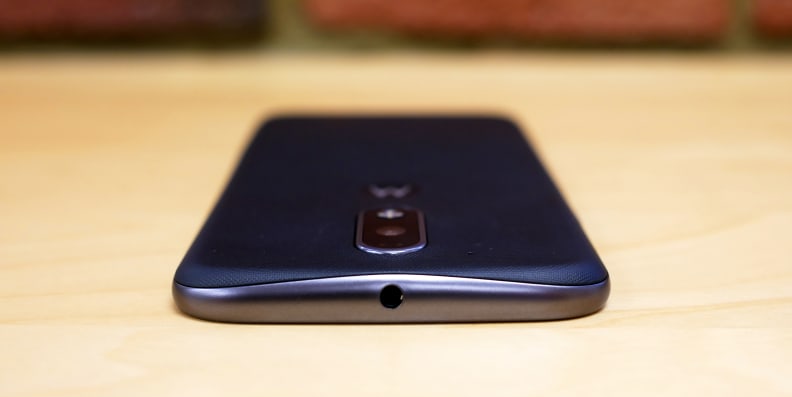 Unfortunately, it looks like those days are behind us—the Moto G4 Plus is an absolute chore to use. While the Moto Gs of yesteryear were able to hitch lightweight software to middle-of-the-road hardware somewhat harmoniously, the G4 Plus is an old, lumbering bear blindly stumbling through the woods; apps trip out of the gate and basic touch commands often fail to register at all.
The G4 Plus passed our processor tests with the equivalent of a D+. It can't really play anything but the most basic mobile games. It's almost astounding how poorly it feels compared to even marginally-better Android phones.
Awkward, flimsy design 5.5-inch smartphones are anything but rare these days, but they don't always handle well; despite their popularity, designing big smartphones that are comfortable to use is still a somewhat tricky endeavor. The G4 Plus is a textbook example of how not to do it.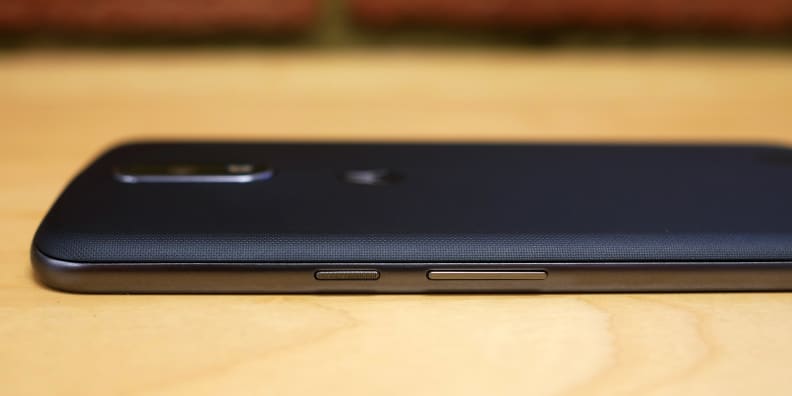 Being mostly plastic rather than glass or aluminum, it's definitely not a phone that needs coddling, but that's about the only good thing you can say about the G4 Plus's design. Everything else—from the placement of the buttons to the tiny, shoehorned fingerprint scanner—is a colossal disappointment.
The volume rocker is a single, hard-to-press button that isn't large enough to accommodate both the "up" and "down" functions, and the camera's placement (in the middle of the phone's backside) is one I'm ready to see done away with entirely across the entire industry.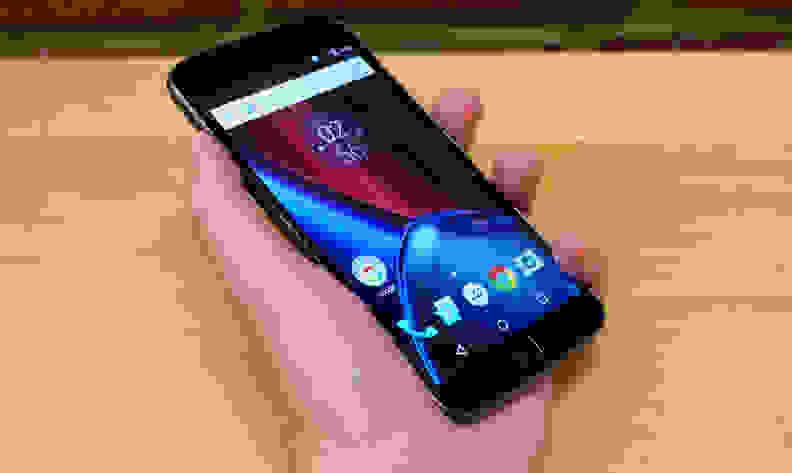 The fingerprint reader—one of the few things that separates the G4 Plus from the Moto G4 and the G4 Play—feels like it was tacked on as an afterthought. It sits just below the display's home button but isn't a home button itself, which routinely leads to frustration when all you're trying to do is jump to the home screen.
Should You Buy It?
Probably not!
Motorola's Moto G line used to be a smart way to save some cash and still land an Android phone that got the job done. These days, the Moto G name seems to represent slipshod design and out-of-date performance.
The G4 Plus scores relatively well thanks mostly to its long-lasting battery and somewhat-decent camera, and while it'd be silly of me not to give credit where credit is due, I'd rather have a better smartphone that doesn't last as long than be stuck with a Moto G4 Plus for a couple more hours.
It's a bargain, but one that will most likely let you down.
The only people this smartphone will satisfy are people who aren't looking to be wowed by speed, reliability, or elegant design. It's a bargain, but one that will most likely let you down. If you're still determined not to spend an arm and a leg on a new Android phone, consider the Huawei Honor 8. It'll set you back $50-$100 more than the G4 Plus, but it's a better experience by nearly every metric.
The original Moto G and its follow-up were small victories for consumers; they offered mid-range performance for rock-bottom prices. Moto G was good enough where it mattered, so much so that you could forget you were using a budget phone. The Moto G4 Plus wants to do the same, but it's a cheap phone that feels cheap, and it won't let you forget it.
Related Video
Meet the tester
Michael Desjardin
Senior Staff Writer
@Reviewed
Michael Desjardin graduated from Emerson College after having studied media production and screenwriting. He specializes in tech for Reviewed, but also loves film criticism, weird ambient music, cooking, and food in general.
Checking our work.
Our team is here for one purpose: to help you buy the best stuff and love what you own. Our writers, editors, and lab technicians obsess over the products we cover to make sure you're confident and satisfied. Have a different opinion about something we recommend? Email us and we'll compare notes.
Shoot us an email